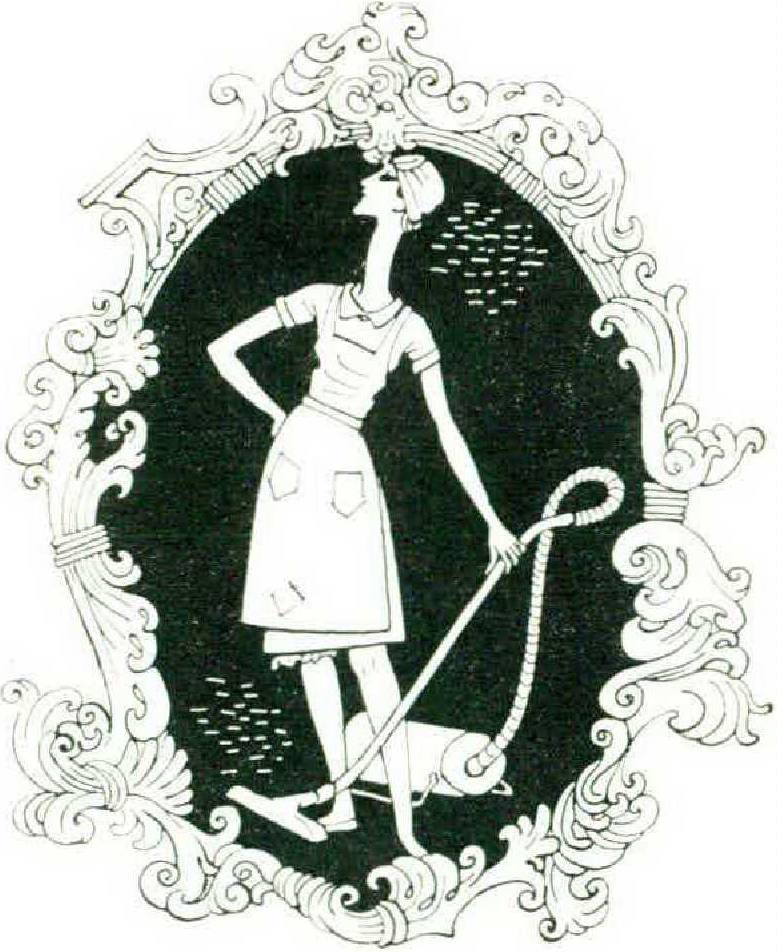 ME: seated on distressed fruit wood. With my unflagging sense of le haut décor (and with a strong pitching arm) I have boldly thrown out of the house every stick of worméd chestnut, limèd oak, and pittèd cherry. Now, alone, stark against my fruit wood, I permit only one small and unforgettable accent piece of Sears Roebuck mahogany veneer. The effect: totally individual, terribly sotto voce.
ME: poised, gracious, smiling around my tooth caps, at one of the famous little dinners I give alphabetically throughout the four seasons. Tonight, Mc's and N's, dining on authentically faux passement plastic place mats; the menu, one which has become a kind of signature with me: tinned fruit cup in tin cups, frozen fish sticks swathed in grape leaves, chopped spinach with a hint of mace, and potatoes Birds-eye, followed, afterward, by after-dinner coffee and after-dinner mints.
ME: a superb study in chromatics. Eye sockets, pores, even the soupçon of sardine pâté en Triscuit in my hand and, yes, the hand itself, all deliberately underplayed, all keyed to nonassertive, offbeat shades of puce and Rebel gray. An utterly effortless look, occasioned in part by the fact that I am coming down with the twenty-four-hour flu.
ME: standing, open-armed, waiting to greet my children as they arrive home from school. (My life revolves around my children like a busy bank door.) Now, quite simply, I wear a classic shirt in the fresh new look of yellow toweling, buttoned with great (and thoroughly real) marbles; swirling about my hips, my hamster skirt, the latter custom-made for me by my own taxidermist with a detail peculiarly and sentimentally my own. The belt is fashioned entirely from skins of the children's pet hamsters. What a surprise for them as they race in, dizzy, rosy-cheeked, with their galoshes tenderly transposed !
ME: not a beauty in the conventional sense of the word but, superlatively, a woman who has learned to live with her face — without clichés — and to revel in features other women might consider "difficult. " My system for coping with a prominent nose: a swift stroke of eyebrow pencil curved across the cheek and ending in an arrow to bravely emphasize the nasal area. For large feet, the wholly nonconformist whimsy of wearing black bowling shoes, the size clearly — compulsively — stamped in white on the outside.
ME: Give such a woman a high style and she transforms it into a memorable life experience. Case in point now: my beehive. Tumbled high on the head, but with a difference — my vibrant hair houses real bees! One of a new generation of fashion-minded women who insist on probing for the deeper meaning of every trend. I have even written the Government Printing Office for a pamphlet on beekeeping and expect soon to process — perhaps even privately label — honey from my own live hive.
ME: Chin and derrière tucked in, tummy flat, head high; a woman of inner sureness, acute perception, and blooming taste buds; clearly, a woman who knows where she's going. Where? Why to the packaged meat counter at the supermarket, pushing the cart sinuously to the strains of Muzak. Sensitively, I breathe my own lyrics to the nostalgic refrain: "Guess I'll always be . . . kind of lost in a fog ... I wonder if I . . . should try the pot roast. . . ." The butcher's eye meets mine. He senses my aliveness, far more than skin deep. He gestures to me with a leg of lamb.
ATLANTIC renders trill recall "Housekeeping à la Television" by ANNE KELLEY, which appeared in our October, 1958, issue, She now reports, from the fashion magazines, "the impact of high style on a low housewife."