They Shall Have Music
I regret to say that an erroneous statement appears in my reference to the conductor of the Buffalo Philharmonic Orchestra, Josef Krips, in They Shall Have Music, on page 105 of the March ATLANTIC. Mr. Krips was not "fired" by the Buffalo management. He has been continuously the conductor of the orchestra since 1954 and will remain in this position. — J.M.C.
BY JOHN M. CONLY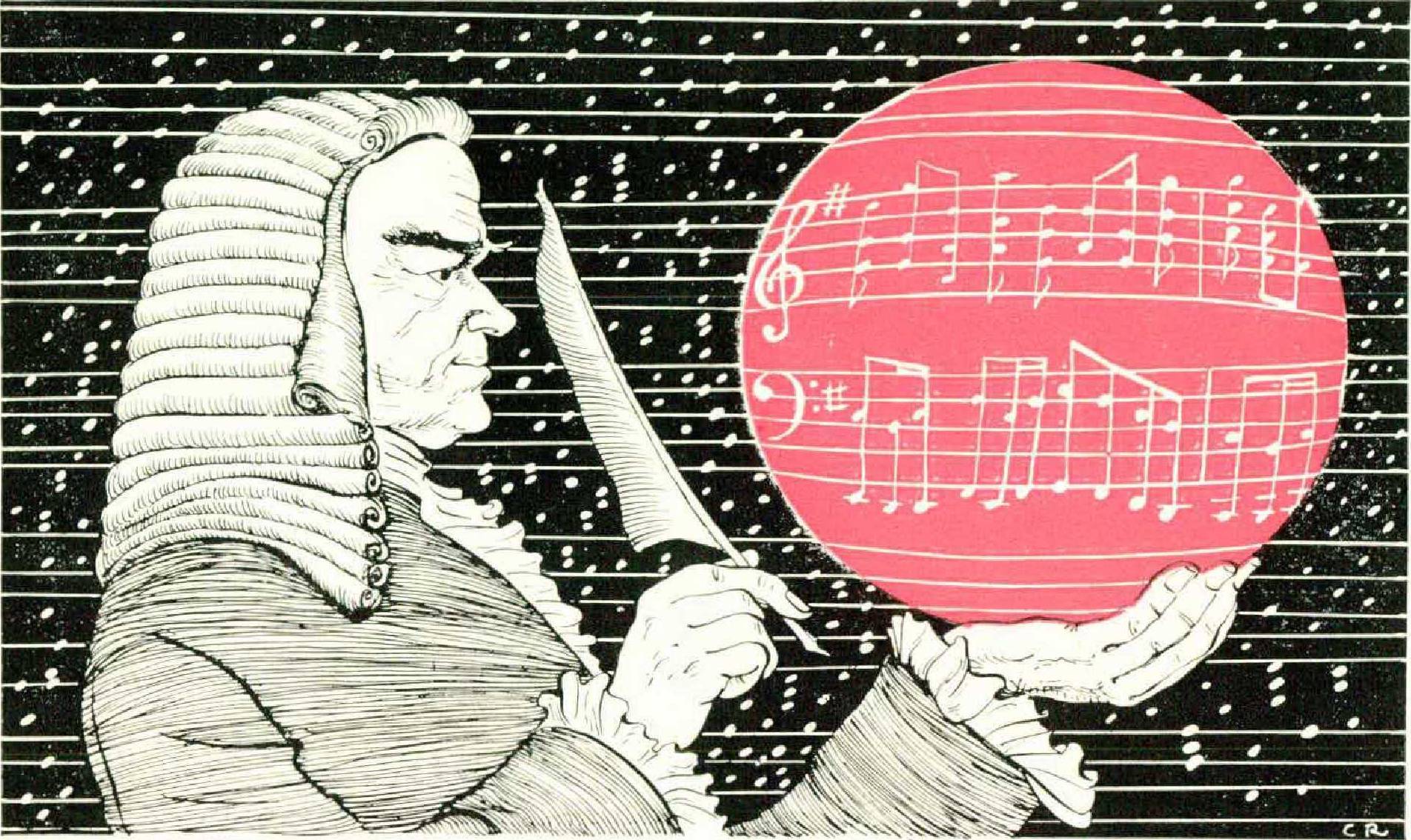 Christian Ludwig's legacy
It would be easy to abominate Christian Ludwig Hohenzollern, stupidest Margrave of Brandenburg, except that we share some of his most egregious faults. Something great can be done and we will sedulously ignore it, just as he did. I have special reference to six documents delivered to him as a gift in 1721. When the boneheaded princeling died, the six dusty writings were auctioned off for about a dollar and a quarter. We call them the Brandenburg Concertos, an honor Christian Ludwig did not deserve. The donor had been Johann Sebastian Bach.
Bach was a sort of marvel in all ways. He once walked a week to hear his favorite organist. When he was attacked by thieves he knocked them out with a cudgel. He fathered twenty children and taught his whole family to play the harpsichord. He wrote more incontestably great music than anyone else in the history of the world.
Back to the Brandenburgs. They have been done well on records twice before, by the Busch players on 78s (newly available on Angel LP reprints) and by Karl Haas and the London Baroque Ensemble on Westminster, now hard to get. Never mind. One of the truly great recordings of any year is that for Epic, by Szymon Goldberg and the Netherlands Chamber Orchestra, of the complete Brandenburgs. I have listened to the set six times, twelve hours, starting with No. 1 and coming to the end of No. 6 with a keen sense of grief because there will not be any more.
The personnel are in some part familiar to record collectors. Goldberg was for a long time partner to Lily Kraus in the best Mozart sonatas ever made. Here he fiddles and conducts at once, and the noble small orchestra is wholly and heartily at one with him throughout, a wondrous feat of agreement.
Second hero in the endeavor is Hubert Barwahser, flutist. He seems not to be known much outside of the Lowlands and France, but I have to deem him, at this kind of work, the best flutist I ever have heard; he has a bright liquid articulation no one else quite matches.
Third party to the achievement is Miss Janny van Wering, who is one of the two or three most skillful and intelligent harpsichordists left in the world since Wanda Landowska died last year. The purling flow and cascade of beauty in the Fifth Brandenburg never have been made more irresistible to my car than Miss van Wering makes them.
I wish I knew the names of the first cellist and the recording director, because they too should get credit. There are no good words I can think of to enforce this earnest dictum: here is a recording, in sound nearly flawless, of music so played that it will be inspiriting a decade hence. This kind of thing does not happen often.
Passage of a Silver Cloud
One thing I always have wondered is what folk do with great prizes they win in contests. You know: prefabricated garages, Deepfreezes, cabin cruisers, and the like. Well, it happens that I had a sort of semifamilial authority to find out about this lately, when a steady reader of these pages of the Atlantic responded to an adjacent advertisement and won a Rolls-Royce. He wrote me all about it.
What he had had to do was to say in twenty-five words or less what he liked about Shure Brothers' stereo phonograph cartridges. I do not know what he wrote, though I know what I would have written. I have three of these instruments, and what they do is to frighten me delightfully whenever the Royal Regiment of Artillery fires off the Queen's birthday salute (Vanguard VSD-2011). They are also quite good at Schubert chamber music.
The Rolls-Royce winner was a thirty-nine-year-old bottled-gas salesman named Kenneth Shutts, a native and resident of Russell Village, which is outside Chagrin Falls, which is outside Cleveland, Ohio. He flew as a radio operator in Flying Fortresses over Germany, and he has a considerable interest in music and high fidelity. He also has a wife, Jean, and five children, ranging from Kenneth, Jr., fifteen, through Robert, Jack, and Susan, to Stephen, eight. He went to Kent State University before and after the war.
The Shuttses' vital statistics read like something that might be filed under Model Citizens. Both are active in the PTA and in the local Great Books and World Politics groups. Kenneth describes Jean as a frustrated writer who hopes to get back to the typewriter when the children are grown. He himself seems unfrustrated; he is a town councilman, coach of the Little Leaguers (Bob is star pitcher), and plays on a neighborhood basketball team of what he calls "oldsters."
The Shuttses were really Shure shopping, not prize hunting, when they signed the dealer's card to enter the contest. They did not buy a cartridge then. If they had, they would also have won a trip to England to fetch the Rolls-Royce, but they had to go home and calculate what they could spend for a stereo music system.
The news of their winning came, not unnaturally, as a complete surprise. Kenneth, when told of it, said, "Oh, boy!" Then he announced that he wanted to sit down and that he needed a glass of water. Jean, in a more meditative vein, remarked that the neighbors were now going to find it pretty hard to keep up with the Joneses. Initially it was Kenneth's idea to sell their 1956 Ford and keep the Rolls for its whole interminable lifetime. It was a Silver Cloud sedan, priced at $14,000 plus.
He did keep it for several weeks, overawing propane-gas customers and, as Shutts says, discomfiting all nearby Status Seekers and Abominable Snobmen with great glee.
Then came the reckoning. For one thing, one must pay income tax on prizes. For another, as Jean pointed out to him patiently, the children were not sufficiently impressed with their new vehicular eminence to stop working their way through endless supplies of food, milk, and shoes. Up for sale went the Rolls, and a buyer with the requisite cash appeared just in time to take care of the Collector of Internal Revenue.
"And," says Shutts indomitably, "we still Shall Have Music to soothe our sorrow. Long live Shure!"
The reason, incidentally, that Shure Brothers can give away RollsRoyces is that it is not a typically small high fidelity company. In fact, it was not a high fidelity company at all until about three years ago. It manufactured utility audio equipment for public address systems and the like, mostly microphones and transcription pickups. It did this in such bulk and for so long that the pun "Shure mike" is no longer used, though Shure mikes are, in great quantities.
The company got into home music almost by accident when one of its engineers devised a movingmagnet variety of phono cartridge of indisputably high fidelity and such structural simplicity that it could track records at between one and two grams, a great wear preventive. Furthermore, it was sturdy, and, yet more luckily, it proved admirably suited to adaptation for stereo. The Hirsch-Houck Laboratories, reporting for High Fidelity magazine, flatly, describe it as the best there is. I will not dispute this, though I have heard some very good sound also from the Scott-London and the Fairchild pickups. Anyway, Mr. Shutts seems to be enjoying his Shure sound, and he could not get that satisfaction from a Rolls-Royce. They don't make any sound at all.
Mr. Purcell's Arthur
A year ago I lunched in one of London's newest, tallest office buildings, on the Albert Embankment, with John Culshaw, a handsome young bachelor who is recording director for Decca, Ltd., known here as London Records. He told me a tale of woe, and I really think it was just that. It had to do with The Fairy Queen, a suite of musical numbers written by Henry Purcell for an adaptation of A Midsummer Night's Dream. Of all the music written around the Shakespeare fantasy, this is the finest, the most tuneful, the funniest, and the most glowingly boisterous. London, through its subsidiary Oiseau-Lyre, had made a three-record album of The Fairy Queen late in 1958. It was a suitably enchanting performance by English performers who really knew what they were doing.
Culshaw did not supervise this taping; his assistant Ray Minshull did. He did very well. As evidence, recall one vote in this column for The Fairy Queen as the best record of 1958, an opinion that still stands. Both men were delighted with the result, and so were critics. The London Times gave it two successive Sunday columns; the Gramophone reviewed it in a lead article. And a half year after it was produced, when I lunched with Mr. Culshaw, the album had sold, in England, 407 copies. How it has done in America I do not know, but I am not sanguine. What I am is angry and puzzled. Why should it be possible to sell in large numbers such cumbersome trivia as the Shostakovich Seventh, or such dated little melodramas as Cavalleria Rusticana, when authentic masterpieces like Fairy Queen cannot even get a hearing?
We wondered at luncheon if the fault might lie in the budget, which had precluded a stereo recording, but I do not really believe that for a minute. My own theory is that opera lovers are, in considerable part, not music lovers at all. They hear and enjoy vocal performances as athletic performances, listening for notes rather than sense. And the music lovers who care not for lyric opera are convinced that good music cannot be written except by North Continental Europeans — Germans, Russians, Austrians, sometimes Czechs and Frenchmen.
They are wrong. Bach and Handel showed, by earnest copying and worthy imitation, what they thought of the Briton Purcell. Great music can happen in an English idiom as well as in any other.
We have now a chance to redeem ourselves. The third best of the Purcell canon, King Arthur, written in collaboration with John Dryden, lately has come forth (Oiseau 50176/7 and 60008/9, the latter stereophonic). When I say third best, I mean it is not as good as Dido or Fairy Queen, which is rather like saying that Parsifal is not as good as Götterdämmerung - hardly condemnatory.
It has one aspect which may disappoint. Dryden's Arthur is not Malory's. No Lancelot, no Guinevere, no Gawain. Arthur is almost Alfred, a Briton against Saxons, affianced to a blind Cornish princess named Emmeline. Of the old familiars, only Merlin is around.
Still, old Merlin throws a mighty spell, and so does Purcell. The tremulous freezing chorus We Chatter and Tremble is unmatched in any other music I know. So is the soprano duet Shepherd, Shepherd. One wonders how the naked swimming duo, featuring Mr. Dryden's Greenhaired Syrens, was staged. There is also an irresistible singing commercial, promoting British woolens ("growing gold") and British fish ("luxurious fasting"). And to end each scene there is something called simply "Trumpet Tune." If you haven't heard a trumpet tune by Henry Purcell, you haven't lived.
Record Reviews
Bizet: Carmen
Sir Thomas Beecham conducting Victoria De Los Angeles, Nicolai Gedda, Janine Micheau; other soloists; Chorus and Orchestra of the French National Radio; Capitol SGCR-7207 (stereo) and GCR-7207: three records Two years' squabbling interfered with the issuance of this recording, but it is worth all the trouble. It is the best Carmen ever put on records; in fact it is the best Carmen I have ever heard at all. Main font of the trouble and the triumph, I expect, was Sir Thomas. His orchestra does a job of dramatic setting that must be heard to be credited, and his singers finally give to him Carmen characterizations not quite like any others. I have a feeling that when he broke off rehearsals he went home and read the Mériméc novel, because De Los Angeles' Carmen here appears like Mérimée's, an utterly feckless and innocently bad girl, capable of swiping your watch in a genuinely affectionate way. The sound is beyond cavil.
Gluck: Der Betrogene Kadi
Bernhard Paumgartner conducting the Salzburg Mozarteum singers and orchestra; Epic BC-1062 (stereo)
No doubt there is a monophonic version of this, too, but I don't know its number. (Your dealer will.) It is one of the cutest things you ever heard in your life; to my mind, the only one-act comic opera to compare with Gilbert and Sullivan's hilarious Trial by Jury. In style, however, it is more like The Marriage of Figaro. I hope I am making it sound irresistible, because it is. I suppose its title could be translated The Caid Betrayed, but the plot turns upon the stratagems of the Caid's wife. Fatima, to prevent her wolfish husband from bringing a second sweet young bride into the household. You can see the possibilities, none of which are neglected and all of which are musically portrayed so that you know, without mistake, that the composer of the great Orpheus is at work. Musical humor is a rare commodity.
Verdi: Aida
Herbert von Karajan conducting Renata Tebaldi, Giulietta Simionato, Carlo Bergonzi. Cornell MacNeil, other soloists; Chorus of the Vienna Music Friends; Vienna Philharmonic Orchestra; London OSA-1313 (stereo) and A-4345: three records
This is without any question the most sonically overwhelming Aida ever put on records. It astounds, and there is no other way to describe it. Apart from that, it is something short of ultimate. Giulietta Simionato is sure and delightful, and the Messrs. Bergonzi and MacNeil strike me as very good, but Tebaldi sounds tired. And so, toward the end of each portion, does Mr. von Karajan. However, His taste is faultless, and he has produced a real spectacular.
Vivaldi: Concertos for Oboes and Clarinets, for Paired Oboes, and for Oboe and Bassoon
Piero Santi conducting Accademici di Milano; l Vox DL-450 and SiVox DL-500450 (stereo)
Antonio Vivaldi, the Red-haired Priest of Venice, devoted the great part of his life to service as music master of the Hospital of Pity, the Venetian home of foundling girls. He made them nearly all musicians, and he wrote for them more than 500 masterpieces, among our greatest, to help them earn their living. No challenge ever found him lacking; he could write a mandolin or a double-oboe concerto at the drop of a feathered hat. The girls usually played behind a grille screen. These woodwind works find him at the top of the form that made him J. S. Bach's most admired colleague. There is a torrent of invention and a starry flight of completely unexpected harmonies. Vox's sound is sometimes a little rude, but it doesn't bother me.
Richard Dyer-Bennet 8
Richard Dyer-Rennet, tenor with guitar; D-B Records 8
Here this minstrel deals only two rugged British songs, the Agincourt Hymn and Henry Martin, the Scottish pirate tale. For the rest, he softly plays out songs of love and longing, a few in English, the others in German and French — all from ages we sometimes wish, briefly, we could be back in.