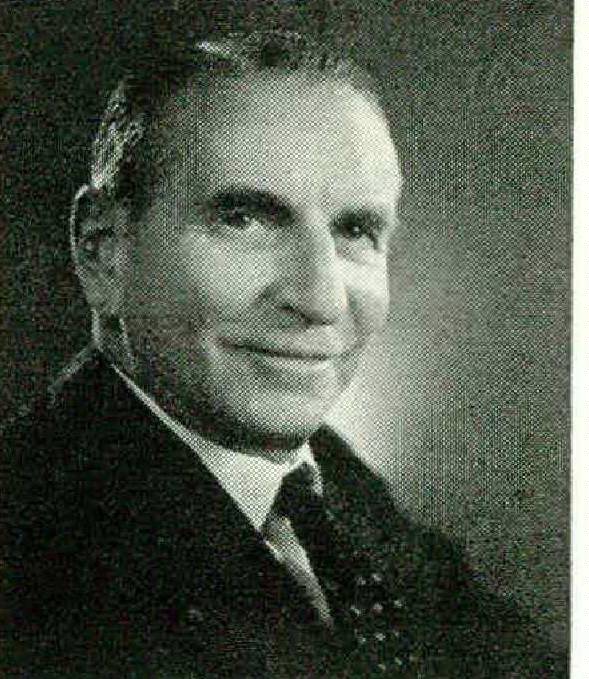 CARRYING a fly rod in a tubular metal case over long stretches of the Soviet Union is a nuisance which would only be endured by an addict like myself, for it is a slippery object, given to sliding under one's seat in the plane and arousing suspicion in strangers who suddenly find it rolling underfoot. I had taken the rod with me on the chance that I might be invited to fish with Mikhail Sholokhov, who has a reputation for making big catches on the River Don. Or, failing this, I wondered if I might come within reach of one of the big pickerel that the Russians prize in their forest streams. But, up until our departure for Tashkent, I had not a single opportunity to take my rod out of its case. The lakes close to Moscow are well stocked with carp, which the Russians take with a crooked bamboo pole from which dangles a tiny baited hook and a glass bobber, the same equipment I had seen the Dutch using for the carp in their canals. I was out for a colder, more elusive prey, and my hopes had been dashed at Leningrad, where 1 was prepared to drive the eighty miles up the peninsula to fish for salmon in the Vuoksi River, which had once belonged to Finland. But Mariam, our interpreter, had said sadly that the authorities had told her the river was low, the water too warm, the fish not taking — a circumstance which I had already encountered, to my disappointment, in Ireland.
It was Konstantin Simonov who gave me a fresh spark, in the course of a delectable Sunday supper of pink vodka and smoked fish in his Moscow apartment. He was delighted to hear that we were going to Tashkent, and when the interpreter told him that I was an irrepressible angler, his face lit up. "Good," he said. "I shall write to my friend Hamid, and he will take you to the foothills of the Pamirs, where together you will catch the famous blue trout."
We flew the two thousand miles from Moscow to Tashkent in four hours and ten minutes, jet time, and when the delegation of Uzbek writers, led by bland, black-eyed Hamid, the secretary of their union, came down the ramp to meet us, I found that Simonov had been as good as his word. They nodded approvingly at my rod, and Hamid had been driven to the airport in a sturdy new Land Rover, to show me what we would make the trip in.
"He says you will be leaving Sunday morning," the interpreter told me. "Perhaps as early as three A.M. Meantime, they have fixed up a pretty crowded schedule for you."
Uzbekistan is one of the most Asiatic and pastoral of the sixteen Soviet republics. The Uzbeks are a sturdy, almond-eyed, swarthy folk, renowned for prodigious harvests of cotton, for the delicacy of their melons and grapes, and for their famous meals of pilaf and shashlik. Under their greatest hero, Tamerlane, they ruled the world for forty years. Then, in the sixteenth century, the belligerence went out of them and they reverted to a bucolic existence, which has only recently been disturbed. No Uzbeks, we were told, were used for fighting in World War II.
In the dry, baking heat of the following days, we were in constant transition between the twentieth century and the Middle Ages. Our hotel, modern but only half built, had French windows opening on to the plaza, with its splashing fountains and fine-looking opera house. The little flyspecked grill where we had lunch was half full of Uzbeks wearing their dark-blue skullcaps with silver embroidery, but beyond it through glass doors we could see the spacious high-ceilinged dining room with a dais for the orchestra. From the hotel we were driven to the market: the great trestles of Garden of Eden fruit and vegetables, presided over by striking oriental types, some attracted by, some suspicious of Paddy Chayefsky's movie lens, were a picture which could hardly have changed since Tamerlane. On the slopes surrounding the market rose, layer upon layer, the ancient one-level homes of adobe. At the end of the market, where the cotton fabrics and scarves were displayed, squatted an old man beside a pile of hats of plaited yellow and green straw. "Fishermen's hats," said Hamid. "You had better have one." I found one to fit me for five rubles, and under the shade of its brim continued to suck the purple grapes, each half the size of my thumb.
The Uzbeks have the characteristic openhanded hospitality of pastoral people, and the welcome they gave us at the Writers' Union was genuine. We talked to them about their heritage. We questioned them about their history and archaeology and why they liked Hemingway ("Because he loves men"); it was apparent from what they said that they took naturally to folklore and poetry and that Hamid, their chairman, was the most successful of their native novelists. Our discussion was followed by vodka and supper, and then, under the stars, we were escorted to an open-air theater to see an Uzbek opera and ballet, the story a blend of folklore and Party line in which the handsome prince risks his own life in order to spare his slaves from execution. The costuming and acting were surprisingly good, and the singing of the women reminiscent of the Chinese.
Next morning, a visit to a cooperative farm. Well, I can take anything if there is a fishing trip at the end. We inspected the endless cotton fields and then, taking a short cut, found ourselves suddenly in a grape arbor whose green and purple clusters were, some of them, the size of a man's head. We sampled our way along in the heat of midday and came to a resthouse, a running brook, and, in the shade of a big willow, a table which was literally to groan with food. I thought each course was the main meal and acted accordingly. I sat to the right of the farm chairman, and he broke my bread for me, the crusty circular loaves, while we were being served the highly seasoned shashlik. I ate the delicious chunks from three swords and accepted two more; we were toasting each other in the cool Georgian wine; and I thought luncheon was done when in came a huge bowl of mutton soup, which perforce we spooned and sopped. Now, as we were wiping the perspiration from our brows and about to sit back, in came the third course, a vast platter of pilaf. I groaned in protest, but again the chairman was breaking my bread for me; it would have been rude to refuse, so there was nothing for it but to accept the huge helping that came my way. Came a hint, too, for when I lifted my glass and proposed a toast to the blue trout of tomorrow, the Uzbek writer opposite me remarked casually that no fish had been taken from that stream in months. I wrote him off as one who didn't fish. But late that afternoon, Yuri, our interpreter, broke the news which my delegation hadn't the heart to tell me. "Your trip is off," he said. "I hate to disappoint you, but the guides have telephoned to say that the water is too low and that the trout have disappeared." (Was this true?) My face must have showed what I felt, for he added, "The chairman wants you all to dine with him tomorrow night, and he says you must bring your equipment and fish in the little river where the boys catch their carp." I had seen the little stream meandering through the city, the color of café au lait and almost as hot, but as this was a command performance, so be it.
Hamid's house was a new, white, frame threestory structure, rising high above the old town, and here at sunset we gathered, I with my rod and reel and flies. We were introduced to his wife, to his daughters, to his oldest son of fifteen, and to his barefooted youngest of seven. Then we settled down to the fore part of supper, the melons, the grapes, the toasts, and the first serving of lamb. An hour later I remarked to Hamid, "If I am to do any fishing this evening, someone will have to tie a rope around my ankle." Two hours later, while everyone watched, I set up the rod; I tied on a Mickey Finn as the one fly that might be seen in the murky depths, and then the sevenyear-old, taking my hand, led the parade to the pool. Neighbors joined us from each doorway we passed, and we were a sizable assembly by the time we reached the sluiceway, at the foot of which was a churning pool in which I was to cast. Close to the water, a gardener with a spade had dug a little stand for me, while on the parapet overhead Turkish carpets had been laid, and here tea was served to the onlookers, to the Uzbek writers, and to the members of my delegation while I plied my darting fly through the muddy water. I had one strike — was it the bottom? — while Yuri kept advising: "They say the only way you will ever catch a fish here is to tie a stone on your line and use a worm." He was quite right.
When dusk fell we returned to Hamid's house, the seven-year-old now holding the fly rod in both hands before him like a standard. The walk had refreshed the taste buds, and Hamid's cousin had new steaming platters ready for us as we returned to the table. Of the toasts that followed, I remember one of Hamid's in the shank of the evening: "Here is to Mr. Weeks, who today has caught nothing but friends."
THE MOODS OF FICTION
THE WINTER RIDER (Lippincott, $3.50) is a sensitive, probing novel by BERRY FLEMING, a Southerner I have admired since he was fresh from college. The story is laid in the Southern pincwoods, and it comes to us through the eyes of William Wesley Johns, a writer who is about ready to hit the jackpot. Bill Johns has pursued a lastidious, uncompromising course; even his best work has had only a modest success. His wife has walked out on him as a failure. Now, as he approaches sixty, he has heeded the advice and revisions of his publisher; his new, more sexy novel, Love Me Little, has been accepted for serialization and is in line for a book club. But in His diffident way he keeps deferring the delivery date; he hesitates to give the manuscript its finishing touches until he has to drive it to the airport. He pauses at the crossroads and, against his better judgment, takes aboard an unlikely hitchhiker, a plain girl with a plain name, Jo Seeley, who comes to him carrying a violin and a viola in their battered cases, and at this point the story takes hold.
The writer is in a hurry, time is on his mind, and in his self-centered way he is also savoring the success ahead. He is in no mood for the disconcerting questions which the girl — she must be hall his age—keeps thrusting at him, or for the broken fan belt which brings them to a halt in a lonely stretch five miles from nowhere. Seeking help and armed with manuscript and the two fiddles, they follow the telephone wires which lead deep into the woods and at length to a fisherman's cabin. By this time, Jo has identified him and his work; surprisingly, she has read and liked his best book, and she keeps embarrassing him in her curiosity about the new one: "Is it written in your own hand? Is it really you?" They walk into something not meant for them in that backwoods house, something forbidding and sinister. Behind the mystery of Jared's death; apart from the funeral, where Jo's viola liberates the spirit; insistent through the long, hazardous boat trip down the river are the self-doubts which the girl has aroused and which cannot be stilled. It is Mr. Fleming's skill that the questions of integrity which Bill Johns cannot evade are those that accuse us all as age advances. They take on a special meaning and interest as they are spoken by that plain virgin of truth in the lonely woods and on the fogbound stream.
NEVIL SHUTE, Commander Norway, proved his value to the British Navy during the war with his contributions to aircraft engineering. A modest, competent Englishman, as felicitous in his writing as John Buchan, he found time, then and after, for warmhearted novels touching on airplanes and submarines, on far places like the South Seas and Australia, on children, whom he portrayed with sympathy, and on the imponderables, like fall-out, which loom over us all. His death at a time when he had so much to give is a sad loss.
TRUSTEE FROM THE TOOLROOM (Morrow, S3.95), his posthumous novel, is a hail and farewell to some of those pursuits in which Mr. Shute himself took such delight. It is the odyssey of an ingenious, retiring engineer, Keith Stewart, who for years has lived in a shabby London suburb, happily inventing the miniature motors, the six-volt generator an inch and a half in diameter, the tiny Congreve clock which he would then write up for other model builders in the columns of Miniature Mechanic. Keith has never been out of England when, in mid-life, his conscience forces him to adventure. His only sister and her husband are drowned on a cruise to Tahiti, and realizing that he must act as trustee for their daughter Janice and recover, if possible, the small inheritance in jewels which he believes is still in the wreck, Keith sets out to thumb his way across two oceans. His flight over the Atlantic in a cargo plane, his voyage to Papeete in the unregistered Mary Belle, his rescue by Sol Hirzhorn, the American lumber baron, and his triumph in the forests of Washington are high points in a story remarkable for its lucidity and amiability. Trustee from the Toolroom is that rarity in our time, a happy book about a decent and resourceful guy.
JOHN BRAINE, an impecunious English librarian who wanted to write, was just twenty-one when, in 1943. he was carted off to the hospital with tuberculosis. While in hospital he began writing poetry, and he made notes for his first novel, Room at the Top, which years later was to establish him in fiction and the films. His new book, FROM THE HAND OF THE HUNTER (Houghton Mifflin, $3.75), is a sublimation of this early experience; it is the lyrical story of Dick Corvey, a young Yorkshireman who has been losing his life to T.B. — and willing to lose it — until he is aroused from his torpor by Nurse Mallaton. During the interminable hours in the ward, he has been reliving in reverie his boyhood in the West Riding with its slag heaps and barren moors, his most precious friendship with Tom Coverack, his feud with his father, His calf loves, and his aimlessness after service in the war — all of this mixed up with sex and failure. Sardonic in his surrender, Dick, with his dark eyes, has become the pity of the hospital. But there is a surprising amount of man left in him, and when the invigorating, fresh-smelling nurse touches his senses, he begins to fight back. Dick's reverie and recovery are of rising interest, set as they are in that Yorkshire which Mr. Braine knows so very well. This book holds pathos and power.