The One-Room Suite
ALEX FAULKNER is the New York correspondent of the London DAILY TELEGRAPH.
In the apartments and homes now being offered to the American public, an unprecedented level of comfort has been achieved, at least on paper. The new motif is "the return to gracious living."
Descriptions appearing in advertisements and brochures reflect powers of evocation which are a delight to the curious reader and should give future students of our civilization a profound respect for its achievements.
Take, for example, a block of flats now under construction in New York, "heralding a new Era of Elegance." We are told that it will stand "as a twentieth-century landmark of man's ingenuity and skill for future generations to admire and to attempt to surpass." Rising in a "setting of scenic splendor," it "presents a totally new pattern of gracious living, dramatically conceived to offer the essence of luxury and exclusiveness, the ultimate in layout and modern appointments."
This overpowering edifice is facing some tough competition from another going up not far away, which boasts that its "regal splendor and palatial elegance transcend all previous concepts of modern apartment-house luxury." Not only will it be ''the most richly endowed with innovations for gracious and lavish living," but besides the attractions of a royal palace it will offer the humbler joys of a manor house. Its "exquisitely landscaped gardens, limpid pools, and sparkling fountains — a veritable fairyland of enchantment surrounding the majestic Structure" will help, it is asserted, to create "an aura of manorial elegance."
Similar feats of what might be called adjectival trompe-l'oeil are being performed for some of the newsuburban houses. Out on Long Island we find exotic dwellings in which the kitchen has become the "culinarium," the pantry a "gourmet's breakfast corner," the bedrooms "sleeping chambers," the recreation room a "fountain room." the halls "Cabana mud rooms," and the good old front porch a "captain's deck." Naturally, the place where you put your car is styled a "twoCadillac garage."
It seems unkind to compare these visions with the reality, but inspection of many of the actual apartments forces one to the conclusion that the people who live in them will need vivid imaginations.
The usual procedure is to wall off one corner of the main room to create a kitchen (with both window and waist-high oven, if you are lucky) and to label the adjoining corner "dining bay." Another part of the room may be marked "sleeping alcove," another "library" or "television den," and the rest "living room." In one brochure it is explained that this masterpiece of design was achieved by means of "skillful planning," and it is praised for its "livability." The dividers, however, are pure Bottom's walls.
How the return to gracious living is accomplished by reducing the ancestral dining room, inner sanctum of affluence in bygone days, to a mere bay or alcove in a sea of armchairs and sofas may puzzle the uninitiated. The trick is to furnish it unobtrusively.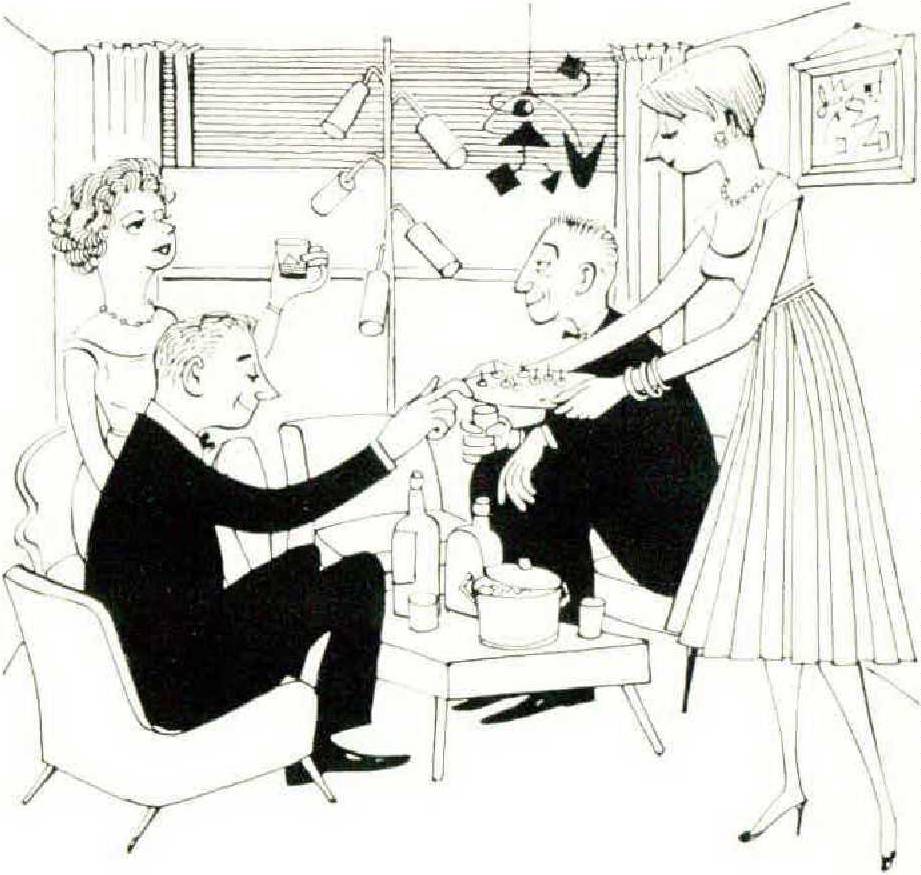 While the arriving guests divest themselves of hats and coats in a hall which is just another corner of the living room designated "foyer," and gallantly try not to catch the eye of their host and hostess and fellow guests until they are ready to make their formal entrance, and the harassed housewife bustles back and forth as graciously as she can between kitchenette and dinette, the furniture in this modest temple of gastronomy makes itself as inconspicuous as possible.
Since people still do eat, and the traditional long-legged table and its attendant troop of tall chairs are an eyesore under such cramped conditions, the furniture makers have come along with what is presumably regarded as a gracious table, it is not much higher than a coffee table, with chairs correspondingly low. As it is an awkward fact that people still have legs, difficult to dispose of when people are seated on low chairs at a low table, the interior decorators have yet another solution — a Japanese decor.
In some ways this is even more desirable than a Tom Thumb dining set, because the only things that clutter up die dining bay, alcove, or area are a table almost at floor level and an assembly of cushions, or, better still, no cushions at all, but simply a padded mat.
The crowning contribution to graciousness under such trying conditions is furniture that is almost as invisible as the partitions between the dining room, living room, sleeping alcove, and so forth. Chairs and tables made from clear plastic, with just a hint of cushion to steer the prospective occupant in the right direction, have now been introduced. Nothing is better calculated to prevent any appearance of overfurnishing than furniture you cannot see.
Unhappily, these aids to gracious living have not yet been matched by the invention of inaudible noises, and it is a sad fact that the walls of not a few of the four hundred luxury apartment houses built in New York since 1947 are not altogether soundproof. One is forced to share the gracious living of one's next-door neighbors, and I have yet to see a reference to the thickness of the walls in the advertisements. It must also be admitted that many of the splendid picture windows on which the architects so justly pride themselves open up a prospect of much brick and mortar, but we can look forward to the day when panoramic color-television screens, hung like pictures, will provide us with breathtaking views of perfect scenery.
Some people might feel that the contemporary stratagems to make a little space go a long way are more Spartan than gracious, but, then, who would ever go for an advertisement offering "a return to Spartan living"?