The Library's New Role
A Nebraska librarian, KATHRYN J. GESTERFIELD received her professional training at the University of Denver and worked for three years in the Denver Public Library before entering the WAG in 1942. For the past thirteen years she has been attached to the Scotfsbhiff Public Library, where she has had an opportunity to observe the changes in the reading needs of the community she serves. We find her experiences particularly appropriate for the celebralion of National Library Week, April 3 to 9.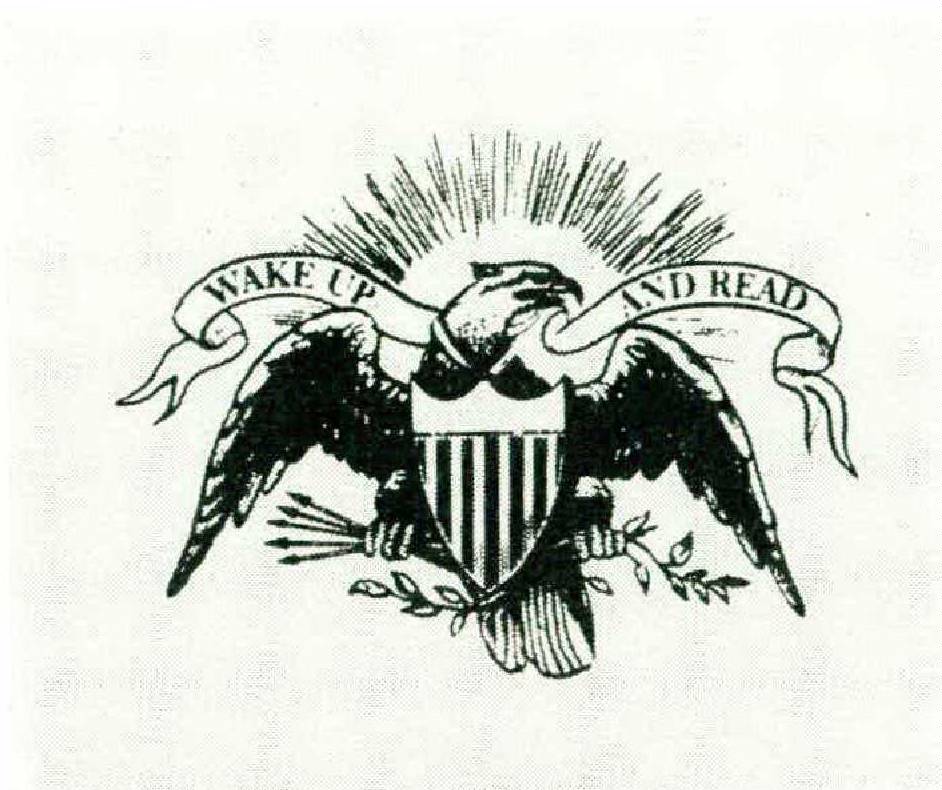 BY KATHRYN J. GESTERFIEED
AS I lock the door of the library on this, the thirteenth anniversary of the day I came to work here, I think of the changes that have taken place in the library, the town, and in me during these years.
Outside, the library does not appear to have changed much, although this coat of paint on the door is one of several that have worn out. The landscaping is new, the bicycle racks are outgrown again, and the universal parking problem has moved to this block too.
Inside, however, the library has changed. The crowded children's room has been converted into a work-storage room, and the present children's room, with its bright tile floor and new stacks, is across the hall in the room formerly used for the auditorium. Weekly story hours and an exciting vacation reading program are held in this new area.
We are equipped with a record collection now and a record player for background music. An art exhibit with pictures by local artists is available for rental by our patrons. We have some of the same old books and many new ones. We have some of the same borrowers that I met the first day I came to work and many new ones. We have had others who moved into our community briefly and then moved on.
We are reading some of the same kind of books, but also new kinds, as the interest of the community changes. Discovery of oil in the area changed the reading, thinking, and economy of the community for a while. When the discovery proved to be a minor one, some of our interest in it lagged. Television came and, after a brief monopoly, began to arouse reading interest in new fields. Children we knew at first in high school have been away to college, married, and now bring their children to the library. It is fun to introduce books to the second generation.
Sometimes we think we have done too good a job in interesting young people in the library. As one of my friends said when she came to pick up her daughter, who was working on her term paper, "I never thought the library would be the place for high school kids to get together. It's wonderful." Some of our readers, disturbed by the confusion and crowding which results from this patronage, do not agree. But they do agree with me that we need more room.
Through the years we have seen changes in the kind of reading required by the students and changes in the hours when they need the library most. Split shifts in the schools bring the afterschool rush much earlier in the day. Changes in personnel in the schools bring new demands. Whereas the history classes once read biography extensively, now the socio-economic aspect of history is most popular. Shakespeare and the Globe Theatre get a workout from the students of one English teacher each year, while another changes her emphasis frequently, and we must remember to check with her each semester to see what her students will be looking for. What seems to be an adequate supply of books on myths and legends suddenly disappears from the shelves for another assignment. Happily, we have splendid interlibrary loan relations with the State Library Commission, so we are able to supplement our waning supply in a hurry.
But all these changes, however interesting from an administrative view, are not so exciting as the people who use our library. There is one patron who will not read a mystery story set in England. On those rare occasions when she is persuaded to try one and then, amazingly, likes it, we consider it a major victory. There is the teacher who, with her family, visits the library several times each week, and together they read almost everything. They talk about the good books, too, and her students and her children's friends ask for them. There are the people with special interests for whom we never have enough new books — the rock hounds, the art guild, the coin club, and the nature club. All of them add a challenge and a reward to the work of the day.
MOST of all, memories of two families stand out. They are ideal library users. One of them stopped in our town all too briefly. The father is a science teacher and was at our college. He was interested in books and magazines in his field, but also in travel books, modern novels, and many other types of literature. His wife, who is an art teacher and an artist in pottery, enameling, and oil, did much to start the first exhibits in the library. But most exciting of all was the task of finding reading material for their son. When he first began to visit the library — a quiet, serious little fellow with bright eyes and a delightful smile — we had a pet chipmunk, and Gregg's first act upon arriving was to feed Scatter. Then, every other week he checked out Charlotte's Web. This was his favorite book. His parents read to him, of course, and we knew they were kindred spirits when they enjoyed Charlotte as much as he did and did not object when he went directly to the shelf for it almost every time he came in. His little sister was too small for books when the family was here, and they have gone on now to better opportunities in teaching, but a recent letter tells us that they love books more than ever, and no doubt they are as great a joy to their present librarian as they were to me.
Our other favorite library family shares our hopes and plans, and we share theirs. When they came to town, the daughter was a fifth grader. Together we lived through her horse phase and her science-fiction phase, and we rejoiced together as she developed into an omnivorous reader with wide interests. We were not surprised that she won a scholarship to a large Eastern school. Now we look forward to her vacations, when she tells us of the exciting intellectual challenges she has there. We also welcome her to the library in the summer, because she helps us with various illpaid but necessary projects, to which she contributes a great deal.
Then along came Trent, who started kindergarten the same year his sister started college. Maybe he is even more fun. We watched him become a library user. His sister could hardly wait to show him the wonder of the books she had known as a child, and she was very successful in her efforts to interest him in them. Great discussions took place about when to read him this book or that. Was he too young for this? How would he feel about The Long Winter now? Probably the most serious problem was when he should have The Wind in the Willows. Extensive post-mortems have forced us to decide that April had heard it when she was too young. Her mother could not wait to share it with her. As a consequence, she is one who may yet grow into it. She must, regretfully, be likened to the young woman whose letters (according to A. A. Milne) would have to be returned because of her failure to communicate with Kenneth Grahame. So we tried Trent cautiously with Mr. Toad. He liked it! We were exultant. Then he learned to read for himself, and the discovery of the reading process was a great thing in his life. "Mother," he said, "here is a word I've learned." "Yes, and you know this one too." "Oh, yes, I know that one, but I've learned this one."
Of course, the parents of such children would have to be charming too. Their house is full of books on every subject from literary criticism to fossil hunting. They use our records and make valuable suggestions for purchases to enhance our collection. They know and worry with us about the library's problems — the budget, the need for more room. In short, they are real friends of the library.
Obviously, these people I have mentioned are personal friends of mine too, as they would be the friends of any librarian. Gregg's family and Trent's family are people you like the first time you meet them, and as time goes on you realize how invaluable they are in this hurried world. They have time to read, to live, to teach their children the values to be found in books and the great enjoyment to be derived from them. Wherever they are, they are good library families.
But what about the people I don't know so well? In our community we have four kinds of people.
First, in terms of age, there are those who came to this country in the days of early settlement, the late 1880s. These people talk about the hardships of early ranching years before this valley became a checkerboard of irrigated farms. Since my grandfather was one of them, I listen to their stories with interest as we select their books. Perhaps today they will take a Western novel, or maybe they are in the mood for Mari Sandoz's Old Jules, or The Cattlemen.
We talk about the range cattle, still going through here when the first settlers came; the cattle and sheep wars, when Tom Horn terrorized western Nebraska as well as Wyoming; the coming of the railroad; and the beginning of this town. We are all bothered by the fact that soon these stories are going to be forgotten, and if they are not written down, one primary source of the history of the West will be lost. These people, along with their descendants, make up the bulk of our community.
Next are the German-Russian farmers, who were attracted to our area in large numbers by the kind of agriculture with which they were familiar — the cultivation of sugar beets. They progressed from hired-hand labor to tenant farming. Now they are the owners and operators of the rich farms surrounding our town, where many crops besides sugar beets are grown. Books on the latest agricultural methods are useful to them, but in many cases the experiments arc done here and the books are written after the farming improvements have been adopted by the farmers. The library has a deeper obligation to these people than furnishing the latest books on their business, and it is an obligation we neglected thirty years ago.
Today we have books in German, which are attractive to the older people as well as to the high school students learning German under the new science-propelled program. But we should have had these books for their pleasure years ago. Now many of their colorful Old World customs have been lost, and the best we can do is to suggest to them books for the complete integration of their culture with ours.
Our Spanish-Americans fare slightly better, only because they are more recent arrivals, and we accept them as a different but valuable contribution to our community. We attend their Mexican dinners and watch their folk dances with enjoyment. We have Spanish books for their older readers; two of their girls work at our library; and we are aware that their soft, south-of-theborder culture warms our sterner northern reality.
We are especially fond of Francisco, who came to this country when he was twelve from a rural area of Mexico, He had never been to school. By the time he was seventeen he bad completed grade school and now, two years later, he is finishing high school and taking some courses in college at the same time. He endeared himself to us by coming especially to ask for instruction in the use of the library. It was impossible to fit the orientation course in college into his busy schedule, so we gave him private instruction, which he puts to very good use. He is self-reliant and rarely has to appeal to us for help in finding material for his needs. He is losing some of his accent now, but I am sure that he will always retain his gentle, polite manner of speaking and that the sparkle in his dark eyes is here to stay. We look forward to the day when he can read for fun. He is so busy studying now that he has little time for anything else, but maybe next summer. . . .
Our other large group of citizens were really here before anyone else. The Pine Ridge Reservation is only 150 miles from our town, so we have many transient Sioux Indians as well as permanent residents who have found a place in this community. We are pleased at the success of their children in our schools, and we are happy when Mr. King, the president of the Platte Valley Indian Council, comes in to read the new books about his people. He uses the legends and stories in some of our collections to refresh his memory for the talks he gives each time the council dances. Everyone enjoys these dances, spectators and dancers alike, and we are happy when it is time for the round dance or the "rabbit dance," when nonIndians are invited to share in the fun.
These are the people who have made our community. They are the people who run our businesses, our farms, and our town. They are the teachers and the students in our schools, the members of our churches and clubs. They are the people who have worked with me to help the library progress.