The Insatiable Traveler: Bernard Berenson's Quest
An American by birth who with her husband, the Marchese Antonio Origo, took a daring part in the Italian underground during the war, IRIS ORIGO was an admirer and dear friend of Bernard Berenson. A biographer by choice, her books include a life of Leopardi, a short study of Byrons daughter, andTHE LAST ATTACHMENT,an account of Byron's love affair with Countess Guiccioli.
IRIS ORIGO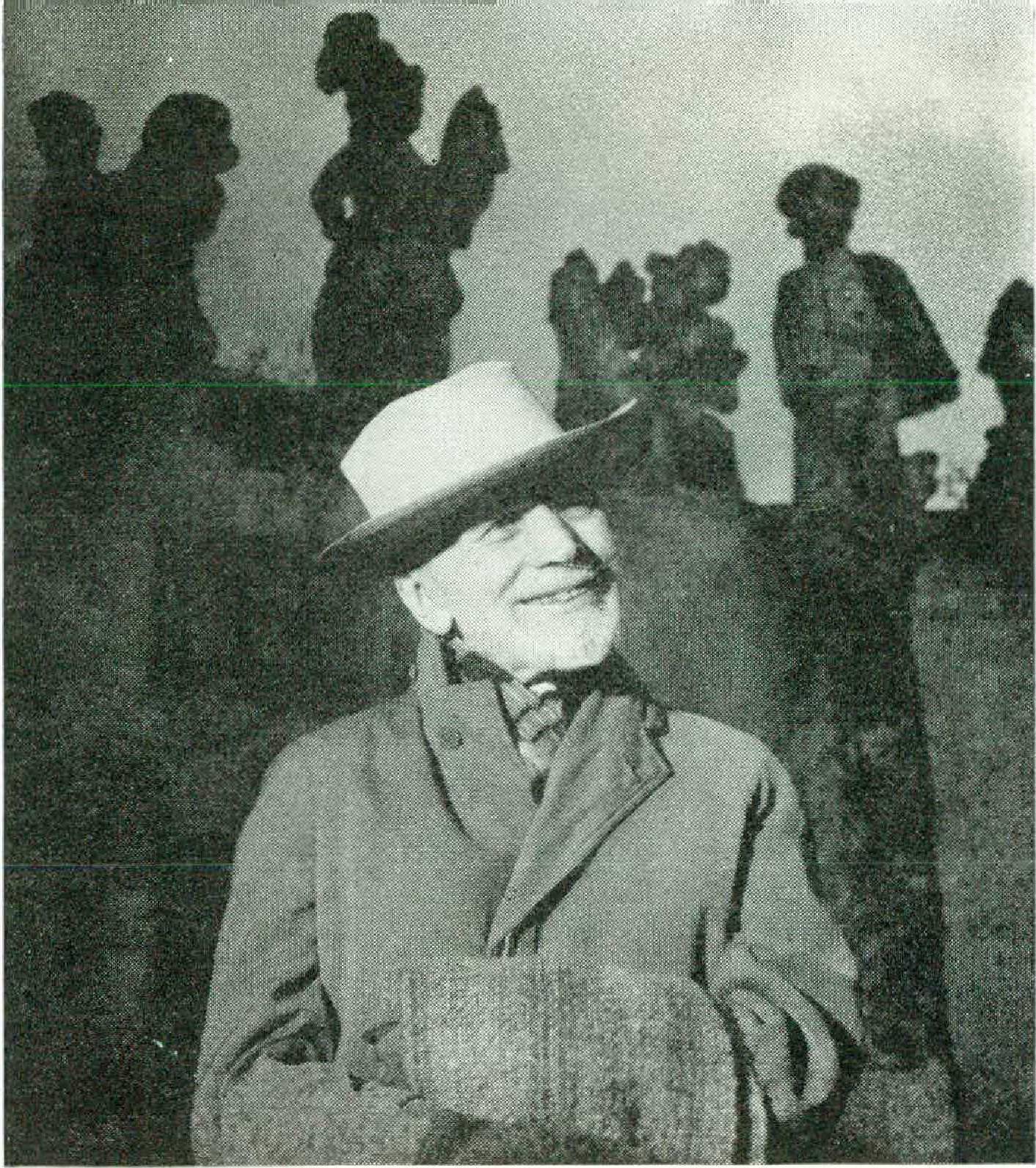 MY FIRST recollection of B.B. dates from nearly fifty years ago, when he was in his early forties and I a child of eight. As I drove with my mother up to the little Tuscan wood of aromatic cypress and pine which was that day's meeting place, he was waiting, with thinly veiled impatience, beneath a tree; a slight, trim figure in a pale-gray suit, with a pointed beard and a red carnation in his buttonhole.
"Come quick," he said. "I want you to see the view before the light fades."
As we climbed over the slippery pine needles — our guide as sure-footed as any of the little black goats we encountered — I thought that I had never seen any grown-up man skip up a hill so lightly, but when, having reached the ledge, we looked down over the valley of the Sieve, I also thought that I seldom had seen anyone stand so still. Later on I realized that he had been just gazing upon the scene below with a delight as fresh and keen as if he were still the young art student who had come to Italy more than twenty years before, but with an eye enriched and sharpened by every undertone of knowledge and comparison which the intervening years had brought.
"Look," he said, pointing to a happily placed farmhouse on a low knoll, with its dovecot and group of cypresses, "look, a Corot."
Of all the facets of that complex personality, this is the one that I remember best — the way in which he would look at what lay before him. One day in my childhood, when he had taken me to see some frescoes, he told me the Indian tale of how the God of Bow and Arrow taught his little boy how to hit a mark. "He took him into a wood and asked him what he saw. The boy said, 'I see a tree.' 'Look again.' 'I see a bird.' 'Look again.' 'I see its head.' 'Again.' 'I see its eye.' 'Then shoot!'" It was the same, B.B. said, in looking. "One moment is enough, if the concentration is absolute."
This concentration was not confined to works of art; it was extended to any and every form of beauty. In some moods he would say, "The study of art is only a preparation for the enjoyment of landscape." But, indeed, for him the two pleasures were so closely interwoven, so enriched by constant cross references to each other, that it would have been difficult to say which was the starting point. "You don't know," he wrote in 1890 to his future wife, after his first visit to Murano, "all that sun and sky and water and light mean to me." And she herself has described how, on their first visit to Verona together, they would spend the whole morning in churches and picture galleries but set out every afternoon into the hills to see how the landscape illuminated the background of their favorite pictures "and seemed to stab us with the poignant realization, 'This is Italy!'"
B.B.'s letters and his travel diaries are constantly enriched by his comparisons between other scenes and other works of art, spontaneously welling up to complete a new experience. When he first saw Monte Oliveto, the ash-gray hills and steep, bare canyons at once reminded him of Doré's wildernesses; many years later, the ruins of Ostia Antica appeared to him as "living Hubert Roberts"; the landscape between Barca and Cyrene brought back "the grey-green Claude Lorrains that we admire so much." In the oasis of Tagiura in Tripolitania, he was constantly aware, for all the immediate exoticism of the palm trees and mud huts, of the closeness of the ancient world, not only in the Roman columns of the mosque, "like those in the Cathedral of Cordova or the Great Mosque of Kairouan," but even in the garments of the Arabs, "Often I have wondered." he wrote, "how a Roman wore his toga. Here rich and poor wear it, new or in rags, and stride on utterly unaware of how Antique they look to us." A group of old men waiting on a bench for the hour of prayer recalled the figures of Giovanni Bellini's Transfiguration, and when, in the Museum of Tripoli, he was shown a small, exquisite ivory, possibly Alexandrian, of a man crouching in a ritual posture, he was at once reminded of Queequeg, in Moby Dick, crouching in ecstatic prayer before a wooden idol.
It was this richness of mind, as revealed in such wholly personal and often unexpected associations and images, layer upon layer, like the fine pastry called mille-feuilles, that made him so enchanting a companion in travel or even on an afternoon's country drive, to which he would impart as great a sense of adventure as to a distant journey. "I could follow up any road, any bypath,"he wrote, "with the same zest that I would read a story, for the fun of going on and on. I have not yet got over the small boy's dream of a journey coming to an end."And to this his wife has added that there were occasions, at the end of a long day's drive, when he would become "actually deceitful, pretending that something he wanted to sec was only 'just round the corner' . . . which proved to be 35 or 40 miles away."
This passion for travel for its own sake, entirely irrespective of its value to his work, was closely allied to what he called his "intemperate lust for reading." "I can get absorbed," he wrote, "in any historical work regarding any people, any period, any movement in religion or in thought, any anthropological or ethnological publication, the more detailed the better. I can read any book of travel. . . . Something within my range of interest that I have not yet known makes me happy with an almost voluptuous happiness." (His friends will remember the gusto with which he greeted any such novelty with the phrase "Questo mancava alla mia cultura!") All this knowledge came to form, thanks to his phenomenal memory, the rich and varied tapestry against which his journeys were unrolled. During a brief journey to Calabria at the age of almost ninety, he wrote that he had not needed to read any books about the region before starting, since his mind was already stocked with impressions from the history and travel books read many years before. He traveled with Lear and Lenormant, with Gissing and Norman Douglas. His present journey was enriched by images of the past; his knowledge of the past quickened by the scene before his eyes. As curious, persistent, and imaginative as a child, as agile as a chamois, as sensitive as a poet, as learned as a sage — that was B.B. upon his travels.
THE taste dated from early childhood. "I recall," he wrote during a journey to Sicily in his old age, "how as a boy of six or seven at most I longed, yearned to go and see what was beyond the horizon. Moving, going towards another town, another village even, used to make me feverish with excitement. And now that I am almost eighty-eight, why am I here, suffering fatigue, discomfort and even boredom, if not from the animal urge 'to go on pilgrimage'?"
It was in 1888, when Berenson was twentythree, that the journey began. The young, brilliant Jewish art student from Harvard, with little in his pocket but with an indefatigable industry and insatiable curiosity, came back to the Europe which he had left at the age of ten and first of all, in the full tide of the classical enthusiasm acquired at Harvard, made his way to Greece. For his whole life the recollection of those days at Olympia remained bathed in a golden light; he looked back on it as the place where he had first been "utterly cut off from the world, perfectly at one with my natural surroundings." The next year brought him to Sicily and Italy, and thenceforth all his journeys became only, in one sense, roads leading to Rome. He spent several months at Oxford, Berlin, and the Sorbonne and the spring and summer of 1890 in England, meeting his future wife, then Mary Costelloe, and, in her own words, acting "like a catalyst precipitating the various elements held in solution in our family group. . . . Fascinated we listened to his talk about Provençal poetry, the Greek anthology, Russian novels and Wagner's operas. Even my dear Quaker mother [who told her daughter that she had always associated the word pleasure only with vice] listened to his strange doctrines in admiring silence, and we all ordered large photographs of the pictures of Giorgione and Botticelli."
The following winter was spent in the galleries of Berlin, Dresden, and Vienna, but it was always Italian pictures that the young man turned to and thoughts of Italy that filled his mind. From Berlin he was writing to Mary: "A day in Italy is worth more than a week elsewhere. To get the perfume of a flower so as to be able to tell others what it is, you must go where it grows. The structure one can perhaps study in a herbarium." And he went on to wonder whether it was not this lack of a return to the fountainhead that sometimes produced "the mere scholasticism of directors of galleries. . . . They chew their cud over and over and eat no fresh grass."
The Italy to which he was drawn was one which none of us has ever known. "I knew a Rome," he wrote at eighty-two, "where the country not only embraced the town, but invaded it almost to Piazza di Spagna. From the terrace before San Giovanni in Laterano, the fields stretched out uncontaminated, with only an ancient wine-shop here and there, to the Sleeping Beauty of the Alban Hills." In Sicily in 1889 there was only a single hotel at Taormina, a small pink house below the Roman Theater; and at Girgenti, where he had walked down to the temples to enjoy their beauty by moonlight, his meditations were interrupted by two carabinieri on horseback who had galloped down to tell him to return at once, for his own safety, within the city walls.
In 1893 he was preparing his work on Lorenzo Lotto by pursuing Lotto's paintings throughout the smallest and least-known churches of Bergamo and the surroundings, as well as in remote villages of the Marches. Sixty years later, on visiting the Lotto exhibition in Venice in 1953, he recalled with delight the hardships and excitements of that journey, comparing them with those of a medieval pilgrim. Avoiding the crowded horse buses, he traveled mostly on foot or by hiring a light bagher (buggy). The inns were scarce and dirty, his food often little more than stale bread and onions with a handful of anchovies, but every morning he woke to "a glamorous adventure," and when at last he found himself before the altarpiece he was seeking, "in the place for which it was made," he felt as great a joy as if, like those earlier pilgrims, he had fulfilled a vow. "It [the picture] remained fixed in memory as a crystalline individuality, and not as a mere particle in the oeuvre of a painter. Its overtones lingered in the recollection and its taste on the palate."
By then, the needle of his compass was already set. The three great books which first made his name, The Venetian Painters of the Renaissance, The Florentine Painters of the Renaissance, and The Central Italian Painters of the Renaissance, all appeared between 1894 and 1897, before he was 32. The profession of expertise and the partnership with Duveen came some years later, and later still, from the resulting prosperity, the luxurious life of I Tatti. But all this cannot be told here, even if I could. The orientalist, the aesthete, the scholar; the fragile dandy in the exquisite gray suits; the expert whom the dealers, in Kenneth Clark's happy phrase, turned "from a poacher into a game-keeper"; the suave and generous host; the passionate collector of pictures and books; the talker — always witty, sometimes merciless, unfailingly life-giving, who was yet "as easily put off as mediumistic performers by the presence of doubters"; the vehement and sometimes prejudiced politician; the omnivorous, but not always discriminating, reader; the guru of the young; the candid autobiographer; the spoiled child, the lover, and the sage: how could one draw so intricate a pattern, how discriminate fact from legend, in a few pages? To dwell upon a single facet is in itself misleading, but it is the only possibility. The B.B. of whom I shall try to catch a glimpse is the one who happens to appeal to me most — the ardent and insatiable traveler. In the course of seventy years, he became familiar with almost every museum and church, as well as with the most beautiful landscapes, in Europe, but it was always to the Mediterranean that he returned. "Almost everything that sets us above savages," he would quote from Dr. Johnson, "has come to us from the shores of the Mediterranean."
THE quest was always a double one, an outer journey toward a new scene and an inner one into the perceiving self. He noted, for instance, that the enjoyment of color was a pleasure acquired comparatively late. "I was not born with a feeling for it, and in Boston sixty-five years ago there was little to generate and educate a sense of it." It was only after the revelation of "the atmosphere of disembodied colour" in the Upper Church at Assisi that his eyes were opened, and he gradually came "to enjoy colour as much as smell, almost as much as taste, and as sensuously." With each such acquisition, he felt "as if born to a new kingdom, to an enlarged life," which every passing year only intensified. "I am always increasingly aware," he wrote at eighty-seven, "of what a sum of previously acquired knowledge is injected into those complex perceptions, hearing, taste and sight."
His unpublished letters to his future wife in 1890 and 1891 are fascinating reading, and so are Mary's accounts of their first journeys in Italy together. The young man revealed is one to whom the years were to bring very few essential changes in character, though many in opinion. We find in his letters, for instance, a wholly disproportionate appreciation of the minor painters of the Veronese school, of whom he said in later years, "They taste like vinegar." Sodoma was also accorded a measureless admiration, while all other Sienese painters after 1400 were dismissed as "simply dull and meaningless."
"When you meet Berenson a second time," his old friend Israel Zangwill used to say, "you are beaten over the head for admiring what he taught you to admire the first," and his wife's phrase, "But, Bernard, you used to think . . ."became so well worn as to rouse all their friends to laughter and cause him to retort that his daily prayer had become "Give us this day our daily idea, and forgive us all we thought yesterday!"
What, however, remained wholly unchanged was the zest of those first discoveries. "To be for ever learning — never to petrify — that is what I yearn for," he wrote at twenty-four, and the wish was granted. He possessed to the highest degree that most enviable of talents, "the power of seeing everything each day as if it had never been seen before." His wife wrote that, in all their years together, she could never remember his saying of any picture, "Oh, I've already seen that!"
In his letters he shows a constant awareness of the dangers of treading new ground. The Berlin gallery, he wrote, made him feel "almost helplessly ignorant. Pictures tell you so much that you have to take care that they tell you no lies. . . . You can scarcely have an idea how little we really know about the history of Italian Painting, and how very much there is still left for the 'mere' scholar to accomplish."
What gives life to all the letters is the writer's unfailing capacity for delight. "What a wonderful thing it is," Berenson writes from Dresden, "to be on a ladder, face to face with Giorgione's Venus!" His first glimpse of Piazza San Marco is utterly overwhelming. "When I passed through the arch and had my first look at the Campanile and at San Marco, I thought they would fall on me. I have read since that blind people suddenly restored to sight feel so about their first glimpses of the world." At Montepulciano, after seeing for the first time San Biagio, he is "quite dizzy with happiness." Even finding himself locked out of Siena after sundown has its own charm. "A city with walls and gates that really shut is a definite unit, not a mere conglomeration of houses."Even in sleep his adventures do not end: he dreams one night that he is being shown "two unknown Giorgiones. I can see them at this minute, in colour and tone."
Such letters could hardly fail to kindle an answering flame, and when at last Mary joined him on his travels, it is plain that, in spite of the storms and difficulties that lay before them, two happier and more absorbed young sightseers have seldom paced the Italian streets. In the Uffizi, Bernard insisted on leading Mary blindfold to the spot in the adjoining room from which she could best see, for the first time, the Primavera. In Rome they walked up the steep, narrow road leading to the Aventine "so intoxicated with new enchantments of thought and feeling" (I am quoting Mary) that a peasant who passed them said to his companions, "Stanno per baciarsi"—"They are just going to kiss."
IN THE autumn of 1891, in Verona, their life was as hard-working as it was frugal. They lived on five lire a day each, with Mary wearing her sister's old clothes, breakfasted early at a cafe in Piazza delle Erbe, and went sightseeing unceasingly all day, their greatest delight consisting in changing the doubtful attributions of many of the pictures. "What a passion it was for us in those days," wrote Mary, "to whisper to each other a new name for an old thing! I can hardly understand it now, for it has become so much the thing we care for, and not the name. But then! we used to wonder if Adam had half as much pleasure from naming the animals as we from naming those ancient paintings."
Not that they were always in agreement. Mary would complain of "the spiritual emptiness" of Paolo Veronese; Bernard would rail at her "oeil dénigrant"; they would part in anger, eat at separate restaurants, and then meet again to make it up, before the same picture over which they had quarreled. Moreover, Mary's Quaker conscience would not allow her to leave Bernard alone. From their first acquaintance, it had driven her to influence him to "do something" with his work, to impart his conclusions, "in the name ol Duty,"to others, while he found the effort of writing, which he disliked all his life, extremely distasteful, and besides felt very doubtful as to its value. "I still question," he had written to Mary in early days, "whether it is at all possible to communicate a feeling for art to people, except by personal contact." He dreaded what he called "the danger of falling into literature — I mean of getting to look at pictures as material for writing, of attempting to put great painting into bad prose." He was, at this time, almost wholly without personal ambition. "Even if I went back to America," he wrote to Mary in 1890, "and just earned enough to live quietly somewhere with my sister I should be very happy, because I should have gathered enough impressions to occupy a whole lifetime." Whether this was true may well be questioned, but it was undoubtedly sincere. And finally, his reluctance to write about art was based on an acute dislike of what he called "humbugology." "Aside from the mere difficulty of composition is the fact that au fond— don't be surprised — I am too honest, and too much in earnest. I am so deadly sick of lying and lies. . . . All I really know is once in a while the impression a picture makes upon me. . . ."
Mary won; the books were written, their author's name was made. But now and again, as she herself has recorded, "in moments of conjugal tension," B.B. would complain that she had "ruined his life by turning him from the disinterested contemplator of beauty into its vulgariser." And when, toward the end of his life, he published a revised edition of his Italian Painters of the Renaissance (1952), he reaffirmed in the Preface his old tenet that what matters is not reading about pictures, but looking at them. "We must look and look and look till we live in the painting and for a fleeting moment become identified with it. If we do not succeed in loving what through the ages has been loved, it is useless to lie ourselves into believing that we do. A good rough test is whether we feel that it is reconciling us with life."
IT WAS this search for a total self-identification with beauty, a Goethian reconciliation with the whole of life, that marked B.B.'s later journeys, as it had those of his youth. In the years between sixty-two and seventy-three — the years in which, according to his own account, he began to be haunted by a wholly new "feeling of hurry" - he embarked upon another series of journeys, of which one might well write what he himself had said about his first trips to the Italian hill towns: "All the days carried to the evening the buoyancy of morning." With his secretary. Nicky Mariano, as Angel to his Tobit — for Mary was too ill to travel in her last years, and died in Florence in 1946 — he went to Scandinavia, Turkey, Spain, Palestine and Syria, Tunisia and Algeria, Tripolitania, Yugoslavia, and Asia Minor. Once again, after all the years of specialization and fame, he traveled as he had in the 1890s, just "to look and look and look." Once again, he was caught up by the magic of what he called "Dahin-ness."
There were some external changes, of course; one does not travel at seventy on five lire a day, or live on bread and onions. Mary Berenson has described the preparations: the letters of introduction "drifting in by every post," the inoculations and the pills and the packing — overcoats of three different weights, glasses and sunglasses, umbrellas and sunshades, sticks and fly whisks, brandy and camomile and Benger's Food, and even jam and honey. "But the heaviest part of the luggage is books," not only about the country the travelers were bound for, but "escape books, meant to be read when ruins and archaeology begin to pall: the Bible, poetry, biography."
But, for all this paraphernalia, the traveler's spirit had not changed. When he drove over the rocky desert track from Tripoli to Gadames, all that he cared for, in spite of the torrid heat, the sirocco, the suffocating dust, was the increase in his own awareness. "It has afforded me," he wrote, "sensations of the desert such as I never got, even in Egypt or Algeria." As, at twilight, they passed some campfires of the Touaregs, he remembered the description of an early Arab poet "of how the cinders of such fires recalled to him this or that love of the past, and renewed the ache and longing for the days of his youth." At Gadames, where the whole little city is built within the oasis, around a large pool, he was completely enchanted. "The water bubbles and glitters as at the Clitumnus. The tunnelled alleys form a maze with frequent openings to the sky. Occasionally these widen, and settees, like those of Roman triclinia, lie there, and there, against carved columns and ornamented stone walls, sit beggars, children, elders, notables. . . . Here at last I do get an impression of Africa."
At Leptis Magna, and later on at Cyrene, he was able to yield fully to his romantic love of ruins. "They are evocative and romantic," he wrote at Leptis, "to a degree that it would be hard to exaggerate." At Cyrene, in spite of cold so great that he sat writing indoors in a fur-lined coat, he wandered for hours among the rock-cut tombs of the acropolis. "The sentiment of all these invisible ghosts who lived and died in Cyrene down thousands of years, the silence of the ruins accentuated by the distant murmur of the sea, is more impressive than words can express." And the last day before his departure closes on a note of triumph: "So I have been to Cyrene, und das kann mir Niemand wegnehmen!" — "and that no one can take away from me!"
After this, the range of B.B.'s journeys, except for a brief return to Tripolitania at nearly ninety, began gradually to draw in, though only geographically. Always he had maintained that a voyage of rediscovery was even better than one of discovery: "The more I do a thing, the more I want to do it." And so, in his eighties, it was with delight that he returned to the places in Italy he had loved most, to Rome and Venice, to Sicily, Calabria, and Romagna. His curiosity was as green as ever, his mind as open to any new idea. He was fascinated, "though I soon have enough of it,"by the new floodlighting of the Forum and the Capitol. "It satisfies our demand for 'otherness,'our childish pleasure in the out of the way."At Reggio, he was willing to admire the new sea front, with its prosperous buildings and public gardens. And at Venice he had no praise too high for Count Cini's restoration of the island of San Giorgio Maggiore, where the old monastic buildings had been turned into a great cultural foundation and the rest of the island into a training school for poor boys. He saw in it "a neo-monastic establishment" which, perhaps, "in the darkling, noisy and warring world into which we are already plunged, may play the same part that they had for centuries in our past."Even when he could only deplore, as with regard to the tearing down of old buildings to produce wide highways, he asked himself whether his discomfort, in terms of the future, was not perhaps because "we attach our own survival (in a measure at least) to things looking the way that we have always known them."
A friend whom he went to see in Rome has set down, from what he told her, his day's routine at eighty-two. Morning tea at 6:30, writing until 8:45, followed by breakfast with Nicky Mariano, and reading and writing with her until 9:45. Then, after dressing, a morning's sightseeing — generally a single sight, savored at leisure — until 12:30, lunch with friends, a rest, and then out again for another sight or drive from 4 to 6. People to tea, rest, other friends to dinner, and talk until 11:15. Then bed, with Nicky reading aloud until 12:30. And to this I must add that it was not infrequently that some busy ambassador or scholar would be fitted in for breakfast.
When asked whether he did not find it too great a dispersal of his energies to see so many people, he replied that to talk to them was a way of paying one's ticket, one's passage through life. He considered himself a "life-enhancer," and this could only be achieved by talk, not writing. Besides, he himself still received a great deal from people, a sense of usefulness, a vital warmth, the knowledge of the point which his mind had reached. His body told him that he was old, but his mind was still working as if he had before him a hundred years of work, study, adventure.
His last voyage of rediscovery, in his eightyeighth year, took place very near home; he decided to use the little strength still left to him in visiting the sights of Florence and its surroundings once again and "discovering my present relation to them."
It was then that he began to feel that all the beauty he needed could be found at his own door, not only in the landscape but in the "young people as lovely as flowers" whom he could see whenever he went out for a drive, "among the peasants working in the fields, the soldiers returning to barracks. the small townspeople out for a stroll."He even sometimes then enjoyed what once had irritated him beyond bearing, the din of what he called "the human hive" — carts going to market, workmen hammering and sawing, children shouting — "because it spelt the presence of other human creatures."
This return to a feeling of sympathy with people of all kinds, instead of with only an elite, which had been markedly lacking during most of his life, was not wholly new. He had known it once before, as a very young man, at the time of his conversion to Catholicism at Monte Oliveto. A few days after his acceptance into the Church, he went to Perugia and from there sent Mary a glowing description of the people strolling down the Corso in their Sunday best, listening to the band. "The sun was so bright, the people looked so merry, I felt such a love for them all. I even felt reconciled to the brass band. There it was playing, why not walk in step with it sweetly and gladly, instead of paralysing my legs by trying to march in a different step?"
The time came when, for all the beauty he required, there was no need to go beyond his own garden. He found in its flowers and trees a beauty and a variety unequaled by any work of art; he discovered there, every morning, "more than enough newness to suffice for the day." "Each day, as I look, I wonder where my eyes were yesterday. ... I do not even have to look at pictures, for I have become my own painter. ... I require no sculpture, because my imagination has become so moulding that, having about me such models as the Tuscan peasantry, I can visualize them as statues in movement."
So IT was that Berenson's long pilgrimage came to an end. "This self, what is it? For nearly seventy years I have been asking that question."The figure he had presented to other people, he decided, had been merely "an image to which others approach as to a trading-port in old China"; but what of the person he presented to himself? "After so long a run" it seemed to him that he had come to live so much "in people, books, works of art, the landscape . . . that of self little is left over." Whether this was so or not, I should hesitate to say. So vivid, so complex a personality, one in which the ego had been called forth so readily by the vibrations of his interlocutors; could it really become, as its owner at last stated, merely "a perceiving subject"? Certainly the desire was not a new one. "As I look back on seventy years of awareness," he wrote, "and recall the moments of greatest happiness, they were moments when I lost myself all but completely in some instant of perfect harmony."
His first experience of this nature, of the ecstasy to which he gave the name of "It-ness," had come to him as a child of six, under a lime tree in early summer. It was this that he had sought in his first Italian journeys ("I am sure," he wrote to Mary, "that much of my love for Italy derives from the fact that it makes me completely forget myself") and had found during his conversion — though only very briefly. His wife indeed suggested that it was precisely for this reason that he gradually slipped away from religion. "It was too personal to give him what he needed: it drove him in upon himself . . . while Art drove him out of himself, made him ask, not 'What am I?' but 'What is it?' " In the end he had come to think of "a complete life" as one "ending in so full an identification with the non-self that there is no self left to die."
In the last pages of his Self-Portrait he exclaimed, "It is easy now to live in ecstasy." Was it this selfannihilation that he meant? Those times of total abstraction which we all sometimes witnessed in his last years, that disconcerting fall of a shutter, almost in the midst of a sentence; was it merely physical exhaustion, or a more deliberate withdrawal, not only from his friends but from himself?
These were, I think, questions haunting the mind of many as he lay on that last day — wrapped, like a figure in one of his own Renaissance pictures, in a winding sheet made of his soft white cashmere shawl — on the great central table in the library, which was, for all who had sat with him there, the very core of his house. He himself, indeed, had written of the whole house as "a library with living-rooms attached." The body that lay there was so small, so frail, the exquisite long hands were worn to so fine a transparency, the face bore a look of such withdrawn serenity that it seemed easy to believe that there had been "no self left to die."
It was a still, golden day, and as we followed the coffin to the austere little Renaissance church of San Martino a Mensola, the scene was one of great harmony: the gentleness of the evening light, the pealing bells, the olives outlined against the sky, the country road on which he had started out for so many autumn drives. It felt like a farewell, not only to our old friend but to a whole world, perhaps to the last steady light of humanism in Europe. It seemed very natural, too, to imagine B.B.'s own glance falling — not, perhaps, without a flicker of amusement — upon the scene and upon the very diverse group of people who were gathered there, with no attempt at hierarchy: old friends and new, devoted nurses and faithful servants, royalties and diplomats and literary men, pretty young girls and old women in black shawls, the notables of Florence and the butcher and baker of Ponte a Mensola, the valletti del Comune in their scarlet liveries, with the banners of Fiesolc and Florence, and the school children in their pinafores, carrying country posies.
A few days later, I returned to I Tatti to see Nicky and went up with her to the working part of the library. Everything was as it had always been: the stillness, the neat and crowded shelves, the papers and photographs upon the tables, the stepladder onto which Nicky climbed to hand down to me B.B.'s last travel diaries. And suddenly we were both overcome by a tremendous sense of continuity, a consciousness of his presence almost greater than if, as so many times before, these books were about to be taken down to him for his own use. "If survival after death were conceivable," he wrote, "I should wish to be the in-dwelling soul of my house and library," the library already bequeathed to the scholars who would come after him. "To speak more grossly, I should like to haunt it." Perhaps he will.