Islands of the Mediterranean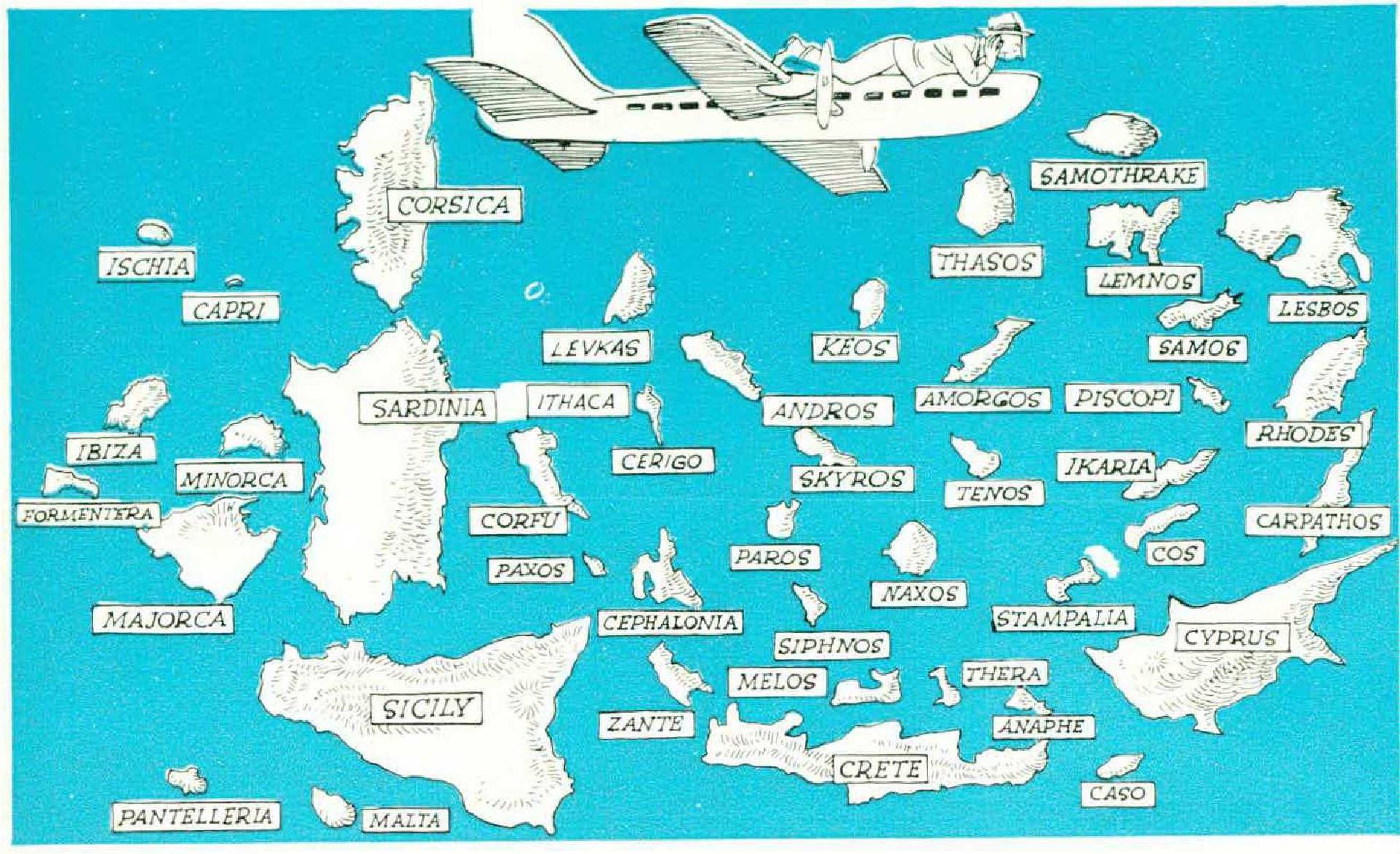 Unhurried, uncomplicated, and self-contained, the Mediterranean island worlds hold the whole range of the old cultures, from the Minoan cities of Crete to the astounding Greek temples and theaters of Sicily and the walled Venetian towns of Cyprus and Corfu. Everywhere the tourist finds a sea warm enough for winter swimming; a brilliant display of festival, folklore, handicrafts, and museums; operas and puppet shows performed in the streets; and a variety of warm, intense, spontaneous people living with the oxcart and the hand loom. Sicily, Corsica, Majorca— these most travelers have heard of and neglected. Sardinia, Ibiza, Rhodes, Crete, and Corfu remain unknown. San Pietro, Ponza, Giglio, Thera, Melos, Naxos, the Lipari Islands, and many more are unheard of—whole archipelagos beyond the horizon of tourism. No two are alike; each is a kind of city-state, a distinct entity isolated by water. And yet the islands are all of a piece, fragments of a mosaic that wait for the imaginative traveler who will assemble them.
Only a few years ago, island hopping in the Mediterranean, whether by sea or air, was not a workable proposition. The islands were a tantalizingly scattered assortment, difficult of access from the mainland, isolated from one another, very short on hotels. Today, crossing the Mediterranean by air is almost as simple as crossing Lake Geneva by boat. Flights, by at least six airlines, are fast and frequent. No major island is now more than one and a half hours from the nearest Continental travel center, and a trip from island to island is often a matter of minutes. Even London and Paris are but three hours away and, with jets, will be much closer.
Working his way out from the island air centers, the alert traveler will find the less famous islands, compact and easy to grasp; he will find good, new hotels in all the likeliest and many of the unlikeliest places; he will find local cruise ships, freighters, and small interisland boats that will lead him from the larger ports to the smaller and to the utter tranquillity of the satellite islands that are not even shown on most maps. In any month but July and August, he can drift with his whim, without reservations, mixing air, land, and water — or hunting, fishing, skiing, café-sitting — to suit his pleasure and his schedule. There are cars to rent; excellent tour-bus services make possible quick surveys of even the largest islands; tiny railways take one meandering with the local people to mountainous interiors complete with medieval hill towns, Greek temples, oxen, and valleys full of wine and roses.
In ten hours of flying time one can cover the Mediterranean from end to end. In as little as two weeks the island hopper can wend his way from Majorca — where the transatlantic services of American Export Lines will drop him if he likes — all the way east to Rhodes. The master keys to island travel are Rome, Sicily, and the services of Alitalia, the airline that has become a major power over the Atlantic as well as in the Mediterranean. Its international routes make possible the remarkable circular dovetailing of a Continentalplus-Mediterranean itinerary that allows stopovers, outward bound, in Paris, London, Brussels, Cologne, Frankfurt, Nürnburg, Munich, Venice, Florence, Rome; and, homeward bound, in Naples, Palermo and Trapani (Sicily), Tunis, Algiers, Palma (Majorca), Barcelona, Nice, Milan, Zurich, Geneva, and Dublin. All of this — or as much as you like — with unlimited time along the way to explore the other islands from strategic Sicily or from Majorca and Nice, costs the same $591.50 as the direct fare from New York to Rome and back.
A ten-hour train or boat ride from Rome used to be the best way to Sicily. Now Alitalia flies direct to Catania in two hours, then goes on around the island (Catania, Palermo, Trapani) in two more hours — a trip well worth making for the air views alone — and on to the strange Africa-like island of Pantelleria in forty-five minutes.
Eastward from Rome, the flying time is two and a half hours by Alitalia to Brindisi, a shipping center for the Adriatic and the Aegean, then two hours by Olympic Airways, the new Greek line, to Corfu, a completely different world of Venetian castles, English colonial relics, and a cricket club. The trip from Corfu to Athens takes one and a half hours, and from Athens, Olympic flies to the two major centers of the scattered Greek islands: to Crete in an hour, and on to Rhodes in another hour.
Wherever the airlines break off or pass by, a whole network of large and small boats takes over. Service is frequent, regular, and surprisingly comfortable. For example, the French Line sails from Marseilles and Nice to Corsica and Sardinia; the Italian Line from several ports to Sicily, Sardinia, and Corsica; the Tirrenia and Adriatica Lines from Brindisi, Venice, Genoa, and Naples, stopping at most of the islands and going on to North Africa.
The Nomikos Line has an excellent and extensive service out of Brindisi and Piraeus for the Greek islands and all of the eastern Mediterranean, and its ten-day luxury cruises from Venice down through the Adriatic, Ionian, and Aegean seas as far as Cyprus and Lebanon provide a rich slice of Mediterranean life. The well-known five-day island cruise of the Semiramis from Piraeus is useful for saving time but is heavily reserved and limits itsell to only six of the hundreds of Greek islands. Local Spanish and Italian companies have daily sailings from Valencia and Barcelona to the Balearics. from Leghorn and Piombino to the lovely Tuscan Archipelago, from Naples to the surprisingly numerous Neapolitan Islands and the Pontine, from Messina around Sicily and to the volcanic Lipari Islands, and from Manfredonia to the remote Tremiti Islands in the Adriatic.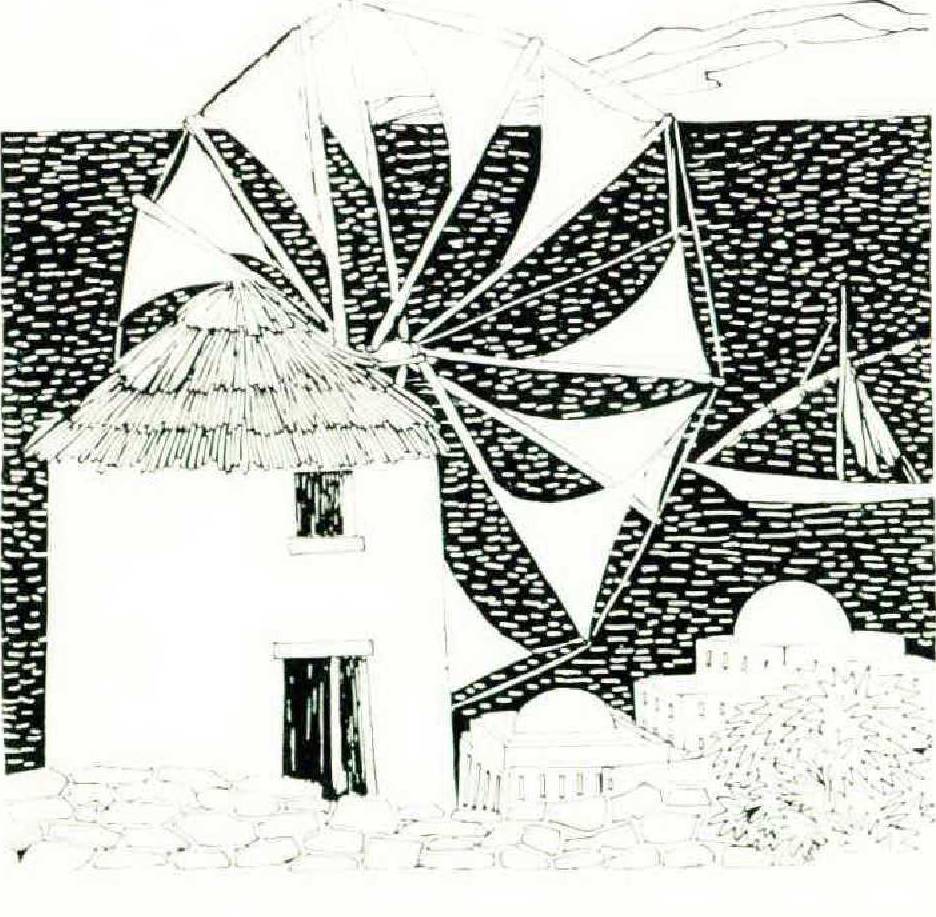 At Agrigento, the most impressive of the ancient Greek cities in Sicily. Goethe ended his fruitless search for a hotel in a spaghetti factory — an old story in the islands, and one that held true until very recently. Today there is a Jolly Hotel in Agrigento, one of a string of well-run small hotels built in fifty Italian towns that were without good accommodations. All go by the same name and cost five to six dollars a day for a room with private bath and meals. Sicily and Sardinia between them have about fifteen of these; together with a scattering of other new hotels, they have completely changed the travel picture in these important islands.
In Sicily one can now wander at will, always within reach of a reliable hotel; and by staying in such appealing off-track "Jolly" towns as Trapani. Agrigento, Ragusa, and Cefalù, it is easy to side-step, without missing, the crucial tourist centers at Palermo, Catania, and Taormina. In Sardinia a very discouraging hotel situation lias quite suddenly brightened. with good a c c o m m o d a - tions available not only in the key towns of Cagliari, Sassari. and Nuoro but in delightful, unexpected places like Olbia, Oristano,
Iglesias, and Alghero. changes have taken place in the Balearics and in the Greek islands. Corfu, Mykonos, Crete, and Rhodes all have first-class hotels, and many others of the live hundred Greek islands have at least adequate accommodations.
The travel folders are right about the climate, more or less. Mediterranean climate, with all its variations on the theme of the sun, is better in the islands than along the mainland shores; it is, in fact, the closest known approximation to eternal springtime. There is a great deal of sun; year-round swimming is feasible in many mountain-shielded bays and coves; the almond blossom does bloom in January. In summer, least attractive of the island seasons, there are sea breezes to breach the heat and mountain refuges from it; in winter, there is skiing as well as swimming in Sicily, and orange groves all aglow with fruit. Almost all the islands are at their best in spring and fall — most tranquil, most festive, and least expensive.
The Balearic islands of Majorca, Ibiza, and Minorca in the western Mediterranean can be reached by air from Barcelona in fifty-five minutes. Ibiza, typically hilly, fertile, and naive, has the best year-round climate of this group and is altogether the most inviting. Go soon; its amiable people, intact folklore, and the many miles of superb beaches may not long withstand the overflow from popular Majorca. In summer especially, go beyond the tiny capital and the crowds to the quiet villages of Santa Eulalia, San Juan, San José, and San Antonio.
A sailboat across the channel from Ibiza to the miniature island of Formentera brings even greater serenity, simple living in fishermen's houses, marvelous swimming, pleasant local wines. Costs here are even lower than on Ibiza, which is, in turn, much cheaper than Majorca.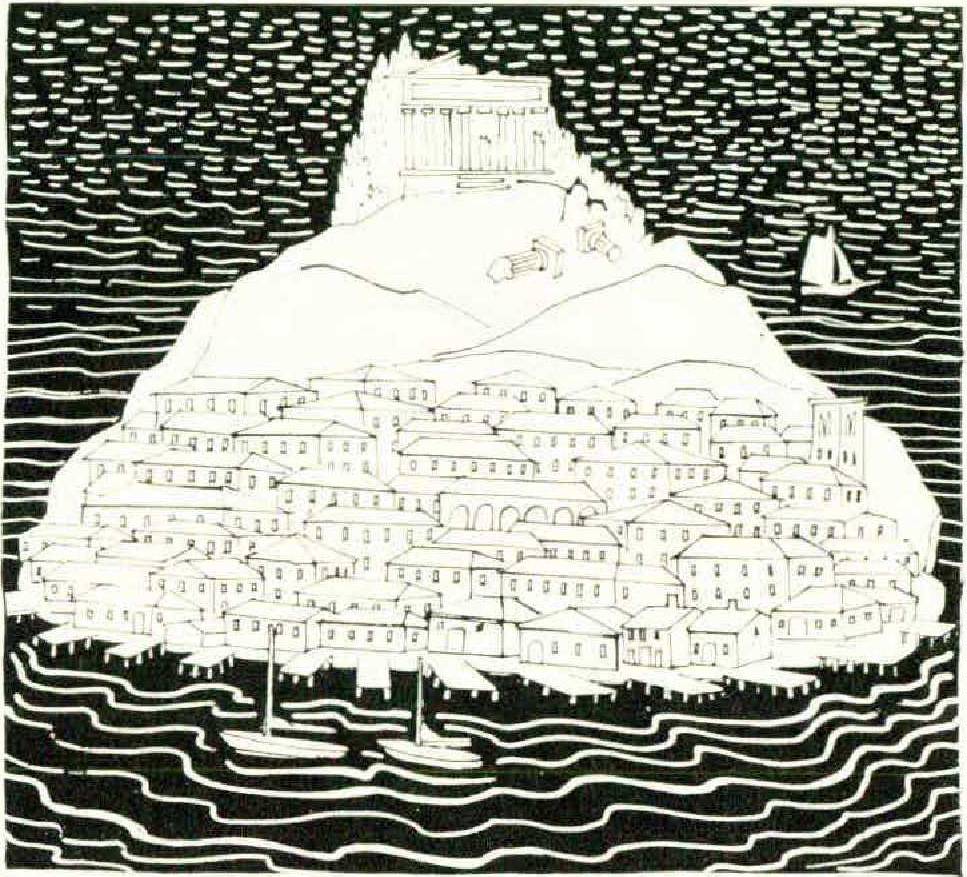 Majorca, in spite of inflation and high summer rates, is still one of the best buys in Europe: $6 a day will buy a very decent standard of living for two people. Majorca's 60-by-50-mile dimensions contain beaches and mountains and enough scenic drives to fill a month. Away from charming but overtouristed Palma and the few stylish beach resorts, life is subtropically uncomplicated. With at least a hundred very livable pensions scattered around the island, the tight hotel situation can easily be bypassed.
Minorca is more peaceful than Majorca, full of prehistoric remains, and a place to fish, sail, and stroll in the hills and woods. In the Balearics, as in the Greek islands, the active man's prime pleasure is to explore, afoot or by boat, from port to port and beach to beach in sixteen inhabited islands that make a world of their own.
Corsica is the most dramatic Mediterranean island, with its massive, untamed, snowy mountains; a warm, broken coastline; and a prevailing fragrance of rosemary, lavender, and myrtle. Quiet dolce far niente port towns perch high over blue bays; houses and boats are painted in startling blues, reds, and yellows. Two thousand miles of good road lead to half a dozen lively, unsophisticated towns and to superb hunting, fishing, and sailing facilities.
Winters are mild at Calvi, Ajaccio, and Île Rousse. From the sunny little seaside cafés of Calvi to the remote splendor of Monte Canto, the scene shifts with dazzling effect — wild flowers on the maquis, forests of cork and evergreen, vineyards in the valleys. The traveler who allows himself simply to roam will find adequate to good hotels, mostly of twelve to twenty rooms, in twenty-three different towns and villages, from small smiling seaside places to dark-faced mountain strongholds straight out of the Middle Ages.
Around the island are a dozen or more interesting towns little known to tourists — places like Bonifacio, Propriano, and Vizzavona. Best of all perhaps is the fishing village of Porto, reached by the highly scenic road from Ajaccio that goes to Calvi and Île Roussc. At Piana the mountains come down to the sea, and from there to Porto along the gulf are the red-hued rocks of Les Calanques, fiords filled with the deep blue of the Mediterranean.
Two hundred miles of railroad and motor launches from port to port supplement the road system. But this is an island to drive in; cars rent at about $10 a day, and the road pattern allows for several magnificent circular tours of the island. The French Line and the National Railways (SNCF) offer a variety of well-organized motor-coach tours of from one to seven days. The Corsican hunter thinks nothing of stalking wild boar, hare, partridge, and migratory birds all in the same day; many fast mountain streams like the Golo and the Albatesco provide trout fishing as exciting as any in Europe. Haute cuisine n'existe pas, but good Italianate eating and likable local wines are plentiful. Prices are well below the Riviera level.
Air France flies from Nice to Ajaccio in an hour. There is no air service from Corsica to Sardinia, but he who ends his Corsican travels in Bonifacio can cross over the strait to Sardinia in less than two hours.
Sardinia is as different from Corsica as the latter is from Majorca. It is the least traveled of the larger islands. But with the coming of new hotels, luxurious touring buses, and three Alitalia flights a day from Rome, the situation is slowly changing. The Sardinians are not Italian, or French, or Spanish; they are uniquely Sardinian. One senses it at once in their costumes, festivals, archaeological sites, and, above all, in their arts and handicrafts. See especially the museum of antiquities in Cagliari, for the incomparable Sardinian bronzes, and the museum of regional arts in Sassari.
The archaic baskets and mats, woven rugs, pottery, leatherwork, and textiles retain, like the people themselves, a pure folk quality that has long since disappeared from most of Europe, although something like it is still to be found in Ibiza, parts of Sicily, and some of the Greek islands.
Many miles of fine-sand beach, largely undeveloped, surround Sardinia; the seaside life in good English style can be had among the villas and gardens of Alghero, where there is a comfortable new Britishrun hotel, or, more simply, around the Golfo degli Aranci, where one can fish and swim from a number of quiet fishing villages and come closer to the everyday life of these vigorous, hospitable people.
Sicily is the true pivot of the Mediterranean for the historian, the archaeologist, the folklorist, the collector of exotic landscapes, or for the traveler in search of diversified yet concentrated vacation possibilities. It lies at the center of the Mediterranean world, two hours by air from Rome, eighty miles from Africa, about halfway between Gibralter and Lebanon, with sea and air connections to every corner of the sea and its coasts.
Largest, most varied, and most luxuriant of the islands, it proffers a heady and romantic brew of many cultures: Greek, Roman, Arabic, Norman, Spanish, French. Its great natural centerpiece is the live volcano of Etna (10,800 feet high and 100 miles in circumference), where skiers, from November until May, look down upon palms, orange groves, and swimmers in the winedark Ionian far below. There are ski lodges and alpine shelters on the high slopes and a good hotel above Paternó at 5500 feet.
Pure pleasure is the excursion up and around Etna, a four-hour jaunt by road or by the charming little railway called Circum-Aetna that rambles from Catania up past castles and hill towns, through fields of flowers and almonds and olive trees. On the audacious auto road one can ascend from Catania's beach, La Plaja, to the snow fields at 6500 feet in an hour or less and then take the cableway up to the base of the central crater. An easy and rewarding excursion is the climb to Randazzo at 2000 feet; and there is nothing in the world like the views on the Alitalia flight that goes in one and a half hours from Catania over Etna, then over the peaks of the Madonie Mountains to Palermo.
In Syracuse, once the largest and probably the most beautiful city of antiquity, lived Theocritus, Archimedes, and Plato. Today, at Agrigen to, Segesta, and Selinunte one finds the immensely moving ruins of other important Greek cities, and in the Greek theaters at Syracuse and Taormina the classical plays are performed with great seriousness (usually in May). Elsewhere in Sicily, closely juxtaposed in some of the Mediterranean's most magnificent settings, are Carthaginian ruins, Roman bridges and aqueducts, Byzantine cloisters. Xorman cathedrals, Saracen mosques. The museums at Syracuse, Palermo, Catania, and Agrigento are comprehensive guides to the richness of the Sicilian past.
Two well-run comprehensive tours by CIAT (luxury buses with multilingual hostesses) take advantage of Sicily's convenient geographical layout to cover a great many significant points in five-day circuits. They include the major attractions like Monreale and Taormina and a number of the marvelous sites — Piazza Armerina, Palazzolo Acreidc, Erice — that most tourists on their own never see. Cars can be hired in the cities, and with the coming of the Jolly Hotels, the motorist can avail himself freely of an extensive road system without ever getting too far from good bed and board. In and around Palermo, the traveler tired of roaming will find excellent hotels, restaurants, opera, fabulous architecture, and a street life as intriguing as that of any of the old ports of the Mediterranean.
Malta is almost African in its sun and terrain, very British in its golf, cricket, tennis, and yachting — and hotels. It is easily reached by a BE A jet flight from London in two hours, or from Rome or Sardinia in the same time by a BEA Viscount. It is the home of that rare poloplaying racing fan. the Mediterranean Englishman. Malta, the Arabs say, is kind, and its very likable people are the proof of the saying. There are Crusader castles and temples to look at, but this is above all a place to do nothing but live graciously and at ease.