Oncle Serge
Pianist, conductor, and writer, BORIS GOLDOVSKY was born in Moscow in 1908, studied extensively in Europe, and came to this country in 1930 following his graduation from the Franz Liszt Academy of Music in Budapest. At Tanglewood he worked in close association with Dr. Serge Koussevitzky; there, for nearly a decade, Mr. Goldovsky served as head of the opera department and was responsible for a number of notable American premières.
by Boris Goldovsky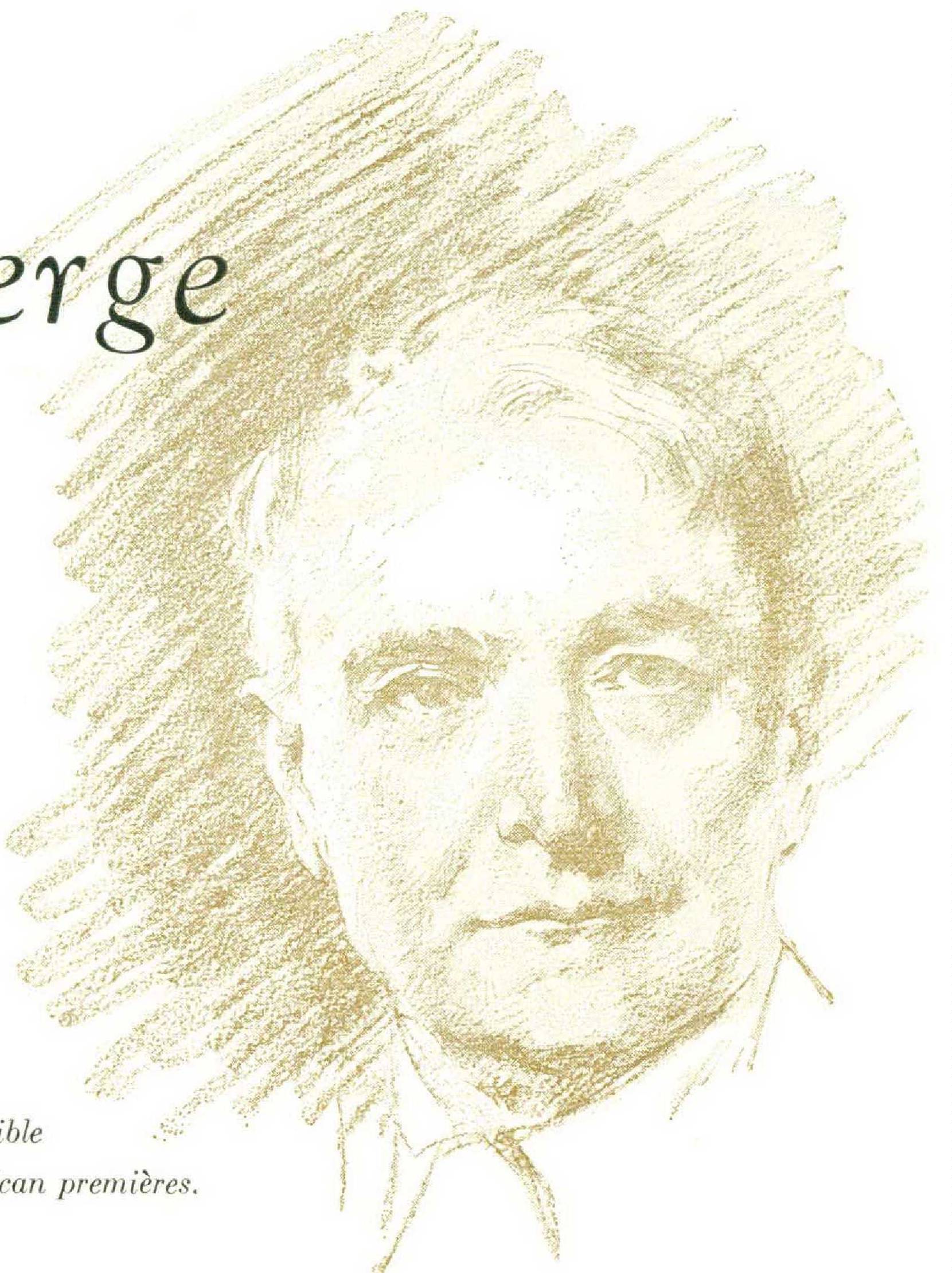 FOR many years, I knew Dr. Serge Koussevitzky only as a public figure. I heard him conduct the incomparable Boston Symphony Orchestra in New York, Philadelphia, and Cleveland. I knew him as the creator of the Koussevitzky publishing house and as the indefatigable champion of young composers, both European and American. But, strangely enough, during the first ten years of my residence in the United States, I had not met him personally. I say "strangely" because my mother, the violinist Lea Luboshutz, was a good friend of his, while my uncle, Pierre Luboshutz, used to be his accompanist in the days when Koussevitzky was a concertizing double-bass virtuoso. I had no reason to suspect that he was aware of my existence, and so I was understandably flattered when, in the spring of 1940, I received a letter from Koussevitzky with an invitation to direct the musical side of the opera department in his extraordinary summer school in Lenox, Massachusetts, on the Tanglewood estate.
A few days after the school opened, I was invited for tea, and when the opportunity presented itself, I asked what prompted him to entrust me with such a responsible task, since I imagined that he knew next to nothing about me and my musical abilities. "You are mistaken," he told me. "I know a great deal about you, but even if I knew less, I would still give you a chance to work in my new school, for, being the son of your father, you will most likely do a good job." My father had died some nineteen years earlier in Russia, when I was a boy of thirteen, and so Koussevitzky's mentioning him surprised me. "I knew your father very well," Koussevitzky continued, "and, as a matter of fact' I am deeply obligated to him."
It seems that, when Koussevitzky was still a very young man and the leading double-bass player in the Moscow Bolshoi Opera House, he married a ballet dancer of the organization. The marriage did not work out, and soon the couple separated. When, several years later. Koussevitzky met and fell in love with Natalie Ushkova, he asked his wife to consent to a divorce. This the young lady flatly refused to do, and when Koussevitzky sent a lawyer to ask if a settlement could be negotiated, "she horsewhipped that fellow all the way down the steps of her apartment house!" It was at this point that Koussevitzky turned to my father, who was a well-known member of the Moscow Bar Association and' in Koussevitzky's words, "famous for his gentle powers of persuasion."My father not only avoided being horsewhipped, but he eventually managed to make the ballerina see the light of reason, so that in due time Serge and Natalie were married. And this is how I was invited to Tanglewood — largely on my father's credit, which, incidentally, did not make it any easier to keep the position, for Koussevitzky was devoid of sentiment when it came to anything that involved music, and especially the school at Tanglewood.
I remember vividly the conversation we had some years later, when I tried to defend a member of the faculty who had incurred Koussevitzky's wrath. "Please, give him another chance,"I begged. "No,"said Koussevitzky, "out he goes, Only those who deliver two hundred per cent can work here." He looked at me sternly. "And that goes for you, too,"he added, and I knew that he meant it. But although he occasionally had to "spank" me, as he called it, when I went ahead with plans for the opera department without consulting him, he was invariably kind and helpful, and my opportunities to see him in the bosom of the family became even more frequent after we bought our Brookline house, which was located only two blocks from Koussevitzky's home. Very soon' I was granted the privilege of addressing him as "Dyadya Seryozha" in Russian, or by its French equivalent of "Oncle Serge."
IT IS by no means easy to convey the exact combination of emotions that one felt in regard to Oncle Serge. nlike anyone else I have ever encountered, he was both an object of admiration and a source of puzzled wonder.
As I look back on the many years of being a close acolyte of Koussevitzky, it becomes increasingly clear that many of the eccentricities of his behavior were the result of a great need for constant reassurance, affection, and admiration. A nonperforming member of the music-loving audience might find it difficult to believe that a worldfamous conductor who could look back upon hundreds— nay, thousands —of ovations and public eulogies would still be in need of constant adulation. The insiders, I am sure, would be less surprised. For, in order to be convincing interpreters, the artists must have an enormous conviction of the rightness of their interpretations. At the same time, every musician is aware of his own strong and weak points, and he is never quite certain whether his strengths do' in fact, compensate for his less exalted qualities. In retrospect, the recognition that Koussevitzky's need for reassurance was based on strong doubts regarding the extent of his talent makes Oncle Serge's personality all the more lovable. But, at the zenith of his career, it was rather trying to have to participate in the regular pilgrimages to the Green Room with ceremonial Russian kisses on both cheeks and the inevitable reiteration that the concert had indeed been a glorious occasion. Nor were these ceremonial visits taken lightly. Oncle Serge would always notice quite carefully just who was present, and he listened with an attentive ear to one's rapturous remarks. And one had to be sure to say the right thing, for he was undoubtedly the most sensitive of humans. My sister, Irene, attended a weekend series of Tanglewood concerts one summer and made the usual visit to the Green Room on Thursday night. The following Saturday, as the concert seemed to have been a particularly moving one, she assured the conductor that it had been "the most beautiful concert I ever had the privilege of attending." To which Oncle Serge replied in all seriousness, "And what was wrong with last Thursday's concert?"
Oncle Serge's need for affection took another, and somewhat unusual, form in his dealings with other artists. It was Oncle Serge's habit, when attending a gathering of musicians, to mention quite casually to one of the celebrities present that the latter would appear as soloist with the Boston Symphony in the near future. Obviously only a fraction of these informal commitments could be fulfilled, and many a pianist or violinist, after having told his manager and all his friends that Koussevitzky had engaged him, would be understandably peeved upon discovering that the engagement did not materialize.
"Can you imagine," Oncle Serge said to me one day as we were drinking tea, "the violinist N. wrote a letter to the manager of the Boston Symphony telling him that I had engaged him for the coming season and asking him to set the date. I think he has his nerve!"
"You know, Oncle Serge," I replied, taking my courage into my hands, "I was present a few weeks ago when you did tell N. that he would play with you very soon."
Koussevitzky gave me a quick look and then remained thoughtful for a while. "I know," he finally said. "I have a great weakness — I make promises much too easily." Then he got up and, looking very pleased with himself, he tapped me on the shoulder as he added, "But I have the great strength not to keep my promises!"
This was one of the very few occasions when I heard Oncle Serge admit that he had weaknesses. I think he felt that he owed it to his art to maintain and cultivate the public image of the eminent chef d'orchestre, even in his home. And he had very strong convictions regarding just what this public image should be.
As soon as one saw him on stage, one became aware that a ritual was taking place. He was not a mere musician like the rest of us; he was a high priest, and the concert hall was his cathedral. And who will ever forget his entrance? No, "entrance" is too prosaic a word; it was an introit, a revelation of a great personality. But when he made music, the pose disappeared and the greatness triumphed, for he felt that the music was sacred. Not only the performances but every rehearsal was a matter of cosmic importance, and he convinced each participant that this particular bit of music making, no matter how ordinary and casual it might appear, was far and away the most momentous event taking place at that time in the entire universe. This is what made working for him and with him such a privilege. He drew you into his circle of high priests.
THE baffling side of Koussevitzky's personality was particularly apparent to the non-Russian group of orchestra men, collaborators, and students who, during the last thirty years of his life, were exposed to his eloquence — the gigantic onslaught of words which to most of them, alas, were barely comprehensible. For it was part of his personality that he dearly loved to ''prononce a speech," as he called it. Every summer, at the opening exercises of the Music Center at Tanglewood. he prononced the "commencement" speech, for to him this was always the commencement of the school session. Many generations of Tanglewood students sat through these speeches, which were fraught with references to the music for the maces (masses) or the lack of enthusiasm for Koussevitzky's ideas on the part of some Symphony trusty; for, to Oncle Serge, his twenty-five years in Boston seemed to consist of one long and determined crusade against these hapless trustees, who, Lord knows, tried to give him everything he ever asked for.
To those who could and did communicate with him in Russian, he was truly eloquent, for his Russian was magnificent in its clarity, purity, and precision. The non-Russian contingent, however, was out of luck, for Sergei Alexandrovitch did not have a trace of that gift for languages which is supposedly typical of his compatriots. He unconsciously mixed German, French, and English with the most delicious effects.
One of his standard heteroglot expressions, always addressed to the violin section of the student orchestra, was, "Kinder, you must change the bow so personae knows!" And since this was always accompanied by a most eloquent movement of the right arm, the string players could not help but eventually produce that velvety and noiseless change of bow which was Koussevitzky's specialty, an effect he could duplicate with any orchestra, student or professional, after just a few rehearsals. I first heard this "personne knows" phrase in Tanglewood, and was particularly delighted with it because it reminded me of another classic violin-playing expression which I had heard years earlier, at the Curtis Institute of Music, from the eminent violin teacher Karl Flesch; namely, "the nearer the bridge the bow you play, the more she jumps by himself."
Every once in a while, Oncle Serge would become aware that the players had difficulty in understanding him. I remember one time when he was conducting the student group in Tanglewood and wanted the cellos to produce a very soft, yet intensely singing tone. " Weicker, weicher, Kinder," he implored, "but without losing substahnce." The students tried various phrasing possibilities in an earnest, although fruitless search for what their leader had in mind. Finally, after some ten minutes of frustration, Koussie (as almost everybody called him behind his back) stopped, fixed the first stand players with an intense gaze, and very slowly and emphatically pronounced, "More . . . less." That did it!
It was bad enough that people could not understand him, but it was even worse when something complicated was reported to Koussevitzky in English. For he would listen to the report silently and then dismiss the man, who would leave without being aware that Oncle Serge had completely misunderstood him. The full danger of this trap dawned upon me quite early in my relations with Koussevitzky, at the opening of the new Theater Concert Hall in Tanglewood in the summer of 1941. When, as usual, the Berkshire Music Center began its teaching activities on a Monday, I was informed that on the following Thursday the opera department was expected to produce a few short scenes from Mozart's operas for the solemn inauguration of the new building. Besides the musical offering there were also speeches, and Dr. Herbert Graf, who was at the time the head of the opera department, made a number of short and very apropos remarks to the effect that this noble building was a symbol of the dawning of the new era when, instead of importing our traditions from Europe, we would begin to build and cultivate our own, specifically American traditions. At the end of the program, I made my way to Oncle Serge to find out whether he was pleased with the operatic scenes which had been put together so very hastily.
''The scenes were all right," I was told, in Russian, "but I will never forgive Dr. Graf for that speech."
"But, why, Oncle Serge, what do you mean?"
"How dare he prononce a speech in my new teatr and say that we must import our traditions from Europe?"
"But, Oncle Serge," I protested, "he did not say that at all." I assured him that Dr. Graf had said just the opposite.
"Are you sure?" asked Oncle Serge.
"Absolutely positive."
"Well, that's different," he said. And so he forgave Dr. Graf on that occasion, but I wondered about the countless occasions when there was no one around to rectify the wrong impression. A man could fall out of favor with Oncle Serge and never know the reason why.
Because of my ability to communicate with Sergei Alexandrovitch in Russian, and also because I was usually able to translate his multilingual pronouncements, I could often serve as a catalyst between the conductor and his many adjutants. But there were times when I also was completely baffled. There was one memorable faculty meeting in New York to which all the heads of departments were summoned and at which Oncle Serge imparted to us his new and grandiose plans concerning an annual Greek puhgahn, to be held in Tanglewood. He was going to build an amphiteatr on the hill facing the lake, and there the puhgahn would take place with specially composed music and hundreds of participants, not to mention the tens of thousands of spectators. This went on for quite a while, and then Oncle Serge was called away for an important long-distance phone call. All eyes turned to me in search of an explanation, for seemingly I had followed the speaker's words with encouraging nods and understanding glances. To my embarrassment, I had to confess that puhgahn was not a Russian word and that I was just as much in the dark as the others. It was only much later that I realized he had been discussing a pageant.
For some reason this puhgahn idea was supplanted by another, less outlandish operatic plan. For a long time Koussevitzky had been dreaming of personally leading a performance of Tchaikovsky's Queen of Spades, and finally, in the summer of 1951, this plan was to be realized. The opera department of the Berkshire Music Center had proved its ability to cope with major works by such memorable productions as those of Mozart's Idomeneo and of Britten's Peter Grimes and Albert Herring, and so Oncle Serge decided to conduct Pikovaya Dama at Tanglewood. At his request, I began to work on a suitable English version and to organize the details of the production. Being now fully aware of his linguistic limitations, I advised the other members of the production team not to communicate with the conductor unless I was present and thus able to prevent all misunderstandings.
The wisdom of this decision became apparent during a session with the costume designer, Leo Van Witsen. I had by this time worked out a system of verbal communications which, in spite of its complication, seemed to function quite efficiently. There we were, sitting in Koussevitzky's Brookline home, and whatever he said in English, I repeated in English and also in Russian; whatever the designer said in English, I translated into Russian; and whatever Oncle Serge said in Russian, I naturally repeated in English. I did all this in sotto voce, asides, and when Koussevitzky asked me why I kept repeating everything, I assured him that in this fashion the problems were clarified for me and that I also made my own notations for future reference, both in English and in Russian. The idea that both Van Witsen and I were taking notes seemed to please Oncle Serge.
Working with him on costumes, by the way, was always a very fascinating experience. He was enormously clothes-conseious in his personal life and was equally keenly aware of all details of theatrical apparel. His ideas regarding the style, cut, and color of every article of clothing in the opera were precise and very much to the point. We discussed in detail the dresses of Lisa and the old countess, and I was faithfully repeating every word spoken by the conductor and by Van Witsen. Finally we reached the question of Herman's costume. Naturally, Herman would need a cape for the outdoor scenes. "What color would you like the cape to be?" asked Van Witsen, while I was simultaneously translating Russian and writing things down. "The cape should be dark green,"said Koussevitzky, and I repeated in Russian "dark-green cape." Upon hearing this, Oncle Serge turned to me with flashing eyes. "Why are you writing down 'dark green'?" he stormed in Russian. "You heard me say 'dark gray' quite clearly!" He was thinking half in English, half in French, and said "dark gris," which had sounded like "dark green." I have often thought of the hundreds of "dark-green" misunderstandings which must have made Koussevitzky's life miserable, not to mention the lives of the members of the administration and the longsuffering "trusties" of the orchestra.
WHAT I loved more than anything else was to watch Oncle Serge conduct orchestral rehearsals. And I was lucky to be one of the few who were granted this privilege. After I moved to Boston in 1942, for three or four seasons I gave weekly talks on the orchestral programs at the so-called symphony luncheons held in the Oval Room of the Copley Plaza. Since I obviously could not prepare talks on new, modern works unless I had the opportunity to hear them in rehearsals, the orchestra committee made an exception for me. Koussevitzky's zeal and his striving for the special results he wanted to obtain are well known. I was particularly impressed with his diligence in preparing and studying new compositions and his inspiring enthusiasm for them, which thus gave the young composers a chance to hear their works under exceptionally favorable conditions. Most of the new composers would participate in my symphony talks, in which I would interview them in front of the audience. It was an exciting era in my life and one replete with amusing incidents.
One of the most unusual of these occurred in connection with Samuel Barber's so-called Air Force Symphony. Sam Barber, whom I knew well, since we had been students together at the Curtis Institute of Music, was drafted during the war, became a corporal, and was assigned to the exciting task of collating the pages of the Army's song books and band parts. This was just about the time when Shostakovich was reaping a harvest of publicity for his symphony dedicated to the defense of Leningrad, and some bright spirit among the Air Force colonels decided that what the Russians could do we could do. The choice fell upon Sam Barber, who was immediately taken away from his collating activities and told to compose a symphony depicting the glories and accomplishments of the U. S. Air Force.
The colonel in charge of the project was a musical amateur and wanted some programmatic touches in the symphony. As a result, Barber was given a full taste of all possible aeronautic flying sensations on the most advanced aircraft, as well as detailed surveys of the machinery and communication systems of various types of planes, all this in the hope that he would discover musical connotations useful for symphonic treatment. As bad luck would have it, Barber's style of composition is not of the programmatic sort, but this was not to be mentioned — he had been promoted to a sergeant, and there was no joking with the military during the war.
Sam tried to sell the commanding officer the idea that the opening theme of the symphony was inspired by the sweep of the airplane's wings, but the man was not to be put off with anything as feeble as that. To save the situation and to introduce an authentic touch of the Air Force, Barber finally decided to use the rhythm of the plane's radio signal as an important musical ingredient of the slow movement of the symphony. The colonel was charmed with the notion and, since there was no sense doing a thing halfway, ordered the Bell Telephone Laboratories to build a special instrument which would give the signal full musical possibilities by permitting the tone to be changed in pitch and intensity.
Sam told me all this as we were sitting in the balcony of Symphony Hall listening to Oncle Serge rehearse the first movement of the piece. "But I am deathly afraid," Sam added, "that Koussevitzky will refuse to use the new instrument, and if he throws it out, it will be no joking matter for me. Unless that signal plays on that gadget, my military career is going to take a very sinister turn !"
"But what makes you think," I asked, "that Oncle Serge is going to dislike the machine?"
"Well, you know how it is."said Sam, "Stokowski is crazy about these new gadgets, and since one conductor's electronics are another conductor's poison, I am fearing the worst!"
Oncle Serge, in the meantime, had finished rehearsing the first movement and was embarking on the second. After a few introductory measures, we heard the peep-pe-pe-peep of the radio signal. Koussevitzky stopped, frowned, started to say something, but then glanced at the clock and announced that it was time for the intermission.
We went to the Green Room, where Oncle Serge was putting on a dry shirt, assisted by his faithful valet' Victor. "You know," I said, trying to introduce the subject gently and unobtrusively, "this new instrument has a very interesting sound. It is sort of . . . inhuman. No, that is not the right word for it. Maybe — fleshless."
"No, no, not 'inhuman,' not 'fleshless.' I know what you mean,'' said Oncle Serge. He was inordinately fond of words, and one could usually quicken his interest by asking for the mot juste. "Not 'inhuman' — no, no, you mean . . . abstrahet? That is it, abstrahet. Of course, that's what's wrong with it; the sound should be much more abstrahet!" Oncle Serge was excited by now. "Listen, Barber. We must make it much more abstrahet/"
Sam was delighted. He did not care how abstract the gadget was made to sound as long as it remained in the orchestra in the full solidity of its Bell Telephone metal box.
"Barber, why did you mark it mezzo forte?" asked Oncle Serge. "Go downstairs quickly and tell the man to play it pianissimo. Find out how to adjust it to pianissimo. . . . You marked it wrong. . . . Make it abstrahct, for heaven's sake!" Koussevitzky loved nothing better than to tell young composers how to mark their music. We rushed to the stage to examine the abstract possibilities of the signal machine. It was calibrated from zero to one hundred, and was quite loud at eighty and barely audible at twenty-five or thirty. Finally Barber decided to set it at forty, since, if it were played softer than that, the Air Force colonel who was coming to the performance might have difficulty in hearing it clearly. The rehearsal resumed. Oncle Serge began the second movement from the beginning, listened to the signal motive, and then stopped the orchestra to ask the percussion player, "You have marked it pianissimo. yes?"
"Yes, sir," said the man. "It is right on forty."
"Not forte," said Koussevitzky patiently. "It was forte before, but now I want it pianissimo."
"Yes, sir," repeated the signal player. "Mr. Barber has changed it to forty, just as you asked."
"But, don't you understand," said Oncle Serge, beginning to lose his patience, "I don't want it played forte!"
"But Mr. Barber came down during the intermission and said you wanted to set it at forty."
"Who is conducting this orchestra?" asked Oncle Serge, his face getting redder by the minute. "Mr. Barber or I? And I am telling you that I don't want it played forte!"
By this time I was running down the steps to the stage and managed to arrive there in time to whisper furiously to the percussion man, "Set it at thirty-five and keep still, for heaven's sake!" We almost lost a member of the Boston Symphony on that occasion, but we certainly saved the machine and Barber's Army career.
NO MATTER how long or how well I knew Oncle Serge, I could never predict just how he would react in any new situation or from what direction the next flash of lightning might strike. His attitude toward my operatic conducting provides an amusing illustration of this. From the very beginning of my work in Tanglewood, I was wondering just what would happen when Koussevitzky heard me conduct an opera. The reason why this question was delicate was that I had studied conducting not with Oncle Serge but with Fritz Reiner. Not that Oncle Serge had any special feelings against Reiner, but I knew well that all conductors are constitutionally allergic to each other, and my being a representative of an enemy camp while conducting in Tanglewood was a situation with disturbing possibilities.
The first summer in Tanglewood things turned out rather well, in spite of the fact that what I actually became inveigled into was little short of insane. Since, in the summer of 1940, Tanglewood was still without an opera house, it was decided to produce Handel's Acis and Galatea out of doors in the lovely formal gardens against that truly breathtaking background of the lake and the mountains. Both the orchestra and I were placed behind the bushes, where we were completely invisible to the audience. There was no harm in this, but unfortunately the singers and I were also completely hidden from each other. This was bad enough, but the wind proved even more of a problem: if it blew in one direction, I could not hear the singers; if it blew the other way, they could not hear the orchestra. The wind also played havoc with the music on the stands, so that we had to place special assistants at each stand to hold the scores and to turn the pages. Nor was this all. The rays of the sun blinded the musicians and threatened to melt the varnish on the violins. Each player had to be provided with sunglasses and protected by a large umbrella.
It was a nightmare, but, by a miracle, on the afternoon of the show we had just the right kind of weather, and Oncle Serge was pleased and complimented me on the happy and relaxed sound of the orchestra and the smooth and easy manner in which everything seemed to have unrolled. He even suggested that we should repeat the performance the following afternoon, but I had enough sense to veto this and not to tempt Providence.
The net result of this hair-raising affair was that Oncle Serge had heard me conduct and that he had liked it. The following summer the situation was completely changed; now we had the fully equipped Theater Concert Hall, and at the end of the summer session a production of Mozart's Così fan tutte was slated for the operatic consecration of the wonderful new building. Came the night of the dress rehearsal. Koussevitzky majestically strode down the aisle, enveloped in his famous black cape, and we were told to begin. The orchestra pit in the Theater Concert Hall is purposely constructed in such a manner that neither the conductor nor the instrumentalists can be seen by the audience, so I was not surprised when, in the middle of the overture, I saw Oncle Serge leaning over the balustrade of the pit and observing our activities with great interest. The short opening scene followed immediately after the overture, and then, while the scenery was being changed, I jumped out of the pit and made my way to Oncle Serge, who was sitting near the center of the auditorium. It was apparent that he was greatly disturbed and upset; his countenance was clouded, and the blue vein over his left eyebrow which we all knew only too well, was pulsating ominously.
"How was the ensemble? How was the balance?" I queried, expecting the worst.
"Both the ensemble and the balance are good," he answered in a sepulchral tone of voice.
"Please' Sergei Alexandrovitch." I begged, not daring to address him by a more familiar appellation, "tell me what is wrong! Something is obviously wrong. This is only the dress rehearsal. Maybe there is still time to rectify it."
He was silent for a long time. "Yes," he said finally, "something is wrong, something is disgracefully wrong, and it is all your fault! How can you? How could you?" I heard him saying, as if in a nightmarish dream. "That baseball bat — that telephone pole! Break it into a thousand pieces and throw it away — fling it away!"
At first I was mystified, but soon I saw it all, clear as day. My conducting stick, the baton that I learned to use in Fritz Reiner's class, that nice, harmless stick with its thin cork handle was very different from Koussevitzky's pencil-like baton, which he dangled between the middle finger and the ring finger of his right hand. Oncle Serge was hurt. His own faculty member, conducting in his theater, in his Tanglewood, having had a chance to observe his technique, having access to his type of stick, and still using a different, foreign, wrong, disgraceful utensil! Needless to say, I destroyed the offending object right then and there and have never used one since.
Oncle Serge was merciless to people who did not live up to his ideals of artistry or professional ethics, but for those whom he kept in his sphere he had a great loyalty and rightly expected a comparable loyalty from them. I think that I would have gone to the North Pole if he had decided to send me there. As a matter of fact, something of this sort almost came to pass. After resigning his post with the BSO, Oncle Serge did quite a bit of traveling, conducting orchestras in Europe and in Israel. A few days before his return from one of these tours, I received a telegram: EXPECT YOU FOR DINNER ON FRIDAY TO DISCUSS IMPORTANT PLANS. Needless to say, I was there, agog with curiosity. At dinner there was no talk about business, but afterward he asked me to sit down with him in the drawing room, where we could talk undisturbed.
"I am sending you to Israel," he said, without any preliminary exploration as to my wishes or my availability. "You will have to stay there for a year or two, for I want you to organize all the local forces, singers and choruses in particular. They have a fine orchestra in Israel, but we will need hundreds of vocalists, oratorio singers, operatic artists, and choristers. For I am preparing an international festival. It will be the most grandiose festival ever conceived. I will have music composed especially for the occasion by many of the greatest living composers. It will be a tremendous event."
I was bewildered but impressed. "When will this actually take place?" I asked.
He seemed surprised at my question. "Why, in the fall of 1952," he said. "You know, of course, what great musical anniversary will be celebrated in 1952."
The conversation was taking place in the spring of 1950, and I had not given any particular thought to the fall of 1952, but I did not expect too much trouble in guessing what great musical anniversary would justify the kind of international festival that Oncle Serge was dreaming up. I was used to questions of this sort and had the great composers and their dates clearly catalogued in my mind. "Give me a few seconds," I said, "and I will figure out to what anniversary you are referring."
"Go ahead," he said. He lit a cigarette and sat watching me intently while I was rapidly running back in periods of fifty years to catch a great name that had been born or had died in 1902, 1852, 1802, and so on. When I reached 1402, I stopped, greatly puzzled. There was no one! For safety's sake, I went down another hundred years and then repeated the whole process. Nobody turned up. There was Muzio Clementi, who was born in 1752' and Giuseppe Sarti. who died in 1802, but it was useless to mention them in connection with a festival such as Oncle Serge had described. Finally I had to admit defeat. "I am sorry, Oncle Serge," 1 said. "I give up. I cannot think ol anyone. My mind is not functioning well. It must be that wonderful wine which we had for dinner."
"You cannot think of anyone?" Oncle Serge said sadly, and the tears came to his eyes. He always cried when he was greatly moved. "Don't you know?" he asked, taking out his handkerchief. "Don't you know," he repeated, "that in 1952 we will be commemorating the three thousandth anniversary of the death of King David?"
It was a good thing that Oncle Serge was busy with his handkerchief and did not notice the look of startled unbelief that was written all over my face. And the astonishing thing is that, if he had not taken ill and passed away in June of 1951, there would have been a King David Festival in Israel, and do not for a moment doubt that I would have spent two years preparing it for him!