Life Is an Operetta
Playwright and actor, master mimic and monologist, PETER USTINOV embarked a year ago on a series of extraordinary tales which appeared in seven successive issues of the ATLANTIC. With some additional material. they were published last fall in book form under the title ADD ADASH OF PITY. This is the second in a new sequence, exclusive and certainty unpredictable.
PETER USTINOV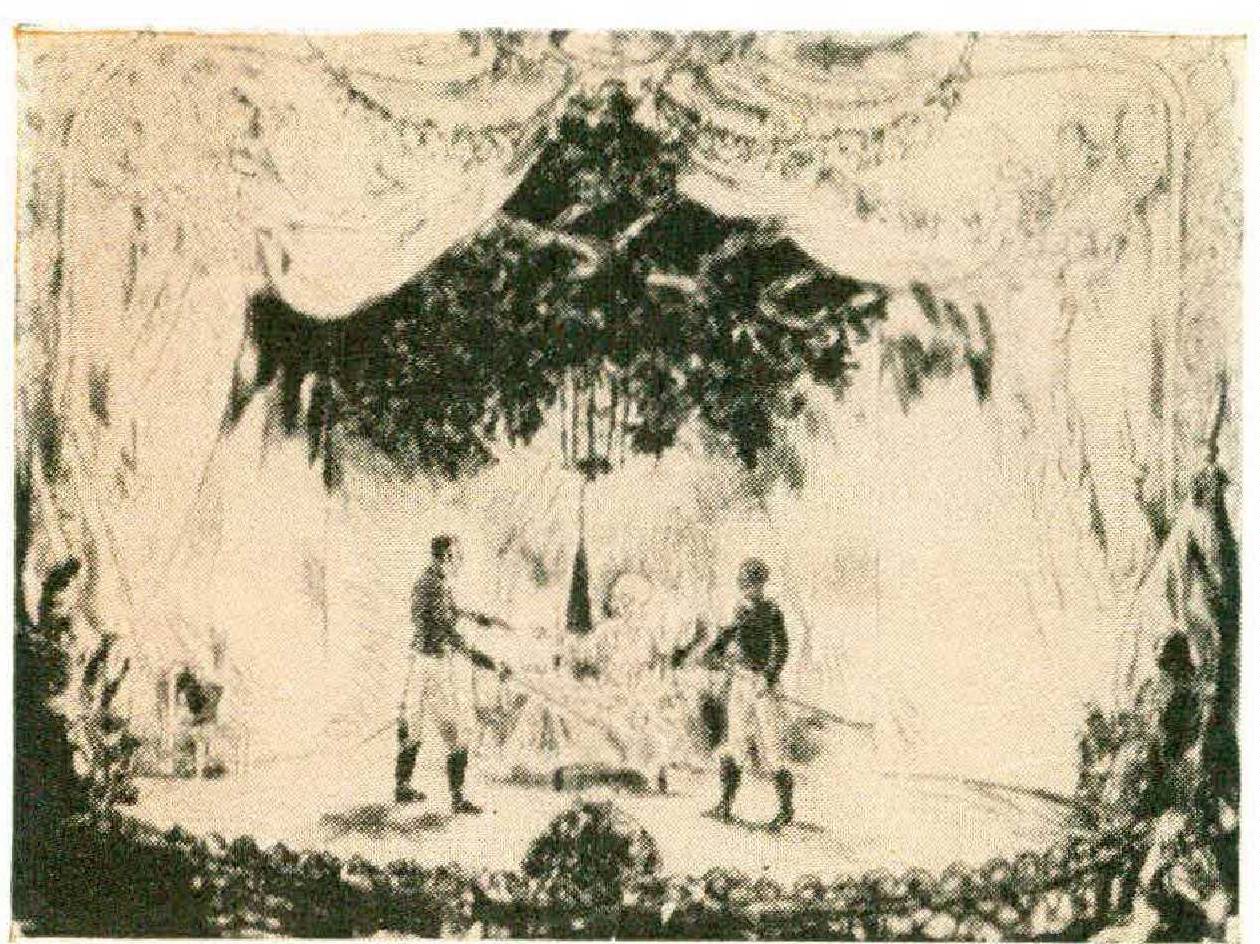 IT WAS in the winter of 1927 that Mitzi's dream came true. The little girl from the outskirts of Kekesféhervar made her debut in an operetta written by the great Imre Dobos himself. Malicious tongues whispered that, in order to attain her ends, she had had to give herself to Dobos, and, unfortunately, as is so often the case, the malicious tongues were quite right. However, she sang prettily, caused Dobos' fourth divorce, and the score, fired no doubt by love and a blaze of sudden youth in the afternoon of life, was acclaimed a masterpiece of its kind.
Mitzi had always been attracted by operetta, and even in her school days she knew all the tunes and all the words of the current hits. Her first sweetheart, Lajos Palotai, was a mild, long-haired fellow, painfully myopic, whose tastes ran to more serious music; but to oblige his black-eyed paramour he hammered out the frivolous melodies on the upright piano. Together, on the banks of lustrous summer rivers, in small cafés, they fabricated her dream. She would be a great, great singer. His role in the dream was never quite clear, but he was too much in love and too timid to lay claim to any definite pigeonhole in her ambitions. He was flattered just to sit and listen and hold hands.
When she was eighteen, she went to Budapest.
Lajos saw her off at the station, without misgivings but with a jungle of sadness in his heart, which he tried manfully to disguise with awkward gallantry. The audition led to the four-poster bed in the Dobos villa, by way of a candle-lit restaurant with gypsies and a night ride in an open Hispano-Suiza.
Lajos came up for the première of Caravan Love and sat alone in a box which Mitzi had charmingly reserved for him. The story of the operetta was not marked by the shedding of any startlingly new light on the gypsy problem, nor did the music show signs of any but melodic gifts. In the first act, a wandering Romany band encamped unwittingly on the estate of a Prince, who happened to be celebrating his betrothal by allowing his disreputable hussar friends to behave badly in the ancestral halls. In the second act, the hussars went hunting and came across the gypsies. Their legitimate fury against people who don't live in castles stopped abruptly when the Prince clapped eyes on the gypsy King's daughter, played by Mitzi. Against the background of a hummed czardas, he sang the aria All Alone a Flower Bloom'd in Autumn, which subsequently became a favorite encore piece for strident tenors the world over. Forgetting his own engagement to the Countess Etelka, a buxom blonde in white fur, he courted Mitzi with the relentless verve of a talented cavalry officer. The gypsy King admonished his daughter, in a resonant bass voice, Beware of the Love of Princes, imploring her to go on wandering and making clothes pegs and to choose a mate from her own kind. When his arguments proved unconvincing, he locked her in her caravan.
By night, the Prince, dressed in tatters with a gay bandeau around his head, crept into the encampment and serenaded his beloved with the celebrated Schatzchen, My Heart Beats in Your Breast. Here Mitzi really came into her own by answering him in the world-shaking hit Your Voice Is Like a Symphony. It all ended happily with a variation on the Sabine women, a rhapsody to Hungarian integration, in which hussars carried joyously struggling gypsy maidens in their arms, while the grimly conservative King of the zingari found himself swept by the pervading mood of amatory abandon onto the heaving bosom of the Countess Etelka.
The applause was rapturous, and it was a trembling, tearful Lajos who clutched Mitzi's hands in the flower-filled dressing room afterwards. He was a little disconcerted by the fact that they could not dine together, but she had a prior commitment with the great Dobos ("Business, you understand, my heart's darling"). Still, he said he understood, which wasn't true, but he was the type to say so.
He saw little of her for the next week, since Dobos seemed to have an incredible amount of business to transact. After ten days the situation was further complicated, not by a hardening in Lajos' attitude or by an increase in her lover's attentions, but by the fact that she suddenly fell in love with Ferenc Ferencsi, the high tenor playing the part of the Prince in the operetta. She was not the kind of woman who could be serenaded and kissed every night without allowing it to affect her.
Dobos was livid, since he was both very important and no longer young. " Damned ingratitude!" he snorted, and allowed the echo of his cri de coeur to ricochet off every coffeehouse wall in Budapest. Lajos felt for him.
One evening, soon afterwards, the young and dissolute Prince Szent-Mihaly sent an enormous bouquet of flowers to the stage door. It was followed the next night by one even larger. The inevitable ensued; more violins, a convenient moon, yet another hectic night ride — this time in an open carriage with a coat of arms on the door and a couple of bored dragoons galloping alongside — and a huge, creaking bed in which generations of Szent-Mihalys had died, made love, and been born.
Ferencsi began to sing very flat in his depression, sharp in moments of anger. Both Lajos and Dobos felt for him. After a while, however, Prince Szent-Mihaly was severely reprimanded by his terrible mother and dispatched to Monte Carlo as a punishment. It was at this very moment that Dobos chose to be intoxicated by the beauty of another girl he had auditioned, and he declared to the press that he had discovered the voice of the century. The double humiliation was too much for Mitzi to bear. In an orgy of contrition, she confessed all to Lajos, and they held hands again.
Life, she reflected, is like that. What she meant was that life is like an operetta. The sophistication of an elderly roué's love, the wit and sparkle of his crooned conversation, the popping of champagne corks, the giggles charged with the hysteria of desire as the waxed mustaches of a Prince tickled her naked shoulder, the heart intent on imminent surrender being led through the caverns of sensuality by the feverish strains of a tearful violin — did it all lead to happiness, to fulfillment? No, no, and no again. True love was to be found at the end of Act Three, in poverty, wrapped in the stained frock coat of a struggling music teacher, old faithful, who had stood by and suffered in silence while she, the volatile, irresistible fly-bynight, had drunk deeply from the spangled cup of illusion.
NO SOONER had she felt this profound sense of purification than she began to find the inarticulate, indecisive Lajos distinctly boring. He had served his purpose for the moment. She had blurted out her confession, and he had just smiled through his tears as though a prodigal spirit were returning to the fold. Her conscience was clear again. The Budapest triumph was repeated in Vienna, but with an Austrian tenor with whom she fell in love because it was part of the plot. She also captivated the notorious modernist composer, Manfred Von Ilch, who wrote to a thirteen-tone ladder of his own invention, thereby exciting the implacable hatred of those who were religiously addicted to a ladder of merely twelve tones. With the pathetic lack of discrimination shown by most great men when they fall in love, the otherwise unswerving Dr. Von Ilch decided that Mitzi had exactly the right timbre for his troubled muse and wrote expressly for her his fragmentary Vier Grausame Lieder ("Four Cruel Songs"), based on the chants of medieval flagellants and scored for female sprechstimme, electric guitar deliberately distorted by low voltage, cheese grater, castanets, and four whips of different sizes. The only performance of the work was a disaster, since Mitzi, once confronted by an audience, could not resist imposing a most ingratiating expression on her face, and consequently this penetrating adventure into the gloomy fathoms of human subconsciousness became instead merely comical, a comment on itself from some avant-garde revue. The more the audience tittered, the more coy Mitzi became, and soon afterwards Dr. Von llch took his lilc, leaving nothing but an enigmatic letter in Latin.
Once more the prey of a deliciously tragic feeling of guilt, Mitzi summoned Lajos to Vienna. She told him she was desperately alone, which was a feeling she always had when an attachment had just ended and before she had had time to establish another one. The long-suffering Lajos looked deep into her eyes and said to her: "Mitzi, one day you will realize my worth. You smile now, because you are kind. But one day there will be no one — the princes, the composers, the tenors, they will all have gone. Then you will stir the pot of memory, searching for someone to whom you can turn. Suddenly your face will light up. You will call my name, and it will be forever."
"It is forever now," she said, her eyes wide and innocent, as though she had been unaccountably misunderstood.
"I believe you," he lied, tears of emotion forming in his eyes,"and I will stay with you, abandoning the little class I was building up in Budapest."
"Class? What class?" She became coquettish. "I never did know what you did in your spare time. I was absurdly jealous. What class?"
"Piano and Theory."
"How interesting."
"You're not serious."
Mitzi flashed. "I'll show you how serious I am tomorrow. We will dine together at Sacher's after the theater, and we will make plans, huge plans, as we did in the old days."
When Lajos arrived at the restaurant, he saw Mitzi dining with an elderly gentleman. He retired in confusion to the foyer and wrote a note reminding her of their date. Nervously he gave it to a waiter and sat down to await developments. After a seeming eternity, the waiter returned with a card, on which was written:
"Dearest friend, I tried to reach you everywhere, without success. Not tonight, my Lajos. not this week. I am with Mr. Nate Schiffnick of New York. May be most important for both of us. Your little goose. Mitzi."
Lajos left the restaurant sick at heart.
Caravan Love opened in New York late in 1931, presented by Wyant and Schiffnick and starring Mitzi and Diego de la Luna, a silent star who had drifted into musical comedy when it was discovered that his speaking voice was impossibly high for the villainous roles he was cast in, although his soaring lyric singing voice fitted him admirably for the part of the Prince on Broadway. By the time the heroic Lajos had arrived in the United States on the Hungarian quota, Mitzi had not only triumphed in the operetta but had also had her affair with Diego de la Luna. In their transports of passion, he had murmured in Spanish while she had shrieked in Hungarian, since their mutual knowledge of English was quite inadequate for the purpose of communication.
LAJOS arrived at the theater on his first evening in America and was told that Miss Mitzi Somlos could receive no visitors. When he tried to buy a ticket at the box office, he was told that there were none, and if there were, they would cost the earth. Without the means of bribery, he loitered miserably around the building until the performance was over and then stood by the stage door with a couple of neurotic autograph hunters who had staring, imbecile eyes and who talked to themselves.
One by one the other actors emerged, interspersed with members of the orchestra carrying their instruments. Eventually Mitzi came out, drowned in expensive sables, drenched in a mist of perfume, on the arm of elderly, sallow Mr. Schiffnick, who wore tails. For a moment Mitzi's eyes met those of Lajos, and she looked away quickly, more irritated than surprised, and bent low to step into the limousine which was to carry her and her bald Prince Charming to an evening of delight.
The very next day, at a quiet reception of some four hundred guests, Mitzi and Nate Schiffnick were married on the roof of a fashionable hotel. Everything was done in the best of taste and with that commendable restraint which marked all of Mr. Schiffnick's artistic ventures. An organ was played by a lady in top hat and tails but little else. The lights in the organ changed color according to the mood of the service. A cake in the shape of Mitzi was wheeled in, and Mr. Schiffnick cut it, permitting himself lewd but friendly remarks to his many acquaintances with every incision of the knife.
That night Lajos was at the stage door again, and he managed to say the word "Mitzi" as she emerged onto the pavement. This time she did not ignore him. She looked at him with the greatest coldness and annoyance, "You understand nothing. Nothing,"she said.
Lajos trembled with an anger he had never felt before. "I understand what you do not!" he cried. "Life is not an operetta. It cannot be lived as though it were!"
"Is this man annoying you, honey?" asked Mr. Schiffnick.
"Yes."
"Burger!"
The stage door man appeared and passed a menacing remark.
"Remember," shouted the retreating Lajos, "you will suffer more than I! Good-by, forever!"
Two weeks later, as the direct result of recklessly attempting to live the life of a younger man, Mr. Schiffnick died. His funeral, arranged by his erstwhile partner, Mr. Wyant, was as majestic as his marriage had been devout. The music of his greatest hits was played by a huge orchestra throughout the service. Mr. Wyant did his old pal proud. When the will was read, however, it was discovered, to the general surprise and to Mitzi's horror, that he had left nothing but debts. Schiffnick had been a spendthrift, a man excited by dangerous living from day to day, and a bit of a crook. Those closest to him were all agreed that he died just in time to escape the massive retribution which had been building up over the years to strike him. Some people even began to call him "Lucky Nate Schiffnick" after his death.
Mitzi dressed from head to foot in black and wept frequently, as though to convince herself that her marriage to the man who had seemed to have been fashioned from yellowed ivory in both life and death had been the inevitable result of true love. Although she would never admit it, she always thought of her father's death when tears were called for. People were suspecting that she was a better actress off the stage than on.
THE first flush of success began to fade, and soon Caravan Love was tottering along on the very brink of loss. The Budapest papers, which Mitzi's brother sent her, spoke of her great success in the New World. She was quickly caught between reality and legend. It was impossible for her to return now. As soon as the New York run ended, she went out on the road and milked the property until there was no more life left in it. She still dressed in mourning out of reverence for the man she hardly knew.
Soon she was haunting the agents' offices, but gypsy maidens were no longer an everyday necessity, and her command of the English language remained doggedly unimproved. Money ran short, and her past love of goulash and Sachertorte began to take its toll. By the day she grew stouter, stockier. Men no longer fell for her. She fell for them, and in the chase she frightened them by her determined brightness, her brittle peals of artificial laughter, her languorous airs of fatal love, which seemed to be based on techniques rejected by Mata Hari as old-fashioned. She thought of suicide, not seriously but romantically.
One night, while she was sitting dejectedly in her one-room apartment, there was a knock on the door. It could only be a creditor, she told herself. At the third knock, she tiptoed to the switch and turned off the lights. No use. The knocking continued. Preparing some choice invective, she flung open the door.
"Lajos!"
She hid her face. "Don't look at me. I am old and ugly."
"You are twenty-nine," said Lajos, "and more beautiful than ever."
"Where have you been? And how did you find me?"
"I always knew where you were. Cleveland, Cincinnati, Columbus. I even knew that your marriage wouldn't last. I didn't guess that the end would be so abrupt, so terrible, but I knew something would happen."
"How did you know?" she asked mysteriously, since she had a predilection for the occult, perhaps because she had depicted a gypsy for so long.
"I knew, because there is justice in this world," he replied magnificently, "and because I was waiting."
Heartened by this show of generosity, she could afford herself a little bitterness. "You know he left not a penny."
"I know."
"He was not much to look at, but he had a heart of gold."
"But why, why, did you marry him?"
This was what Mitzi had been waiting for, the question which provoked all her frustrated theatrical talents.
"Because I was a fool," she hooted, "a fool. Like a butterfly, I was drawn to the flame. I was a little Magyar Cinderella dazzled by the brightness of the ball, and I lived my dream to the full!"
For the next hour, Lajos could not manage to say a word, so torrential was the storm of conventional images which blasted his eardrums. She postured, she hid her face, only to reveal it again more dramatically, she played her version of Camille to a crowded gallery, she sang a few snatches in a carefully broken voice, she threw herself on a divan, rolled onto the floor in an act of nunlike self-mortification, then rose violently to her feet and defied the world, her mascara running down her face like the reflection of prison bars. At length, even her energy attained its limits, and she sat heaving on a kitchen chair, the hair on her forehead matted with perspiration, her buxom frame rocked with uncontrollable nervous spasms.
"Marry me," said Lajos.
She held out a hand which was prematurely blue veined, like an old lady's. "Dearest boy," she murmured.
Lajos rose and spoke in a pallid voice. "I work as music critic on the Hungarian weekly paper."
"You can't live on that."
He stammered, "I also wash dishes at the Come-n-Gettit Steak House."
The tears welled into her dark eyes again.
Embarrassed, he added, "I have written out my address if you should need me." And, placing a piece of paper on the table, he left.
She stared after him vacantly, then gazed into the mirror. Quickly she tidied herself up, replaced the powder, the rouge, the mascara, the lipstick, and then examined herself with a look of enigmatic fascination.
"I am not old enough to marry Lajos," she reflected.
HER road downhill was the more painful for being gradual. When money ran out, she took a job teaching Hungarian at a language school, but although her knowledge of Hungarian was adequate, her knowledge of English was not, and her pupils made no headway. Eventually she struggled on as an independent seamstress, coping with the overflow from other, recognized firms of clothiers. She called herself Mrs. Mary Schiffnick, since she maintained proudly that the name of Mitzi Somlos would be associated only with glory.
Lajos visited her about once a week and never failed to renew his proposal. There was something desperate about his restraint, something almost mad in his insistence. Time passed, and with it grew the bitterness. War was declared, but Mitzi had not yet brought herself to make a decision as momentous. She still went to auditions, calling herself Mary Schiffnick, dressing more and more eccentrically in clothes she made herself, but it didn't help. She tried the names of Mary Buda, Maritza Liszt, and Marimka Czardas, but there was apparently no magic in these sobriquets.
To humor Lajos, she used to say that they were more married than not, since neither had any other temptations. As far as he was concerned, she was right; but her eyes had acquired the habit of dropping suggestive hints left and right, a habit she regarded as indispensable to her calling. Never mind if her indiscriminate flirtation was becoming more and more pathetic; there was nothing about it to console Lajos, who had suffered too severely to be entirely rational in his appraisal.
During the war, Mitzi became curiously patriotic and wept copiously at the thought of her "poor country" at the mercy of "those Germans." To listen to her, one might think that she was a deposed empress bemoaning the loss of her estates and her tiaras.
"The younger generation will never know the life we led," she used to pontificate sourly, " — the hussars with their brilliant shakos, their furtrimmed jackets thrown carelessly over one shoulder, their gallantry — ah, the compliments that used to flow! At the end of some princely banquet, they would ride their white horses down the long tables, missing the bottles of Tokay with such elegance, such elegance!"
There was nothing in this description of life at home which Lajos recognized. The truth of the matter was that Mitzi had taken to the bottle, since reality was too bleak for her, and in her cups she lived in the lilting world of musical comedy. On one occasion Lajos permitted himself to lose his temper and shouted at her, "I told you once before, and I tell you now, life is not an operetta!"
He slammed the door, only to have the mortification of hearing her drunken voice embark on the sugared strains of Your Voice Is Like a Symphony in blurred, dill-pickle tones. Evidently his mention of the word "operetta" had put her in mind of it.
The war passed, and Lajos became sullen. He was no longer in the best of health. He wished he had the strength of character to liberate himself from the intolerable weight of his obligation toward this woman, but a strange fatality bound them together. This useless romance had occupied so much of his life that he would now have felt quite lost without it, as though a man reconciled to blindness were threatened with sight so late in life as not to matter. His romance had become an illness the body could no longer do without.
He saw her more frequently — every day, in fact. He even cooked for her when he had a few hours off. Promotion had come his way, and the Come-n-Gettit had moved to a more respectable neighborhood, changing its name to The Filet Mignon in the process. He was now deputy headwaiter of the establishment and seemed to take a certain pride in being dressed in tails around the clock. Even when off duty, he wore his formal attire and carried his thin head high under its mop of wiry gray hair. The waiters called him "the diplomat."
The reason for this peculiar serenity was that Mitzi had drifted off into a half-helpless indifference. She allowed him to do things for her without protest. A melancholy had settled over her, a resignation. She no longer even talked much, and when she did it was without color, without invention. They were married in all but name. They no longer held hands, but she allowed him to take hers in his without responding. The toothless lioness might still have her dreams of glory, but she kept them majestically to herself. She had mellowed.
It was only on occasion that Lajos fancied he noticed a disturbing sidelong look, with infinite cunning in her eyes, usually when she thought she was not being watched.
One day, when he had just cooked her some stuffed cabbage, he noticed this furtive, dark glance, at once calculating, malicious, and terrible.
"What are you thinking of?" he asked.
She woke out of her daydream. "Revenge," she answered, simply.
"Revenge? Against whom?"
"All of you," she replied, in exactly the same way as before.
There was a pause.
"Life is not an operetta," she announced, dispassionately. "You've no idea how you hurt me when you said that."
"I hurt you? Why? I admit, I was very angry—"
"Angry? I have often been angry. It is nothing. But to be hurt . . . that can last a lifetime. You allowed me to dream when I was young. You knew, didn't you? How cruel you were. How cruel."
Her ruminative calm was far more disconcerting than the tantrums of the past. He washed up with trembling hands and left. She may have mellowed, but she was slowly going mad.
THE Hungarian revolution broke out in 1956. Lajos heard the news with alarm but had an evening of service before him, and it was midnight before he could hurry around to Mitzi's room. There was no light under the door. He knocked without receiving any reply. He tried the handle. The door was open. The room was empty. It looked as though it had been ransacked. Her jewel box was empty and lay on the floor. Old letters were strewn all over the place. An apron lay on the bed. He looked around in horror. Suddenly his eye fell on a note leaning against the mirror. It was addressed to him. He tore it open. All it contained was the enigmatic phrase: "Life is not an operetta?"
Distractedly he wandered the streets, trying to decide what to do. He was not one to involve himself with the police for no reason. After all, this might just be part of that insane revenge she had talked about. The message might have been placed there in order to worry him out of his wits. He felt deeply resentful. Then it occurred to him that it might have been a suicide note. She might even now be floating in the East River. The police would want to know what the message meant. How could he ever explain it to them? He had left fingerprints all over the place. If she had committed some irrevocable act, could he not be suspected? How would his fingerprints have got onto the note if he pretended he had not been up to the room? He was a potential suspect, and there is only an inch between a suspect and a criminal. He saw himself under the blinding lights of the detectives, his story sounding more and more incredible and disjointed. It would be better to go to the police now — and yet, in doing so, he might just be falling into her cunning trap. There was no solution. He went home and sat up all night thinking of alibis. The further he wandered from the truth, the unhappier he became. At dawn, he rushed out and bought the morning paper. There was no mention of suicide anywhere. He sighed with relief until it occurred to him that the body might not yet have been found. He was white as death and bilious with fatigue.
Mitzi arrived in Vienna that evening by air. Her American passport was stamped, and after a quick meal at the airport she took a taxi to the station. She was dressed in old clothes and wore no jewelry, for the simple reason that she had sold it all to make the trip possible — the platinum and emerald brooch from Dobos, saying "Forever," Prince Szent-Mihaly's pendant of diamonds and rubies, saying the same thing, and the other battle honors of her horizontal conquests. At the station she reserved a third-class ticket on a slow train to a town which lies a few miles from the Hungarian frontier. Owing to the congestion on the line, the train crawled through the night, stopping frequently while officials on the line called to each other and traced mysterious patterns in the air with colored lanterns. It began to rain, not gradually but with an almost insensitive intensity, as though a brigade of flamenco dancers had suddenly started a performance in the middle distance. Just before four o'clock in the morning, the train finally pulled into the station. There were some figures on the further platform, and from their shouting Mitzi knew them to be Hungarian. She left the station hurriedly. There were several trucks and vans in the parking place; at least two were ambulances, with large red crosses on them, while another was evidently a mobile recording unit of some broadcasting station. There was considerable activity, and Mitzi heard English, French, and some Scandinavian language spoken as she walked quickly into the sleeping town. Soon she reached the point where the main road passed through the town, and there she found the inevitable signpost pointing to Vienna in one direction and to the frontier in the other. She glanced at an illuminated electric clock which hung over a closed cafe. It was 4:21. There was no time to lose. Gallantly she began to direct her steps toward the Hungarian frontier.
There would be no dawn that day. Perplexed roosters began crowing with unconvinced inflections over the desolate countryside. She was suddenly blinded by headlights. She rolled into a ditch. The car rushed by, splashing her with a shower of freezing mud. It was an Austrian military vehicle. Cursing, she rose to her feet' and' ignoring the fact that she was wet through, she bravely trudged on.
Soon some black figures became visible on the road before her. Hiding behind a clump of bushes, she waited, and because she was compelled to wait, she began to shiver. Her teeth rattled like a machine gun, and she held her mouth shut with her hand, convinced that the noise could be heard miles off. The dreary little procession passed - four or five men, several women, a crying child, a cart. They were talking in Hungarian. When they had gone, Mitzi resumed her journey. She heard some shots and then the barking of dogs; not the disorganized barking of some farmer's house guard but a more regimented sound, the deep-throated, disconcerting rasps of several large hounds of the same breed. The frontier. She turned off the main road and walked down a yellow cart track. After about a mile, she entered a marshy field and half fell, half staggered across it, following a route parallel to the main road. It was growing painfully light. The field led to another, seemingly endless. All of a sudden, in a clump of trees, she was confronted by a shallow stream swollen by the rain, flowing fast, leaving arrowheads of angry water where it met the opposition of protruding rocks. Without thinking twice, she plunged in, staggered, fell, and eventually reached the further shore, a steep embankment rising to unknown ground. With tears of panic in her eyes, she struggled along the bank for a full half mile until she came to an innocent little path up the sharp incline. Moaning with exhaustion, she climbed it slowly, only to find a mass of barbed wire at the top.
She could not stop now. She took off her coat and laid it across the wire. Then she tried to crawl across it. Every time she had to retreat as the cruel barbs plucked her skin. Then she lost her temper and stepped on the coil, but as she did so the rest of the wire rose to meet her. She refused to retreat. Kneeling, falling, rolling, she passed through it. Her legs and hands were bleeding, but she was across.
After resting for a moment, she walked along the line of the barbed wire on the east side of the stream, where the ground was high and firm. She was heading back to the main road. At length she could see a small house with a flagpole near it and a red, white, and green road barrier, gaily striped like a barber's sign. As she approached the house, she could hear evidence of some commotion inside it. A few dead bodies lying carelessly by the roadside did not reassure her. She paused, and as she did so she noticed how her wounds hurt her. She entered the customs shed.
A few terrified-looking peasants were standing around while a ferocious man in the uniform of a major in the security forces was walking up and down, brandishing some documents and shouting. His eyes and his mustache were so black they had mineral tints of blue in them. Behind him stood two customs officials in attitudes of dismay and mute protest.
"We have shot eight of the swine this morning already," yelled the major. "There are six of you. That will make fourteen before breakfast — a fine catch of fascist hyenas by any standards!"
Suddenly he caught sight of Mitzi.
"Who are you?" he cried, and went on without waiting for an answer. "Aha, here is one fine lady who is so eager to leave the socialist paradise that she even tries to escape in an unauthorized fashion. I can see from the state of her ladyship's legs that she attempted to negotiate the barbed wire which the state has thoughtfully placed along our frontiers for our protection, but when she found that the work of our engineers was too efficient, she calmly presents herself to the customs authorities and expects to be let through."
"You misunderstand —"
"Silence!" the major thundered. "These officials of the border control have been guilty of grave dereliction of duty and will be punished. Over a hundred citizens of our country have been allowed to cross into Austria. This is an intolerable situation. You no doubt thought that such a criminal emigration was possible. I am here to tell you that you are wrong. Examples will be made of you al!"
"I am an American citizen," said Mitzi calmly, producing her passport from her bag.
The major's eyes narrowed. "Let me see that," he snapped. "Mrs. Schiffnick. Born in Kekesféhervar. July 9, 1908."
"Do you have to read the date out to the assembled company?" asked Mitzi hotly. " That should read 1918."
" Kekesféhervar? For our purposes, you are Hungarian."
"I am American, and the consul in Budapest knows that I am here," said Mitzi.
"You had a heart attack in the early hours of this morning," replied the major, with what he imagined to be a pleasant smile. "The People's Government will express its condolences to your friend the consul."
The smile left his face. "Take them out and shoot them!" he yelled.
The peasants showed panic, but Mitzi was remarkably calm. She knew of no operetta with such an ending. Just then the phone rang. The major picked up the receiver. As he did so, the noise of a motorcycle could be heard.
"What? Impossible!" bellowed the major. "Repeat that at dictation speed. I don't believe it. What is that noise I hear? Shooting? Szilay — Szilay, answer! I order you to answer!"
During this halting conversation, a youth in a leather jacket had come in and had whispered excitedly to the two customs officers. As soon as the major laid down the receiver, he was seized by the three other men and carried struggling out of the room. After a momentary pause, there were three shots.
The customs officers returned, and the senior one, a tall, blond, ascetic man, announced that a full-scale revolution was sweeping the country.
"This is the business of the young," he added. "You are free to go." Calling to Mitzi, he said, "Mother, I advise you not to try any tricks with forged passports. If it didn't deceive us, it will certainly not deceive the Americans." And so saying, he threw her passport into the wastepaper basket.
"Why did you call me Mother?" asked Mitzi, deeply hurt. "Do I look so old?"
THAT evening found Mitzi in a refugee camp on the road to Vienna. A Dutch nurse had tended her wounds, she was wearing warm clothes sent from Italy, and she had a cold she had supplied herself. It had not yet been decided what to do with the refugees, and they were sitting around a bare room, talking and smoking.
During the course of the evening, a photographer wandered in. His clothes and his manner declared him to be American, and there was something eminently successful about his dishevelment and the calculated way in which the gum in his mouth was helping him to think. He was garlanded with cameras and flash bulbs. He looked around the crowded room with an expert and a calculating eye.
Mitzi knew the curtain had risen, and without a flicker of self-consciousness she filled her lungs with a vast quantity of air, and it came out again to the tune of Your Voice Is Like a Symphony,
Every head in the room turned to listen to her. The flash bulbs began to go off, and the gum was being chewed at twice the rate.
When Mitzi sensed the camera pointed in her direction, she thought of her father's death and began to weep copiously, without for a moment allowing her crying to affect her voice or her breathing. When the performance ended, the applause was tumultuous. The photographer knelt by her side.
"That was just great," he said. "My name's Cy Endhouse, from Be magazine. Wasn't that a song called Your Voice Is Like a Symphony?'"
"Yes," said Mitzi demurely.
Cy searched his memory. "Wasn't that from Caravan Love?"
"It was, yes."
"Wasn't that sung in New York by — ?"
"Mitzi Somlos," she interrupted. It would be too painful if he made a mistake.
"Yeah. Yeah, that's right. Mitzi Somlos. Whatever happened to her?"
"I am Mitzi Somlos," she said, with immeasurable wistfulness.
"You ! But, how — why are you here?"
"I chose freedom," she replied, with a fatalistic shrug of the shoulders, and added, " They wouldn't let me sing, for political reasons."
The next copy of Be magazine carried a fullpage picture of Mitzi, shot brilliantly from an odd angle and captioned "The Voice of Freedom." The picture eventually won Cy Endhouse the Pulitzer Prize for Photography, and deservedly so. A week later, Lajos received the following letter:
Dearest Dreamer,
I am in Vienna, having escaped from Hungary after many harrowing adventures. I will tell you when I see you. I am waiting here to go to America, and I have given your name as a reference. I will, of course, come as a refugee. Now, my sweet Lajos, my childhood lover, I am in terrible trouble, and you must help me as only you can. As a result of a picture of me which appeared in the magazine Be, I have sold the story of my life under the Communists, who prevented me from singing because my father was a landowner, to the films for $100,000. Please, dear heart, don't let me down. Dream as you once did so wonderfully, and write down the story of my life without delay. I know I can trust you, as always.
Your own little goose,
Mitzi
The letter reached Lajos as he was sitting in his hospital bed after a complete nervous breakdown as a result of his sense of guilt about Mitzi's presumed suicide. Before he suffered an unexpected relapse, he had just time to reflect that, for some rare, impossible, dangerous, and impervious people, life is an operetta after all, and can never be anything else.