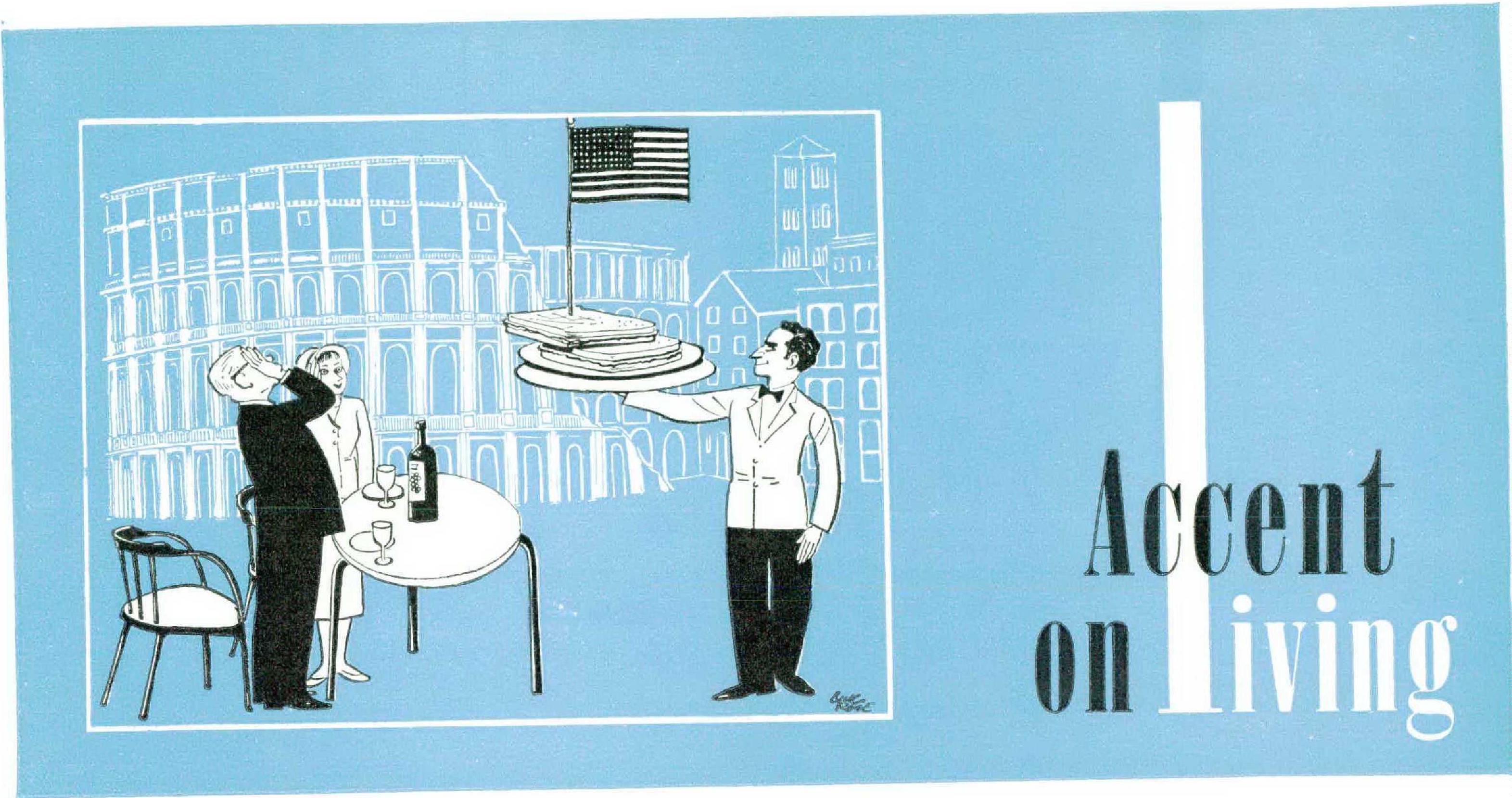 JUST before going to Italy last summer, I read a rather perplexing travel article about the American tourists in Rome. They did not — and the author of the article seemed to think their attitude natural enough — wish to be taken for American tourists, so both sexes had withdrawn behind dark sunglasses, and the men had shifted from sport shirts to dark suits and were even wearing neckties in some instances. Above all, the American tourists — those in the know, at any rate — avoided places popular with other American tourists; only the uninformed frequented the big cafés along the Via Veneto, and to sit at one of Doney's sidewalk tables was to stamp the sitter as being beyond even the fringes of smart Roman circles.
These advices seemed at least up to date, when I read them, but it was not until my wife and I were walking along the Via Veneto, a few weeks later, and resolutely passing by the big cafés that I realized the great flaw in the travel article: if we were not to appear as American tourists, what guise of nationality did we seek to assume? We were obviously not Latins, my waistline was scarcely that of the keep-fit Briton, and I had no wish to be mistaken for a Teuton. We had breakfasted early — lightly, too. A morning of sights and shops was bringing by noon some thoughts of lunch or at least a drink, and in reckless disregard of the travel article we stopped at what seemed to be the largest and certainly the best-looking of all the cafés we had passed. It proved to be Doney's. There we sat without even dark glasses to hide behind, brazenly ordering Camparis, looking like what we were in fact, touring Americans, man and wife, undisguised.
In the course of the next half hour, as we discussed various lunch possibilities, it became plain to us that the last thing in the world we wanted was another gigantic Continental lunch of four or five hearty courses, with the prospect of going up against a comparable assortment again in the evening. The last sandwich I had eaten in Europe was in almost pre-American days and consisted of a huge unbuttered roll, split and enclosing a paper-thin slice of ham, and I was thinking mournfully of almost any sort of North American sandwich. Just then the waiter appeared, distributing small menus captioned Snacks or Sandwiches, I am not sure which; but prominent on the list was Toasted Ham and Cheese Sandwich.
The Doney version of this homely combination was a real showpiece. It was impossibly hot, on a very hot plate: fairly thin, large squares of bread with a wonderful wheaten whiff to it and that substantial quality so lacking in bread here at home, Parma ham' and a bright yellow cheese of great fragrance and richness, the cheese at the melting point and the outside of the sandwich a golden tan, lightly striped with the marks of the grille.
We had no further chance to sample Doney's list of sandwiches. It included a hamburger that I am sure would be first-rate, and I very nearly added one to the luncheon. My indecision as to whether or not I was an American tourist vanished with the first bite into the ham-and-cheese masterpiece. The sandwiches were all intended for American tourists; indeed, it seemed reasonable to believe that the whole offer was dictated by the American appetite. Not only was I from that moment onward the American tourist, but I felt that we had all made a notable contribution to Italian well-being. A splendid sandwich — several, in fact — had been forced into the Italian cuisine. These were sandwiches to command the admiration of the hungry from any part of the world. Their American origin, far from needing apology, was worth proclaiming. Doney was to be congratulated.
Although I felt thoroughly at ease thereafter in my freely acknowledged status of American tourist, I did experience the pangs of self-consciousness all over again in Venice on shoving off in a gondola. Every gondola, any gondola, with or without passengers, seemed to exercise an almost morbid fascination over the crowds along the canals and bridges. They would rush to view and photograph the approaching phenomenon, and on one or two occasions when the gondolier, influenced either by a sense of showmanship or by alcohol, loosed a few bursts of song, the sight-seers were spellbound. "Here comes another one," the word sped through the crowds, "and he's singing!"
So, to the American tourist, what shall be the correct posture? That of one who has ridden all his life in gondolas and is consequently bored with the passage? Or one who has never been afloat before in so much as a dinghy? And what if the gondolier begins to sing?
CHARLES W. MORTON