What I Believe
A lifelong Democrat who teas born at Grassy Point, New York. seventy-one years ago, JAMES A. FARLEYreceived his first appointment under Governor Alfred E. Smith as port warden of New York in 1918. He served as chairman of the Democratic National Committee from 1932 to 1940, and he bore the heaviest political responsibility in the advent and development of the New Deal. He mastered the complexity of party organization with a direct, man-to-man approach. In this article he tells how he went about it.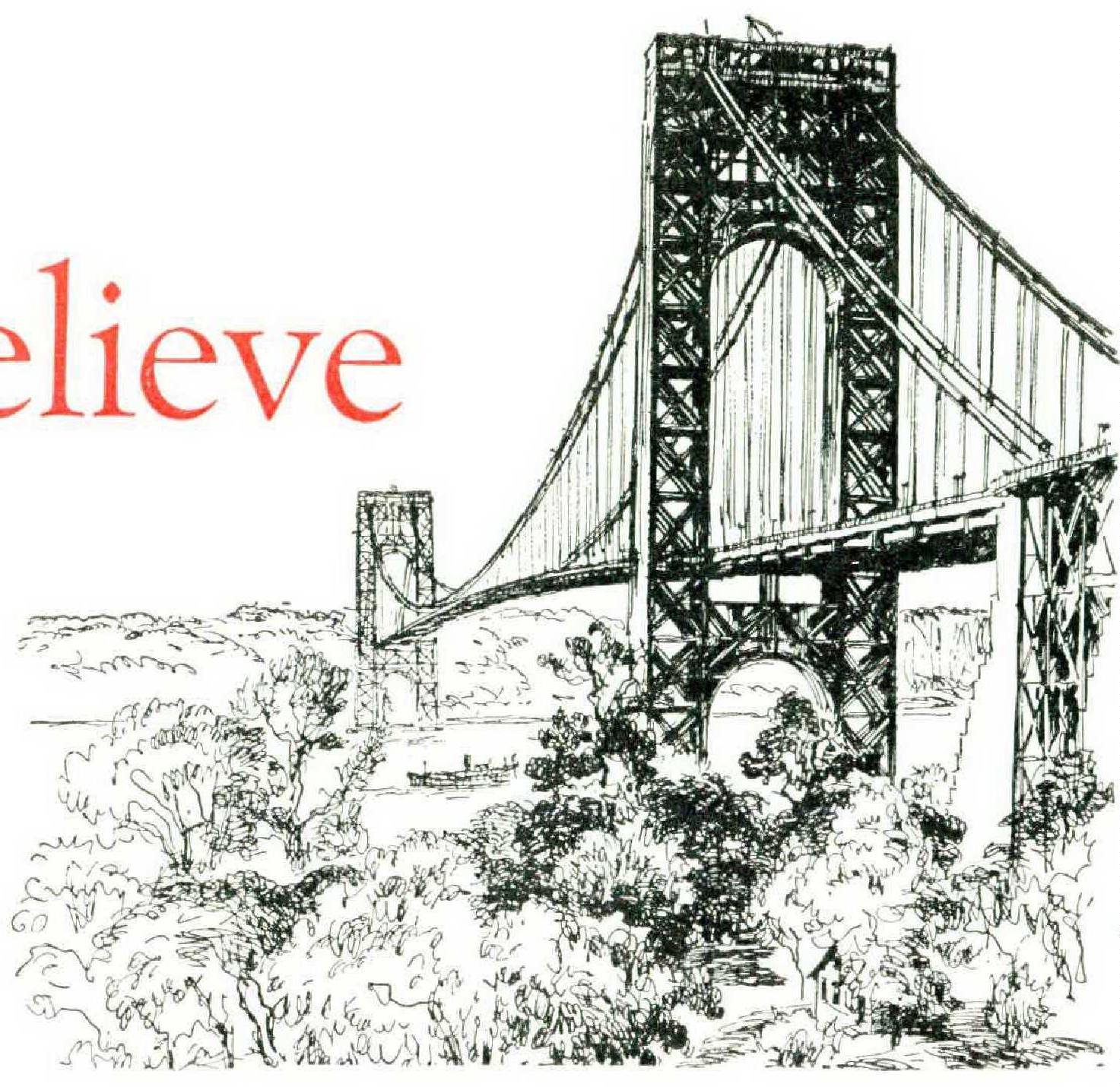 I WAS born at Grassy Point, New York, on the west bank of the Hudson. My parents were of Irish descent and profoundly religious. I inherited from both a strong physique, a good home and, I hope, some sense of humor. While I was still a very young boy, my father died as the result of a kick from a horse. But the benediction of his affection and the example of his personal honor had already descended to his children. My mother never faltered as the full burden of responsibility fell upon her young shoulders. She taught us that working was part of living and both were the gift of God. "In the sweat of thy face shalt thou eat bread" was not God's punishment to Adam but the first step to man's salvation, at least as taught in the Farley household.
Of course, we didn't have much choice, but under my mother's leadership we spent no time or energy lamenting the lack of it. At that time, the principal way to improve your affairs was by improving yourself. Some expensive psychological excuses have been developed in the latter decades, but I am old-fashioned enough to think that the most reasonable of excuses are not substitutes for Ben Franklin's yardstick of actual performance.
I early became interested in politics. Grassy Point was a misnomer, politically; it was the one thing neither party allowed to grow under its feet. This was particularly true of a Democrat in Rockland County. Grassy Point is a community in the town of Stony Point, up which Mad Anthony Wayne was carried on a litter to victory. All of his sentries together couldn't have marched as many miles as I did, door to door, in the forlorn cause of the Stony Point Democrats. And General Wayne couldn't possibly have felt a fuller flush of victory than I when I was elected town clerk. This face-to-face personal contact I believe to be the heart and core of the American system. There is no substitute for it. In the week prior to the 1936 election I mailed more than eight thousand letters to every county chairman, vice chairman, city chairman, state chairman, and the members of the Democratic National Committee. In a few weeks following the election I sent more than twenty-six thousand letters of congratulation and thanks to the successful Democratic candidates for county, city, state, legislative, congressional, and senatorial oflices. I knew the contents of the letters, which I signed myself because many were going to men and women whom I knew intimately and who were active in the Democratic Party and instrumental in its great victories. I signed all the the letters "Jim" because I realized that the personal touch would be helpful and, incidentally, save time instead of signing my full name. At any rate, no one had to instruct me on the importance of the postal system when I became postmaster general.
ON THE east bank of the Hudson, some time before the loss of my father, another young boy, Franklin Delano Roosevelt, had lost his father. We were to be joined by the flow of events, far more than by the river which flowed past our doors. Oddly, we were to separate eventually, (against a third term) into which his grandfather had been born and into which my grandfather had come as an immigrant.
So much has been written about the split between F.D.R. and myself that our long years of close cooperation are often overlooked. Actually, when Mr. Roosevelt took office to handle the crisis of 1933, the Jeffersonian concept of complete unity of legislative and executive departments through a party responsible to the people was the modus operandi. The President delegated the passage of legislation to me as chairman of the Democratic National Committee. It is interesting to note, as Speaker Rayburn has pointed out, that of the hundred and more major acts passed at that time, not one has been repealed and by far the overwhelming majority have been accepted by both parties as basic legislation.
But here and now, I should like to identify the philosophy, as I saw it, behind that social legislation. On March 4, 1933. when Mr. Roosevelt took his oath of office, there were serious flaws in our national patterns, moral as well as economic. By moral, I mean that a vast preponderance of the American people over the age of sixty were dependent upon relatives for support. Also, millions of children who should have been at school were working. Collective bargaining was a theoretical illusion. Company towns and company stores were a polite expression for economic serfdom. We eliminated these sinkholes. But it seems to me that the philosophy underlying these programs has been badly twisted out of its original meaning and intent. More particularly, to build a floor over a community of quicksand is quite different from putting a ceiling over the productive and creative elements of the individual. It is one thing to put in a minimum wage level, it is quite another to put a ceiling on personal incentives, which our present hodgepodge tax system does.
At cradle and for some time after, and at graveside and for some time before, a human being often needs assistance. People occasionally need crutches, too, but these aids are only a substitute for the moment when the person can stand on his own two feet. Accordingly, to see purely remedial measures transformed into a cradle-to-grave philosophy under the so-called "security programs of welfare states" is, in my opinion, as silly as to argue that crutches were invented as substitutes for legs. Welfare states develop a wheel-chair philosophy in able-bodied people, and I am against both. It seems to me it is American to hate dependence of any kind. The Indians no longer accept the idea of the Great White Father at Washington; indeed, they now have good reason to know there never was one. Idols, including welfare states, notoriously have feet of clay. The best insurance against the clay feet of idols is to stand on your own.
Ironically enough, because I have favored and favor — every bit of progressive legislation to distribute risk, the conservatives regard me as a liberal. And because I insist that the distribution of common risk can never be a substitute for individual effort, the liberals regard me as a conservative.
A great deal has been written about the personal teamwork of Franklin Delano Roosevelt and myself, much of it inaccurate. I know the warm comradeship which existed between us, and he was as close a friend of mine as I was of his. We fought together in his first two presidential campaigns. During those first two terms we worked side by side, and there was never a question of either, as a man, being below or above the other.
But when our paths separated in 1940, our different backgrounds were contrasted in reams and reams of copy. Those who had no insight into the facts offered the erroneous explanation that a great social gulf had always existed between us. I practically had to repel the continued suggestion that I was the injured underdog, a barefoot boy done wrong by an unfeeling Grotonian. What particularly irked me were the background articles emphasizing my quote humble unquote beginnings. I am an American of Irish descent. I have known many people of Irish descent. Fat, thin, tall, short — loquacious, taciturn, ebullient, and morose— but never in my life have I met a "humble" one. It just doesn't run in the strain. The fact is that I have met few men of Irish descent who were not their own figurative secretaries of state. Whatever else they may lack, it isn't opinions or the willingness to fight for them. As to authenticity as Americans, while the Mayflower passenger list will be combed in vain for their names, sixteen Kellys, seventeen Murphys, and hundreds of others ol old sod ancestry have won the Congressional Medal of Honor — enough to assure even the unfairminded that the credentials of Americans of Irish descent are in order.
And, frankly, I resented the inference that those whose fathers' homes happened to be more propertied than my mother's were more endowed than I. As to material advantages, the same three R's were taught at Grassy Point as at Groton and St. Marks. There is no royal road to learning, whether your seat is in the family kitchen or in an endowed library. It is the individual himself who counts. A youth who isn't willing to make an effort via the commuters' train to New York isn't very likely to make much more of an effort in the marble halls of a great university. As Mr. Lincoln demonstrated, if a person has the will to improve himself, the back of a slate will serve as a writing pad. In any event, I want to make it clear, if only for the future thinking of my grandchildren, that while my mother couldn't afford my tuition to college, I wouldn't exchange her teaching for the biggest financial endowment in the country.
ACTUALLY, it seems to me that it is as hard for a boy to survive his advantages as it is his adversities. I often thought when I was chairman of the New York State Athletic Commission that having an important family name is somewhat like being a champion fighter. That is, all a title can do is get a man into the ring. But when the gong sounds, the title doesn't fight — the man must win by himself. Rich or poor, the test of a champion is his heart, his ability to get up off the floor and go on to win. To become governor of New York, A1 Smith of Fulton Fish Market and Nelson Rockefeller of Pocantico Hills had to fight the same fight in the same ring; and in the great American tradition of fair play the people of New York judged each on the size of his fighting heart, not on his banking account.
Human beings, like political parties, have basic platforms. I consider myself an indomitable, and careful, optimist. As a human being, I think this is my fundamental approach; only an egomaniac could be a cynic about mankind, particularly in the twentieth century. Every jet in the sky, every miracle drug, every electronic device testifies to the miraculous progress of the race as a whole. On the other hand, no intelligent man can be other than a skeptic. This is nothing more than saying that for every experiment which produces a magnificent discovery a thousand fail. The courage of one's convictions is noble; uncoupled with the vigor of one's doubts, however, it is static and hence frequently fruitless.
For example, the great sweep of a suspension bridge across a bay is a majestic sight. To most people it appears as almost a symbol of effortless grace and character. But it seems fair to suppose that a bridge engineer sees far more than the beauty which meets the eyes of the layman, and additional beauty not on its apparent strength but on its nonapparent resiliencies, its flexibilities, and its expansions, without which its arches would crash. Built rigidly for either the summer's heat or the winter's cold, and without regard to the wind, its great towers would topple.
So it seems to me is a nation, any nation, a suspension bridge, whose rigidity and flexibilities must be and are in a constant state of balance and rebalance, though not readily apparent to the naked eye.
Now, to carry the bridge analogy further, what makes the American republic the most beautiful political structure in the history of man is not only the lofty intellectual towers erected by the founding fathers but the magnificently ingenious built-in devices of flexibility by which each succeeding generation could bring its own faculties to bear on its own problems. The beauty of the American republic is that the past provided for the future by permitting the present to take care of itself. It is argued that it is not businesslike. It wasn't intended to be. Constitutional friction was designed to provide the continuing sparks of liberty.
Naturally, this concept can scarcely be described as a tenet of the Republican Party or for that matter a guiding concept of the Democratic Party, but it most certainly is the reason why James A. Farley consistently urged the value of the twoparty system. Of this, a few scholars who have taken the trouble to read my papers are thoroughly aware, although that great American President and my close friend, F.D.R., was not among them. Fundamentally, it was upon this concept that we parted. As I see it, the conservative needs the pressure of the liberal to expand, and the liberal needs the pressure of the conservative to keep from shattering by explosion. The reciprocal pressure of each upon the other is needed by a healthy state, the liberal to provide the yeast of growth and the conservative to ensure the continuity of form. Great oaks from little acorns grow; between the liberal demanding a full-grown tree and the conservative reluctantly yielding each new advance, continued form and reasonable predictability are part of a wholesome growth.
Since I believe that such ordered growth of the nation does not depend on one party, I obviously still less would subscribe to the thesis that it depends upon any one man, and it was on this basis that I resisted the third term of F.D.R. Even more particularly, I refused to bolt the party when I failed. I thought, and I think, that the two-party system is more important to the effective expression of the American people than F.D.R. and certainly James A. Farley.
Accordingly, I view with satisfaction the Twenty-second Amendment, which prohibits a third term, on the premise of reciprocal action which I have set forth. Furthermore, I reject the hypothesis that the whole equilibrium and hence continuity of the American state should be predicated on the heartheat of any one mortal man. It is the fundamental character of the American people from which is derived the mightiness of the American state. The American people will be out of character, and the American state will be out of balance, if the tragic day ever comes when they accept the belief that their character is derived from the mightiness of their state and, even worse, any single man who runs it.
Any declaration of principle on the body politic ought to be accompanied by some definition of terms. What, then, is the American democracy? To me, it is the guarantee of an equal chance to every citizen. But an equal chance is a long, long way from enforced equality; indeed, it is quite the opposite. I conceive of our democracy as an equilibrium of human beings, not an equality of mass distribution. Thus I think of our democracy as a system by which a person rises or falls according to his own worth, talents, and industry. If this definition is accepted, it follows that the American democracy is the only system which allows for the bloodless rise of an aristocracy based upon effective functioning.
It seems to me that to say that the twentieth century is the era of the common man merely points to the great benefits derived from the common heritage of broadening culture. For example, an ordinary citizen can buy at a corner drugstore, for a very small sum, a magic drug for which Louis XIV would have given half of France. But the fact that this is the so-called century of the common man does not mean that being average should be held forth as an ideal to our youth. This term, "century of the common man," marks the debt of us average human beings to the very uncommon men whose genius makes this modern world possible. By any standard, Edison, Marconi, Pasteur, Burbank, and Salk were more gifted than us ordinary mortals, and certainly we all enjoy the fruits of their genius. Accordingly, it will be a sad day for our country if the only ideal before our youth is to be an ordinary man in the century of the common man. Our youth should have before it the ideas of deepening its talents, in order to excel and to compete, with the bright possibility that devotion and perseverence may result in a contribution to the general culture to which we are all so deeply indebted. In simple terms, what man could weave his own suit or construct his own electric light? Yet all these things are at an American's elbow. These conveniences, boons, and unearned rewards are so much a part of our daily lives that while I concur in our national motto, "In God We Trust," it seems to me that each individual citizen's daily prayer should be "Forgive me, O Lord, for taking so much for granted."
It follows that I deplore the entrance into our language, particularly for the young, of the word "security." In the first place, if this means a safeconduct pass through life, there is no such thing; and, in the second, if there is, it is alien to the American spirit. There was precious little security for the signers of the Declaration of Independence on July 4, 1776, and what little there was was thrown to the winds when John Hancock picked up his pen. General George Washington forsook the material security of Mount Vernon for the chance bullets of Bunker Hill and the snows of Valley Forge. In the nineteenth century, no Americans looked for safety on the decks of the Constitution, nor were the prairie schooners breaking out in the new frontier safe fortresses of comfort for the magnificent men and women who made the West. It is time that the grand old colonial adage, "Beaten paths are for beaten men," be dusted off and placed before American youths. The fact is, the greater the responsibility and duty the less the security. After all, every man in a battle fleet knows exactly what he must do except the Admiral who must give the command. To him comes the agony of responsibility in constantly reviewing the calculated risks. Chance — and therefore insecurity — is the heavy price of command. Chance means challenge. A person who refuses the challenge of life has died without ever living.
Politics to me is the supreme challenge of American life. Some men find full expression as professional engineers; I find full expression in affairs of state. I recognize that "politics" is an unpopular word. However, I consider the science of government at least as useful and honorable as, and in most respects more difficult than, any other calling. Certainly a profession which numbers among its practitioners Washington, Jefferson, Jackson, Lincoln, Cleveland, F.D.R., Churchill, and Adenauer has little for which to apologize.
I regard politics as among the highest and most useful callings open to American youth. It is my further opinion that there is no line of endeavor more mobile, and by this I mean none in which merit rises so quickly to its proper recognition. I believe that in the long run, counting all factors and even hard luck, the better man will win.
From this, I hope it appears that however much people may disagree with me, neither friend nor foe need guess where I stand. To my own satisfaction, at least, I have never stood in the middle of the road, as a result of which I have never been very far from the middle of the fight.