They Shall Have Music: The Million-Dollar Avocation
JOHN M. CONLY

WHEN, in the course of Siamese events, it became desirable for young King Phumiphon to take to himself a bride, the international brotherhood of heads of state was thrown into a perplexity. For what does one give as a wedding present to a man who already has everything (including real white elephants)?
Not among the perplexed, however, were President and Mrs. Harry S. Truman. King Phumiphon was known to be a music lover, and Mr. Truman was the only American President ever to be seen in public following a performance of the Beethoven Ninth Symphony with a score. These circumstances simplified matters. The Trumans called promptly on the man likeliest to solve their gift problem: Avery Fisher.
Within weeks, from Mr. Fisher's New York factory there went out bound for Bangkok a most magnificent high-fidelity custom phonograph. Set into its hand-rubbed woodwork was a large silver plate, inscribed with the good wishes of the donors. "As if," says Fisher now, with a hint of a grin, " the King was likely to forget who gave it to him."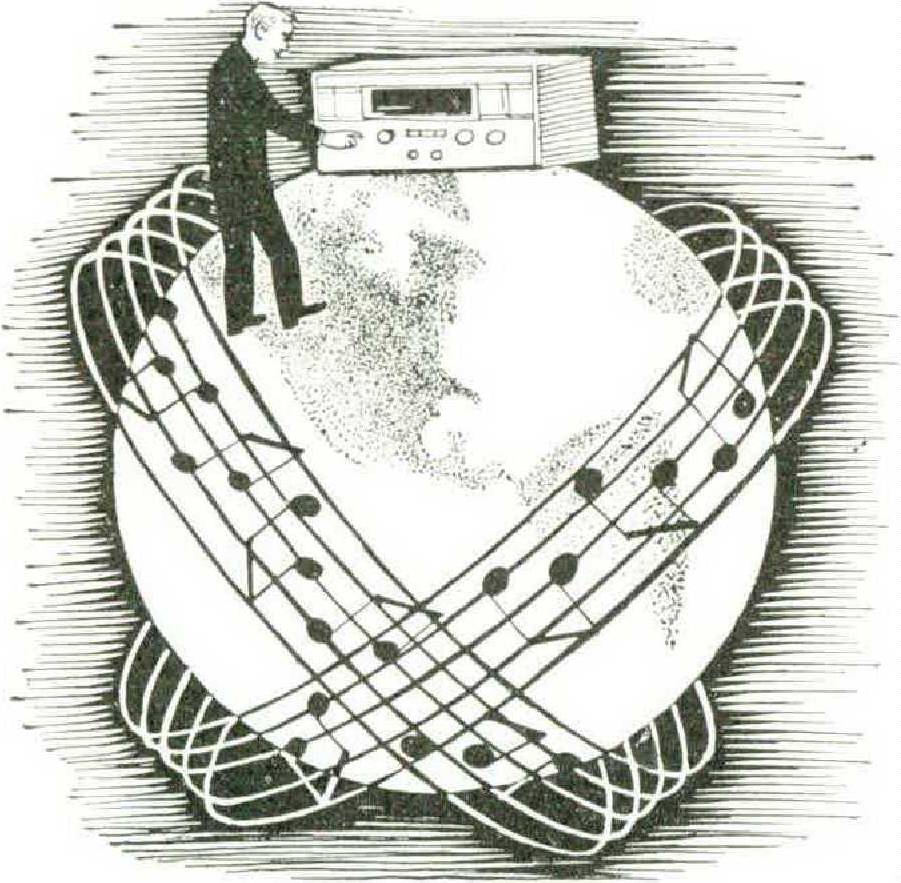 The order for the King of Thailand did not disturb the Fisher establishment a bit. In the last twentyone years, Avery Fisher has become, beyond much question, the leading purveyor of phonographic high fidelity to the world's Very Important People. If you visit the Maharajah of Indore, you will find in his palace a Fisher phonograph. And one of the most elaborate of all Fisher custom installations adorns the livingquarters of the Shah of Iran, Mohammed Riza Pahlavi. "Quite a hi-fi man," Fisher comments, "as well as a good sports-car driver; the two things seem to go together."
The list of Fisher's notable clients resounds so nicely and reflects so much hard work, taste, and attention that a small sampling of its membership seems warranted: Max Ascoli, Irving Berlin, Dr. Arthur F. Burns, Lee J. Cobb, S. B. Colgate, Bing Crosby, Thomas E. Dewey, four of the Mesdames Du Pont, Mrs. Marshall Field, Dr. Alberto Gainza Paz, Ira Gershwin, Huntington Hartford, III, William Randolph Hearst, Jr., Lillian Heilman, Henry J. Kaiser, Elia Kazan, Joshua Logan, Claire Boothe Luce, Fredric March, GianCarlo Menotti. Mitch Miller, Henry Morgan, Newbold Morris, Malcolm Muir, Mrs. J. C. Penney, M. N. Rand, Roy Rogers, Baron Maurice de Rothschild, Andrès Segovia, Edward Steichen, Dr. Albert Schweitzer, Jennie Tourel, Alfred Gwynne Vanderbilt, and Sergeant Friday.
The only trouble with this list is that Avery Fisher would consider it incomplete, because it does not include Mr. Gold. Mr. Gold is the operator of a neighborhood hand laundry in New York, and he came calling upon Fisher one day last year. (Fisher, incidentally, owns or leases nearly a block of buildings in Long Island City, and it takes a good ten minutes, from a standing start, to find his office.) Gold had pul together a high-fidelity music system which incorporated several Fisher components and which did not seem to be working as it should. He was distressed. Fisher received him (he receives everybody) and astounded him further by suggesting that they go to Gold's home.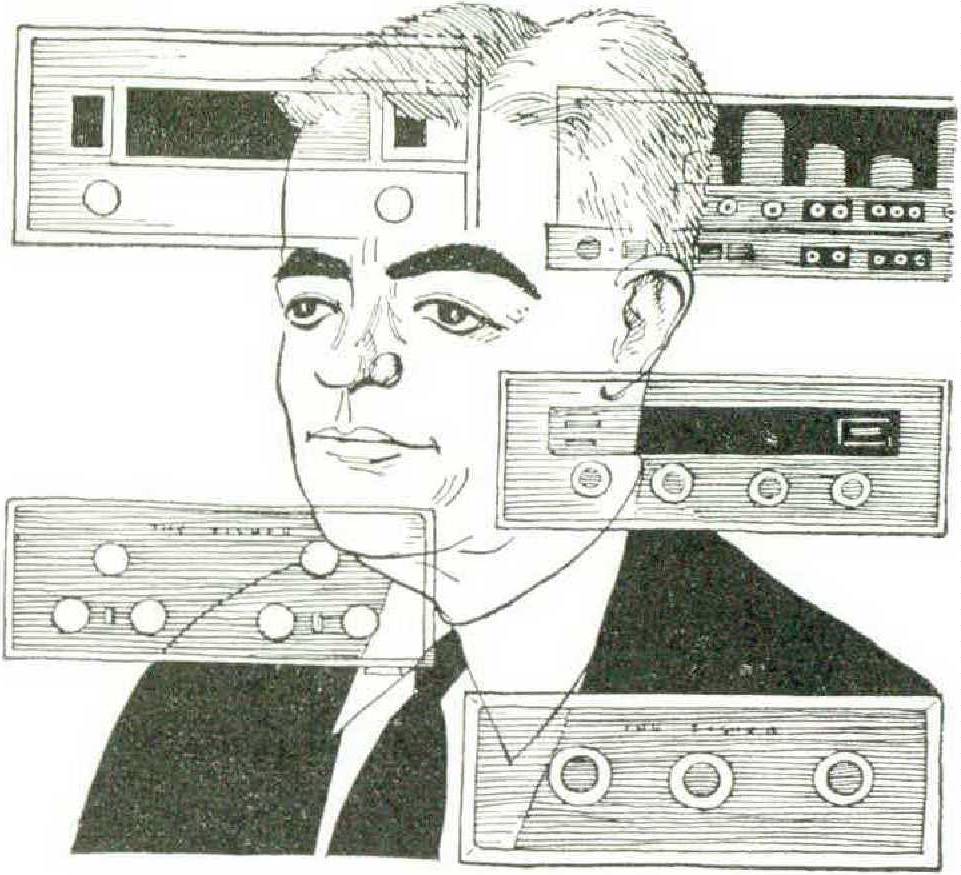 They did, and Fisher reports on the venture: "I went in and I saw a record collection second to none I know of, at least in quality, not even to WQXR's, let alone my own. Not only LPs but 78s. Everything was there that ought to be there, the choicest and most essential things." He went to work on the music system and quite easily made it sound right. But he will not forget Mr. Gold in a hurry. Mr. Gold is the man whose name, Fisher hopes, is (or will be) legion. "This is our intellectual nobility," he says, "make no mistake about it. And it is a very encouraging thing."
Everything seems to encourage Fisher; there has been a kind of serendipity in the course of his life. He is now in the beginning of his fifth decade, a sturdily built man with an orderly thatch of graying hair, dark eyes, and a ready and rather gentle smile. He was born in the Yorkville section of Manhattan into a family to whom music and phonographs both were an important part of recreational life. His father, Charles Fisher, a real estate specialist, owned one of the nation's biggest collections of acoustic horn gramophones. The boy Avery was allowed to study the violin as early as he wanted to, which was pretty early. He is still a proficient violinist. At the Fisher home on New York's East Side there are regular chamber music concerts in which Fisher plays first or second fiddle, depending on the music and performing company.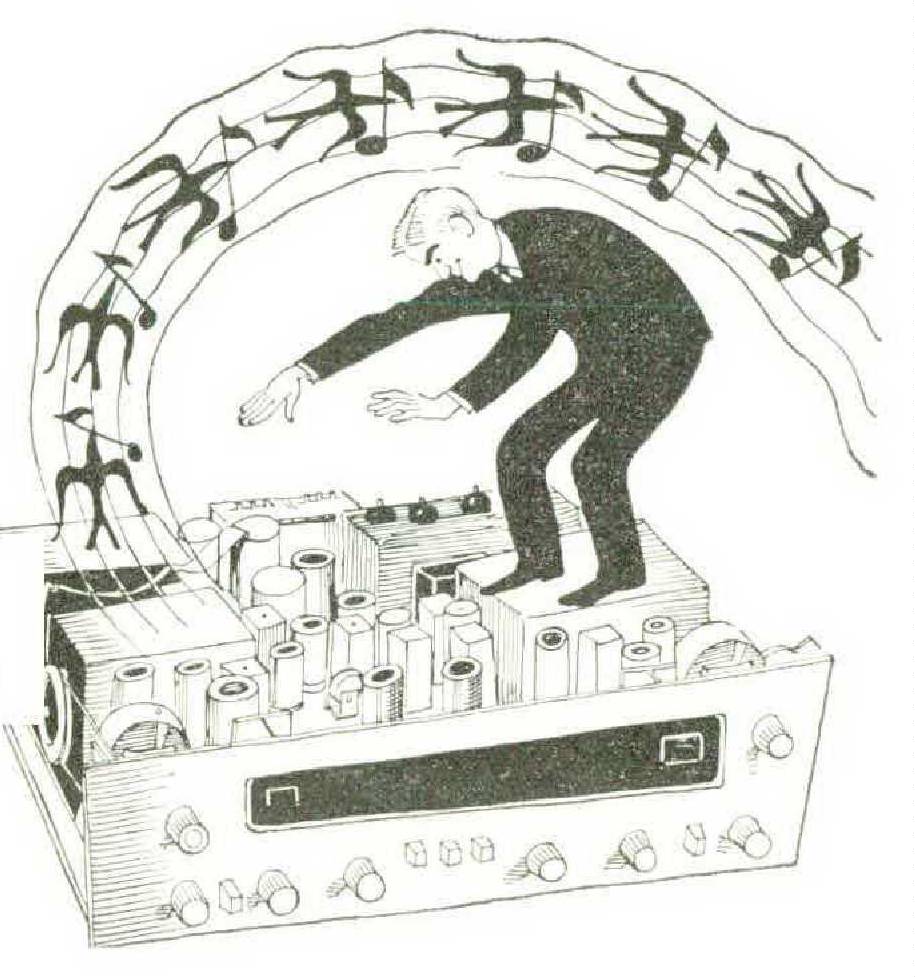 Despite this musicianly bent, when he went to NYU he majored in biology, taking a B.S. He didn't use it. He went instead to Dodd, Mead and Company, book publishers, where he learned book and typographical design. He became very good at this, as is attested by his success with it since as a lucrative hobby. The latest set of books he has designed is Sir Winston Churchill's History of the English-Speaking Peoples. Fisher loves to be accosted at parties by people who ask him: "Did you know there's another Avery Fisher, who designs books?"
Profession (book designing) and avocation (high fidelity) exchanged places in 1937. Like sundry others in his present calling, Fisher began his high fidelity experimenting so that he himself might enjoy reproduced music at its best. Broadcasting and recording had far outsped the home radio and phonograph. So pleased was he with the results of his labors that he was anxious to share them, and he also saw that they might be marketable. In 1937, therefore, he quit the book business and founded the Philharmonic Radio Corporation. His first chief product was a chassis which incorporated a TRF (tuned radio frequency) receiver and a twenty-five-watt beampowered audio amplifier. He would not tolerate it now, but in its time it was probably the best in the world. He built radio-phonographs as fast as he could, but never quite fast enough to answer the demand. Our latter-day yearning for music, unparalleled in the world's history, had caught up with him.
The war interrupted the joy ride. Fisher sold his company to a big corporation and directed it, through the duration of hostilities, in the production of electronic mechanisms for war.
Once the war was over, he cut loose again and got back to music. In 1945 he established the Fisher Radio Corporation. It is a dual operation, as all his manufacturing has been from the beginning. For prosperous folk, short of time or indolent, he makes assembled phonographs (designed as furniture by Avery Fisher). For venturous music lovers, who feel themselves partners to Casals or Klemperer, he makes high-fidelity components — amplifiers, preamplifiers, FM-AM radio tuners, remote-control switches (including a stereo balance control that may prevent many a nervous breakdown), and the like. These also are styled tastefully, but with a difference. A Fisher amplifier is, perhaps, a little heavier than it needs to be, by virtue of its oversized components. There is a built-in challenge: if you can lift it you will love it. On Fisher preamplifiers there are always a couple of knife switches, which are completely unnecessary except that they denote a kind of raw, masculine efficiency. Flip one of these and you feel as if you are governing the S. S. Constitution, or at least a sizable yacht. A button to push or a knob to turn is not the same thing. Designers have to be psychologists, and Avery Fisher is a very good designer.
His designs upon his customers, however, are entirely benign. He thoroughly enjoys his work, and one gets the impression that this is mainly why he performs it. He thinks profit comes after the job well done and must wait upon it. Accordingly, his procedure in business is a little strange, especially to the people that work for him. One rule, for instance, is that any customer who calls Fisher through the office switchboard gets to talk to him direct; even Fisher's secretary cannot prevent this.
Fisher has the gift of making right decisions in split seconds and of picking people to surround him who can think nearly as he does. This allows him the liberty of being a business artist, a considerable liberty which he takes seriously. He admits pride in a few things. One of them is the Fisher FM tuner 90, which he thinks helped convert Continental Europe to FM (it outsells all other tuners there) and thus brought better music home to some thousands of Europeans. In other artistic matters he is almost fiercely modest.
His fiddle bow is a Hill, of some renown, but his violin is not of famous make. " If I were to sequester a Strad or a Guadagnini," he explains with fervor, "for amateur use, it would be almost a sin. These instruments should be put at the disposal of professional artists, for the public, not kept in private homes. Anyway," he continues, "this is an age of reproduction, of reproduction that can almost be called perfect."
Patently, this is where the reporter must come to the aid of the man scanned, for never in his life would Avery Fisher audibly presume that he has been of assistance to the endeavors of Johann Sebastian Bach or Ludwig van Beethoven. Yet he and his colleagues and competitors in the reproduction of sound have so served, beyond any doubt. Never before in the world have so many people listened so earnestly and with such reward to so much good music as now. And most of it happens in living rooms.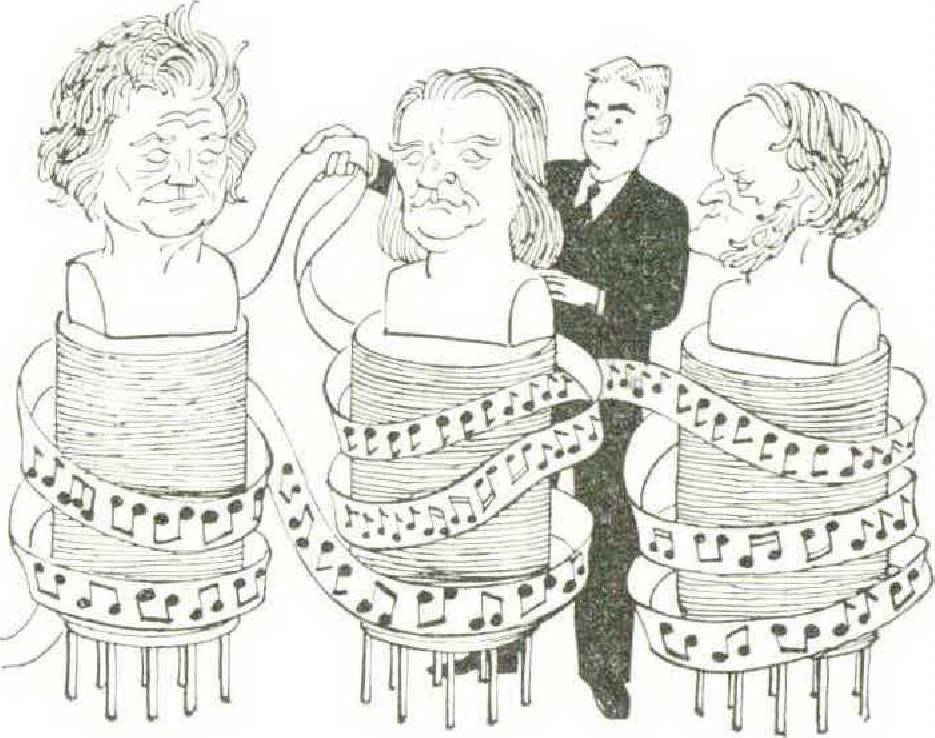 Charged with a proposition like this, Mr. Fisher becomes at once gruff (which is uncharacteristic), charitable, and institutional. What he says is, and you are bound to believe him, "It's a very honest business."He ought to know.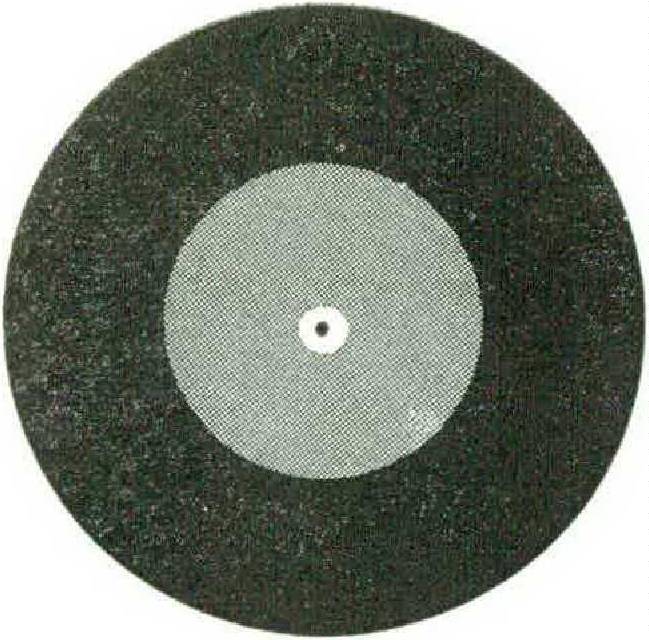 Record Reviews
Beethoven: Symphony No. 9: Overtures Egmont and Leonore No. 3
Ferenc. Fricsay conducting soloists, Berlin Philharmonic Orchestra, St. Hedwig's Cathedral Choir; Decca DXB-7157 (stereo) and DXB-157: two records A Beethoven Ninth is perhaps the biggest endeavor a conductor can undertake before a microphone, and the result can never, in propriety, be dismissed shortly. Fricsay is the young (44) conductor who matched -or even overmatched — the veterans Toscanini and de Sabata in the Verdi Requiem. He has here good forces, including as soloists Irmgard Seefried, Maureen Forrester, Ernst Häfliger, and Dietrich FischerDieskau. He does well with them. Beethoven made the finale almost foolproof; it plays itself, Fricsay has no trouble with the scherzo, and he possesses a fine, delicate lyrical sense, so his adagio is highly acceptable, too. Now the catch: I do not think I ever have heard the first movement played right, with all its surge and smash, except by old men: Toscanini, Weingartner, Walter, Koussevitzky. I have heard good men of the younger generation essay it: Karajan, Leinsdorf, Fricsay. None has read wrong, I am sure, and there has been nothing detectable as a fault, but somehow part of the force and sense of the music has fallen away. Fricsay seems as good as any of his contemporary competitors, and Decca has given him respectable stereo high-fidelity sound. He plays the two overtures with both taste and verve.
Dvořák: Symphony No. 4
George Szell conducting Cleveland Orchestra; Epic BC-1015 (stereo) and LC3532
The older Szell recording of the Dvořak Fourth, or Eighth, Symphony (depending on which musicologist's count you use) for Columbia was for some time the standard best buy. Talich and Walter may have got more Slovak flavor into their ancient discs, but the sound was indisputably antique. More lately, for Angel, Wolfgang Sawallisch produced a very fine performance which held first place for a while. Now Szell takes top spot again by virtue of a performance more Brahmsian than folkish but exquisite in its sound.
Elgar: Pomp and Circumstance, Marches No. 1 to No. 5
Bliss: Welcome to the Queen; Suite from "Things to Come"
Sir Arthur Bliss conducting London Symphony Orchestra; RCA Victor LSC2257 (stereo) and LM-2257 Elgar planned six and wrote five marches of a series he called Pomp and Circumstance. All five are played here with just the right pompousness, and the stereophonic circumstances seem to have been auspicious too. Number One (which is also known as the Coronation Ode, Land of Hope and Glory) remains the most stirring, but to me Number Five stands up best. It has a sort of military-pastoral feeling about it that only English composers can concoct. The sound is rich and vivid. The Bliss works supplement the Elgar marches very well. The "Welcome" is obviously designed to accompany someone's disembarkation from a yacht, and it accomplishes its purpose admirably. The suite from the H. G. Wells movie may surprise you with its logic, continuity, and cogency. It is a good deal better than either the photoplay or the novel which were its cause. Sir Arthur Swings a good baton, too.
D'Indy: Symphony on a French Mountain Air
Ravel: Concerto in G
Nicole Henriot-Schweitzer, piano; Charles Munch conducting Boston Symphony Orchestra; RCA Victor LSC-2271 (stereo) and LM-2271
A happy pairing have we here. Mine. Henriot-Schweitzer may not have quite the floating grace Fabienne Jacquinot brought to the old MGM recording of the d'Indy, but her playing is still highly adequate, and she does have to help her the old master at this sort of repertoire, Mr. Munch, and the miraculous sound of the BSO. One gathers that the Ravel Concerto is a specialty of hers. She seems to take it a little more seriously than Ravel did, but this does no harm: when repeating a master's wit, one does not add one's own. The piece emerges very brisk and clear. The sound by RCA Victor is appropriate to the music.
Mendelssohn: Symphony No. 4, "Italian"
Haydn: Symphony No. 104, "London"
Leonard Bernstein conducting New York Philharmonic Orchestra; Columbia MS6050 (stereo) and ML-5349 There are many good versions of the "Italian" Symphony on the shelves, but Bernstein's may be the brightest (in the sense of most youthful) among them. However, it is not as rich in sound as the Munch-Boston, and it has another competitive liability. Munch couples his with the Fifth ("Reformation") Symphony, equally well played, whereas Bernstein on the overside gives us a Haydn "London which is not equally well played. You can get this symphony in performances by Wöldike and Scherchen (and, any day now, by Beecham), and Bernstein affords no convincing reason why you should not.
Rachmaninoff: Concerto No. 2
Kjell Baekkelund, piano; Oivin Fjeldstad conducting Oslo Phitharmonic Orchestra: RCA Camden CAS-175 (stereo) RCA issued in the same week two stereo versions of the Rachmaninoff Second: on Victor a RubinsteinReiner, on Camden this Norwegian treasure involving names nobody can spell right more than twice in one paragraph. Rubinstein and Reiner gave a flawless performance. The Norwegians give one that may not be flawless but that you had better buy just the same. Not since the inspired collaboration of Rachmaninoff and Leopold Stokowski, I think, have I heard such a ravishing, melting playing of this sweet lovely thing. Everyone, including the orchestra members, seems to have been inspired (the first horn player should get a medal). Here is real beauty, made by a hundred men who surely knew, after the first few minutes, that they were making it. So did the gentlemen in the control room, for the microphones were made to share the spirit. The product is pure magic. It costs $2.98. Whether there is to be a monophonic counterpart, RCA has not indicated.