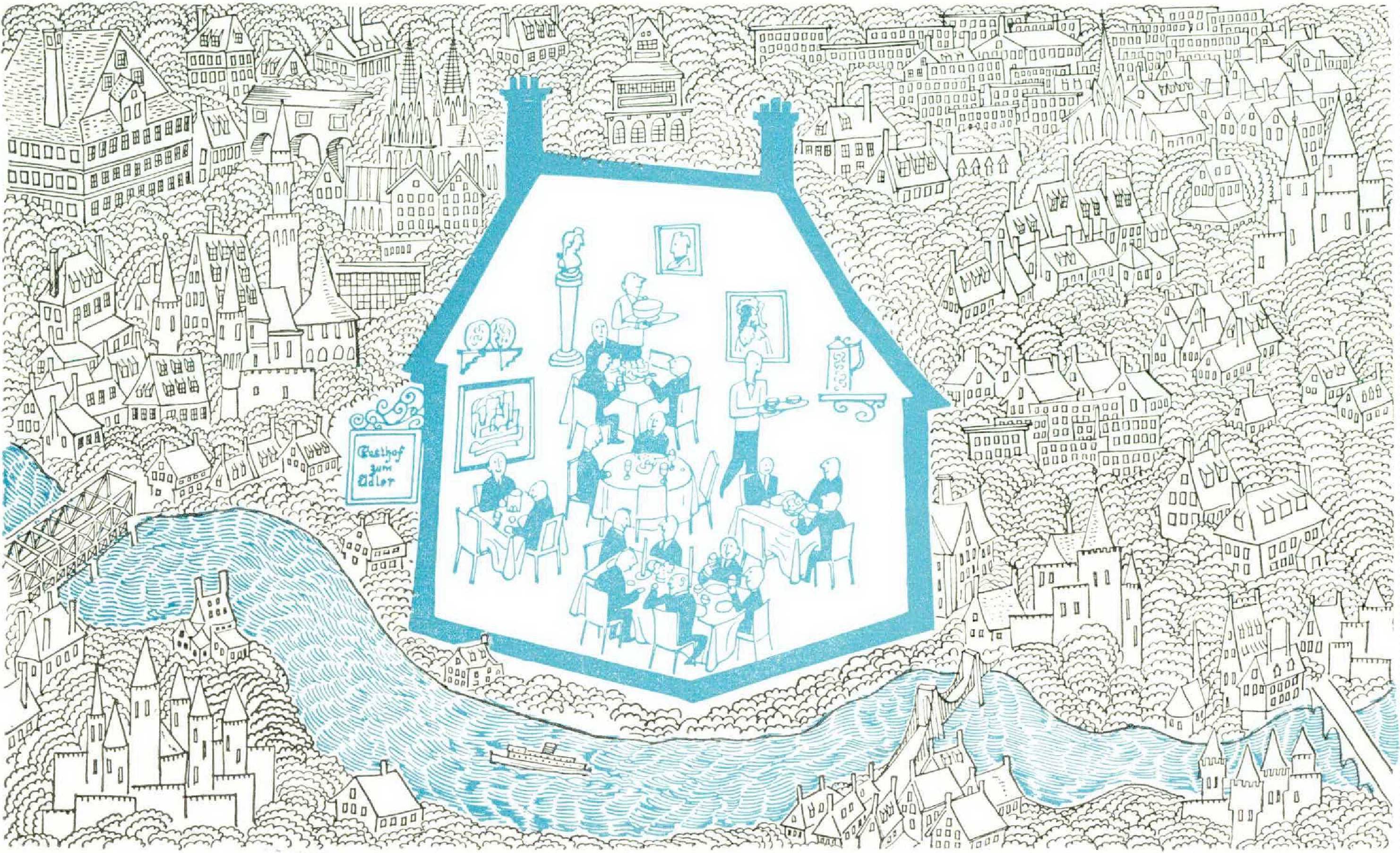 GASTRONOMIC temples are rarely surrounded by beautiful scenery. The greatest restaurants in France, and thus on earth, Madame Point's Pyramide in Vienne and Alexandre Dumaine's Hotel de la Côte-d'Or in Saulieu, are located respectively in a drab side street of an old, industrial town and between gas stations on the noisy Route Nationale No. 6. And one of the finest eating places in Germany lies on a traffic-jammed intersection of Koblentzer Strasse in Bad Godesberg, an overcrowded town in the vicinity of Bonn.
A chronicle of the restaurant, published on its seventy-fifth anniversary in 1935 and translated into very basic English, begins, "In Bad Godesberg, which is well known like paradise, romance is up to this day alive in steadily new blossom." Alas, the romance has dried up a long time ago. Today the air is filled with exhaust fumes and the racket of heavy trucks rumbling down along the right bank of the Rhine. And in this cheerless neighborhood, facing an establishment called Corner Bar and flanked by a flower store and the Old Apothecary, there stands, slightly off the street, an inconspicuous, cream-colored, threestory house. The sign below the roof, "Gasthof zum Adler," brings back memories of long-gone days when many good inns in Germany were called Black Eagle or Golden Ox.
The modest façade of the Adler is as deceiving as the shabby suit of a Boston millionaire. The Adler surpasses in refined luxury many a fashionable restaurant with fancy marquee and liveried doorman. The moment you enter, you are in the refined, civilized atmosphere of a wealthy, nineteenth-century home. There is a small hall with lovely Renaissance furniture, Persian rugs, old paintings, lace curtains, a crystal chandelier, fresh flowers in the vases, a French clock on the mantel. Everything is wonderfully quiet. If you are early, the air is permeated by the scent of melted butter and sauce cardinal; if you are late, the scent may be of fine wines and cigars. It is a pleasant surprise that such a place has survived in an era of automation and neon light. It gives you a sense of relaxation and sliding back in time.
You are surrounded by the pleasant mood of old-fashioned hospitality. No arrogant headwaiter with upturned palm keeps you waiting behind a silk rope. Turning left toward the subdued sound of voices, you find yourself in another small hall, with old paintings and candlesticks, baroque furniture and Persian rugs, which opens on three intimate dining rooms. My favorite room is the smallest, to the left, whose walls are covered with many framed letters and old autographs. There are only four tables in this room, and each is of a different size. No two tables are alike at the Adler, and all tablecloths have to be woven to specifications.
I usually sit by the window under the autograph of Heinrich Heine, across from the framed signature of Johann Wolfgang Goethe. I am surrounded by letters of Alexander and Wilhelm von Humboldt, RÜckert, Scheffel, Rossini, Wagner, Liszt, the martial signatures of Bismarck, BlÜcher, and Hindenburg, a playbill of the first performance of Mozart's The Magic Flute in Vienna's Theater an der Wien on September 30, 1791, letters of August the Strong, Kaiser Wilhelm I, and Wilhelm II, an army order signed with a flourish by Napoleon, another by Frederick the Great, and a valuable deed with the signature of the Empress Maria Theresa.
The adjoining room, which has a flower-filled bay window, is a small picture gallery with many old paintings in gilded frames, mostly by German masters of the past two centuries, while a third intimate dining room in the rear is filled with old Meissen, fine ceramics, Venetian glass. But the Adler is no museum. The objets d'art are carefully spaced, with beautifully set tables standing in between. You are made to feel that you are in a home, the home of a civilized man with perfect taste.
The Gasthof zum Adler will be a hundred years old next year. Its founder was Konstantin Hölscher, a gregarious, opulent geometrician who liked good wines and good company. His friends were the learned Profes soren of nearby Bonn University and the painters belonging to the Düsseldorf "Malkasten" circle, The Princess zu Wied, who later became Queen Elizabeth of Romania and wrote poetry under the name of Carmen Sylva, often joined them. Another guest at the house was Giuseppe Verdi, whom Hölscher admired and invited to Godesberg.
For years Hölscher, an easygoing, hospitable Rhinelander, served his friends good food and fine wines in his home, but at long last the friends suggested he turn his house into a tavern so they could pay for the food and wines. Hölscher first refused, but his friends insisted (and his wife, Gretchen, was a practical woman), and so in 1860 HÖlscher got himself a license and called the place Gasthof zum Adler. Nothing was changed, and the old slogans remained on the walls — "carpe diem," "vinum est 2/3 divinum," and "Der Herr behÜt uns vor Regen und Wind, und vor Gesellen, die langweilig sind" (Lord preserve us from rain and wind, and from boring company).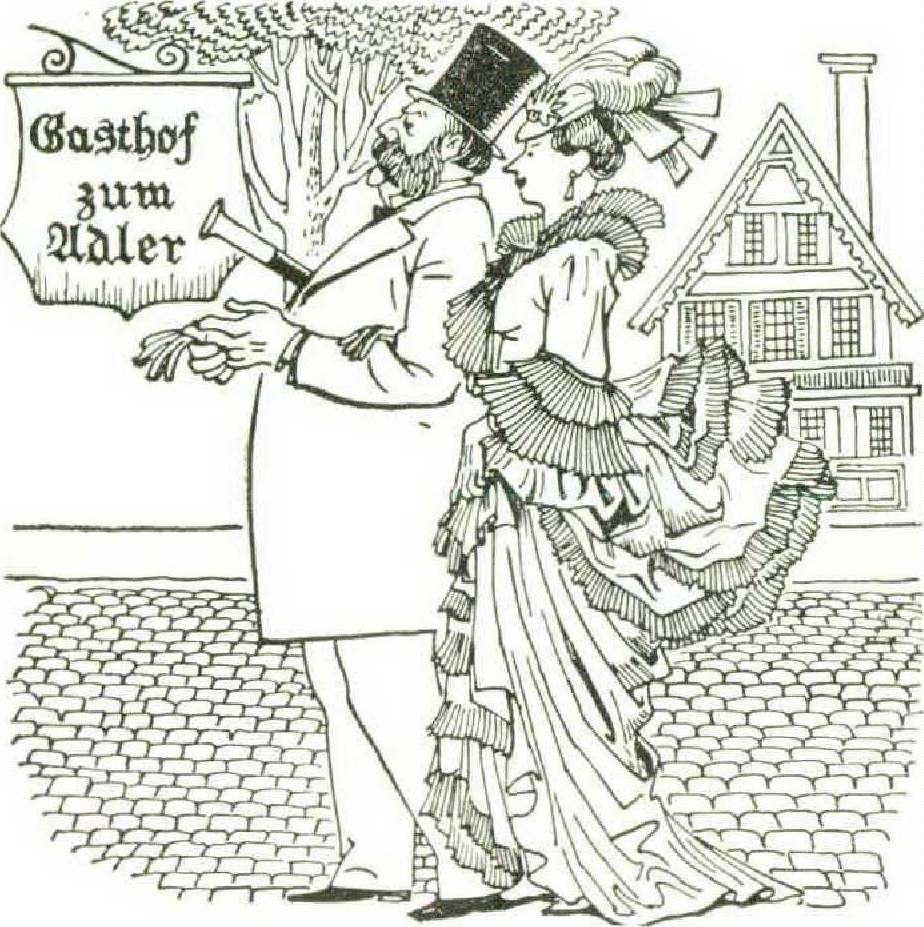 The Adler was a hit from the beginning. Town councilors, bankers, politicians, and wealthy merchants joined Hölscher's Stammtisch; soon he had to add another floor. After the death of the Hölschers, their children kept the place for a while, but the sons, a painter and a musician, were not interested in a tavern, and the daughter married the owner of the Godesberger Hof. The Adler was taken over by a professional innkeeper named Kcp who later sold it to Paul Küster; and Küster's widow in 1929 made it over to her sister, whose husband, Franz Josef Schmitz, is the present proprietor.
Schmitz is a tall, elegant, grayhaired man with military bearing who considers the Adler good business and a pleasant hobby at the same time. Like the founder of the restaurant, Schmitz has a fondness for good wines and good people and is always ready to drink up the first in the company of the second. A Rhinelander from Cologne, he was an infantry officer and was taken prisoner in both wars. Although he modestly considers himself a wellmeaning amateur, he learned a lot from his family, who at various times owned a farm, a brewery, and a wine firm.
When Schmitz took over the Adler he wanted to remain the custodian of a proud, honored tradition. A lifelong collector of good paintings, glassware, china, and good things generally, he now had a legitimate reason to collect them in his inn.
The Adler survived World War II but almost got lost in its aftermath, when it was used as a billet by friend and foe and was badly ransacked in the process. When Schmitz came back from an American prisoner-of-war camp, the rugs and tapestries and china were gone, and the paintings had been removed from the frames that now hung empty on the walls. Fortunately, Frau Schmitz had managed to hide much of the valuable inventory, and her husband had whiled away the long hours in camp by drawing up detailed plans for a complete restoration of the house, including the color schemes for walls and rugs. He wrote down his ideas on sheets of brown wrapping paper, made exact drawings of how every room in the house would look, planned improvements in kitchen, pantry, and cellar, and ever, wrote up a program of serving eggs for breakfast in various forms.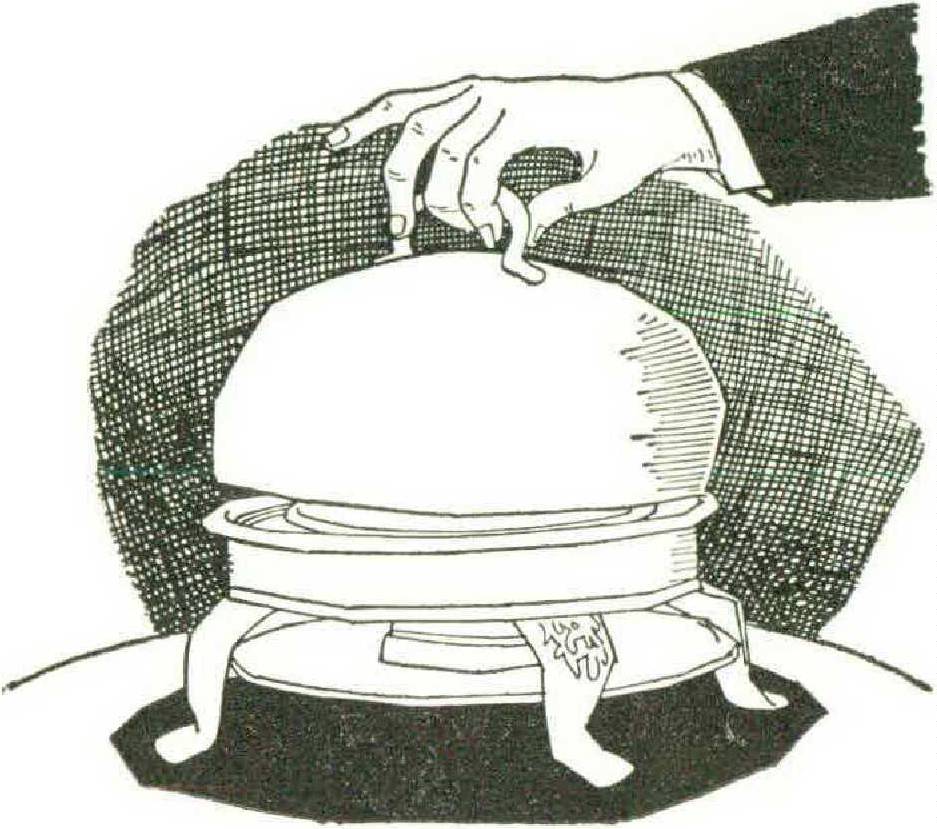 "It was a good way of keeping up one's morale," he says now. "And I needed a cool head when I came back and saw the destruction. My wife had saved our most valuable paintings, a small Rubens and two Breughels. They now hang in our apartment, on the second floor. But much was gone and it wasn't easy to find Watteau tapestries, good furniture, china, and glassware in those days."
On September 1, 1948, Franz Josef and Frau Mathilde Schmitz let it be known in the local paper that they had reopened as "heirs to Küster" the Adler after three years of occupation. The hotel rooms upstairs were promptly requisitioned by the Ministerpräsidenten of the German Länder, who installed their offices there for lack of suitable space and often had their meals at the restaurant. Then a few things happened that brought recovery and prosperity to the Germans generally and to the Schmitz family in particular: currency reform, the Marshall Plan, the split of Berlin, the emer gence of Bonn as Germany's provisional capital.
There was no other first-rate restaurant in the bewildered Bundesáorf. Members of the government and diplomats had to go to the Adler for a good meal. Chancellor Adenauer became a frequent guest; his signature can be seen on the colored window partition between the small hall and the pantry. Then the Americans built the enormous High Commissioner's office (now the U. S. Embassy) in nearby Mehlem, and many people working there became fond of the Adler. Gradually, the old customers from the Ruhr and Rheingebiet came back, riding in their brand-new Mercedes 300s.
Bad Godesberg is located in a region of good living and good eating. The climate is mild; France and Belgium, food-conscious countries, are not far away; and the people who make the great Moselle and Rheingau wines love to eat well. Schmitz is surrounded by an assortment of fine supplies. From the nearby Vorgebirge come the youngest, freshest vegetables, the first asparagus and string beans; from Hamburg comes fresh fish; from Holland delicate herring fillets and fine Gouda cheese; from Eastern Friesland fine red meat; from a good butcher in Cologne selected saddles of hare and venison; from the Rhine genuine Rheinsalm. (Much of the so-called Rheinsalm offered in German restaurants nowadays is neither salmon nor from the Rhine.) Fresh caviar arrives directly from the East. The countryside offers fresh cream, fine butter, excellent Weinbergschnecken (snail) and crayfish. These first-rate supplies are available; the trick is to make fine dishes of them week after week, year after year. Perhaps because Schmitz was never a professional restaurateur, he learned that in a fine restaurant you must not keep your ear cocked to the sound of the cash register or you are licked from the start.
The Adler is a family enterprise. Schmitz looks after the restaurant and the cellar; his wife runs the small hotel—thirteen comfortable rooms on the two top floors where serious eaters and drinkers can sleep it off — and the Schmitzes' daughter, Karin, works in a small, woodpaneled office where she takes care of paper work and bills. The feminine touch is everywhere apparent; there are rough towels, good linen, fresh flowers in the window boxes. The Adler is one of the few places in Germany where the aromatic breakfast coffee is always freshly made, the butter always fine, the rolls always crisp.
For Anglo-Saxons there are cereals, for Germans sausages and cheese, which they love for breakfast. The restaurant is open every day of the year for lunch and dinner. It is expensive by German standards. A good meal costs ten dollars, and it is neither difficult nor unusual to spend twentyfive dollars per person, with wines.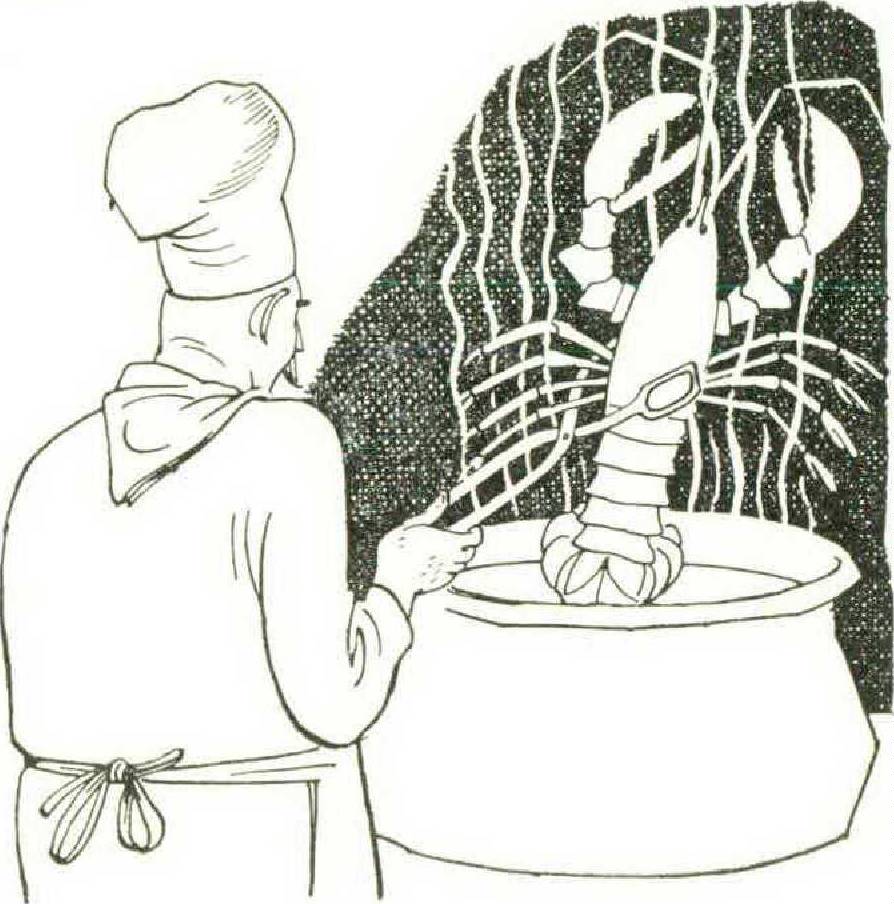 The kitchen is in the courtyard, in the shade of a large old tree. It is compact and well organized, with just enough space for the KÜchenchef, five cooks, and the hors d'oeuvre cook. The Adler is not a big place. Besides the members of the Schmitz family there are rarely more than thirty people working in the house, though the Adler does a lot of catering for diplomatic and government receptions and large parties at nearby castles and estates, where caviar, foie gras naturel, and lobsters are delivered in large quantities. The lean days of ten years ago are forgotten; this is the opulent era of the German Wirtschaftswunder, the production miracle.
Schmitz attributes the success of the Adler to honesty and affectionate attention to detail. "We buy only the best and pay top prices," he says with pardonable pride. "The Germans are thorough in gastronomical matters. Our beurre maître d'hôtel is made with the finest butter. Our lobster dishes are made with fresh lobster. I was in a well-known restaurant recently where they had mixed pieces of cheaper, canned lobster into creamed lobster. Many people won't notice the difference, but I would rather close the place than make money that way. In the past years I've often thought of selling the Adler and retiring, but I became afraid of what might happen to its good name, and so we have decided to hold on for a while. Our costs have gone up 300 per cent, our prices only 200 per cent. You can't get rich any more in this business, so you might at least remain honest."
The cooking at the Adler is "not German, not French, but international fine cuisine," Schmitz says. It is not as refined as the best French cooking but far more delicate than the robust fare of other leading German restaurants. It reflects the geographic location of the restaurant and is a synthesis between French and German, East and West. Among the specialties of the house are a French onion soup, larded saddle of venison with Reibekuchen (potato cake), apples, and cranberries, and baked Camembert with parsley.
I asked Schmitz what he likes to eat.
"Simple, inexpensive things," he said. "Rhenish bean soup, made of big white beans. Sauerbraten. And young potatoes cooked in their skins, cut through in the middle and thickly spread with fresh caviar. Of course, that's not an inexpensive dish — especially in late spring when the first young potatoes arrive."
Attention to decorative detail is a house rule at the Adler. The Irishstyle linen is woven in Switzerland, and there is fine china and old silver. The tastefully printed menu is changed every month to include primeurs and specialties of the season, and the main dishes are sensibly explained for the sake of the uninitiated. Supreme of Rheinsalm Gourmet means poached in Chablis and garnished with champignons and scampi. Veal steak Parisienne is fried in egg, garnished with salmon and capers, pommes frites and beans; and there is ice cream à la faÇon du patron, with biscuit, fruit salad, cream, Halbgefrorenes, and flambé with Schwörzwaider Kirschwasser.
There is also a permanent card featuring smoked salmon, foie gras, Helgoland lobster, Dutch oysters, Ostende sole, Danish lobster soup, Indian curry soup, Westphalian Kateschinken, three kinds of Schnitzel (Wiener, Swiss, and rolled), and half a dozen other dishes. It is one of those cards that makes you wish you could stay for ten days and eat your way through.
Germans drink their best wines after meals; many drink water with their food and wine afterwards, a disconcerting habit to one who believes in a happy marriage of food and wine. Herr Schmitz buys the wines for the Adler all by himself. This pleasant duty takes him several times a year to Moselle, Saar, and Ruver estates, to the Rheingau and the Pfalz, where he sits down with the growers and tastes the wines. The supply of the best German wines is limited and often controlled by various monopolies and cartels, and you have got to be an insider to get a few bottles. Schmitz is an insider. German wines are drunk early and rarely last longer than eight years, except the very great vintages, such as 1949 and 1953. Moselle wines are the most popular at the Adler because they are light and spritzig; the heavier, headier Rhine wines are appreciated farther south in Koblentz. There are eighteen kinds of German Sekt (sparkling white wine) and half a dozen French Champagnes on the card, many of them, it seems, for the proprietor.
A few months ago Schmitz went to Cologne one morning to drink a bottle of Sekt with a friend and talk about old times. "I thought we might get hungry around noon, so I took along a fine pâté of hare," Schmitz said. "The pâté was all gone by dinnertime, and so were fifteen bottles of Sekt. Never felt better in my life."