Vintage Cars
KEN W. PURDY,formerly editor of ARGOSY, TRUE, and PARADE, is now free-lancing. His book, KINGS OF THE ROAD, was published by Atlantic-Little, Brown in 1952.
Not so long ago one Leonard Potter came to New York from England. Unlike the flamboyant, spade-bearded Commander Whitehead, Mr. Potter is a quiet man: of medium height and build, suited in venerable tweed, looking brightly through the thin horn-rimmed spectacles that only the English seem to wear any more. His métier is biochemistry, and he has prospered in it, but his deepest interest in life is the sporting automobile. He has driven in British and Continental races and rallies for years, and he is a director of one of the best British firms specializing in sports and antique cars.
Since the end of World War II there has been a notable resurgence of American interest in such esoteric machinery, and Mr. Potter's firm, Half-Way Garages, has heard from dollar customers piteously eager to acquire, say, a 30-98 Vauxhall or a 1750 cc. Alfa-Romeo. As much Georgian silver and Hepplewhite furniture have come westward across the Atlantic in the last decade, so have a good many choice motorcars, but not so many, Mr. Potter felt, as to approach saturating the market. Surfeited with the gross and globular machines that pour out of the Detroit foundries as fast as automation can stick them together, thousands have yearned for something different. Some 250,000 Americans will this year buy new foreign automobiles, but there are other thousands whose sophistication is not so easily to be satisfied. These are motorists who demand the unique, or the nearunique. They want machines famed in song and legend: the indestructible early Rolls-Royces; the heavy, high-riding Bentleys which beat the world for Britain in the late 1920s; the storied Bugattis of France; the impudent early MGs.
The world's storehouse of these cars has long been England. The indomitably sporting British appreciated them early; they bought them when the pound rode high, and, as is their way with most of the things they wear or use, they kept them up with care. Many of these beautifully maintained cars have come on the market in late years, but their purchase has been difficult business. Only experts can evaluate them. In describing them many sellers deal lightly with the truth. They are often ridiculously overpriced.
Looking over a choice short-chassis Invicta one morning, and wondering what it would fetch in America, Mr. Potter had a curious notion: how many merchants in the States offered fine vintage automobiles for sale? How many antique car shops were there? A great many, no doubt. After all, the Americans make, and sell, millions more cars a year than any other people; their ability to sell used cars in particular is famous. Some of their great collectors had bought and sold hundreds of automobiles. Someone long ago would have hit on so obvious a notion. Looking into the matter, he found that no one ever had.
A few weeks later he was on the high seas with four choice specimens: an impeccably maintained, one-owner Rolls-Royce limousine of 1937; a 1938 four-and-a-quarter-liter Bentley sedan; a toylike "Montlhery" MG, one of forty-five built in 1931, just out of the shops after a two-year restoration; and a "Tourist Trophy Replica" Frazer-Nash, one of the legendary "chain-gang" cars, called this because they do not have the regular transmission gears: they are driven by four sets of chains running over variously-sized sprockets. Nashes are much esteemed by the cognoscenti because they are remarkably nimble and because driving them requires something of a special technique. As this was written, Mr. Potter had taken up residence in Nyack, New York, and was looking for a suitable location in which to display his merchandise. Meanwhile, back in England, his associates were loading other specimens: a rare "Silver Ghost" Rolls-Royce, a one-of-akind Bugatti coupe.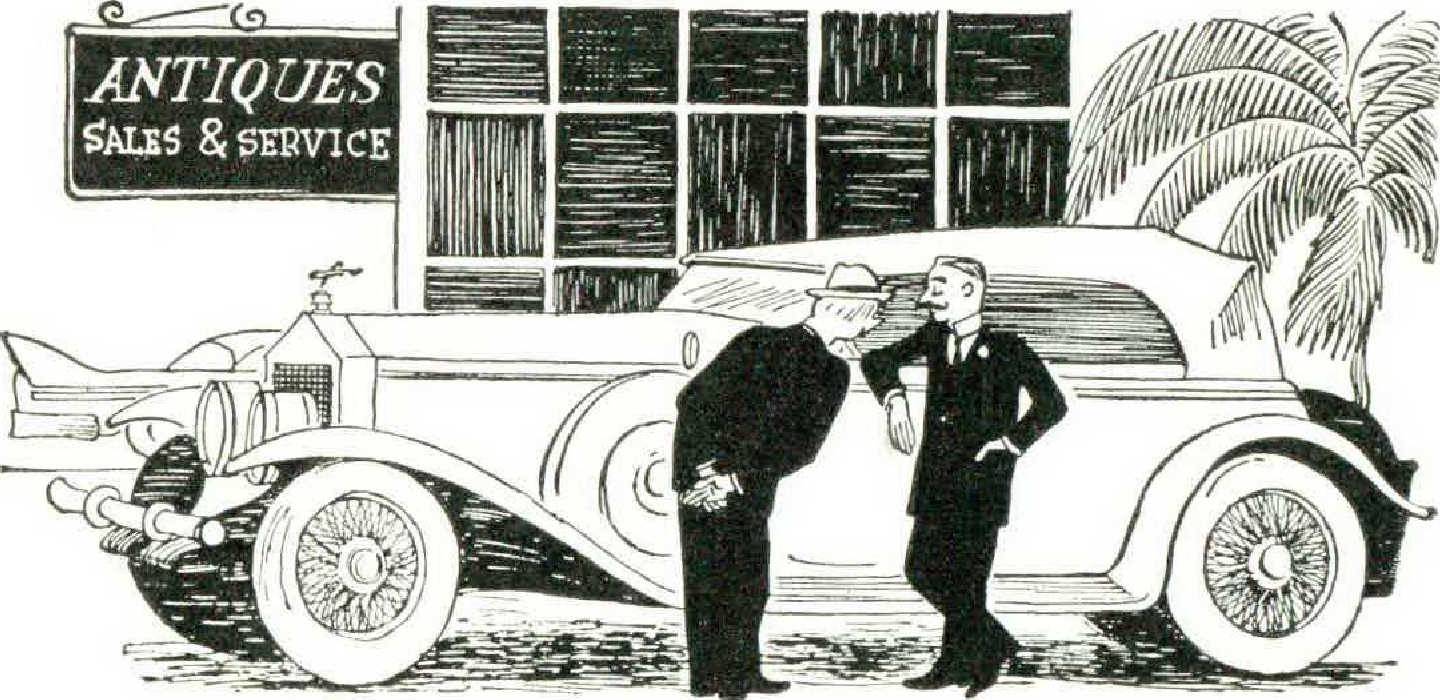 "I dare say we shall sell them reasonably soon," he said. "Seems likely, you know."
When Potter is off and running, I shall volunteer to do his advertising. I have the first campaign well worked out. It will be based on a simple but monstrously lush fourcolor photograph by Gleb Derujinsky presenting Mr. Potter at his ease in the T.T. Frazer-Nash, his right hand resting on the out-ofdoors gear lever. He will be looking rather squeamishly at a Cadillac beside him. "A nice enough motorcar, I suppose," he'll be saying, "but rather dreadfully common, don't you think? I mean, there's no point in driving something ordinary."
We may never need a second campaign. After all, the supply of really good vintage automobiles is limited.