The Old House at Senlis
A graduate of Harvard, BERNARD S. CARTER served in both world wars. As a lieutenant colonel he was in Military Intelligence with the Seventh and later with the Third Armies in World War II. Today he is president of Morgan $ Cie., Inc., in Paris and. spends his holidays in the forest town of Senlis.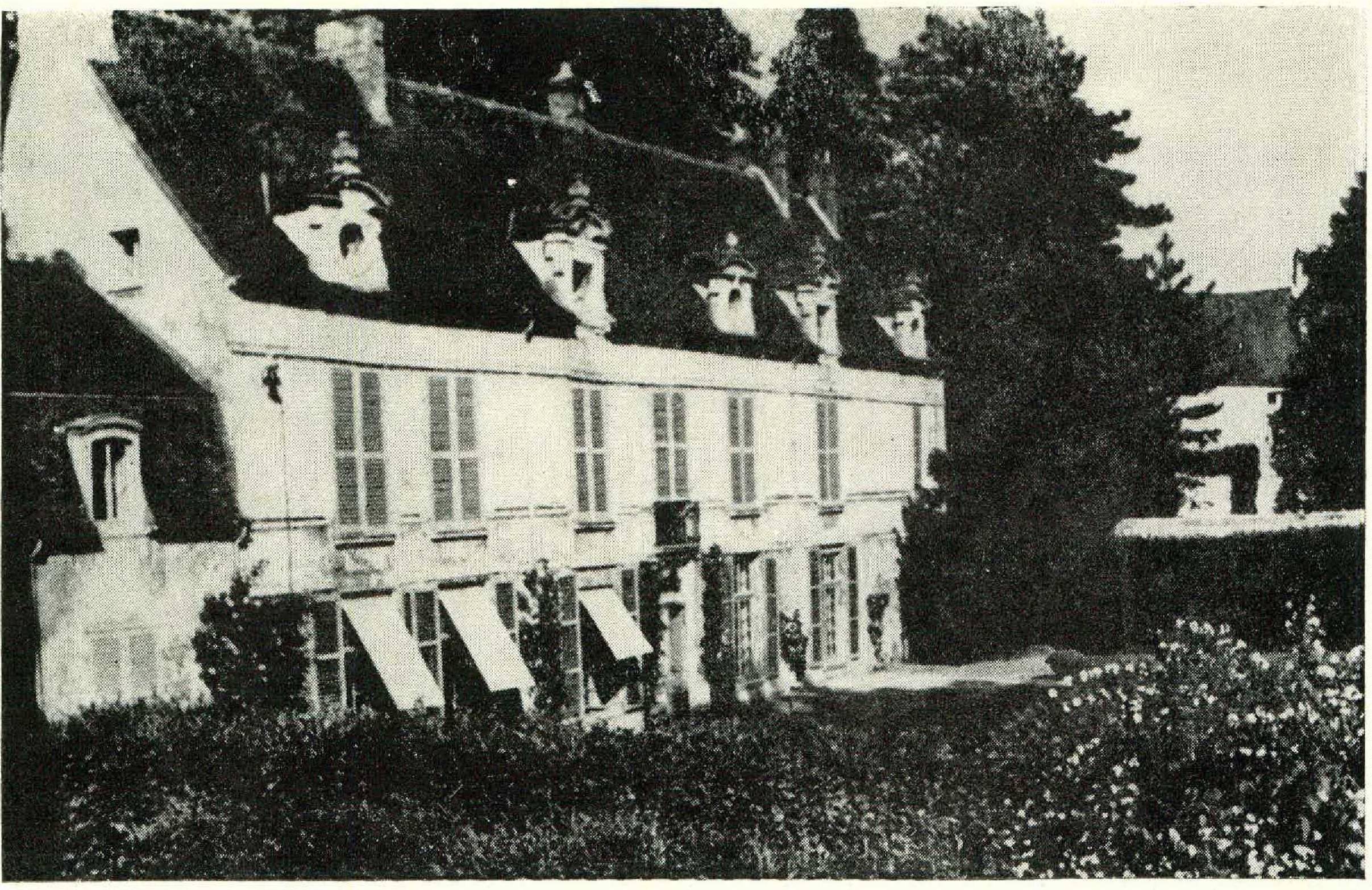 BERNARD S. CARTER
THE latter part of May, 1940, in Paris, in spite of the gorgeous weather, was easily the most depressing period of my life. Night after night we sat at the radio listening with sinking hearts to the news of the advance of the German armies from the east. I can still hear the lugubrious little refrain from the Marseillaise which preceded every devastating announcement of the names of fresh cities captured by those Panzer divisions.
To make matters worse, we received instructions from the Bank of France to move the office of the banking firm of Morgan & Cie., of which I was a partner, to the small town of Niort in southwest France, this move to include all our securities — a nightmare in those troubled times, as every banker will realize. I can still see the faces of my New York partners when I later told them of driving across war-stricken France with all our short-term French government notes in the back of my car. These represented the countervalue of nearly all our franc deposits.
My wife had left for New York in 1939 to spend the summer at home and had not been allowed to return to Paris when the war broke out in September, so that it was left to me to decide what to do about our country house in Senlis, twenty-five miles north of Paris.
My house at Senlis dates back to the reign of Henri IV and was, in fact, constructed by this monarch's secretary, a Monsieur Rose, in 1590. It lies on the very edge of the town and has four acres of garden, which give us room for a tennis court and the usual French potager. Advanced old age has brought great beauty to our house but also, unfortunately, an almost constant need for repairs. Around the whole place stands a twenty-foot wall, part of which has a rather unusual decorated top. It has been classified as a monument historique, and repair work can be done only after negotiation with the Institut des BeauxArts, which, however, offers no financial assistance.
Although we live within the town limits, we have always considered our place as a country house, and it is accordingly furnished with comfortable chintz chairs and French rustique furniture, charming old eighteenth-century pieces we have picked up over the past thirty years on our motor trips. Naturally I had done nothing about moving any of our possessions from Senlis to Paris. This was due partly to laziness, but also to my fear that such an action would be construed by my neighbors as an admission that I thought France was on the verge of defeat — an inconceivable idea to most of us at that time.
It was only when the radio announced the fall of the city of Laon, only fifty miles north of Senlis, that I finally pulled myself together and induced an old golfing friend of mine, the Marquis de Saint-Sauveur, to drive me out to Senlis in his diminutive Citroen car. When we reached the bridge across the small Nonnette river, just to the south of the town, the gendarme on duty warned us: "You'd better make it fast, gentlemen; in twenty minutes we're going to blow up the bridge."
This left me with the problem of deciding in twenty minutes just what small part of our possessions my wife would want me to crowd into the back of that tiny car. The silver and our precious photograph albums were an obvious choice. After that I didn't do so well, but what husband would? It was with a heavy heart that I rode back to Paris through the Senlis forest that evening. The sound of the explosion at the Nonnette bridge made me wonder when I would ever see my house again.
A LITTLE over a month later, in early July, after Paris had fallen, my friend and bank associate Julian Allen and I bicycled out to Senlis, twenty-five miles on a hot sultry day. Julian was an experienced cyclist, but I was not, and those three hours along the almost deserted road nearly killed me. I have motored along that course hundreds of times and had always believed the road a flat one, but I learned better that day — we always seemed to be toiling uphill, and the head wind was most discouraging.
Finally we reached the linden-lined driveway leading to my high monumental gate, which looked shockingly unfamiliar with a great Swastika flag flying over it and flanked by two rigid German sentries. I walked up to one of them and announced in very halting German: "Dieses Haus ist mein." He looked startled and rather unbelieving, disappeared through the grilled gate into the courtyard, and returned with the corporal of the guard, who was followed by a sergeant. We were beckoned through the gate and put in the charge of a rather weedy lieutenant who addressed us proudly in cockney English. I said I wanted to see the commanding officer.
While waiting in the courtyard, I was relieved to notice that my old Henri IV house looked almost intact and that two shell holes in the high tile roof had been neatly repaired.
The peaceful, paved old court where we had so often sat under sun umbrellas drinking cocktails was now a hive of Teutonic activity. Heavybooted soldiers were tramping busily across my lawn glaring at us civilian intruders. I was able to get a glimpse into our oak-wainscoted salon and was horrified to see that bunks for sixteen soldiers had been built along the walls. As a tribute to the German Army, I must confess that that boiserie has survived practically intact — no carved initials!
We were finally ushered into the library and were greeted by a rather fine-looking oldish lieutenant colonel, who spoke to us in English. There was much clicking of heels.
The colonel told me that my house was now the Kommandantur for this part of the Oise Department. I protested that it was American property, and that the German Army had no right to requisition it. He replied that it was a question of "military necessity." I asked, "What necessity?" He explained that my house was the only one in Senlis with sufficient bathrooms to accommodate the forty-seven members of his staff. He offered to allow me to occupy my bedroom and to eat at the officers' mess. This invitation I naturally declined. And as the United States Embassy had by then moved from Paris to Vichy, I decided that I was quite helpless.
When we asked the colonel how he happened to speak such good English, he explained that he had been, for two years, a prisoner of war in England during World War I.
The colonel expressed great admiration for my house and assured me that I need have no fear about its contents. Even the wine cellar, he said, would be his personal responsibility. Just as we were about to leave, he asked us whether we thought the United States would enter this war too, and when we told him we considered it most likely, his reply was "Oh, my God, that would mean the end of Western civilization."
Before leaving the place, I asked to see my servants, two old married couples, who had been with us for over twenty years — François, Anna, Germain, and Louise Maury — two brothers married to two sisters. They were duly ushered into the courtyard, obviously greatly distressed at seeing Monsieur talking to the hated Boches. In fact my old butler François could not help calling out, "Attention, Monsieur, ils vont vous photographier." The German colonel told me that these servants would not be permitted to live in my house "for security reasons,"but fortunately they had their own houses in Senlis, where they lived throughout the war.
My old gardener, Lucien Picart, was allowed to remain in his quarters on the property and was employed by the Germans to keep up the garden.
Julian decided to ride his bicycle back to Paris, but being myself incapable of this feat, I preferred to wait for the evening train.
As I had plenty of time before my train left, I bicycled over to call on our old friends, the Comte and Comtesse de Coulombiers, who lived two miles away in the Château de la Victoire, a tragic name under the circumstances, and a tragic visit it turned out to be. These poor people had been able to return only that day to their lovely old place and had just learned of the death of their only son, killed in action in the French Army. The château was a shambles — every room full of filth and broken furniture. The vandals seemed to have taken a special pleasure in wrecking young Coulombiers's bedroom, his pathetic belongings strewn everywhere. A truly heartbreaking homecoming for the dear old couple. I am glad to say that the Victoire is now restored to its former graciousness and that the old count (his wife died last year) still lives there, the gallant mainstay of the local stag-hunting equipage, though he is now eighty-seven.
Most of the chateaux in the region suffered the same fate as Victoire, especially, of course, if their proprietors had left them, which they had usually been obliged to do. This is sad, for in many cases the French have been unable to repair or refurnish these old homes. Even the Rothschilds no longer live in their huge Chateau of Laversine overlooking the Oise River, which they have unsuccessfully offered to the French government for a school.
Not until August, 1944, did I see my house again. By that time I was on the staff of General Patton and had followed him across the Atlantic to Morocco, Algiers, Sicily, and England, campaigns described so vividly by my friend Charley Codman in his book, Drive. In our lightning dash across France we had reached a forest near Sens, east of Fontainebleau, when the general, who knew about my Senlis house and guessed my anxiety, very thoughtfully dispatched Codman and me on a "mission" to visit First U.S. Army Headquarters, which were then established at the Château de la Victoire.
After our official visit at headquarters, we dashed over to my house, which the Germans had left only two days before. My old servants, Anna, Louise, and Germain (Francois had died during the war) were there to greet us, and what a greeting it was! My old West Highland terrier, Nicky, who had been lovingly tended during those four long years, was proudly produced and welcomed me with all the fondness of which he was still capable. He died the next day, and Germain, when writing to me to announce his death, said, "Nicky voulait tellement revoir Monsieur, mais e'est l'émotion qui l'a tué."
To my immense relief the old house was structurally intact, but the interior, in view of the German colonel's promise in July, 1940, was a distinct disappointment. No curtains, no carpets, no mattresses, no linen. I was glad that my wife was not there to see the desolation.
The wine cellar gave me one short moment of illusion. As I looked through the grilled door, I saw every rack filled with bottles — but every last one empty, as I soon discovered. I still own a typically neat and German "cellar register," methodically kept by the mess officer, Lieutenant Zappe. In it is recorded the cellar's contents as the Germans found it, with daily withdrawals duly initialed and each column eventually ending in "0." I have this register before me now. I note that Lieutenant Zappe certifies that on October 7, 1941, the ahgang of Blue Label Martell brandy amounted to thirty-seven bottles. I wonder what they were celebrating!
Most of our furniture, especially the smaller pieces, had disappeared, much of it having been shifted by German officers to other houses in town or in the neighborhood where they were billeted. Much of this we were able to recover — a rather unpleasant task in which the local gendarmery were most helpful and also our Senlis upholsterer, M. Leblanc, who was familiar with every stick of our furniture and had no hesitation in reporting to us when he had seen some of our pieces in other houses.
I remember one painful incident when we visited the house of a wealthy notaire. My wife immediately spotted one of our Moroccan rugs and told our gendarme friend that she knew it was ours. The nolaire indignantly said that he had bought it many years before at the Bon Marche. The gendarme asked my wife where we had bought it. She replied "Aux Trois Quartiers." The gendarme flipped the carpet over, and there sure enough was the "Trois Quartiers" label. The gendarme rolled up the carpet and tossed it toward us saying, "C'est a vous, Madame."
We are now back thankfully living in our refurnished house, which shows little sign of enemy occupancy, except for marks of metal-studded boots on our stone stairs.