Indianapolis Goes to Monza
In a closed circuit race on the steeply banked track at Monza last year, American drivers proved their prowess. But racing under such conditions afforded little basis for comparing the Indianapolis type of car with the road-racing machines of England and the Continent. KEN W. PURDYhas covered many racing events and is the author of KINGS OF THE ROAD.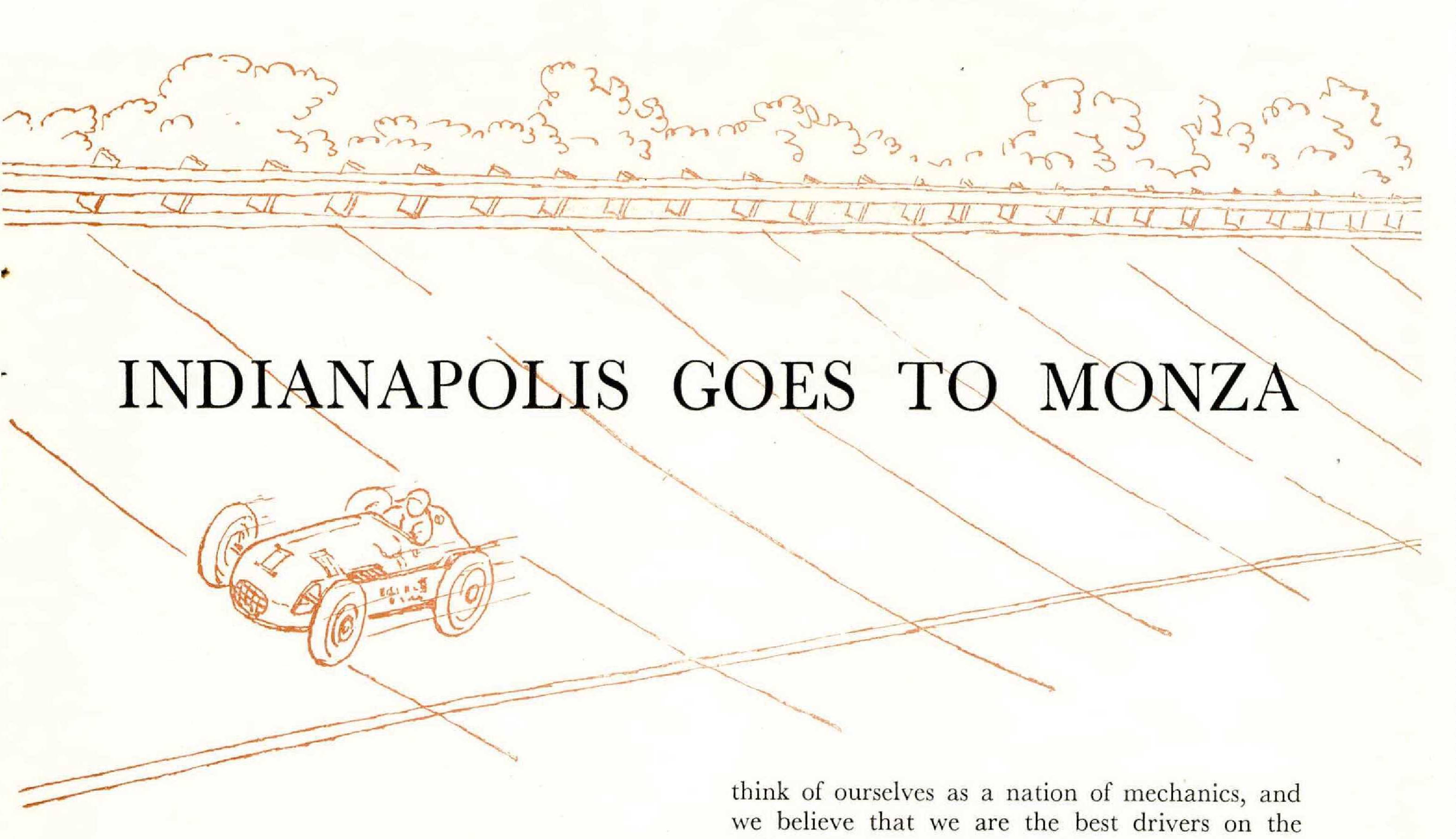 AMERICANS consider their national sporting championships tantamount to championships of the world. No foreign team contests the World Series, and only the Japanese, most respectfully and hopelessly, have fielded a team against Series winners. Boxing titles are expected to change hands in Madison Square Garden or the Polo Grounds. Sir Thomas Lipton expended a fortune trying to beat American sailors, and when British golfers took the Walker Cup from us last year it was viewed here as an almost incredible inversion of the law of probability.
But there is one sport in which we do not remotely approach world supremacy. This is automobile racing. Automobile racing is our biggest spectator sport. It outdraws even baseball by a significant margin: approximately 25 million to 16.5 million. We run more cars in more races, and more kinds of races, than any other nation. We build many more cars than the rest of the world together, we think of ourselves as a nation of mechanics,and we believe that we are the best drivers on the globe. Yet no American has ever intervened successfully in the championship of the world, which is decided in Europe. No American has ever threatened the championship of England or Germany, France or Italy. The whole history of big league, or Grand Prix, automobile racing carries the name of only one U.S.-bred winner of a major event: Jimmy Murphy, winner of the Grand Prix of France in 1921, driving a Duesenberg. Two American road-race drivers who regularly campaign in Europe, Harry Schell of Paris and Masten Gregory of Kansas City, tied for sixth place in the world championship listings in 1957.
The American professional, whether he is driving a bathtub-size micro-midget, a battered stock car, or a hand-assembled championship racing machine, views Indianapolis, the 500-Mile Race, as Mecca and its winning as the ultimate triumph. He is a track racer. His whole career has been spent on circular, oval, or squared oval tracks. His car runs at a nearly constant speed. He never has to shift gears, and he almost never has to use the brakes. In his view, track racing is racing.
The European or South American driver competes infrequently on a track. He drives on regular open roadways closed for the occasion or on circuits built to simulate roadways. Running 160 to 180 miles per hour on two-lane roads, uphill and down, slowing through curves ranging from gentle bends to 180-degree hairpins, he believes he is expressing the classic function of the automobile. His car is designed for roadability, for violent acceleration and prodigious braking. He will race in pouring rain and he will race on ice-coated Alpine roads. He is contemptuous of track racing. "You put your foot down and steer left," he shrugs. "This is driving?" Usually he makes a partial exception of Indianapolis, conceding that the high speeds involved on an out-of-date track (137 miles per hour in bends constructed for 90 miles per hour in 1911) require endurance and superior skill, although he is likely to consider the skill a freakish thing, inapplicable elsewhere, like a talent for tightwire walking. The American reciprocates by arguing that road racing is manned by gentlemen amateurs who would be terrified in the cut-and-thrust of dirt-track competition.
EXPONENTS of the two worlds of motor racing rarely meet. A few European drivers, mounted on European automobiles, have essayed Indianapolis only to find their cars totally unsuitable (the Indianapolis car is a special breed designed solely for that track), and the Americans, in their infrequent assaults on Grand Prix racing, have usually seen the Europeans run away from them. But Indianapolis is one of the ten races (in 1957 there were only seven) counting toward the World Championship, and the world governing body of the sport, the Federation Internationale de l'Automobile, regularly credits the winner with eight points, the second finisher with six, the third with four, and so on. The ranking is pro forma, since Indianapolis drivers usually run in no other FIAsanctioned event.
During the past ten years race promoters on both sides of the water have dreamed of bringing the two factions together, and on the 29th of last June an earnest attempt was made at Monza in Italy. A notable farce resulted.
The Autodromo di Monza is an asphalt and concrete circuit situated twelve miles from Milan. Its total length is 6.2 miles, including a banked oblong of 2.6 miles which may be used separately as a track. (The other 3.6 miles simulates roadway.) The circuit varies in width from 26 to 40 to 78 feet. The banked high-speed section is new, and when it was completed in 1955 an international race was proposed, and it was finally set up for 1957 under the sponsorship of the Automobile Club of Italy. Selected Indianapolis drivers were invited. In a departure from European custom, no starting money — money paid if a car moves away from its starting position under its own power — was offered, but the organizers guaranteed tourist-class expenses for ten drivers, ten alternates, ten mechanics, ten cars.
As additional inducement, it was stipulated that the race would be run entirely on American lines. It was to be run on the banked track, and the road circuit was excluded; it was to be stopped in rain, as Indianapolis is; it wras to be run counterclockwise, following Indianapolis custom, instead of clockwise as is Grand Prix practice; and it was to be run not as a straight 500-mile event but in three heats, with sixty-minute intermissions between them. At least one of these conditions was imperative: Indianapolis cars will not run clockwise. Most of them carry extra weight, ranging from 150 to 300 pounds, on the left side, and their Firestone tires are molded for cars turning left only. Since Monza is rough at high speeds and has proved destructive to springs, shock absorbers, and so on, it was felt that some intermission time might be useful for repairs. As things turned out, two hours were barely enough.
Earlier in the year, the leading European drivers had banded together in a small organization called the Union des Pilotes Professionels Internationaux, in order, they said, to find strength against the rapacity of the organizers and promoters with whom they had to deal. To everyone's astonishment, the UPPI announced that its members would not run at Monza. It would be too dangerous, they said. This seemed a curious sentiment to be entertained by men who had repeatedly driven such hair-raising circuits as the Nürburgring in Germany, a mountain course 17.6 miles to the lap, with grades running as high as 17 per cent and most of it 26 feet wide, or the Mille Miglia, 1000 miles of open Italian road to be driven at speeds up to 175 miles an hour. Astonishment was voiced in the European press, and impolite remarks were made about such luminaries as Stirling Moss, the great British driver who ranks No. 2 in the world, Peter Collins, Louis Chiron, Harry Schell. Next the Monza sponsors heard that prior commitments required Juan Manuel Fangio of Argentina, five times champion of the world, to be elsewhere on June 29.
In fact the UPPI position was based on immutable technical grounds: the drivers had no suitable automobiles and no suitable tires. The matter of tires was paramount. Two Italian racing cars dominated Grand Prix events at the time: Ferrari and Maserati. Ferrari uses the Belgian Engelbert tire, Maserati the Italian Pirelli. The Engelbert, while safe in bursts up to 190 miles an hour, will not sustain continuous running over 150; Pirelli, not long before the race, stopped making highspeed tires. Dunlop would not guarantee its tires for sustained use over 160 miles an hour. For the Americans, tires offered no problem: U.S. tire makers have only recently begun to make roadracing tires, but Firestone in particular, long having had a monopoly at Indianapolis, knows all about track tires. The American cars were provided with four hundred special tires built after a study of the circuit and said to be based on a jet-aircraft tire required to sustain six bounces to the rim at 150 miles an hour!
Thus the European drivers, if they ran, would face two alternatives: They could cruise around at 160 miles an hour and be beaten, or they could run at top speed and be certain of tire failure, and tire failure at around 190 miles an hour is usually fatal — and often not only to the driver of the car. European drivers, with nearly one hundred spectator fatalities in the immediate past, are sensitive on that point. They do not want to see legislation deprive them of the sport that is both passion and livelihood to most of them.
In the matter of automobiles, they were no better off. Grand Prix racing is done to a formula established by the FIA and usually changed every three years. Currently it restricts the big cars (Formula I cars) to engines of 152 cubic inches displacement. Indianapolis has not conformed to international rules for years, and currently runs engines of 252 cubic inches. To compete on level terms, therefore, it would be necessary for Ferrari and Maserati to build teams of new automobiles at costs that could easily amount to $30,000 each. Enzo Ferrari said that if he felt like building cars to run in one race only, his contract drivers would handle them, UPPI or no UPPI. However, he went on, the economic logic of such a move escaped him. Maserati made a halfhearted attempt: the factory tried two machines powered by sportscar engines and using Firestone tires on American wheels. The larger and heavier tires made the cars unmanageable at high speeds.
FOUR days before the race date the Americans arrived in force. They were among the best we have: Johnny Parsons, Troy Ruttman, Jim Bryan, Paul Russo, Bob Veith, Andy Linden, Eddie Sachs, Jim Rathman, Pat O'Connor, Tony Bettenhausen. (The 1957 Indianapolis winner, Sam Hanks, was unable to make the trip.) They impressed the Europeans, and particularly the English motor-racing reporters, by their size and volubility, their frankness in discussing the technical aspects of their cars, and by the rates at which they blasted over the banked circuit. By the end of the second day of practice they were getting around in well under a minute for average speeds of 160 miles an hour, and on the day before the race Tony Bettenhausen made three consecutive laps at 177, which meant that he was reaching maxima of 190 on the straightaways. All of the American cars had different make names — Dean Van Lines Special, McNamara Special, Sumar Special, Agajanian Special — but they were nearly uniform, with chassis by Kurtis, Kuzma, or Watson, four-cylinder Offenhauser engines by Mcyer-Drake. There were two Novi Air Conditioning Specials carrying eight-cylinder supercharged engines.
For a time the Monza organizers had feared that they were committed to an expenditure of $120,000 to show ten American automobiles parading around the track, but help arrived from, of ail places, Scotland, David Murray, a sporting industrialist, maintains the Ecurie Ecosse, a team of Type D Jaguars, and Ecurie Ecosse had placed first and second in the 1957 Le Mans 24-Hour Race. The D-Jag, as it is known to the fancy, is not a Grand Prix car. It is a sports car, equipped with headlights, spare tire, and so on and technically, at least, capable of carrying two people. So remote was any possibility of three Jaguars beating ten big Indianapolis cars that Sir William Lyons, head of the English firm, pleaded piteously with David Murray to abandon his mad scheme, lest he bring lasting disgrace to Britain.
Murray would not listen. He shipped his cars and three of his drivers, Ninian Sanderson, Jack Lawrence, and Jack Fairman, to Monza. The little blue cars went out to practice assured by the attendant Dunlop tire experts that if they exceeded 160 miles an hour they could expect blowouts. When Jack Fairman went around at 161, in 59.8 seconds, the tire people asked Ecurie Ecosse to restrict him to 62 seconds.
Saturday the 29th was sunny and very warm indeed. The crowd was small. As the flag fell to start the race, Jack Fairman's Jaguar screamed into the lead and ran away, and for a few seconds the Americans, horrified as he went into the first curve ahead of them, suspected that once again the wily Europeans had somehow tricked a band of honest colonials. The truth was simpler. The Jaguar, a road-racing machine designed for great acceleration, has a four-speed gear box. Fairman had used second and third gears, with maximum engine revolutions, to reach his 160 miles per hour top speed more quickly than the American cars, with rudimentary two-speed transmissions, could reach their own.
Fairman led for the first lap only. By that time the big booming Offenhauser and Novi engines picked up speed and they passed him on both sides. The first 63-lap heat settled into an intraAmerican contest, ending with Bryan first, O'Connor second, Linden third. Bryan had averaged 162 miles an hour. The three Jaguars finished in order at the end of the field.
The hour interval was spent in a frenzy of repair to the American cars: oil tanks were loose, frames cracked, shock absorbers broken, fuel tanks split. The Novi driven by Bettenhausen had been twice in the pits during the heat, and was withdrawn altogether with a split oil cooler, broken shock absorbers, and a cracked chassis. The Scottish Jaguars changed tires, put parasols over the drivers' seats, and let the cars stand on the track to await the second heat. Bryan won that one, too, at 160, with Ruttman second and Parsons third. Four of the other Indianapolis cars retired with mechanical or structural failures, and the Jaguars came along in order, dead last, and broke out their parasols again.
Four American cars started the third heat, and one dropped out after eight laps. The three survivors, Ruttman, Bryan, and Parsons, continued to run nearly as fast as before, and they finished in that order at 158 miles an hour average speed, Bryan the overall winner. The Jaguars were fourth, fifth, and sixth. The average speeds were the highest seen in Europe since the war, although they had been exceeded twenty years before by Mercedes-Benz on the Avus circuit in Germany.
What had been proved? Very little, except that Indianapolis cars, running counterclockwise on a dry track, are very fast and somewhat fragile. Opinion of most competent observers was that if the race had been run as a straight 500-mile event, the Americans would have run out of welding rod and the three Jaguars would have finished alone. Jim Bryan, who had consumed three cigars during the race, went home with $34,679.26, and Jack Fairman, whose Jaguar finished fourth, made $3642.43. The total prize monies amounted to $91,865.18, of which $12,500 was contributed by Firestone, Champion, and Mobiloil. The organizers totted up a deficit of 80 million lire.
The cause of international good will, always cited first and foremost by supporters of such endeavors, fared poorly. The behavior of the American contingent did not vary greatly from the pattern long since laid down by our tourists: they were generous, kindly, loud, and they demonstrated no addiction to modesty. One member of the group could not restrain himself from asking a hotel clerk to change his lire into "real money," and Troy Ruttman, Indianapolis winner in 1952, announced on his return to these shores that any good American driver could beat any so-called European champion. Ruttman's reference was obviously to Juan Manuel Fangio. In 1954, when Fangio won the 12-Hour Race at Sebring, Florida, the only American race that attracts major European drivers, Ruttman competed, but he was not among the first nine men who followed Fangio to the finish line.
Juan Manuel Fangio has won more major automobile races than anyone else in the history of the sport. He is a driver of such astounding virtuosity that men who have driven behind him for years are unable fully to understand his skill. Stirling Moss, who has run second to Fangio many times, and who beat him three times in 1957, once told me, "Up to a certain point you can follow the old man, and you can do what he does. Beyond that point, he passes into another sphere, and in that sphere, no one can do what he does." Roscoe Ford, a veteran Indianapolis racing mechanic, watched Fangio win the French Grand Prix at Rouen after the Monza affair. He told Denise McCluggage of the New York Herald Tribune, "In 33 years at Indianapolis I've never seen anything like that. No wonder they call him The Master." Last summer in winning the Nurburgring race Fangio broke the lap record, covering the 14.1 miles of curves and blind hills faster than any driver had ever done before. He then broke his own record eight times. He is forty-six years old, and men who have followed racing for decades consider that only the legendary Tazio Nuvolari, the greatest driver who ever lived, can be compared to him.
Five days after Monza, a letter was addressed to Fangio by Floyd Clymer, a Los Angeles publisher of automotive books and magazines. Clymer headed his letter "Poor Sportsmanship" and began: "Dear Fangio: By your failure to compete at Monza against U.S. and other foreign drivers after the Italians had done so much to make a success of the Monza 500-Mile Race, I contend that you are not only a poor sportsman but a phony Champion of the World. Thousands of other race fans feel as I do. I think you knew that the U.S. drivers would have beaten your pants off and that alone is the reason why you did not appear at Monza."
Clymer offered to pay Fangio $500 if he entered the 1958 Indianapolis race, $1000 if he qualified, $2500 if he finished better than fifth in an American car, and $5000 if he finished better than fifth in a European car. Simultaneously Clymer began a fund to bring the three Scottish drivers to America to witness the 1958 Indianapolis with a $100 contribution of his own.
Fangio did not reply to Mr. Clymer's communication. Since he is a millionaire, he was presumably not moved by the possibility of financial gain which Clymer offered him. And otherwise?
"Monza was a very foolish thing," he said to me. "As for Indianapolis, to travel to Indianapolis, practice, and run, one must miss perhaps three races in Europe. One must miss a chance at twenty-four points in order to win eight. Still, I should like to see ten European drivers at Indianapolis. And even more, I should like to see ten Americans on the Nürburgring." He smiled. "Yes, that I should very much like to see."
It seems unlikely that the battered promoters of Monza, contemplating their 80 million lire deficit, will recommend that either their American or their German confreres indulge Sr. Fangio in his wish.