Greece: Bargain in Beauty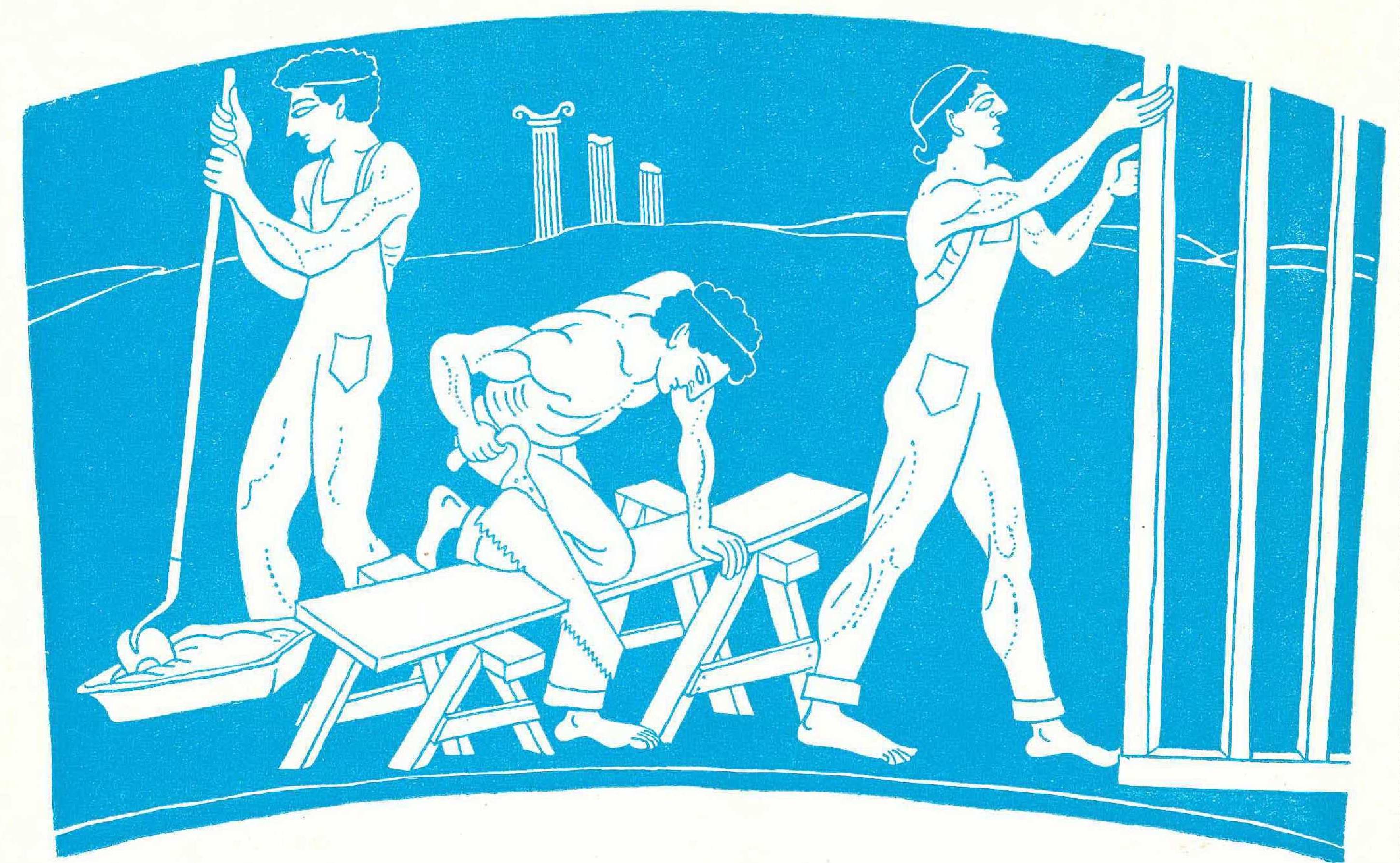 Around the world with an electric drill — this might well be the title of a travel book dated 1958. Nowadays, one leaves an apartment in New York (or Chicago or Los Angeles), where riveting signals the dawn, only to find oneself similarly awakened in Rome, Athens, or Istanbul. The sound is not wholly objectionable. It is a peacetime noise, the raucous herald of prosperity, and returning to Greece after an absence of several years, I found it ringing pleasantly in my head. To philhellenes — a curious company who have ranged from Byron to Henry Miller — this daily racket is good news, because it means that a beloved country has taken the long road to recovery.
For most of Europe this means recovery from the last war. For the Greeks, who have the unhappy distinction of living in the most persecuted nation on the continent, the case is otherwise. To them, World War II and the civil war that followed it were like the thirties as once described to me by a Southern Negro. "The trouble with the Depression," he said, "was that it come in the middle of such hard times." So it was with Greece, the bloody playground of invaders from Xerxes to Hitler and the scene of earthquakes, floods, and civil wars past counting. Today, as one watches an Athenian sidewalk being newly laid (but made of Pentelic marble, thank Heaven, like the old), or peers through the scaffolding at the newly washed face of a saint in a mosaic, one sometimes wonders what is being restored. The damages of the Peloponnesian War? The ravages of the Turkish occupation? Or the more familiar German-made rubble? It could be any of them. One's impression is that Greece is recovering (as the adman would say) from not one, not two, but all her past ills at once. It is a happy sight.
There are two convenient ways to go to Greece: by air (Air France has a daily service from Paris in its fast, comfortable Viscounts) and by sea, from New York or Italy. The Orient Express is, travelers say, not what it used to be, and though an increasing number of tourists are tackling the motor road from Yugoslavia, it seems wiser to wait for the ferry service, now in the works, which will enable motorists to bring their cars from Italy to a still-to-be-determincd Greek port. But as of now, Athens is the point of entry and the best place to face certain facts of Greek life. One of Europe's bargain countries, Greece is also one of the most undeveloped, not really prepared for the flood of tourists who show every sign of following what Cleveland Amory has called Gresham's law of resorts: artists, followed by good millionaires, followed by bad millionaires, followed by everybody. And everybody may not be happy here.
To begin with, de luxe hotels are rare. Possibly in this category are the King George and the Grande Bretagne ($6.50 to $8.00 single) —the latter now officially, though not in local usage, renamed the Petit Palais in deference to the Cyprus question. Hotels of any class are few, and the grand restaurant does not exist. The best food in Greece — the fish, the lamb and fruit and vegetables, eaten only in season and fresh as morning — is in inverse ratio to what is paid for it. Ideally, it is eaten in a humble taverna under a trellis of vines, at workingmen's prices. The famous resinated wine is likely to be an acquired taste, and the local firewater, tasting of licorice and called ouzo, is not for everybody. The best drink is water. Greeks know their springs as Frenchmen do their vineyards, and can be seen drinking the waters with a gourmet's gusto. There is pitifully little to buy, unless one is in need of an imitation classic vase or an ill-fitting hand-woven blouse. Beautiful raw silk by the yard is to be found chez Gladys Stewart Richardson (Stadium Street, 3A), and a tempting collection of antique embroideries and old jewelry is found all along Pandrossou Street, in what was the old bazaar. But that is all.
The light of Greece
Lacking as it does so many of the mainstays of European travel. Greece is however well worth visiting. This is a country kept pristine by its very deprivations. Almost no road signs mar its bare, mountainous landscape, pierced everywhere by the ink-blue sea and bathed in that rare essence which is the light of Greece (and the despair of amateur photographers, who are apt to mistake its intensity for glare and fail to allow for its delicacy). Those who avoid the guided tour (private cars, costing twelve cents a kilometer, are recommended) can visit the pine grove at Olympia or climb the terraces of Delphi unmolested by the man who wants to sell them a post card. The charming little tourist pavilions, put up or in construction by the government at all the major and some of the minor points of interest, have staffs who do not seem to have learned the technique of the open palm. And even though you travel first class on an island steamer, you will be in more or less democratic proximity to the tethered goats and basketed chickens of the steerage passengers — and perhaps chagrined to find that they are often disembarked before the gentry. This simplicity, which is quite different from mere crudity, is the enchantment of Greece. It is the secret of the temples, stripped to their bones and still beautiful, and of the tiny Byzantine churches, furnished, when in use today, with all the naivete of a country parlor.
Greece is of all countries the most uncluttered. Her best moments are her silences, broken perhaps by the music of goat bells. Her loveliest hours are the early morning and evening. These facts alone decide the best way to do the prescribed coverage of the mainland. By motor coach, the five-day all-expense guided tour comes to a munificent $55 per person, and you will be shunted, usually at high noon, through all the first-water ruins. By hired private car from the same agencies, the tour would be about $250, a flat rate for any number up to four. (Hotel expenses extra.) Two couples, say, would find the difference in price negligible, the difference in pleasure enormous. Guideless, it is true you may never learn that the Tholos at Delphi is "of late fifth century B.C. Attic style, though its purpose is unknown."But you will have seen it in its finest hours —not noon — with plenty of time to wander, ponder, and pick a bunch of blood-red anemones among its stones. As for information, Hachette's World Guide to Greece sees all, knows all, and tells everything. It also costs $8.50 (the price of a roundtrip ticket to the island of Mykonos) in this country, and it is best to wait to buy it in Athens' fine bookshop, Eleftheroudakis, on Constitution Square.
Last summer, a good many people seemed to be whizzing over Greece in their own cars; by license plate, they were mostly German. Whether many Americans will be willing to risk a blown gasket in a district where the nearest town may be a "goat village" (as the shelters for these animals on the winter slopes of Parnassus and other massifs are called), and the nearest human being an only-Greek-speaking shepherd, is another matter. However, it should be noted that every road has its pyramid of stones pointing to its imminent improvement; that all road signs come in two letterings, the Greek and ours, and that gas, aside from the expense as everywhere abroad, is not a problem. Each year, moreover, sees new and fascinating areas for travel being opened up.
Church in the clouds
At this writing, the most exciting of these is Thessaly, in the north. This ancient home of centaurs and witches is practically untouched by tourists and possesses one of Europe's great natural phenomena, the Meteora, which could be described as the Grand Canyon with Byzantine monasteries. A forest of 2000-foot rocks, reared like prodigious stalagmites or menhirs from the Thessalian plain, it was the refuge of a troubled fourteenth-century Church, and in its prime had twenty-four monasteries clinging to its pinnacles. Four remain, one of which is a tourist pavilion. It is no longer necessary to be hoisted up by basket, but the climb on foot is hair-raising enough. The accommodations, former cells, are simple; the supper one gets is cooked in basic Greek, and often eaten by oil lamp because the management has not as yet quite grasped the workings of the dynamo which is supposed to supply electricity. But the little church in the clouds, still serviced by three monks, is a golden cave of Byzantine wonders, and a night spent in these solitudes, with no sound but the chanting of the monks and the drip of perpetual moisture from the eaves, is an experience not to be missed by anyone who is a connoisseur of atmospheres. Women, incidentally, forbidden Mount Athos — like every other female thing including chickens and cows — can get an idea of monasterial Greece nowhere but in the Meteora.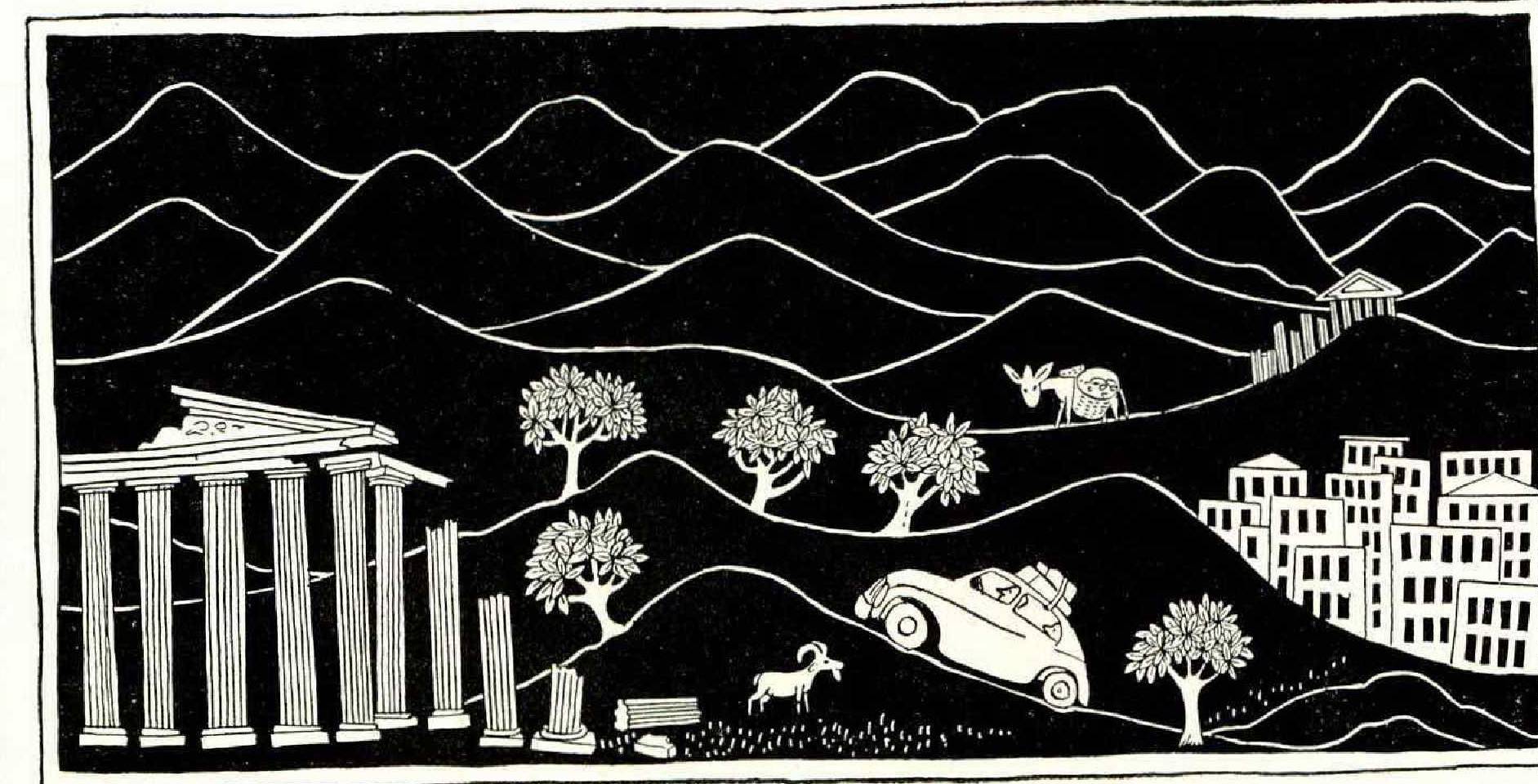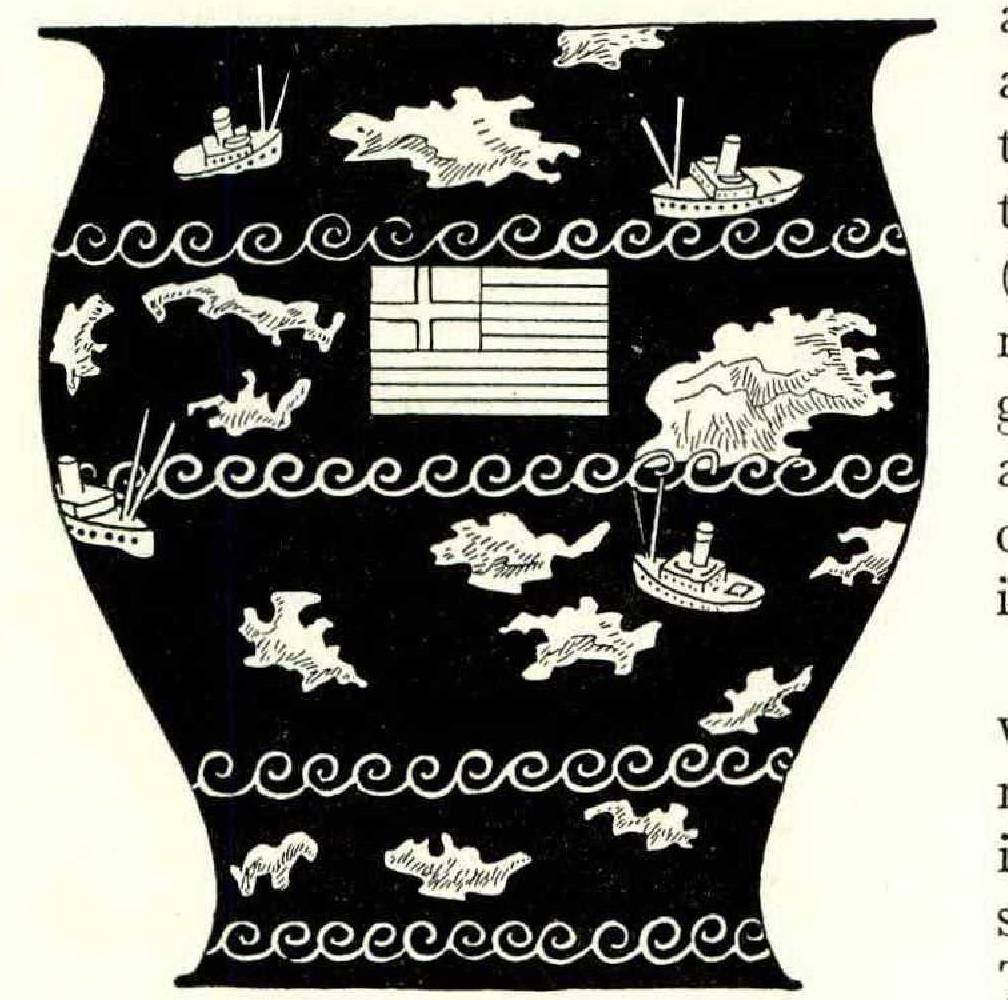 Every Greek seems to have his island, to which, come summer, he returns, sometimes from as far away as the United States. You see him, this Greek-American or Anglicized Greek, looking rather bewildered by his own preference for a beach bare of resort hotels, a seaside café where nothing is offered but retzina or ouzo, when he could have gone to Miami Beach or Bournemouth — and happy in a way he can't explain. No wonder. There really is no explaining the enchantment of the Greek islands. The late Kazantzakis once said that to be afloat on the Aegean was the sum of human happiness. To this it could be added that the tawny shapes of the islands, drifting on a satin-blue sea, look wonderful from the air, too.
A few years ago, one visited the islands only by private yacht or in a series of decrepit steamers long since sold off by the safety-minded shipping companies of other nations. (On one I remember all the cabin keys were mysteriously labeled "Victoria Hotel, Vancouver, B.C.") Today, a whole new fleet of fast and attractive little vessels is tethered at the dockside of the Piraeus, each marked for a destination more alluring than the last: Aegina, Poros, Hydra, all a day's round trip. Further afield are Crete, with its sea caves and, it must be admitted, slightly MGM ruins; bone-white Mykonos, famous for winds; and Rhodes, so romantic that the austere and hardheaded Greeks rather disapprove of its Italianate flavor. All these islands have good accommodations: at Rhodes, the Hotel des Roses ($8 single, with meals); on Crete, the new Astir pavilion; on Mykonos, the government pavilion or the Paralos, an elegantly furnished little inn opened last year by a young American painter.
If time presses, a pleasantly easy way to cover all the major and a number of the more obscure islands is one of the five-day cruises sponsored every year by the National Tourist Office, with bookings available through any tourist agency. The price, which includes a cabin for two with all meals and expenses, starts at $150 and goes down. Even the private yacht with crew and every luxury is within ordinary view. (For further information about this daydream, write the Horizon Travel Agency, 14 Nikis Street, Athens.) Air travelers should apply to Olympic Airways, which has service to all the islands large enough to sustain an airport via its rattletrap but reliable DC-3s. Like the boats and motor coaches, Greek planes invariably take off at the crack of dawn, which is why the lobby of any hotel where foreigners stay in Athens is apt to be humming with activity from 6 A.M. onwards. (Breakfast aboard the plane is coffee plus three kinds of sweet pastry — a good reason for breakfasting in the hotel.)
The classic scene
The ability to get up early and plenty of staying power on the road are necessary conditions for Greek travel, which may be one reason why so few people ever seem to give Athens more than a passing glance. They're just too tired from seeing the rest of the country. Or it may simply be the first discouraging impression one gets, particularly if arriving from Italy, of a rather dusty city, singularly lacking in palaces, gardens, great perspectives. There is the Parthenon, yes — perhaps the only ruin in the world that really lives up to its reputation. There is the Agora, the U.S. contribution to the classic scene — a sort of wasteland (which involved the demolition of a large part of the old Turkish quarter) bounded on the east by the glassy whiteness of the reconstructed Agora, complete with aluminum windows and linoleum floors. There is the superb national museum, Hadrian's library — not much by, say, Roman standards. What remains is the life of the people themselves, the private life, as it were, of a city, and this must be almost exactly what it was in the fourth century. True, the modern Greek no longer goes to the Agora to meet his friends, but you'll find him in an outdoor cafe on Constitution Square, drinking endless cups of sweet, sedimented Turkish coffee (foreigners should order this "metrio" — moderately sugared) and chewing on the pistachio nuts sold by every passing vender. Unlike the Spaniard, he eats at the American lunch hour in one of several simple but good restaurants like Vassilis or the Capri (both on Jan Smuts Street) or Kalamia (Stadiou 3), after which he shuts up shop till 5 P.M., which the tourist had better do, too, if he isn't to spend several frustrating hours trying to get past the sealed doors of his travel agency or a shop. After sundown, it is standard operating procedure to go to Floca or Zonar, two famous and indistinguishable cafes on Venizelos Street, the respective merits of which are a matter for dialectic hair-splitting among Athenians and the staff of the USIS, whose office is in the building upstairs.
Athens after sundown
If he considers himself really Westernized (and Greeks still speak of "going to Europe"), the Athenian will go, and take visiting firemen, to a night club. But except for Chez Lapin, on the waterside near Phaleron and very pretty in summer, these are mostly dispiriting purveyors of le jazz hot in rooms even hotter.
Infinitely more exciting, and uniquely Hellenic, are the myriad little tavernas in town and country where the wild and curious native music called bouzoukia is played on ancient instruments and where members of the clientele rise as the spirit moves them to perform an improvised, solitary, and Dionysiac dance. Though they are done in public, before an audience of other patrons, it is considered bad form to applaud these strange dance meditations, which may be one of the oldest art forms in the world. Because of language problems, as well as the unwillingness of the people to make a show of their "quaint customs," it is a good idea to have a Greek friend along as pilot and as protective coloration, It will be all but impossible to stand treat to him or his friends; Greek hospitality is as punctilious as the Spanish. But if one can manage it, a splendid evening of food and drink in a taverna costs about $2 per person — possibly the cheapest entertainment in Europe.
Most Athenian hotels are clustered around the center of town, a convenience for shopping and the early morning take-off. But people with a little more time should know about two very agreeable alternatives: the Hotel Cecil, which rates as first class by Greek standards, about twenty minutes out of town in the flowery suburb of Kifissia, where one can still drive around in horse and carriage; and, opened last summer, the delightful beach resort of Glyfada, twenty minutes away in the opposite direction on the Aegean. Astir Hotels are the owners here, and their creation, an oleander-bordered crescent of sugary sand with perfect bathing, plus a series of handsomely designed little cabanas, bungalows, and a restaurant, is so attractive that last summer a number of people were deciding to make it their headquarters on a future trip. A day on the beach costs 50 cents, which includes the use of cabanas. Renting a bungalow, with two meals a day and all service, is $15 a day for two.
In the July ATLANTIC,Eleanor Perényi will write on Istanbul for Pleasures and Places.