The Years With Ross
The extraordinary respect which writers and artists felt for the opinions of Harold Ross is the basis of Part II in JAMES THURBER'S extended series about the late editor of the NEW YORKER. With little or no formal education and a weirdly jumbled reading background, Ross became nevertheless the creator of entirely new standards in many aspects of literature and journalism.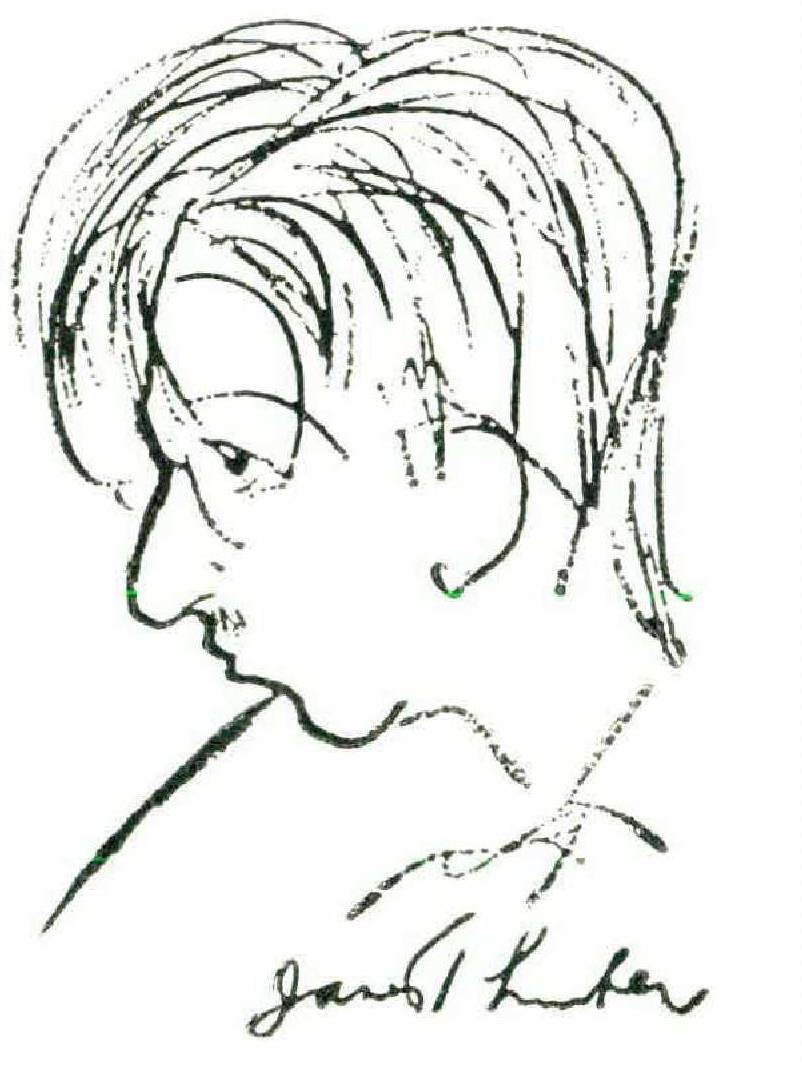 THE questions most often asked me by outsiders during my early New Yorker years, which began in 1927, were: "What is Dorothy Parker like?" and "How old is Peter Arno?" Later on, at home and abroad, more and more people, in bars and drawing rooms, wanted to know: "What manner of man is this Harold Ross?" To this I could only reply, "What Harold Ross do you mean? There are so many of him. On the other side of every Ross is still another Ross. I keep finding new ones myself." In the drawing rooms I have frequented, people usually inquired, over their tea or gin and tonic, "What kind of mind does he have? What is his literary background?"
Faced with these formidable questions, any of his intimates, unstimulated by a third Martini, might easily murmur, even now, "God knows" or "Search me." Having undertaken the task of describing Ross, I shall reach for the brandy bottle and, for the purposes of this piece, the anecdotes marked "literary," perhaps the richest and easily the most bewildering section of my memory files. Ross wouldn't like any part of it. The man who gave the dictionary a new definition of "profile" was never entirely secure about the formula, especially when it was tried on complex personalities he knew well. When Joe Bryan announced that he was planning to write about Benchley for the Saturday Evening Post, Ross said, "It won't work." Months after the piece was printed, Ross caught sight of Bryan in Grand Central Station one day and yelled at him, "I told you it wouldn't work."
Starting high, as they say in the theater, I shall take you first to Harold Ross's Park Avenue apartment. The time is 1948, after dinner of a spring evening. Ross had asked me (to shift tenses suddenly in a manner that always irked him) to sit around and talk with him and H. L. Mencken and George Jean Nathan. (Mayor O'Dwyer had been asked to join the party, heaven knows why, but he didn't show up.) Ross felt, I think, that he could depend upon me to redirect the traffic of conversation if it got onto boulevards where the going might make him uneasy. Mencken had then been writing for the New Yorker for a dozen years, and until his final illness he wrote a total of fifty-six pieces for Ross, about his travels in Europe, his life, and the American language. After twenty years of editing, Mencken had given it up to devote himself to prose, meditation, and the companionship of good minds.
I don't know when the two men first met, but each had high respect for the other. The exeditor of the Smart Set and the American Mercury and the editor of the New Yorker had both helped to revitalize native literature, humor, and journalism in the half century then drawing to its close. They had seen the decline and fall of such relics of the somnolent carriage years as Everybodys, Munsey's, Ainslee's, and Pearson's, the disappearance of Puck, the old Life, and Judge (of which Ross had once been editor), the collapse of Vunity Fair upon the bosom of Vogue, the silent stealing away of many a so-called little magazine, and the advent of Henry Luce's Time, Life, and Fortune and DeWitt Wallace's Reader's Digest. They had viewed, through widely different lenses, the amazing and disturbing and exhilarating American scene, Mencken aiming his binoculars and his bung starter at those well-known and badly battered objects of his eloquent scorn and ridicule, the booboisie, the Bible belt, the professor doctors, the lunatics of the political arena, and the imbeciles infesting literature; while Ross, fascinated by many things that would have bored Mencken, took in the panorama and personalities of New York City and finally the whole American spectacle, interested in everything from a swizzle stick he picked up one day ("There's a story in this damn thing") to the slight swaying of the Empire State Building in a stiff gale.
THE long newspaper experience of the two men, certain of their likes and dislikes, and their high and separate talents as editors formed basis enough for an evening of conversation. They were both great talkers and good listeners, and each wore his best evening vehemence, ornamented with confident conclusions, large generalizations, and dark blue emphases. Nathan and I were, for the most part, just spectators. The session was richly monogrammed with Mencken's M and Ross s R. The man from Baltimore announced that heads of authoritarian governments who discouraged religion were feeble-minded, or else they would go from door to door giving everybody the choice of joining the state church or being led to the gallows. On theories of international politics Ross could be both hazy and positive. He had once asked me, "Is Communism the same as Marxism?" and on another occasion he had said, with finality, "All Communists had unhappy childhoods." That night he said nothing on the subject. "Taft is a good man," Mencken said suddenly. "If he had Dewey's voice he would sweep the convention." He pinned an orchid, in passing, on Alf Landon, for whom he had a perverse and persistent liking.
Ross rarely talked about domestic politics, and when he did it was on a curiously personal basis. He said he had been against Roosevelt because "Morris Ernst could get in to see him any time of the day or night" and because "Roosevelt called Ralph Ingersoll by his first name. Jim Forrestal worked for him, too," he added morosely, "and I have little confidence in a government run by friends of mine." Mencken then applauded some Southern newspaper publisher who had boldly turned his plant into a non-union shop. Ross said, gloomily, that he was satisfied if the unions let him get out his magazine. He couldn't understand why the men who printed the New Yorker didn't have a special loyalty to it, somewhat comparable to his own.
Now and then that evening the tone and color of their thoughts seemed to blend perfectly; once when they discussed the parlance of railroading — deadhead, highball, whistle stop, gandy dancer — for Ross wanted Mencken to write an article about it, which Mencken was eager to do, and when they discussed newspapers ("All managing editors are vermin," said Mencken) and literaryminded reformers who kept writing social-conscious pieces ("It's a city of Abraham Lincolns," said Ross).
Mencken began talking about Will Durant, for whom he had conceived a recent and unexpected admiration. "How could an imbecile suddenly become a great man?" he demanded, meaning, in Menckenese, how could the author of The Story of Philosophy have written Caesar and Christ? Mencken regarded this step, "from balderdash to excellence," as little short of miraculous. Ross could add nothing to this discussion, for if Will Durant meant anything to him at all it was as the unhappy victim of a bizarre public banquet in his honor, given in 1930, which Andy White had written up for the New Yorker's "Talk ot the Town. This banquet, at the Fifth Avenue Hotel, had degenerated into an embarrassing charade in which several actors in masquerade, one of them representing Molière, had appeared from nowhere around midnight to place a laurel wreath upon the agonized brow of the American philosopher.
Herbert Spencer was the only philosopher Ross ever quoted, and it was always the same quote: "A genius can do easily what nobody else can do at all,"which precisely described the editorial genius Ross kept dreaming about.
The conversation split in two at this point, and Mencken and I began talking about Willa Cather. We were still discussing "the old girl" when Ross caught the name, turned it over in his mind a couple of times, and then said, "Willa Cather. Willa Cather — did he write The Private Life of Helen of Troy?" I couldn't see Mencken's face, but I felt the puzzled quality of his silence, and hastily came to the rescue of a situation hopelessly snarled by Ross's incomprehensible confusion of Willa Cather and John Erskine. "Ross hasn't read a novel since When Knighthood Was in Flower," I said, "or Riders of the Purple Sage. He doesn't read anything except what goes into his magazine."
"I haven't got time to read novels," Ross admitted. That evening, as always, he had brought home from the office a brief case stuffed with manuscripts and proofs. There was hardly ever a night that he didn't bring work home with him, or go back to the office after dinner to take up where he had left off between six and seven o'clock. The Cather-Erskine confusion was never cleared up. We just let it die there.
AMONG the writers Mencken liked to talk about — I had listened to him several times while he smoked an after-breakfast cigar in the Rose Room of the Algonquin — were Cabell and Dreiser, about whom Ross could have had nothing to say, and Sinclair Lewis and Scott Fitzgerald. The New Yorker files reveal only two pieces by Lewis, both printed in 1937, one of them a "That Was New York" article and the other a profile of an imaginary character called Effie Kayshus. Fitzgerald (whom Mencken fondly called Fitz) is represented in the files by three casuals and two poems. Faulkner, Dos Passos, and Mencken's great friend Hergesheimer never wrote for the magazine, for Ross did not seek big established names. Thomas Wolfe sent in three pieces, unsolicited, which were bought, but Hemingway contributed only one, a short parody of Frank Harris's autobiography, away back in 1927 when the author of The Sun Also Rises was just another writer to Ross. Mencken had once described the Hemingway stories of In Our Time as "cloacal," a judgment he never modified. He and Ross might well have been of one mind about Death in the Afternoon, which had been reviewed for the New Yorker by Robert M. Coates when he was its book critic. After reading the review, Ross had phoned Coates in the country to say, "Woollcott tells me there's a hell of a bad word in the book — bathroom stuff." Coates wanted to know what the word was. "I can't tell you over the phone," Ross said.
About American novels Mencken could talk endlessly — he thought Tom Sawyer and Babbitt were the best — but Ross was soon lost and floundering. He had said to me, after reading Peter DeVries's accurate parody of Faulkner, "Docs Faulkner still write this way?" The sentence structure and punctuation dismayed him. and he could have got little further in any Faulkner than in Joyce's Ulysses. He was always wary of his own book department, approaching it with curiosity, respect, and trepidation, the way I once saw a Scottie approach a turtle. He couldn't understand why one critic refused to review the latest Thomas Mann novel, and I tried to explain that the distinguished man of letters then serving as literary critic for us had never read the body of Mann's work. "I don't care about the body," Ross said. "I don't see what that has to do with it." To him, a new novel whose publication had been heralded and talked about had a timely news value. Clifton Fadiman, the New Yorker's book reviewer for ten years, was probably the one with whom Ross felt most at ease. The editor had been attracted by Fadiman's lively and penetrating essay on Ring Lardner in the Nation and had hired him in 1933 when Robert Coates dropped out as critic.
"I agreed in part with Ross that books are news," Fadiman has told me. "1 always reviewed a book on publication, even when I was reviewing as many as thirty a week; and I never considered that a book should be a springboard for personal theorizing." Ross probably did not concur in Fadiman's belief that the key to Lardner was to be found in "his ability, even talent, for hating," for Ross had a deep affection for Lardner, as well as great admiration. He once told me, "I asked Lardner the other day how he writes his short stories, and he said he wrote a few widely separated words or phrases on a piece of paper and then went back and filled in the spaces," Ross had fallen for one of the great humorist's famous deadpan gags. Fitzgerald wrote of his close friend Ring, "He had a face like a cathedral." Lardner had obviously turned his somber gothic gaze upon Ross and made him believe the nonsense about his method of composition. Ross's keen, almost boyish, enthusiasm for novel bits of information could disarm, for a while, his mature shrewdness and skepticism which, on clear days when the mental visibility was good, functioned as sharply as any man's.
Ross was unembarrassed by his ignorance of the great novels of any country, and one of the indestructible items of Rossiana tells how he stuck his head into the checking department of the magazine one day to ask, "Is Moby Dick the whale or the man?"
When he found out that I had spent several months writing a parody of Henry James and heard that Edmund Wilson had suggested I send it to the Atlantic— 1 had already promised it to Cyril Connolly for his now defunct Horizon in England — he said he wanted to read it. He gave it back a few days later with a sigh, saying, "I only understood fifteen per cent of the allusions." But he printed a nostalgic piece I had written after rereading James's The Ambassadors and what Ross might have called Willa Cather's The Private Life of a Lost Lady. It had interested him even though he had no knowledge of Madame de Vionnet or of Marian Forrester. "It's about a man and two women," he said, "and it comes over."If a literary essay had a narrative scheme that held his attention, it got by, but he kept a bludgeon ever handy for the literary exercise or tour de force. "Nobody's going to make me arty," he would say. "This is not the old Dial."
Ross's general reading was like a trip into darkest Confusia, without a map. It had neither discipline nor direction. He talked, fitfully and at long intervals, about Twain's Life on the Mississippi, the short stories of O. Henry, especially "The Ransom of Red Chief," Jack London, certain war books, H. G. Wells — not the novels — the memoirs of doctors and surgeons, True Detective magazine, a book about the migration of eels, whose way of life never lost its fascination for him, and Kipling—not the poems. (He said once to a secretary of his, "Never leave me alone with poets.") Sometime during the thirties, in a memo complimenting his literary editor, Gus Lobrano, on a deft piece of rewriting, he said, "This is a swell job. Kipling couldn't have done it better."
ONE afternoon Sherwood Anderson was brought into Ross's office and introduced to the editor. On such occasions, when there was time, Ross was briefed by one of us as to the nature and stature of a visiting author's work — not that it ever did much good. Ross stood in awe and reverence of no writer. He had been through too much with too many of them. I am sure that, after the introduction, he said, "Hi, Anderson," in his large freewheeling way, and then launched into whatever came into his mind. This meeting was notable for one of his reckless literary pronouncements: "There hasn't been a good short story writer in America, Anderson, since O. Henry died."I wasn't there and I don t know how this affected Anderson, but he later sold Ross five short stories.
I was present, though, when Ross met Paul Nash, having ushered the English painter and critic into the editor's office myself one morning in 1931. The day before, I had explained to Ross that Nash was on his way to Pittsburgh to serve as one of the three foreign judges of the annual Carnegie Exhibition of Modern Art, but had stopped over in New York to meet Otto Soglow, Milt Gross, and other favorite cartoonists of his, for he was easily admirer-in-chief of American comic art and artists. I had also told Ross that Nash was a keen collector of human curiosa, and had long wanted to talk with the editor of the New Yorker.
"Hi, Nash," Ross began. "There are only two phony arts, painting and music." Nash was a man of humor and imagination, whose eyes twinkled, and never darkened, when outrageous opinion raised its aggressive head. He was pretty good at holding untenable positions himself. When Nash and I finally left Ross's office, the Englishman said, "He is like your skyscrapers. They are unbelievable, but there they are."
Ross's knowledge of the two phony arts was, it is safe to say, flimsy. I never heard of his going to a show of paintings, and he would have been as unhappy at a symphony concert as at a lecture on dialectical materialism. He had certainly encountered modern painting in colored reproductions and on the walls of the apartments of some of his friends and acquaintances, but he must have viewed them disconsolately, as if they were jumbled paragraphs of prose that needed straightening out. Nobody ever heard him sing, or even hum, a single bar of any song, and whistling set his teeth on edge. "His mind is uncluttered by culture," said a man at the Player's Club, during one of those impromptu panel discussions of Harold Ross that often began when writers and artists got together. "That's why he can give prose and pictures the benefit of the clearest concentration of any editor in the world." It wasn't as simple as that, for there was more than clear concentration behind the scowl and the searchlight glare that he turned on manuscripts, proofs, and drawings. He had a sound sense, a unique, almost intuitive perception of what was wrong with something, incomplete or out of balance, understated or overemphasized. He reminded me of an army scout riding at the head of a troop of cavalry who suddenly raises his hand in a green and silent valley and says, "Indians," although to the ordinary eye and ear there is no faintest sign or sound of anything alarming. Some of us writers were devoted to him, a few disliked him heartily, others came out of his office after conferences as from a side show, a juggling act, or a dentist's office, but almost everybody would rather have had the benefit of his criticism than that of any other editor on earth. His opinions were voluble, stabbing, and grinding, but they succeeded somehow in refreshing your knowledge of yourself and renewing your interest in your work.
Having a manuscript under Ross's scrutiny was like putting your car in the hands of a skilled mechanic, not an automotive engineer with a bachelor of science degree, but a guy who knows what makes a motor go, and sputter, and wheeze, and sometimes come to a dead stop; a man with an ear for the faintest body squeak as well as the loudest engine rattle. When you first gazed, appalled, upon an uncorrected proof of one of your stories or articles, each margin had a thicket of queries and complaints — one writer got a hundred and forty-four on one profile. It was as though you beheld the works of your car spread all over the garage floor, and the job of getting the thing together again and making it work seemed impossible. Then you realized that Ross was trying to make your Model T or old Stutz Bearcat into a Cadillac or Rolls Royce. He was at work with the tools of his unflagging perfectionism, and, after an exchange of growls or snarls, you set to work to join him in his enterprise.
Ross's marginal questions and comments were sometimes mere quibbling or hairsplitting, and a few of them invariably revealed his profound ignorance in certain areas of life and learning and literature, while others betrayed his pet and petty prejudices. You had to wade through these and ignore them, as you did his occasional brief marginal essays on unrelated or completely irrelevant subjects. One or two of his trusted associate editors would sometimes intercept a proof and cross out the impertinent and immaterial Rossisms, but I always insisted that they be left in, for they were the stains and labels of a Ross that never ceased to amuse me.
The blurs and imperfections his scout's eye always caught drew from his pencil such designations as unclear, repetition, cliché, ellipsis, and now and then blunter words. He knew when you had tired and were writing carelessly, and when you were "just monkeying around here," or going out on a limb, or writing fancy, or showing off. His "Who he?" became famous not only in the office but outside, and ten years ago was the title of a piece on Ross written by Henry Pringle. Joe Liebling once had "Who he?" painted on the door of his office, to the bewilderment of strangers who wondered what kind of business Liebling could be in. Sometimes this query put a careful finger on someone who had not been clearly identified, and at other times it showed up the gaps in Ross's knowledge of historical, contemporary, or literary figures. (He once said that only two names were familiar to every reader in the civilized world: Houdini and Sherlock Holmes.)
I remember that Ross once told me, after reading a casual of mine, "You must have dropped about eight lines out of this in your final rewrite." The thing ran smoothly enough, it seemed to me when I reread it in his office, but I went back and checked my next to last draft. Ross had been wrong. I had dropped only seven lines.
When he worked on a manuscript or proof, he was surrounded by dictionaries, which he constantly consulted, along with one of his favorite books, Fowler's Modern English Usage. He learned more grammar and syntax from Fowler than he had ever picked up in his somewhat sketchy school days. He read the Oxford English Dictionary the way other men read fiction, and he sometimes delved into a volume of the Britannica at random. One of the funniest moments in Wolcott Gibbs's Season in the Sun showed the actor who played Ross calmly looking up the word "hurricane" in Webster's Unabridged while the advance gales of a real hurricane swept toward him like a cavalry charge.
WHEN he got up from his desk late in the afternoon, with a deep reluctant sigh, often after everybody else had left, for he always hated to stop work and turn to the affairs of the outside world that had been designed to wear him down, he sometimes found that he had a dinner and theater date with his wife or a friend or colleague. One night Wolcott Gibbs took him to see the Old Vic Company's production of King Henry IV, Part II. Ross wore an attitude of discomfort at plays, and you felt that he might get up at any moment and start pacing the aisle, ironing out some office problem in his mind. He often seemed more antagonist than spectator. On this particular night it was raining and he "had an umbrella and rubbers and a wet trench coat in addition to that brief case," Gibbs remembers. "Everything kept dropping off his lap." Ross was annoyed by the female character called Rumour, whose long speech opens the play, and Gibbs recalls that the aggrieved Ross said to him, "What kind of writer would put in a dame like that just to muck me up?" As in his editing, he looked first for faults and flaws, and he would have been more amused by Falstaff if he hadn't been upset by two characters in the play named Bardolph.
The editor's curious critical awareness, likely to strike from any quarter, pounced upon the lightly confessed promiscuity of the heroine of The Voice of the Turtle. A few days after we had gone to see it together, he asked me if I would want my daughter to attend the play. I said she wasn't old enough to understand it, and he snapped, "I mean if she were sixteen or seventeen." I said certainly, why not? "Because the girl stands up there and admits she has slept with several men she wasn't married to," said Ross.
"Compared to the amorous activities of certain persons we could hit from here with this ash tray," I told him, "the characters in that play are virtuous to the point of chastity."
"I don't want to hear any names," growled Ross, and he turned away.
HE NEVER gave up going to the theater, but as the years went on, he practically had to be dragged to opening nights, because he knew and would have to talk to almost everybody in the audience.
I think he was comforted by Mencken's overt opposition to the stage as a medium that distorted human life and magnified the distortions. And yet a great many of Harold Ross's closest friends were theater people, actors and actresses, playwrights, directors, and producers. Jed Harris at one time was a crony of his, and once Ross actually began writing a profile of his friend, but he never got past the first page. In the old days you might meet at his apartment one or more of half a hundred theater people whom he liked and admired, including Noel Coward, Harpo and Groucho Marx, Bert Lahr. Bert Wheeler and Bob Woolsey, Joe Cook and Dave Chasen, S. N. Behrman, Charles MacArthur and Helen Hayes and Ben Hecht, Beatrice Lillie, Madge Kennedy, Phyllis Povah, Ina Claire — the list seems endless as I begin recalling the names. Men and women of outstanding importance in the theater, all good friends of Harold Ross, dominated the list of ten advisory editors who got up the prospectus for the New Yorker in the winter of 1924, several months before the magazine was first published in February, 1925. This informal board of advisers consisted of Ralph Barton, Heywood Broun, Marc Connelly, Edna Berber, Rea Irvin, George S. Kaufman, Alice Duer Miller, Dorothy Parker. Laurence Stallings, and Alexander Woollcott. Rea Irvin, who remained the magazine's chief art adviser for many years, had been an actor, and a good one, before he turned to cartooning. A few of the others became well-known contributors — Ralph Barton, Dorothy Parker, Woollcott — but the editorship of all except Irvin was purely nominal.
I don't know who wrote the prospectus, but the old museum piece bears neither the stamp of Ross's hand nor, read aloud, the sound of Ross's voice. Only one sentence has survived the years: "The New Yorker will be the magazine which is not edited for the old lady in Dubuque."
The New Yorker was, whatever else, first and foremost the magazine of the young man from Aspen. Many helped him, a little or a lot, in the trial take-offs of his frail craft. Its name was suggested. I am told, by John Peter Toohey; John Hanrahan, a professional counselor in such matters, is said to have staffed the business and advertising departments; and Raoul Fleischmann, as everybody knows, rashly financed and kept refinancing the infant project; but the hand on the editorial controls was the stubborn, impulsive hand of H. W. Ross, who was by no means absolutely sure where he was going in his tremulous flying machine, but knew he would recognize the place when he got there. The boy from Aspen, Colorado, finally came in for a landing, and I was glad to join him and to be one of the lucky men who went along with him on his adventures for a quarter of a century that went too fast and ended too soon.
(To be continued)