The Vanishing Comedian
One of the most durable entertainers in TV comedy, STEVE ALLEN speaks with authority when he assesses supply and demand in a field all too precarious for those who enter it. Are today's comedians a healthy continuation of the breed, or are they the last of their species?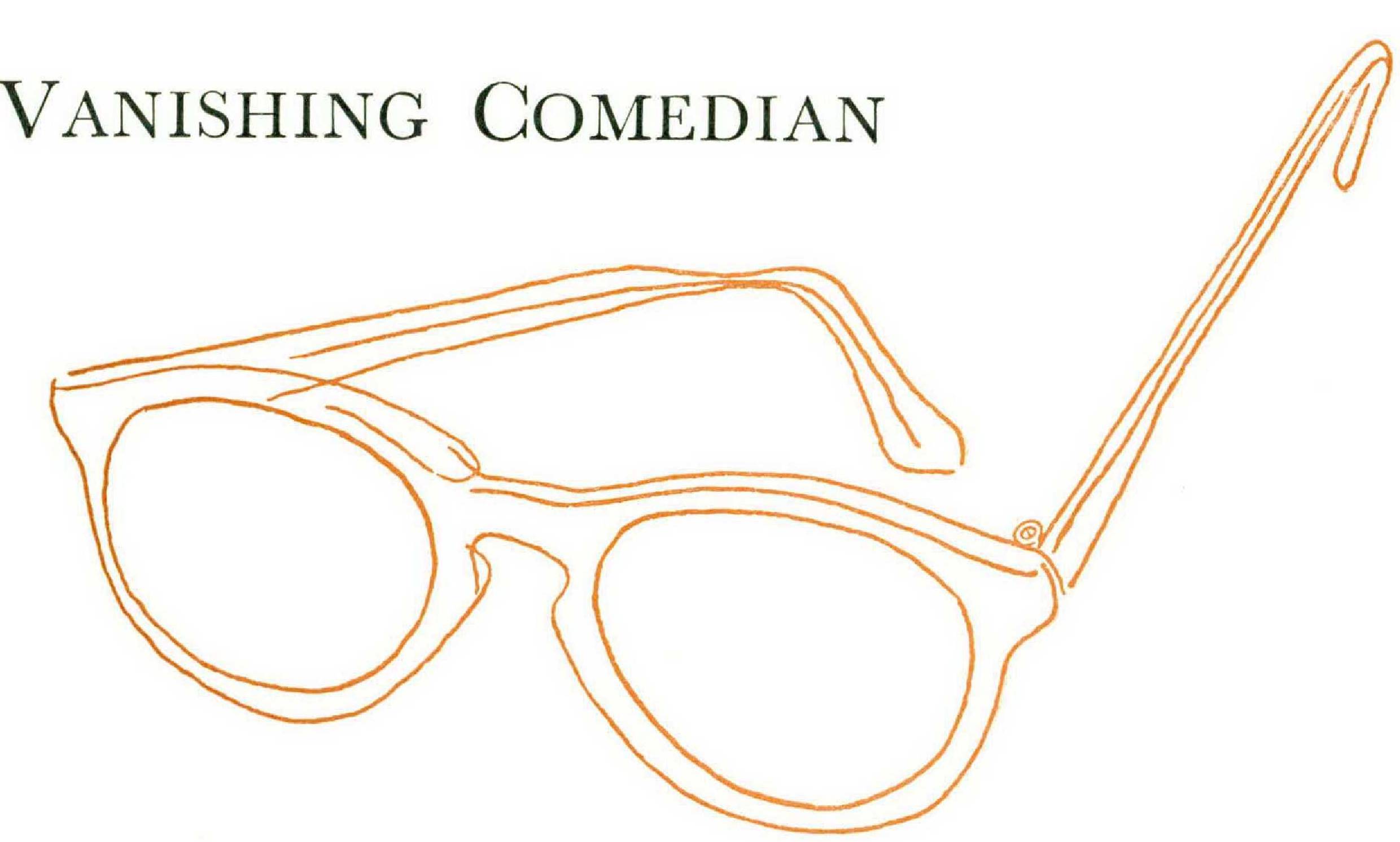 THE future of American comedy as contemplated from this winter of 1957 would seem to be at best unpredictable; in all the performing media (television, radio, motion pictures, the theater, and night clubs) there appears little cause for optimism. Part of the trouble seems socio-philosophical; the apparent imminence of disaster may be robbing us, to some extent, of our sense of humor. Outright disaster, an open declaration of war between nations, between ideologies, between heaven and earth — anything — would release us, and we would laugh riotously again, as man always does in wartime. But currently the low common denominator of popular taste is swinging away from the humorist and comedian and toward the lean avenger out of the West and the man with dollars falling out of his hands. The comedians who continue to function despite the trend are subject to increasingly heavy attacks from critics, audiences, rating services, and from the vaguely defined spirit of the times.
Examining the media one by one we note first that Broadway's golden age of comedy is past, despite the appearance of an occasional Solid Gold Cadillac. The representative comedy of the mid-fifties, Will Success Spoil Rock Hunter?, is patently inferior to the Man Who Came to Dinner.
Furthermore, even if many first-class comedies were being written for the stage, producers would be unable to hire good enough funnymen to perform in them; the Bert Lahrs and Bobby Clarks are past their prime, and their tribe does not appear to be on the increase. The producer who constructs a musical-comedy revue finds that while singers and dancers are a dime a dozen and as capable as ever, comedians are practically nonexistent. The Eddie Mayehoffs, Tom Ewells, and Cyril Ritchards, seemingly exceptions that substantiate the rule, are more comedy actors than true comedians.
Twenty-five years ago a producer could almost stand on the corner of, say, 44th and Broadway and wait for the comics to stroll by. Vaudeville brought forth literally hundreds of performers amusing to one degree or another; the best of these were skimmed off by Broadway. Customarily if they succeeded in the legitimate theater they were then hustled off to Hollywood or to the nearest radio studio. The process was so inexorable that when vaudeville disappeared, the legitimate theater was left without a source of supply. And now, belatedly, Hollywood, which was accustomed to draw its comedians from Broadway and radio, finds both these wells dried up, so that its present situation is truly dreary.
The hearty halcyon days of Charlie Chaplin, Harold Lloyd, Laurel and Hardy, foe E. Brown, Fatty Arbucklc, Charley Chase, W. C. Fields, Harry Langdon, Edgar Kennedy, Jack Oakie, the Marx Brothers, Mack Sennett's assorted clowns, are clearly not about to be duplicated. The only Class A comedians who arc still regularly turning out comedies in Hollywood are Red Skelton, Jerry Lewis, and Bob Hope, and even their vehicles are not so glamorously funny as they were ten years ago. although all three continue to satisfy on television. Abbott and Costello might have been ranked among the picture giants had they started twenty years earlier, but the combination of their precise abilities and the downward curve of Hollywood fortunes resulted in their eventually turning out a series of Sears Roebuck comedies for the small-town, third-run, Saturday-morning mentality.
Even what the radio-TV trade calls "situation" comedy has almost vanished from the screen, speaking relatively. The William Powells, Cary Grants, Henry Fondas, Jimmy Stewarts, and Fred MacMurrays, actors who were thoroughly masculine and possessed of both savoir-faire and a strong comedy sense, are disappearing and being replaced by a breed of young men with monosyllabic given names, collegiate personalities, and friendly schoolboy grins. These newcomers are pleasant chaps, to be sure, and in some cases talented, but they do not amuse — they cannot play comedy. Jack Lemmon and Tony Randall are the only exceptions that come to mind. The alternative breed of young leading men are the surly rebels (Marlon Brando, James Dean, Paul Newman, Anthony Franciosa, Ben Gazzara), able beyond question but hardly qualified to step into William Powell's shoes.
The feminine side of the picture registers symmetrically. The Carole Lombards, Katharine Hepburns, Myrna Loys, Irene Dunnes, and Jean Arthurs are gone, and the Pennys, Pipers, and Debbies, though adorable, have not the stature, authority, and individuality that mature comedy demands.
THE night club, it is true, retains some vigor as a breeding and training ground for comedians, but even here there is little prospect for ultimate optimism. The top comedy attractions in the clubs (with the exception of Joe E. Lewis, the old master who was made for clubs and is never at case in any other medium) are people like Jimmy Durante, Milton Berle, Danny Thomas, or Jerry Lewis, who are now more associated in the common mind with television and who play the opulent saloons only for fast easy money. After these come club veterans, such as Henny Youngman, Morey Amsterdam, Red Buttons, Buddy Lester, Jerry Lester, Larry Storch, Jack Carter, and Gene Baylos. Then there are a few very amusing younger men who seem to some extent unsuited to television except on a guestappearance basis, Alan King, Joey Bishop, Mort Sahl, and Joey Carter coming to mind on this level. Though successful and rewarding in a club, it is doubtful that they are destined to be the Bob Hopes and Jack Bennys of the next decade.
The trouble with the freshman class of club comics, it should be made clear, is not that it isn't funny enough; indeed some of the fledglings, Don Adams being an excellent example, are wildly amusing when working with their basic monologues. The difficulty lies in the fact that in most instances they choose to stick solely to their meager hoard of routines rather than run the risk of trying something new and failing with it.
And the fault (for clearly there is something wrong) is not theirs. They are helpless victims of a predicament in which the profession presently finds itself; namely, that there is practically no opportunity for the new funnyman to polish his art in the wide amphitheater of experience. The comedy giants of old labored many years to perfect themselves and their routines. Today's young comic, as soon as his basic talent manifests itself, is rushed to the front lines before he is ready, because, maddeningly enough, there is no place for him to get ready.
While the minor-league pickings are beginning to look thin, how goes it in the majors? Well, last year bookshops stocked a volume I wrote about television comedians Fred Allen, Jack Benny, Milton Berle, Red Buttons, Sid Caesar, Eddie Cantor, Wally Cox, Jackie Gleason, George Gobel, Bob Hope, Sam Levenson, Jerry Lewis, Groucho Marx, Phil Silvers, and Red Skelton. Of that group Fred Allen has died; Red Buttons is no longer working in the medium except for an occasional guest shot; Milton Berle is taking an extended TV vacation; Wally Cox left the medium, made a brief comeback with the Hiram Holiday series, and then called it quits a second time; Eddie Cantor has retired; Jackie Gleason seems to have given up TV; George Gobel is reduced to sharing a weekly program with a singer; Sid Caesar, comedy's ironman and most creative genius, has fallen victim to the rating nonsense (although ABC has recently decided to give him a reprieve); Bob Hope is doing only a few shows a year; and Jerry Lewis and Sam Levenson are rarely seen. Only Groucho, Benny, Silvers, and Skelton are sailing smoothly along on their regular schedule, and of these only Red is doing a traditional weekly comedy show.
Besides this group, Herb Shriner and Buddy Hackett have also had poor luck during the past year, and Jonathan Winters was hardly given a fair showcasing with his small-budget quarterhour format. Too, the TV fates of Martha Raye, Imogene Coca. Nanette Fabray, and Ernie Kovacs come inevitably to mind in this connection.
As background to this dreary litany it should be borne in mind that within ten years, time will remove a number of popular comedians from the active scene. Jack Benny is reportedly sixtytwo years old. There seems little likelihood that he will choose to be working tit seventy-two. Nor will Groucho Marx, Jimmy Durante, or Burns and Allen want to continue performing into the next decade. Inevitably, too, a number of the comedians in their forties (the Hope. Skelton, Berle, Gleason group) will decide to go into partial or complete retirement for one reason or another. Two other top-line funnymen, Danny Kaye and Victor Borge, have evidenced little interest in television, Danny so far having ignored the medium altogether and Victor, who tried the one-aweek route and didn't like it, preferring to appear in concerthouses.
A great problem facing today's clowns, of course, is not so much the physical wear and tear, the search for fresh material, or the rating competition business, formidable as these obstacles are; it is the matter of public satiety.
The world has known no other time when the mass mind was so completely humor-washed. Traditionally comedy has been something of a rare treat, an aesthetic delicacy, and even though radio made it a relative commonplace, it remained for television — with its brain-numbing, hypnotic attraction — to offer comedy during almost every hour of the day, every day of the week.
The result has been that the man on the street first of all spends less time than ever on the street and secondly that he has developed an overawareness of comedy, a lack of respect for its omnipresent practitioners, and a cynically critical attitude toward its performance.
In plain words it has gotten so that every grocery clerk, who would never have dreamed of offering a critical appraisal of a Charlie Chaplin movie or a Jack Benny broadcast of 1938. now feels fully qualified — nay, in duty bound — to express himself in vituperative detail as to the merits of last night's Bob Hope show. In this regard he has, of course, been led by his published representatives, the television critics.
It is certainly no accident that Al Morgan's "The Great Man" and Budd Schulbcrg's "The Arkansas Traveler" (retitled "A Face in the Crowd") should be brought to the movie screen in the same season that "The Comedian" and " Tale of a Comet" were presented on television. All four stories are, speaking broadly, about the same man: a television funnyman who makes his audiences laugh but his associates whimper. At least three other similar properties are currently being submitted to Broadway producers, and the New York Herald Tribune recently ran a series purporting to show, albeit with questionable finesse, that a number of popular clowns have not only the traditional feet of clay but also hearts of stone. It would seem that comedy has come to be no laughing matter.
THE question again presents itself: Is there a general and complete breakdown in the funnybusiness?
The word comedy suggests the idea of performance, of playing, while the word humor suggests creative thinking and the written word. But even in the field of pure literary humor it would appear that the future is cheerless. Today's humor anthologies contain chiefly the works of old or deceased men. Once there were the big three: Benchley, Thurber, and Perelman. Now Benchley is gone and while Thurber is still producing, his recent works have evidenced a great delicacy, charm, and warmth but hardly the robust sidesplitting power of his "The Night the Bed Fell Down " or The Male Animal period. Perelman is practically alone when it comes to turning out essays that are universally admitted to be funny.
As Dorothy Parker says: "There are quantities of those who, no doubt, if filling out a questionnaire, put 'Occupation, Humorist' but their pieces are thin and tidy and timid. They find a little formula and milk it until it moos with pain. They stay with the good old comic symbols so that you won't be upset the tyrannical offspring, the illiterate business associate, the whooping, devil-may-care old spinster. . . . S. J. Perelman stands alone in this day of humorists."
The writers of television humor, too, are beginning to look ahead with a weary eye.
"Grinding out TV shows week after week is a craft unto itself," says Nat Hiken, author for Phil Silvers, Milton Berle. Martha Raye, and others. "It requires tremendous writing experience and that's why most of the shows are written by the fellows who survived radio. . . . The future looks bleak because no provisions are beingmade to teach young writers the craft."
Is there a bright side to the picture? Can the television networks do anything to train new comedians?
One solution, although it can only work for a limited number of comics, is to take refuge in a story-line comedy-dramatic series. Danny Thomas, who failed in a stand-up joke and sketch format, has enjoyed great success with his "Make Room for Daddy" package. This proved also to be the solution for Phil Silvers, Burns and Allen, and Lucille Ball. But one need not even be a comedian to do a funny and successful situation-comedy series. Witness the popularity of such programs as those starring Ozzie Nelson and Harriet Hilliard, Robert Young, Bob Cummings, and Spring Byington.
A solution of more general application is to make radio and television themselves a comedy training ground. This may produce comedians who can do something else, who can serve an apprenticeship as announcers or singers or actors or masters of ceremonies, gradually adding more comedy to their routine. This method has developed such comedians as Johnny Carson, Garry Moore, Jack Paar, Robert Q. Lewis, Henry Morgan, Ernie Kovacs, and your recalcitrant servant, all of whom came to TV from radio.
It has also produced an unusual new breed of half-comedian (Arthur Godfrey, Tennessee Ernie, Bert Parks, Bill Cullen, Hal March, Dave Garroway) related to the first group but differing in that humor is distinctly a sideline and a minor activity.
Those of us in these two groups are the chaps who can amuse if the occasion demands but who have our desks and our pianos and our singing voices and our commercials and our supporting casts and our game gimmicks to relieve us of the obligation to be amusing at all moments.
We also have our loyal fans, to be sure, and there are those who profess to laugh at us more heartily than at Hope or Berle, but in general we have a common fault, I think; it is that we lack something of the individuality of the oldtimers. We are "gentlemen," we look more like network vice presidents than clowns, we are fairly well educated, and we have a Brooks Brothers air about us that somehow goes against the grain of a people accustomed to laughing at W. C. Fields, Groucho Marx, Ed Wynn, and Will Rogers.
We are apt to be more admired by the college student than the cab driver, appreciated more by the egghead than the Neanderthal. It isn't a cut and dried relationship, of course; the most sophisticated of us have our following of dear little old ladies from Philadelphia, but one can nevertheless determine the direction of the wind.
There are a few younger comedians who have some of the old-time knockabout individuality and vitality (Jackie Gleason, Sid Caesar, Buddy Hackett), but it is likely that they represent the last of their species rather than a healthy continuation of the breed.
My reason for feeling about today's physical clowns the way James Fenimore Cooper felt about the Mohicans is that the social environment that produced the old guard seems to have passed. The old-line comics were generally uneducated (although many of them were men of superior intelligence), calloused by rough-and-tumble experience, made shrewd by poverty, and brought to worldly-wiseness by travel, a wide range of social contact, and adventurous activity. Today's comedian, in the main, is cushioned by the economic, social, medical, and philosophical changes and/or improvements that have taken place in our society during the past quarter of a century. The times make the man, and if the times have changed, the man will change with them.
Fred Allen once predicted that the eventual important comedy star of television would be a fellow who would just sit down in a chair and talk as if he were speaking to you in your home. Fred contrasted this method of approach to the Milton Berle or vaudeville manner, which he deplored. It would seem that his prediction has been validated in the general sense that, while no one star has shone noticeably brighter than his fellows, the sit-down comedian begins to seem, over the long pull, more comfortably suited to television than the stand-up variety. We may be saddened by the fact, but that does not make it any the less a fact.
It would appear that there is a glimmer of hope for the networks in the fact that many of today's successful practitioners of the comic art came from radio rather than vaudeville or night clubs. The solution seems to suggest itself that the industry take its new club humorists and put them to work for a good long training period in radio. Currently in radio there is not the crushing pressure to succeed that exists in television. A youngster could experiment, try out new routines, create new characters, learn to relax, and gradually perfect his abilities. Most important of all he could learn the art of addressing an audience in a straightforward manner, without especial intent to amuse. Four or five years spent in this sort of atmosphere would do much to ensure the success of the comic entering television.
This system of comedy reforestation could have the much to be desired effect of developing a new group of "old-fashioned." stand-up comedians (of the Hope, Skelton, Gleason genre) — the very type, in other words, who are in danger of suffering most by being brought forward prematurely. Newcomers of this group could be given the hothouse protection their very scarcity demands. If the networks do not employ this plan or something similar to it, we must be prepared to admit that Fred Allen was wise in identifying television as a comedian's treadmill to oblivion.