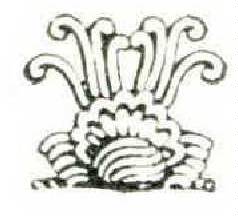 by ISABELLA GARDNER
SOUNDS sum and summon the remembering of summers:
The humming of the sun
The mumbling in the honeysuckle vine
The whirring in the clovered grass
The pizzicato plinkle of ice in an auburn uncle's amber glass.
The whing of father's racquet and the whack
of brother's bat on cousin's ball
and calling voices calling voices spilling voices . . .
The munching of saltwater at the splintered dock
The slop and slap of waves on little sloops
The quarreling of oarlocks hours across the bay
The canvas sails that bleat as they
are blown. The heaving buoy belling HERE I am
HERE you are HEAR HEAR
listen listen listen
The gramophone is wound
the music goes round and around
BYE BYE BLUES LINDY'S COMING
voices calling calling calling
"Children! Children! Time's Up
Time's Up"
Merrily sturdily wantonly the familial voices
cheerily chidingly call to the children Time's Up
and the mute children's unvoiced clamor sacks the summer air
crying Mother Mother are you there?