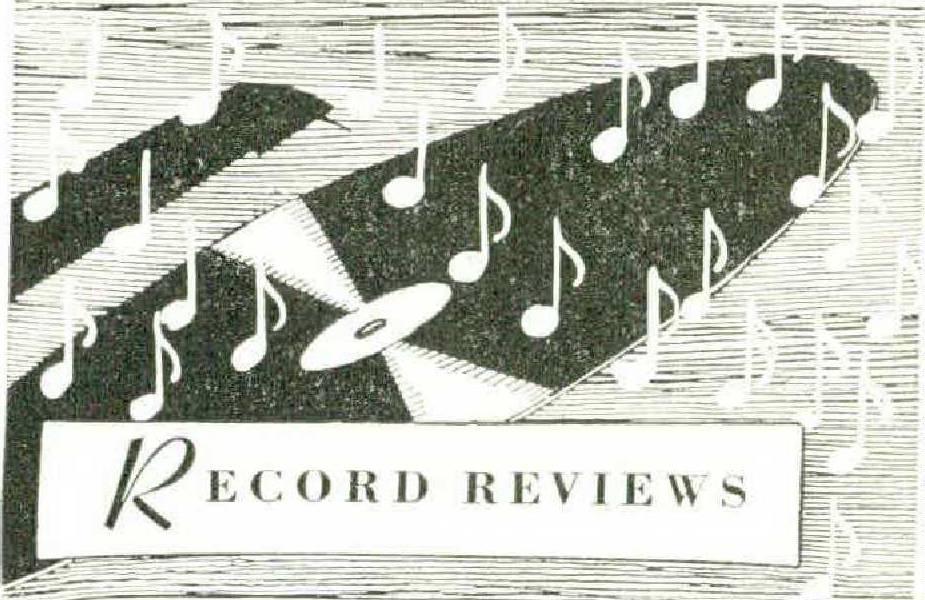 by JOHN M. CONLY
Bizet:L'ArlésienneSuites Nos. 1 and 2; Suite fromCarmen (Paul Paray conducting Detroit Symphony Orchestra; Mercury MG-50135: 12"). Mr. Paray eschews subtleties in favot of unabashed gusto, as if he were conducting a summer band concert, and the engineers join in the festival mood: every time the cymbals clash, you will think lightning has struck the pergola. Don't buy this unless you can play it loud.
Britten:Young Person's Guide to the Orchestra with Elgar:CocksigneOverture (Sir Adrian Boult conducting Philharmonic Promenade Orchestra; Westminster W-LAB-7056: 12"). Here is Sir Adrian in the talkless version of the Guide (if you want him both conducting and reciting the narrative, you can have him on Westminster 18372) and the very impressive super-fi of Westminster's Laboratory series. With Elgar's gay Edwardian overture, the musical offering comes to just twenty-nine minutes, but the recording is nonpareil. And Sir Adrian knows and loves the music.
Dvořák: Symphony No. 2 (Ferdinand Leitner conducting Berlin Philharmonic Orchestra; Decca DL-9909: 12"). This most Brahmsian of Dvořák's symphonies has not before been served well on microgroove, an injustice. It is consistently engaging, as Leitner interprets it, and the sonorities of the Berlin orchestra have been well forwarded by the engineers.
Mozart: Divertimento No. II; Serenade,Eine Kleine Nachtmusik; Serenata Notturna, K. 239 (Boyd Neel conducting Boyd Neel Orchestra, Ltd.: Unicorn UNLP-1042: 12"). Even without the jacket credit, I would have detected in the sonic quality the inspired touch of Peter Bartók, and I do mean inspired. The fidelity is not to treble, bass, or midrange, but to Mozart: absolutely everything about the recording conduces to the highest effect of this particular music. Fortunately Dr. Boyd Neel and his "Ltd." (that is, Canadian, not British) orchestra rise to equal heights. If you do not mind a little affectionate deliberation here and there, I'll recommend this Eine Kleine Nachtmusik and Eleventh Divertimento us the ones to buy. The Serenata Notturna is matched by the Solisti di Zagreb version for Vanguard, but not overmatched. Really, a dream of a disc.
Mozart:La Finta Semplice (Dorothea Siebert, Alois Pernerstorfer, other soloists; Bernhard Paumgartner conducting Salzburg Mozarteum Orchestra; Epic SC-6021: two 12"). Mozart, apparently a restless youth, wrote two operas when he was twelve, of which this is the second and by far the livelier. It is a courtship comedy, sophisticated enough to make plain that Mozart was a prodigy in more ways than one. Its only real shortcoming, among the Mozart operas, is its lack of ensemble writing. Further, it is in parts genuinely funny. The producer and the artists do their very best, not condescending at all, and the result is something you had better buy, providing you already own The Marriage of Figaro and The Magic Flute. The title, incidentally, means The Feigned Simpleton.
Revueltas:Homage to Garcia Lorca; Toccata Without Fugue; Planes; Three Sonnets; Two Little Serious Pieces (Carlos Surinach conducting MGM Chamber Orchestra; MGM E-3496: 12"). Like New England's Charles Ives, and like very, very few other composers of any period, Mexico's Silvestre Revueltas (1899-1940) could be at once funny and unmistakably fond of the source materials for his writing: the folk and traditional music he heard about him. Not that there is anything trivial about what came forth. There is compassion with the cleverness in the carnival parody in the Homage, for instance. Surinach is expert at this music, and the sound is brisk and bright.
Scarlatti: Sonatas, Vol. 17 and Vol. 18 (Fernando Valenti, harpsichord; Westminster XWN-18460 and XWN-18461: each 12"). More of the vast and infinitely varied output of the great Domenico, who died just two centuries ago. Valenti plays, as usual, with plenty of Iberian zest and convincing clangor. The Westminster technicians put the harpsichord right in your living room.
Schumann: Piano Concerto with Richard Strauss: Burleske (Rudolf Serkin, piano; Eugene Ormandy conducting Philadelphia Orchestra; Columbia ML-5168: 12"). There are several fine performances of the Schumann in the catalogues, any of which this new Serkin probably matches in one way or another. The special appeal of the disc is the overside. Strauss wrote the Burleske at twenty-one; it is modest, merry, almost Mendelssohnian, highly unlike the compositions to come later. In consequence it is neglected, but not here by Serkin, who gives it his very best efforts and us something extremely enjoyable. The sound is fittingly big, rich, and clear.
Tchaikovsky: Serenade for Strings with Barber: Adagio for Strings and Elgar: Introduction and Allegro (Charles Munch conducting strings of the Boston Symphony Orchestra; RCA Victor LM2105: 12"). There is no better string section in the world, of course (Philadelphians, please read that sentence twice), and the frank aim here is to show it in all its effortless and dazzling beauty. The pleasant music swoops and sways with flawless grace. Anyone who can resist this should be held on his back and be tickled on the soles of his feet with a feather.
The Complete Orchestra (Wheeler Beckett conducting soloists and members of the New York Philharmonic-Symphony Orchestra; Music Education Record Corp., Box 445, Englewood, N.J.: five 12", $45). New Yorkers and Bostonians will know who Wheeler Beckett is, by reason of his long stints directing the youth concerts of the Philharmonic and the BSO. In effect, he is directing in these records a large chunk of the former orchestra, whom he hired for the purpose. And the purpose is simply to show what various instruments do in orchestral performance. The album is not only instructive, it is absolutely fascinating. The illustrative musical excerpts are all from the so-called standard repertory (Beckett couldn't afford royalties); they are beautifully played and recorded with exciting fidelity. Beckett comments and explains what is afoot, and most comprehensibly. (Worth noting: it was he who did the research for Leonard Bernstein's "Omnibus" analysis of the Beethoven Fifth.)
If you have a teen-ager who shows the dawn of interest in symphonic music, or if you yourself are a novice music lover, this album will be well worth its price to you. It is not distributed through record shops.