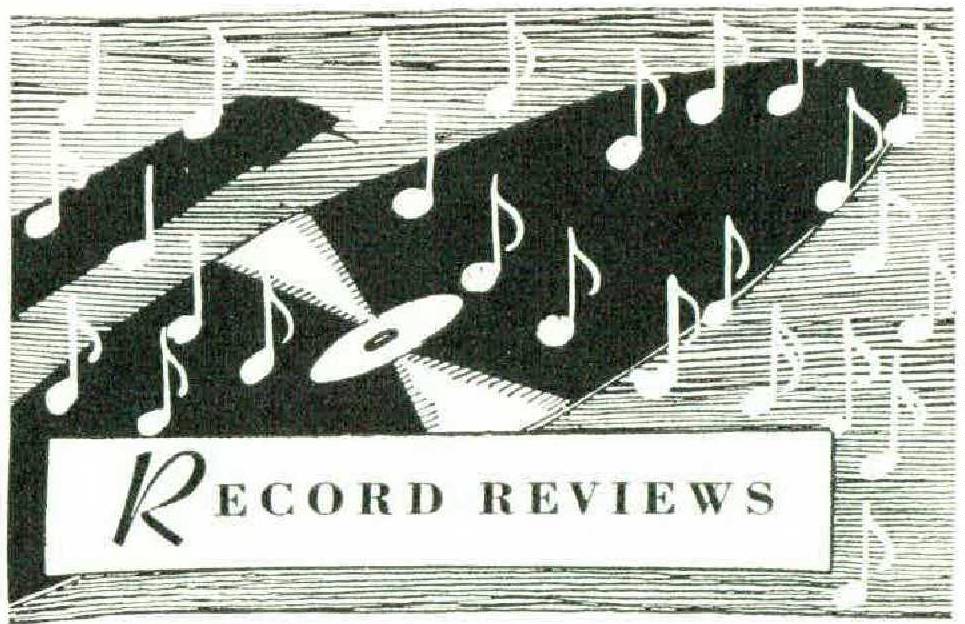 by JOHN M. CONLY
Carpenter: Adventures in a Perambulator with Phillips: Selections front McGuffey's Readers (Howard Hanson conducting Eastman-Rochester Symphony Orchestra; Mercury MG-50136: 12"). Charming old friends in new hi-fi guise. Carpenter's canine bullet and Phillips' midnight ride with Paul Revere may not sound daringly modern any more, but they still can enchant.
Debussy: Nocturnes, Book I (Guiomar Novaes, piano; Vox PL10180: 12"). Gieseking and Casadesus are very hard to match in this territory, hut I think Mme. Novaes stands up to them very well, her great asset being a flawless grace of tempo. Unhappily, Vox has presented her piano in microphonic proximity I find most unsuitable to Debussy.
Field: Piano Concerto No. 1; Five Nocturnes (Sondra Bianca, piano; J. Randolph Jones conducting Hamburg Philharmonia Orchestra; MGM E-3476: 12"). Imagine the melodically inventive concerto style of Christian Bach infused with pianism very much like Chopin's, and you will have in mind the nature of this concerto by Beethoven's amazing Irish contemporary, John Field. It is fascinating, songfully Celtic, and eminently listenable, if not profound. Miss Bianca plays it fleetly, and does equally well by the five nocturnes (Field invented and named the nocturne) on the reverse—Hibernian Chopin: irresistibly delightful.
Mozart: Piano Concertos No. 17 and No. 25 (Rudolf Serkin, piano; George Szell conducting Columbia Symphony Orchestra; Columbia ML5169: 12"). This pairing was issued at the same time as Serkin's performances of No. 21 and No. 27 with Alexander Schneider conducting, and for some reason Serkin-Schneider make Serkin-Szell sound a little workmanlike. Beautifully workmanlike, beyond cavil, but somehow slightly short of verve. Even this you would not discover, however, but by direct comparison. And only GiesekingRosbaud, on Angel, offer a No. 25 anything like this one.
Mozart: Sonatas in B-flat, K.454, and A, K.526 (Clara Haskil, piano; Arthur Grumiaux, violin; Epic LC-3299: 12"). Miss Haskil is in control here, I suspect with Mr. Grumiaux's complete assent, and the results are interpretations convincing beyond any others I know of, especially when the sonic merits of this strong, intimate recording are considered along with its musical values. Intending no slur upon Mr. Grumiaux, I wish Miss Haskil and Wolfgang Schneiderhan might get together on some Mozart.
Piston: Symphony No. 6 with Martinu:Fantaisies Symphoniques (Charles Munch conducting Boston Symphony Orchestra; RCA Vicor LM-2083: 12"). Both these works were written for the BSO's seventy-fifth anniversary and, quite openly, with the BSO's fabulous tonal resources in mind. Neither is quite so deep as a well, perhaps, but both have a sort of cordial wit, and seldom have the Bostonians been port rayed on discs in such gleaming, thundering sound.
Rachmaninoff: Rhapsody on a Theme of Paganini with Franck: Symphonic Variations and Delius: Prelude toIrmelin (Leon Fleisher, piano; George Szell conducting the Cleveland Orchestra; Epic LC-3330: 12"). The Rachmaninoff-Franck combination also is offered by Vox in excellent performance by Monique de la Bruchollerie and Jonel Perlea, and individually the two pieces have been recorded by a variety of musical notables. But never has either, to my taste, come across with such effortless and sweeping effect as do both here. This is music to revel in, sumptuous in all aspects, and all participants, including the engineers, must share in the credit. The Irmelin prelude, a languorous filler, is new to LP.
Rogers:Leaves from the Tale of Pinocchio with Hanson: Fantasy Variations on a Theme of Youth and Triggs:The Bright Land (Howard Hanson conducting Eastman-Rochester Symphony Orchestra; Mercury MG-50114: 12"). A childhood theme pervades this offering by three Americans, and one of the works — Bernard Rogers' — will even serve to entertain children, since it contains a narrated condensation of Pinocchio, well done and marvelously ornamented with orchestral sound effects, rather in the mode of Dukas's Sorcerer's Apprentice. Grownups will like it, too, though—especially hi-fi grownups. The Hanson variations are sedately cordial and sonorous; the Triggs tone poem is pleasantly nostalgic, Western in flavor.
Sibelius: Symphony No. 7;The Oceanides; Polléas and Mélisande (Sir Thomas Beecham conducting Royal Philharmonic Orchestra; Angel 35458: 12"). The Sibelius Seventh is not a symphony which plays itself; it is eloquent only from a conductor who understands it. Sir Thomas does, as is evident from the first note onward. One hears clearly the composer's tribute to the Beethoven of the late quartets, and his own meditative progress thence; very fine and moving. The incidental music to Maeterlinck's Pelléas and Mélisande, less important but most fetching, receives treatment just as skillful, as does the most typical Oceanides. The sound is rich and vivid. All told, here is probably the best Sibelius record in the catalogue.
Stravinsky:The Rite of Spring (Pierre Monteux conducting Paris Conservatory Orchestra: RCA Victor LM-2085: 12"). Monteux led the Sacre at its première in 1913 (there was a riot) and must be considered almost as authoritative in its interpretation as Stravinsky himself. Their performances differ mostly in tone color. Monteux delivers the work prismatically; it becomes Impressionist, almost Debussyan in parts — and the French orchestra helps beautifully. Stravinsky sticks, so to speak, to primary hues. However, the only Stravinsky recording is now quite old, so the fine bright sound of the new one probably earns it first place among recorded Rites.
Walton: Symphony (Sir Adrian Boult conducting Philharmonic Promenade Orchestra; Westminster XWN18374: 12"). Someone has called Sir William Walton a British Prokofiev, which is not unapt if the "British" be emphasized. There is the same epic and historic feel in his music as there is in some Prokofiev, and the same excellent grasp of drama. The symphony was written in 1935, and Sir Adrian Boult has been playing it fairly regularly ever since. Patently he knows it thoroughly and likes it very much. It comes across big, lyrical, and vigorous. Westminster has given it superb reproduction, spacious enough for scope but detailed enough to do justice to Walton's very clever quasi-Handelian writing for wood winds.