by ELIZABETH PARSONS
ELIZABETH PARSONS spends her summers on the Maine coast and in the winter devotes her time to writing in New York.
AT A motorboat show a while ago, I rode up the long escalator behind a girl who, after thumbing through a catalogue she was carrying, asked her companion, "How do you spell Chris Craft, anyway?" and debouched onto the second floor of the Coliseum, which was turned into a nightmare world of the unlovely laminated and molded underbodies of various-sized yachts, both sail and power, crammed in cheek by jowl. Here and there a tall ship raised a steel spar from which hung lifeless, off-white sails that looked as though they needed a good pressing. I ducked under a Matthews Walk-Around Convertible and some sedans and utilities, looking for the 53-foot cruiser with the electric dishwasher I'd heard about. I never did find it, thank goodness. I'd better say right now that I belong to the dishpan school of cruising, but, anxious to keep up with the times, I'd decided to have a look at the new boats and their gadgets.
After a while I found myself climbing a flight of steps to inspect a Luders 27, the largest molded plywood sailing yacht ever produced. I took off my shoes, out of respect for such refined construction, and wriggled under the white nylon lifeline about as ungracefully as one crawls under a barbed-wire fence, and at once sank instep-deep into the Caribe Blue foam-rubber cushions on the cockpit seat nearest me. Saving myself by embracing the laminated boom, I cast a look at the deck, which was of some species of plastic, scored with black lines to imitate the real seams in a real deck, and descended into the cabin, which blazed with lights and was about as hot as Tophet.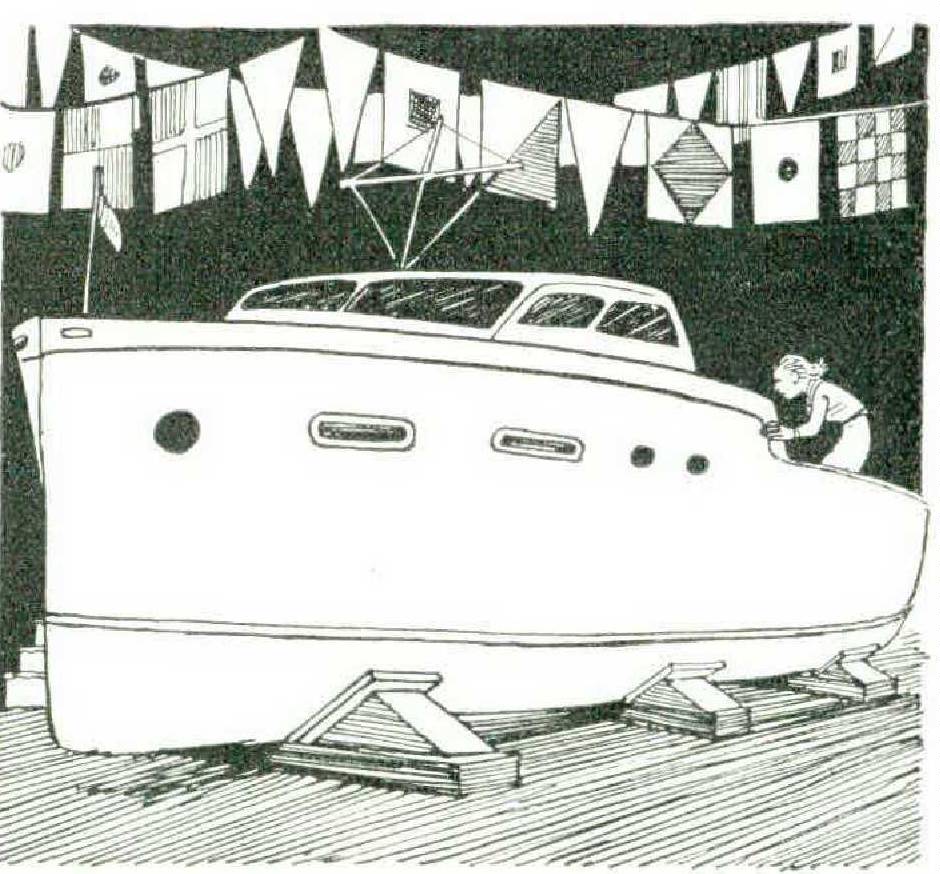 Here the décor was of the motel type — laminated wood, finished in a Fog Gray barklike texture — and some more of the Caribe Blue upholstery, some first-rate plumbing fixtures (white), lots of stainless steel, and Caribe Blue curtains (self-tied) at the win — at the ports. There was a lousy little two-burner kerosene stove for cooking, and a tiny gleaming stainless Steel sink embedded in a Fog Gray dresser. There didn't seem to be any handy place to put anything, like wrenches or Shredded Wheat or wet woolen socks. There was a strong smell of rubber and metal and plastic materials of unknown origins, strictly unnautical and just like the smell of a new car. Depressed, I climbed back on deck, put on my shoes, and slithered out under the lifeline, gazed at by some bemused seafaring or would-be seafaring types standing on the steps.
Next I inspected the Bounty class cutter, again removing the shoes. Again I punched the bouncy, gay mattresses, took in the stainless steel and the two-burner stove and the valves and the pumps for intakes and outlets, and the motel décor — Sand Beige, this time — and sniffed the dubious smell of the laminated hull and the plastic upholstery. It was more like being in a trailer than in a boat — that was it. There were no timbers or knees, no deck beams to crack your head on or to grab hold of. Well, it was a relief not to find the electric dishwasher on either of these vessels, but it's just a matter of time.
Lost in dreams of the past, I drifted away, with the monstrous shapes of the present crowding around me in their cradles. Time was, I was thinking, when going cruising was like going camping, without all that hiking and climbing and pitching of tents. The idea, in those innocent days, was to get a change from shore life, not an extension of it. Nobody wanted to have all the comforts of home on a 40-foot boat; that wasn't the point. The dishpan was simpler than the soapstone sink in the kitchen we'd left behind; the Shipmate stove handier and more fun than the big coal range, since it burned driftwood or any other wood, generally chopped into short lengths on the after rail. which eventually got kind of chewed up. The point was to relax, only we never thought of it that way, as the word and the need to use it hadn't really arrived.
Housekeeping in those days was no great matter; we threw the dishwater over the side and kept the Shipmate going in wet weather to dry things out and in case somebody felt like baking blueberry muffins. Some reading got done and, not having a radio, we became good weather prophets; unconscious of being relaxed, we spent a good deal of time berrying on islands in Penobscot Bay and fishing for tomcod and tinker mackerel while waiting for a breeze or a fair tide, or both.
Boats smelled like boats then, not like cars or motels, and they sounded like boats, too, not like radio towers. Masts were made of wood, and rigging of Manila, and when the twain met at anchor at night there came a soft tapping, soothing to the ears, or insistent if it was breezing up. Nowadays when I go sailing, there's a high loud wail and whine and clatter from the wire rigging, whether under way or at anchor, and everything is harsh and painful to the touch. Well, progress is a fine thing, and presumably makes more people happier than they would otherwise be, and in due course there will be plenty of yachtsmen mourning over the old days of foam rubber and slatting wire halyards and imitation deck seams.
Making my way to the downwardbound escalator, I remembered something that had happened last summer on an old schooner belonging to a neighbor in Maine, I hadn't been aboard her for some time; and on going below to stow something away before we left the mooring, the first thing that struck me was the smell. It was the smell of a boat, not a machine, for the schooner had never had an engine. It was an ancient and violent smell of wood, of mattresses and blankets that were always a trifle musty, of the little Shipmate stove and the kerosene lamps and, most forcible of all, the smell of pure, unadulterated bilge, rising up through the unlaminated cabin floor boards. It was one of the great smells of the past. Behind me, part way down the companion ladder, a lady, also no longer in her first youth, paused, her head just below the open hatch, and as we stood there we heard the gentle sound of a slack lazyjack slapping the slack mainsail.
"That smell!" she said, standing still and staring at me with eyes held very wide open. "Oh, it makes me want to cry!"
I nodded at her and fled, lump in throat, to the schooner's galley, to see if the dishpan was still in its usual place. It was.