A Life in Art
A Londoner who cherishes every vestige of the cockney, WOLF MANKOWITZ divides his time between authoritative studies of the Portland vase, humorous articles for Punch, and fiction. His two novels, Make Me an Offer and A Kid for Two Farthings, were made into films, and the following story will appear in a collection of his short stories, The Mendelman Fire, to be published by Atlantic-Little, Brown later this year.
by WOLF MANICOWITZ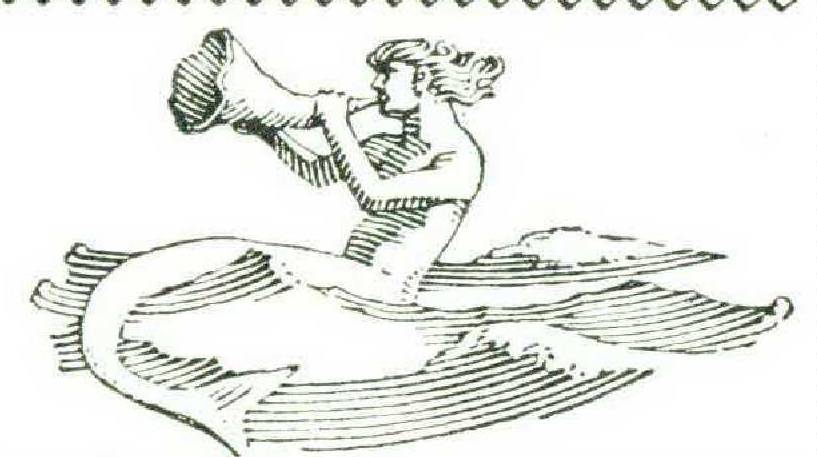 WHAT is the use of pretending? Pelk knew, even as a boy, even in the moment of exultation when the head of the art department shook him by the hand and said, "Cooper might have painted that sheep's head," he always knew that however right his hand might be, his temperament was wrong for a successful life in art.
For Pelk dressed somberly and was quiet. His habits were regular, his ideas conventional. Color, even in painting, worried him unduly. He preferred his personality to be pale as a ghost. And while the Academy was completely discredited by violent young men whose pictures were robust with color, Pelk painted away regularly and without excitement, working like a mathematician to make the view on the canvas precisely equal to the view he looked at.
After a few years Pelk still painted on in spite of his job with a frame maker. He had patiently grown a mustache hoping to balance his recessive chin and large eyebrows. Strangely enough it gave his face a certain authority. People began to not ice his serious unsmiling eyes and grew to respect his suggestions for framing. Several important clients always headed their instructions "Attention Pelk." He might have made a career as an understanding frame maker, and he would have been satisfied. But Life will never let well enough alone and one day Pelk received a note on beautifully engraved note paper asking him to call on Mr. Marmourian at his famous gallery in Bond Street.
As Pelk wandered over the crimson carpet looking at the fine eighteenth-century paintings with genuine appreciation, he was surprised by Marmourian himself. The great dealer had been standing just behind him for some seconds before he spoke his name.
" Pelk, he said in his slightly throaty way, " Pelk, is it not? The clever frame maker who truly cares for what he frames. What is your opinion on this little Fragonard you find so intriguing?" And with that confidence of the timid when invited to speak about his soul's delight—and there is not a solitary timid soul which does not have some secret delight or other — Arthur Pelk spoke of the little painting with thought and love and clarity.
When he finished, a faint blush glowed to either side of his mustache, and Marmourian shook him by the hand and then dashed a tear from his eye as he led the way 1o his private office. "It is exactly as you say," he said. "You have truly understood the picture. If I were a client I would have bought it — yes, yes, I could not have resisted."
When Pelk left the Marmourian Gallery it was as a newly engaged salesman, six pounds a week plus commission, to start in a fortnight. "You are in the greatest profession of all, my Pelk," the dealer had said, "for if a man paints well it is God's gift — but to sell pictures a man must really work." Pelk was certainly frightened, but the prospect of living henceforward on intimate terms with dead and undisputed masters gave him confidence, and within three months he had married a rather nice girl whose artistic interests had never ventured beyond barbola work.
Mid this is really all that happened to Arthur Pelk for thirteen years. His knowledge increased, his salary grew his commissions were substantial, his timidity was concealed by a mustache and eyebrows which were recognized in the world of art.
But he remained a secret painter. And thirteen years after hiss introduction to Marmourian, Arthur Pelk was distressed to realize that somewhere inside him that old juvenile desire to be a recognized artist still fluttered its imprisoned wings.
Immersed as he was in successive vogues for the various dead painters who become, every four or five years, the only fashionable masters, it was inevitable that a simple-minded craftsman like Pelk should be variously influenced. When the slight landscapes of the Frenchman Coutet were keenly sought after (Marmourian having bought a vast collection of works by this obscure little Toulouse genius well beforehand), Pelk discovered one evening that his hand and brush were automatically following out the style of Coutet. In fact, four hours produced a very passable Coutet indeed.
And so it was with Pelzner and Pieter do Wint, Gerhart Ister and Charles Picking. Every minor master to be handled by the Marmourian Gallery became so well understood by Pelk that his brush unfailingly emulated their strokes. He found that he was a perfect painters' medium (or possibly ghost). His first real victory, though, was when Marmourian, while taking a cocktail with the Polks, glanced at one of Arthurs little seashore paintings and said, "A good eye, Arthur, you have a pretty little Boudin, I think. But to buy for yourself is not ethical, my dear Pelk. This chance mistake in identity at once set the vanity of the old student days fluttering a waxy like mad in Polk's breast.
2
IT so happened that at the time when Polk's vanity was fluttering, collectors were becoming much interested in that charming artist Constantin Guys. After his thirteen years in the trade Pelk could easily understand the salability of the delightful pen and wash drawings. Reasonably enough everyone suddenly wanted parasols and top hats, the freshness and immediacy of the Guys sketches, the elmosphere, the delicacy. . . . Pelk had no difficulty in selling at ever-increasing prices every Guys the talented Marmourian could lay his hands on. It was just as easy for him of a Sunday afternoon, inspired by some fine antique cartridge paper, to draw some of the prettiest Guys sketches Marmourian had ever seen.
No one will believe it (though it is a simple fact) that Pelk had no motivation other than suppressed artistic vanity when, one dull winter morning when Bond Street was swathed in a fog to depress even Whistler, he carefully slipped seven of his Guysstyle sketches into the folder reserved for that artist. Vet everyone will have to believe that Pelk acted in this way without the desire for illicit profit. For he made no false entries in the books — absolutely no money passed into his hands.
It was a quiet day and Pelk spent it in secret dolight at having found his true place in a master's folder. He proposed to leave his drawings there for a few hours — perhaps even show them to an unimportant client or two, and then take them back home to the spare room where he worked. But every eye seemed to be upon him whenever he made a move to retriev e his drawings from the Guys folder. And not a single client entered the gallery that day.
Pelk Inmg about long after his usual time for leaving, and still it was impossible for him to retrieve his work. He planned a dozen different attempts on the folder. Each time he heard in his mind's ear the throaty voice of Marmourian, "Caught you red-handed, my Pelk — stealing from me — your employer — your friend. "Bui they are mine," Pelk would cry. Who would believe him? lie left the drawings where they were and hurried home.
The next day Pelk found a few moments in which to take out the folder. Sure enough he heard the throaty voice of Marmourian, introducing to him a pale gabardine-draped gentleman, "the greatest collector of Constantin Guys in America — in the World." The American smiled and held out his hand. Marmourian patted Pelk on the back as a promoter might pat his prize heavyweight. Pelk wanted to scream and cry "I'm ill. I'm ill." But the American was already studying the drawings in 1 he folder.
For twenty-five minutes Pelk, his blood like liquid ice, excelled himself. He used every device in his salesmanship, every word in his vocabulary of hyperbole, every gcslure of the hands, the shoulders. Persuasion, ini inidation, flattery, all failed. The only drawings the American would buy were Pelk s own poor imitations. He held in delicate fingers a Guys of ten ladies in a row all with parasols— it was the best of Pelk's efforts. " The best I have ever seen," he said. " I will take it, and this, and these."And he left only one small Pelk, alone with thirtythree authentic drawings.
After Marmourian had received the check (and the price was really fantastic, for the pound had only recently been devalued), the great dealer turned to Pelk. "My clever Pelk, he said in a broken voice. "You are the greatest of us all. These new little things — I even forget I have them
— they must have cost pract ically nothing. Which indeed was true. But what could Pelk do? He accepted the praise and the extra commission and went home to sit moodily cursing his vanity and his skill.
He looked about him at the well-furnished sitting room of the new house his commissions had given him. That delightful little Louis Quinze secrétaire
— it reminded him of a small Watteau, wonderfully authenticated, he had handled. That Meissen inkstand—a Corot had given him that. Art had served him well, as a loving handmaiden serves, while he —lie had betrayed her. And her consort Marmourian also he had betrayed, For what? For a little itching vanity—the unexpired portion of his boyhood dream of fame. What was he after all these years at the elbow of greatness? A copyist. A vain, unlalented, slinking, cowardly copyist. And — my God! — a forger too. The hair on the back of Polk's neck felt electric. The cold dead hand of horror gripped his heart.
Nothing in the range of human feeling can equal the misery of the timid man who realizes that, he has destroyed the only defense his timidity has ever devised. The little bits he had prized so greatly now seemed to Pelk resentfully out of place. His own work those quiet evenings with the brush and pen in the spare room — looked at him askance, as if the aut henl ic works were shouting from a thousand galleries "How dare you trace us — perfect lines by real masters!" And night after night Pelk tossed and turned in torment as he fell through a brilliantly sketched maelstrom (rather like Leonardo's torrents) while the voices of a myriad objcts d'arf screamed "Shame! Shame!"
So it was that Pelk, his eyes dark with worry. his hack bent, his hands shaking, went through the polite routine of mortgaging his house. The bank manager gladly accepted Mr. Pelk's life insurance as further collateral. Was there anything else he could arrange for Mr. Pelk? There was no limit to the overdraft he might have, provided there were suitable securities. A few hundred safe Industrials — "We might as well add those. Good morning, Mr. Pelk, good morning." Such was the extreme to which Pelk was forced by artistic conscience. For he knew there was no alternative, He had to buy—buy with hard money—buy back those damn creations of his overeager imitative hand.
So it was too that after protracted negotiations through one of Marmourian's competitors Pelk purchased back his own drawings, changed only by the addition of the impressive stamp of a famous American collection. Pelk was penniless but Ids peace of mind for a day or two was beyond the understanding of those mere art dealers who lack honest feeling for authentic and original art. It was sheer bad luck that someone had to tell Marmourian that the drawings had changed hands again at an even more important price than he had obtained. And it was a tribute to Marmourian's knowledge of one of the most complicated and secretive trades ever devised by cupidity that within forty-eight hours he knew Pelk was the purchaser.
"My Pelk,'he said in sorrow. "You underhand dog," he cried in anger, thinking of the profit he believed Pelk was about to make. "I take you — 1 make you, he wept. " I break you,"he screamed. "How many times have you cheated me?" After thirteen years Pelk's integrity had completely triumphed. But he was up to his eyes in debt. And he was no longer Marmourian's star salesman.
Pelk surveyed the situation in the gloominess of 1 he spare room that evening. His wife was busy with her barbola. He had tried to lose himself in 1 he practice of his art, but it. was useless. By some peculiar quirk of the mind he found himself in his distress painting after that unfashionable Victorian academician Cooper—a sheep's head like the one he had been so fatally complimented upon in the promising days of his youth. "But by God," said Pelk aloud, "it is exactly like Cooper — a little stronger if anything." His Guys sketches were, after all, thoroughly authenticated. And naturally every other collector in the world would hear of them and lust after them.
A man in his despair has a single moment of vision, like the panorama a drowning man is supposed to view in the moment before complete submersion. Pelk had the courage to believe in his vision. Once again his house is his, once again he is solvent, while the trade says again and again, "You know Pelk, of course—how does he find them? Goulets, Pelz tiers, de Mints, Gerhart Isters, and Pickings. And Guys —of course, Pelk is the specialist in Constantin Guys."