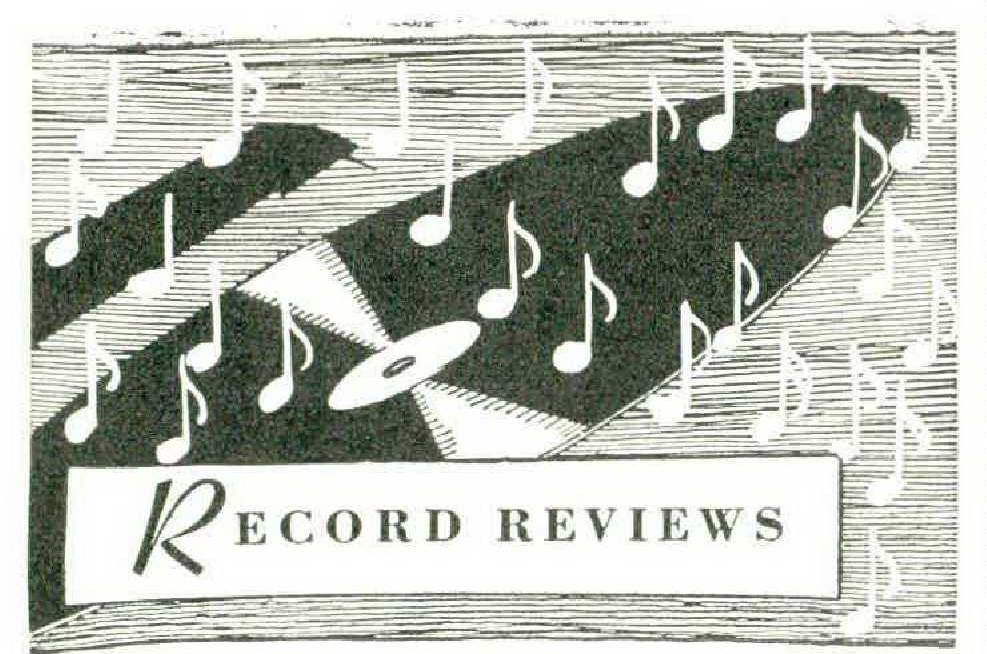 by JOHN M. CONLY
Anderson: The Music of Leroy Anderson (Frederick Fennell conducting Eastman-Rochester Pops Orchestra; Mercury MG-50130: 12"). This is the highest-fi Anderson on records, and happily it does not duplicate much of the content of the second highest-fi, which is the twelve-inch Decca collection with the composer conducting. Fennell seems a trifle taut, after Anderson, but he is good all the same, and so is his ensemble. A worthy rendition of music written purely for pleasure by an artist in whimsey. Main item is the Irish Suite; other numbers include Serenata, Sleigh Ride, and Penny Whistle Song.
Copland:Appalachian Spring; Billy the KidSuite (Eugene Ormandy conducting Philadelphia Orchestra; Columbia ML-5157; 12"). Aaron Copland wrote two arrangements for full orchestra of his chamber-ballet score Appalachian Spring. One was condensed and one wasn't; this is the first recording of the long form, so to speak. The restored portions turn out not to be very important, but the Philadelphians have a marvelous time with the whole score, and so will any listener. It comes forth rich, crisp, and vivacious. Further, I am sure Ormandy reads it with scrupulous accuracy, as Koussevitzky did not in his vintage version (which still enthralls me, just the same). Ormandy's Billy, on the overside, is equally crisp and delicious.
Cowell: Set of Five with Ives: Sonata No. 4 for Violin and Piano and Hovhaness: Kirghiz Suite (Anahid and Maro Ajemian, violin and piano, with Elden Bailey, percussion; MGM E-3454: 12"). There is nothing dull on this disk, but the principal attraction is the fascinating five-part suite of Henry Cowell, a chameleon of a composer here undergoing a sort of Arabian Nights transformation: Mark Twain playing Haroun-el-Raschid. If I may, I will describe the result as profoundly amusing, and will warn you not to miss it. The Hovhaness is clever and atmospheric. The Ives is the sonata subtitled "Children's Day at the Camp Meeting," and is not played by the Ajemian sisters with quite the delightful surety they bring to the other two works; maybe they were inhibited by reverence. The recording is clarity itself, a special asset in the Cowell suite, with its enchanting succession of percussive effects.
Hovhaness:Saint Vartan Symphony (Carlos Surinach conducting MGM Chamber Orchestra; MGM E-3453: 12"). Here is small but potent instrumental artillery depicting feats well suited to the mode of portrayal: the exploits of an Armenian warrior saint of the fifth century against the Zoroastnan Persian armies. The music really seems to be a very fierce and solemn ballet suite rather than a symphony, but it is none the less effective for that, nor for its being very up-to-date in instrumentation. There are a great many episodes, but you'll stay with them. (Vartan is killed, but wins.)
Mozart: Violin Concertos No. 4 and No. 5, "Turkish" (Wolfgang Schneiderhan, violin; Hans Rosbaud conducting Berlin Philharmonic Orchestra; Ferdinand Leitner conducting Vienna Symphony Orchestra; Decca DL-9857: 12"). As a pairing, particularly, this record stands up very well against formidable competition. Schneiderhan is better, and has a better orchestra, in the Fourth than in the Fifth Concerto. In both, however, there is a sort of winsomeness, an air of intimacy with the music and with the listener that makes for great charm. There is no display here, and the sound is comfortable rather than impressive, but the net result is a recording very easy to listen to again and again. One has the feeling that everyone concerned really loves Mozart.
Sibelius: Tone Poems (Sir Adrian Boult conducting Philharmonic Promenade Orchestra of London; Vanguard VRS-489, 490: two 12"). The tone poems here — subdivided into legends, sagas, patriotic and nature pieces — are En Saga, The Swan of Tuonela, Lemminkainen's Homecoming, Pohjola's Daughter, The Bard, Finlandia, Prelude to The Tempest, Night Ride and Sunrise, Oceanides, and Tapiola. Other works might have been included — In Memoriam, for instance, which is not yet on microgroove — but this is a good collection. Boult does not quite get the high color into Sibelius' music that Beecham does and Koussevitzky used to, but he gets as much as anyone else does, and I rather think Sibelius himself would like these performances, with their mannerly manliness. The orchestra is the London Philharmonic under a pseudonym; it knows Boult and knows its Sibelius. The recorded sound is nicely detailed and yet clean in the climaxes. I was especially taken with the music for Shakespeare's Tempest, which so far as I know here makes its debut on long-playing records.
Wagner:Wesendonck Lieder; Arias (Kirsten Flagstad, soprano; Hans Knappertsbusch conducting Vienna Philharmonic Orchestra; London LL-1533: 12"). The arias are Elsa's Dream, from Lohengrin; Ich sah' das Kind, from Parsifal; Der Männer Sippe and Du bist der Lenz, from Die Walküre. We should be grateful to Mme. Flagstad for having preserved this wonderful voice (informed with an equally wonderful musicianship) until modern recording techniques could capture it. To say it was as good as ever would be false, hut not very. Only on big top tones must she force; for the rest, the richness and ease of production are just about what my memory tells me they used to be. And the dramatic expression is, if anything, better. If you are any kind of Wagnerian, you owe yourself this disk; it is unique.
Priestley, J. B: Delight (J. B. Priestley reading thirteen of his own essays; Spoken Arts 716: 12"). Mr. Priestley admits, to begin with, that he has made a lifework of grumbling, which may have given people the wrong impression, He does enjoy life, and to prove how much he enjoys it he proceeds to discuss a variety of special delights. These include fountains, orchestras tuning up, conductors, smoking in a hot bath, wood, the mineral water in foreign hotel rooms, and not going places. Most touching is his description of what he calls "the delight that never was," which is a place to live —rather like an imagined ducal city of the 1830s, where everything is graceful, wellproportioned, easy-paced, full of the charm of smallness and intimacy. It is a rather melancholy little delight, but you won't forget it in a hurry. Mr. Priestley reads well, as a man trained in speaking but not ashamed to betray a little Yorkshire now and then. This is a really delightful record.