Coupon Clipper
JEAN TIGAR lives with her family in Schenectady, New York. She was formerly engaged in editorial work, and her writing has appeared in many magazines.
by JEAN TIGAR
I GUESS it's a mistake for a woman to leave her mail around where others can see it. Especially if the others include her children and they have a tendency to be made sleepless by good news. The children's father would come under the heading of "others," of course. But he is older and he can take exciting news in stride. That's what the letter I left around had in it: exciting news. Not that it got exciting right off the bat though. It was from a soap company, and the soap companies, I have found, usually break things to you pretty gently.
The letter started out by saying, "Here is the 10¢ HOORAY LIQUID coupon which, in answer to our ad, you asked Noted Television Personality to send you. Also a handy wall can-holder for you that exactly fits a can of HOORAY LIQUID which you just can't beat for washing dishes. And keeping HOORAY handy like that will be a terrific help in licking that daily dishwashing job of yours."
It was only in the second paragraph
they said, "Your name is now automatically entered without further action on your part in the HOORAY LIQUID drawing. This means your name may be picked as one of the winners of the new Dodge Lancer V-8's."
There was also a P.S. that said I'd find enclosed in the envelope an order blank for nylon stockings on which I could save us much as $2.95 if I wished three pairs. But this was an anticlimax compared with the news about the Dodge Lancer V-8, of course. I think it's ridiculous of the soap people not to realize this too. Who is going to be piker enough to care about saving a measly $2.95 when she can get a Dodge Lancer V-8 for nothing?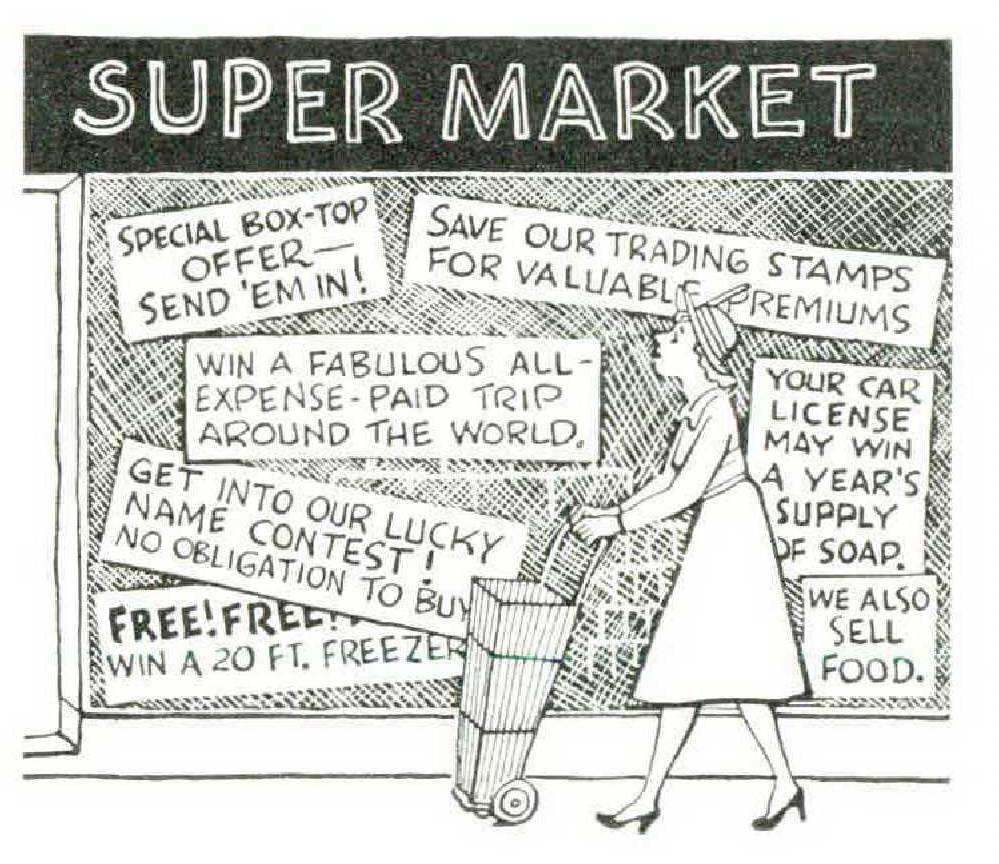 It was different in the old days. In the old days, if you wanted a Dodge Coronet Lancer V-8 for nothing, you had to go to the bother of sending in box tops and writing twenty-five words or less that were judged for sincerity, aptness, originality, clearness, neatness, and heaven knows what all. Not that that kind of thing isn't going on still. Only the other day, I saw an ad for a box-top-andstatement contest offering a cabin cruiser and a small private ocean to sail it on as a first prize, and describing how easy it is to win. I have no quarrel with that kind of stuff either. It's all right for any girl who feels her brains need exercise. But I do say manufacturers are going to create ill will if they don't hurry and devise some method of helping the consumer's children adjust to the newer way. Hardly a day goes by here that the children do not need guidance.
Yesterday, for instance, I came across the tickets my husband and I got a couple of weeks ago when we attended the movies. Each ticket entitles the holder to a chance to win a 21-inch color television set in a solid mahogany, hand-carved cabinet. The lucky number will be drawn on the stage of the theatre next Saturday, thanks to the combined generosity of the theatre, Sam's Clothing Store, Eddie's Flower Shop, and Salvatore's Pizza Palace. Since the children allend the movies every Saturday anyway, and since you have to be present to win, I said each could take a ticket. But they got into a wrangle over whose choice it would be to select the very first program they were going to watch on the old set, which they took it for granted would be given them to put upstairs when we had to make room for the solid mahogany hand-carved color TV set in the living room. If my husband hadn't come along just then and announced that he had decided to have our old set sent down to the office, I don't know how I'd have handled it.
I have wondered many times lately what I'd be doing if we were still in our other house, where the kitchen didn't have divided drawers. Our divided drawers here are stuffed with different kinds of coupons redeemable for valuable premiums, several types of merchandise certificates that save you money, books of different-colored stamps for valuable gifts at different markets, and so on.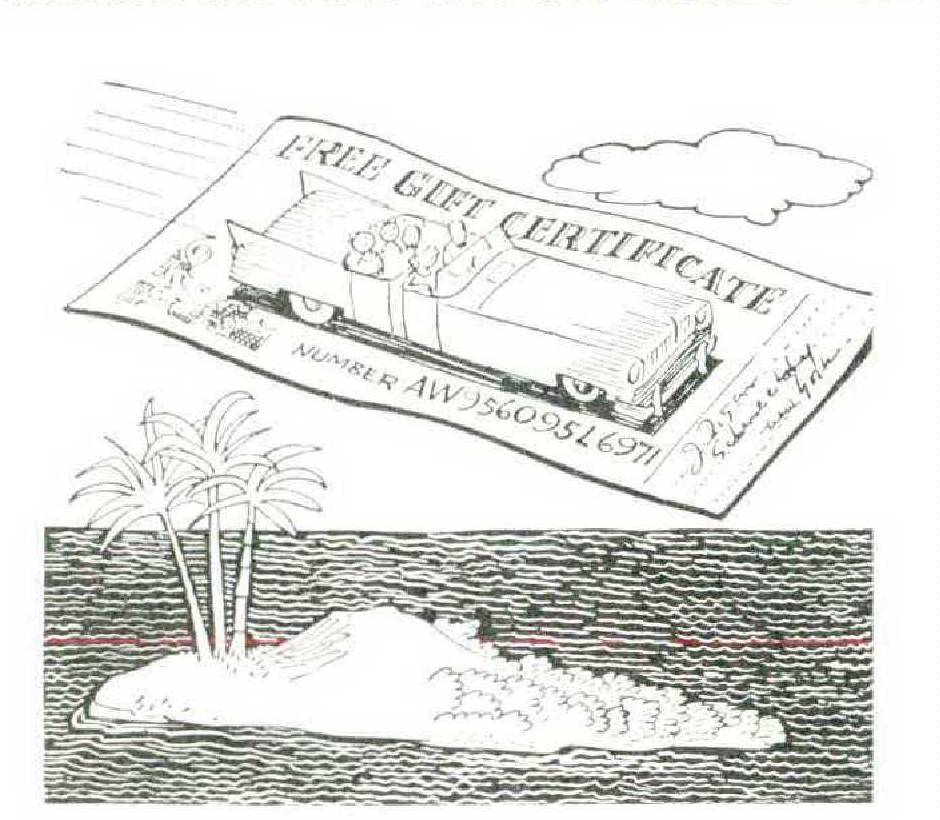 There's the book in which to put the yellow Gold Bond Dividend stamps: when full, it will entitle me to $2.50 worth of anything in the whole supermarket. And there are the green Coöperative Discount stamps from the dairy. After I paste thirty of these on each of forty pages, I can have the picnic basket we are saving for. These two books nestle next to the thick Family Discount Dividend folder, which has brown stamps worth one tenth of a mill each (that's what it says on the cover) and will get us a lawn ornament or a Scrabble game from our fishman.
I keep a rubber band around the small cardboard tickets that I get with every purchase at the bakery. It makes it easier to take them from the drawer that way and put them in my purse when I go to check each Saturday on whether or not the numbers posted on the bakery wall correspond to any on my tickets for the weekly toaster, the waffle iron, the blender, the frying pan, or the teakettle that I can have absolutely free.
The bakery is right across the street from a supermarket where I do not usually trade but where I've been stopping in for a few things lately every time I cheek on the toaster, the waffle iron, the blender, the frying pan, and the teakettle — because this super is offering a beautiful Chryslcr Windsor 4-Door Sedan or a Chrysler Windsor Nassau Hardtop (you get your choice). It has extra equipment such as radio, heater, undercoat, service, two-tone paint, safety accessory group which includes back-up lights, luggage compartment light, glove box light, hand brake flasher, automatic rear dome light, and safety cushion dash panel, and it will be mine if one of the free tickets I fill out and drop in the box has the lucky number on it.
But nobody has come up with anything more thrilling for my money than the frozen food people. Practically every week I send my name and address on a special card to the frozen food packers by courtesy of my frozen food man. They are giving away absolutely free (in addition to hundreds of other valuable prizes, of course) a trip to Hawaii for two with all expenses paid and $500 spending money to boot.
The other day, one of the kids set me back on my heels about this, however. Each was trying to get me to say which one of them I'd take to Hawaii (my husband can't get away for a protracted period right now); and I was hemming and hawing when one of them inquired what I'd do if I won the trip to Hawaii and the trip to Havana which a famous canned meat concern is awarding at the same time. My husband saved the day here too. He just reminded the kids that we'll probably be taking a nice weekend trip in our Dodge Coronet Lancer V-8 or our Chrysler Windsor Nassau Hardtop or our Chrysler Windsor 4-Door Sedan then, and we just won't care about anything else.