Departmentalized
RUTH ALDRICH tenches at the University of Wisconsin-Milwaukee. This is her first appearance in the Atlantic.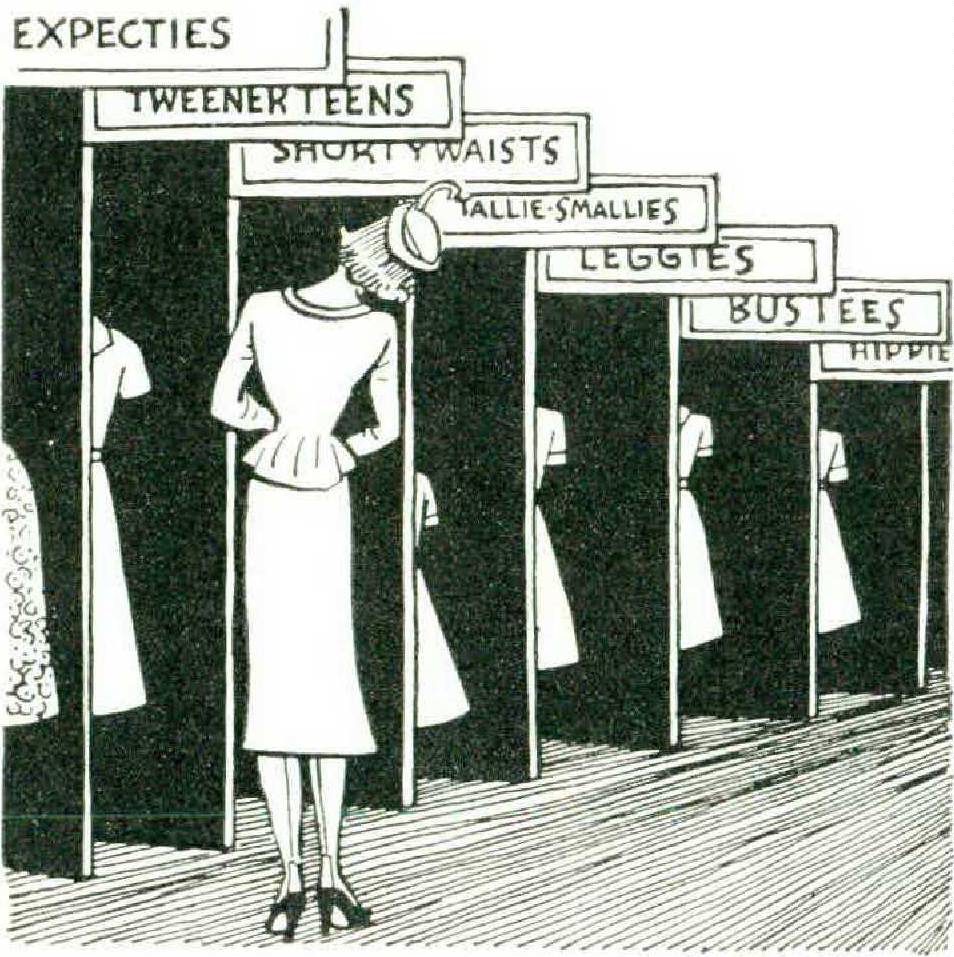 by RUTH ALDRICH
DURING the hurry of my life for the past two years, clothes buying consisted primarily of clipping a sketch and a coupon from the newspaper, listing color and size, and wearing what was delivered to the house some days later. Then plans for a leisurely trip with numerous stop-oils suddenly released all my choked buying desires. Visions of short coat, rain-and-shine outfit, suits, and noncrushable dresses lured me to what I fondly hoped would be that mad shopping spree of every woman's dreams.
It had been some time since I had done more than scurry about the street floor of our department stores for special bargains, but as I stepped off the escalator at the second floor all looked as I remembered it in spite of the proud advertisements about remodeling. I passed the first department, maternity wear, and its sign that coyly read "Our Waiting Room." In the next shop I admired a brown cord suit on a rack and slipped on the jacket. It matched only my shoulders. The saleswoman prodded me tentatively. "What size have you been taking, Miss?"
"Twelve — or fourteen."
She sighed. "This is our Betweeners' Division; we carry only half sizes here. You'll have to go to the north side of the floor."
Leaving the sign that read "Yes, We Do Things by Halves," I made a wrong turn and found myself staring at a mannequin which was clearly neither a twelve nor a fourteen. A pleasant clerk explained that. I had wandered into the Niche for Young Chubbies ("Everything Larger but the Price"). "And you certainly don't belong here" she said enigmatically. "No, not that way — there's the Juno Figure, Misses and Matrons: 'We Subtract If Nature Multiplies.' Go straight back and to the left."
Having just come from straight back, I arbitrarily moved left. Here a college student who had just begun her new part-time job located me and stayed consolingly with me till I left the store. She too would be happy, she explained, to learn the way about. She was able, however, to remove me instantly from my current spot. "This is Proportioned and Petite," she explained. "It's for Matures under five feet five, but not for Juniors. Juniors and Small Women are back. And Proportioned Plus — for Matures over five feet five — is ahead. Now let's see where you belong."
"I've been told that at thirty-five I'm mature,"I volunteered mildly. "And I'm five feet five and a half."
"But you look normal," she protested. Prom her curving gesture I gathered that Proportioneds, Petite or Plus, were not quite normal, and the placard, "We Solve Your Problem Figures," confirmed this.
Golf sticks, tennis rackets, dark glasses, and straw bonnets greeted us before the For the Casually Young Corner. Casually young, I learned, did not mean age as much as emaciation: it was sporty, tweedy, and sandy, and except for some voluminous denim coveralls it promised nothing for my visiting weekends. The Fifth Avenue Shoppe?" I suggested ("Because You Demand the Rest").
College looked at me dubiously. In her glance I could see reflected my $8.95 navy (give second color choice, the coupon had said severely) puckered nylon dress. "Prices start at $49.50," she said. "And those are cottons. Of course they're styled " I had a blurred, dissolving glimpse of myself crawling out of the car after a day's drive in a fifty-dollar cotton dress, even styled. "And the French Boutique," she went on remorselessly, "is formals only." I could see its doorway from where I stood, disguised as an entrance to a continental café, its white wrought-iron sign proclaiming, "The Night Has a Thousand Eyes—And Every One Is on You."
I had never been enamored of the Budget Shop ("So You Don't Believe We Can Really Stretch That Dollar Bill"), but I mentioned it. "That's been moved. It's in the base — on the parking level now."
She looked at me appraisingly again, and I could see the words ticking off in her mind: chubby, plus, petite, expectant, halves, casual, formal, tall, expensive. Then she exclaimed in delighted relief, "There's our supervisor! Just one moment, please. Oh, Miss Leland, do we have anything for the normal figure?"