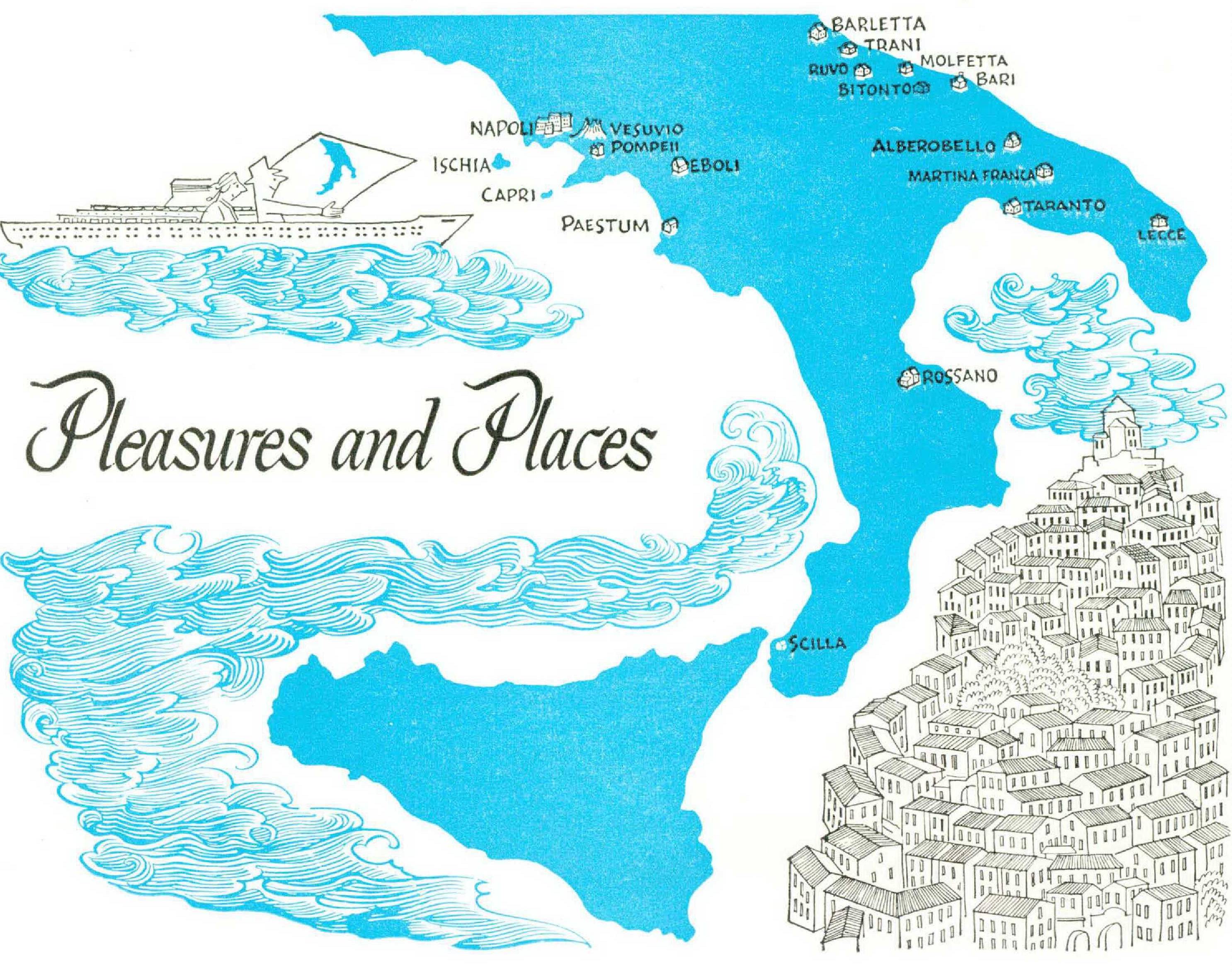 NOBODY travels south of Naples, according to the old saying — but that is the best reason for going there. The flocks of tourists in Venice, Florence, and Rome, and the type of Italian that preys on them, have not yet discovered the foot of Italy. The few who venture below Naples are welcomed with a handshake and not an open palm; for, though the Southerners may be poor, they are seldom dishonest. Southern Italy is virtually a separate nation, more backward and more lackadaisical than its northern neighbor. It has all the attractions of primitive countries like Spain and Greece. New roads and new hotels have made them accessible, without — so far — drawing such a flood of visitors as to mar them.
The Southerners seem to have all day to stop and talk. They quickly show themselves to be the most engaging people in Europe. You meet gnarled peasants plodding to work on overburdened donkeys; barefoot, roguish fishermen on the quays making eyes at the girls as they make knots in their nets; saucy, underfed brats, more inquisitive than acquisitive, who want their photo taken; loud unemployed schoolmasters in loud doublebreasted suits, delivering a stock harangue on Suez and starvation to all comers. It is worth a few weeks' study to be able to talk to them in Italian, but, thanks to our invasion, English is widely spoken.
It is not only the people that make the South preferable to the North. It has a savage, desolate, mountainous countryside, with remote and picturesque hill towns perched on crags among twisting vines and olives scorched by sun or blighted by frost. The west coast is rocky and precipitous, crumbling churches that recall the invasion of Byzantines or Saracens, Normans or Spaniards. Down the east coast lies the more fertile Apulian plain, whose architectural treasures are as impressive as anything in the rest of Italy.
Festive months
All round the southern coast are deserted bathing beaches, and submarine grottoes waiting to be explored with goggles and harpoon. The water is warm even outside the two baking months of July and August, so you lose nothing by going in the offseason to avoid excessive heat. But do not overdo it, as wind and snow make prospects uncertain from November to March. Easter is the best time, for then the demonstrative Southerners love to show, with pagan pageantry, what religious people they are.
Most feste are held at Easter or at the grape harvest at the end of September. Masses and beauty contests, bacchanals and fairs, are all part of the celebrations. Most famous of all is the festa of San Gennaro, the patron saint of Naples. Every year, on September 19, the cathedral is packed with cheering crowds who come to see his solid blood go liquid.
Other dates to watch are August 11, when the men of Positano dress up and act the Saracens' invasion, and September 7, when Neapolitan songs echo through the ruins of Tiberius's villa up on a 900-foot cliff in Capri.
Transport
To avoid being held up on the way by Europe's other temptations, take the South Atlantic route from New York to Naples, by ihe American Export or Italian Line ships, which take ten days and charge $255 tourist class in the high season. The Israeli lines (ZIM) are cheaper at $215 but less frequent. For the man in a hurry, the normal air fare from New York to Rome is $360.
But it is a mistake to hurry when you get there, and in any case it is impossible. Communications are leisurely, a reminder that the Old World is indeed old. Enjoy the jog trot of the horse cabs in the streets of Naples, Cosenza, Lecce, or Bari, and ask the driver to take you round the sights. The trains, too, are sometimes a quaint survival, but the lively conversation of your fellow passengers is enough to make you forget the wooden seats. Fortunately not all trains are as slow and comfortless as the ironically named accelerati. Each line has a crack train—a rapido — once or twice a day, and often several other expresses. Fares are among the cheapest in Europe; if you are traveling far and frequently, it saves trouble to get a season ticket good for any train in Italy, but it must be bought in the U.S.A.
Most places can be reached by train and bus, but it is quicker to hire a car if you want to see a lot in a short time. Find a small autonoleggio in Naples, where a Fiat 1400 can be got for about $7 a day, and a driver for another $2 if wanted. A big saving can be made on gas by getting discount. coupons from the Italian Automobile Club. Roads are winding and hilly, but usually well-surfaced, thanks to government public works programs for the unemployed.
Bed and board
In its attempt to open up the South, the Italian government has helped to finance improvements to old hotels and the building of startlingly comfortable new ones. There is a chain of sixteen new "Jolly Hotels," built by a Milanese industrialist called Marzotto, in southern towns likely to attract tourists. Any one will give you a map showing where the others are, and by basing yourself on them you ran observe life in the raw without also having to live it. They charge around $2..50 for single room with shower, and $1.50 for a succulent dinner. By southern standards, this is very expensive.
Most of the other hotels lack baths and other comforts, but they are nearly always clean and cheap. They do not generally serve meals, but good restaurants can easily be found by asking a policeman. Experiment in choosing dishes, because spaghetti and veal, the stock Italian diet, can become monotonous. On the coast there are rich and varied catches of seafood; the most renowned fish restaurant in the area is the Pesce Fritto at Taranto, which looks out onto a small inland sea that supplies ninetythree varieties of fish, many unknown elsewhere. A good cheap dish is the Neapolitan pizza or cheese and tomato pie, which you can see being cooked on a shovel thrust into a vast oven.
Wine: the Italians don't take as much trouble over it as the French. The rule is to ask for the local variety and hope for the best. The white wine of Capri and the Lacrima Christi ("tear of Christ") grown on the slopes of Vesuvius are two of the most reliable. If you are at a loose end in the evening, find a cantina and sample a few of the enormous barrels piled up behind the counter.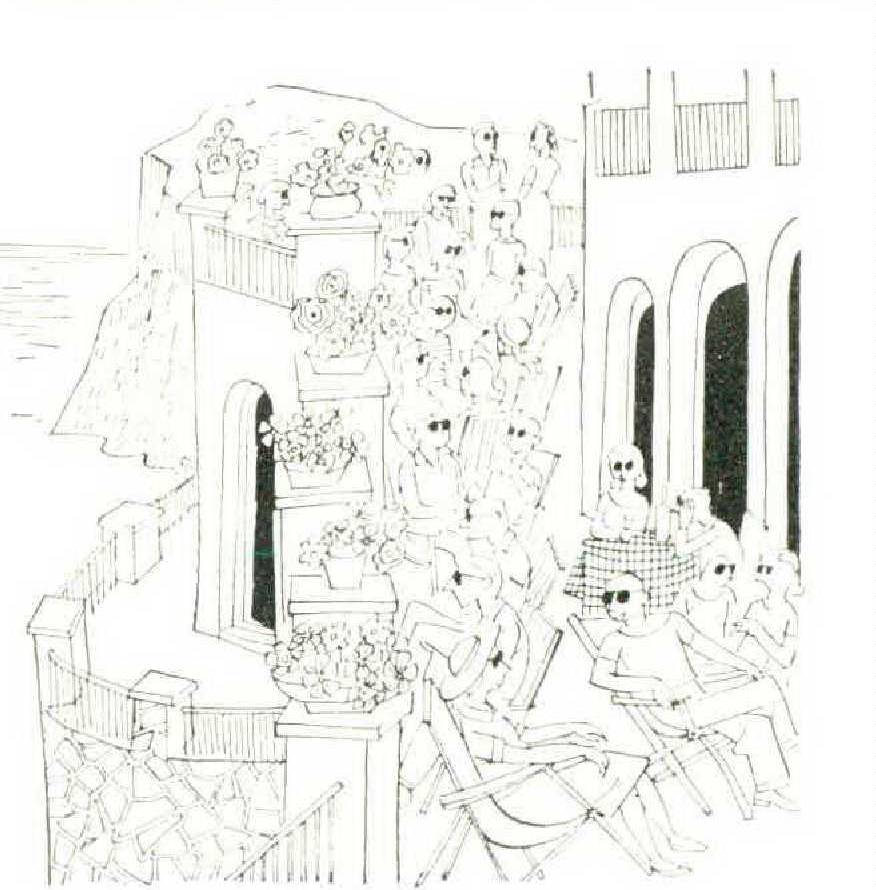 In and around Naples
Naples is the point of departure for anywhere in the South. For anyone not allergic to yells and smells, its slums are the most colorful in the world. In between the festoons of washing that hang across the narrowalleyways like flags for a coronation, you may glimpse the grass-covered dome of a decaying baroque church or a florid obelisk honoring some Counter Reformation saint. The people sit outside their doorways selling anything from hank notes to floor polish, but they still enjoy lalking even if you don't want to do business. The great Neapolitan entertainment is the opera at San Carlo, the only rival to Milan's La Scala; the singers may not be as accomplished but the audience is twice as appreciative, and when a local soprano makes her debut no one can keep count of the encores.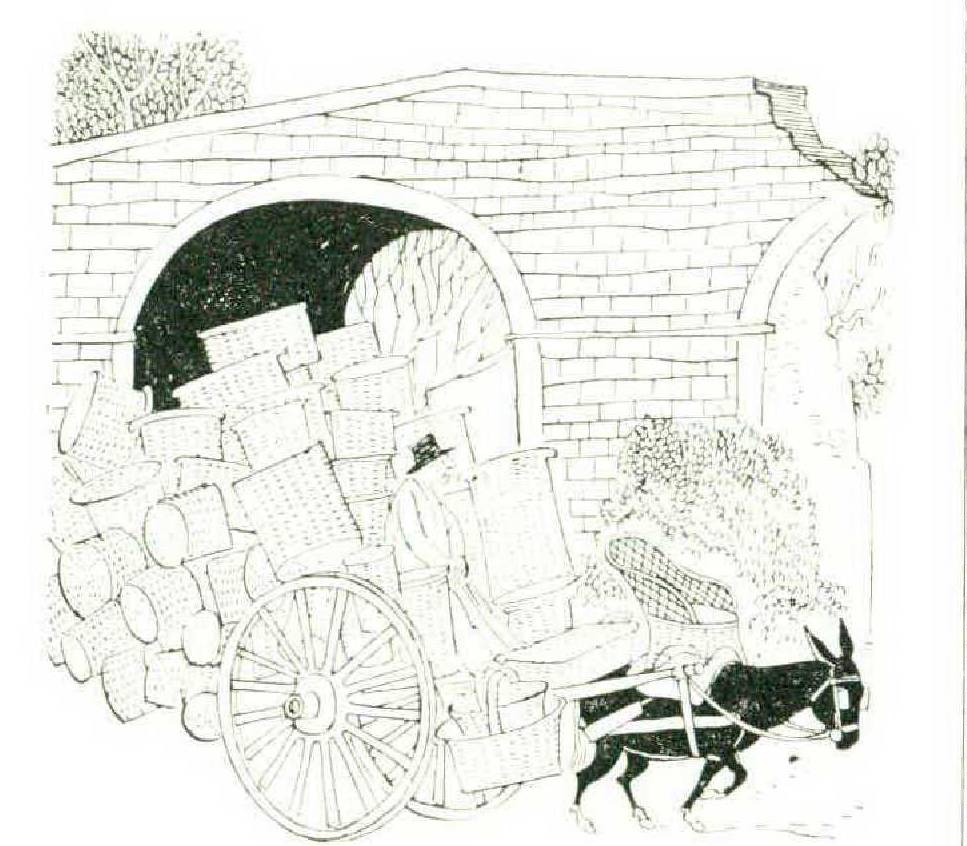 For a marvelous view of the Bay of Naples, take a steamer to the islands, with Vesuvius and the humpy Sorrento mountains on one side and the broken-backed outline of Capri ahead. Capri is so remarkable that no amount of tourists can ever do much to it, which is why they keep on coming. Ischia is quieter, but then it isn't Capri. It all depends on whether you like going where your friends have been or where they haven't been.
Calabria and Lucania
When you move south from Naples, the golden rule is: follow the coast. There is a main road and a main-line railway along it, and all the most interesting old towns are accessible from it if not actually on it. The bestknown resotis on the west coast are Positano and Amalfi, both with excellent hotels perched on mountainsides that plunge down into the sea, but there are many cheaper and lessfrequented places farther down, in Calabria; Diamante, Tropea, and Scilla are the most historic.
Then go down and round the toe of Calabria, and back up the east coast, striking inland to little towns floating like castles in the air, with a panoramic view of the jagged mountains and the hazy blue Ionian Sea. First Gerace, a dead town where a vast Hyzantine basilica dominates the demoted palaces of departed barons; to Stilo, full of talkative peasants who potter about a maze of steep streets sown with churches; to Santa Severina, Rossano, or Serra S. Bruno.
Coming round the Ionian coast, you pass into Lucania, Italy's forgotten province, whose villages, set on hills in a rolling brown landscape, are so little visited that any tourist is surrounded by a welcoming crowd. The priest will gladly show his church and the castle left by some Aragonese war lord. If there is no hotel or restaurant, he will take you to some family which looks after strangers — and a day spent in such surroundings is more revealing than weeks of pre-planned comfort. The most accessible of these villages are Montescaglioso and Miglionico, near Matera, but it is amusing to pick one at random and see what you find there.
Matera itself is the one "must " on any tour of the South. Most of its people live, with their horses and goats and hens, in dark, dank caves hewn out of the face of a ravine. Twisting staircases lead down to them from the new town through gloomy tunnels that gape like the mouths of Hell. Among the caves are rock churches crudely painted with medieval saints. This picturesque scene of Oriental squalor may not last, for many of the cave dwellers are being rehoused in dazzling new flats and model villages outside the city.
Apulia
Returning from Matera to the coast, make for Taranto and Lecce, an isolated gem of baroque art whose churches teem with the most riotous and pagan carvings of plump cherubs, obscene monsters, and jungles of luxuriant leaves and flowers twining up twisted barley-sugar pillars. Above it all, stone saints stand transfixed in ecstatic poses, their arms outstretched as in a melodrama. In few places did baroque ever become quite so exuberant, and nowhere is so much exuberance so closely packed into a small space.
Most of the Apulian plain can be explored from Bari, its main port but much less lively than Naples. The people here are not so poor and the landscape is not so savage as in Calabria, but the cathedrals are among the most remarkable in the world. They are in the thirteenthcentury romanesque style, with grotesque, forceful sculpted facades, elegant Roman columns down the nave, and campaniles towering up above the Adriatic. Trani is the masterpiece, but Barletta, Bitetto, Bitonto, Ruvo, and Molfetta are all within half an hour of Bari, which has two enormous churches of its own in the old fishermen's quarter.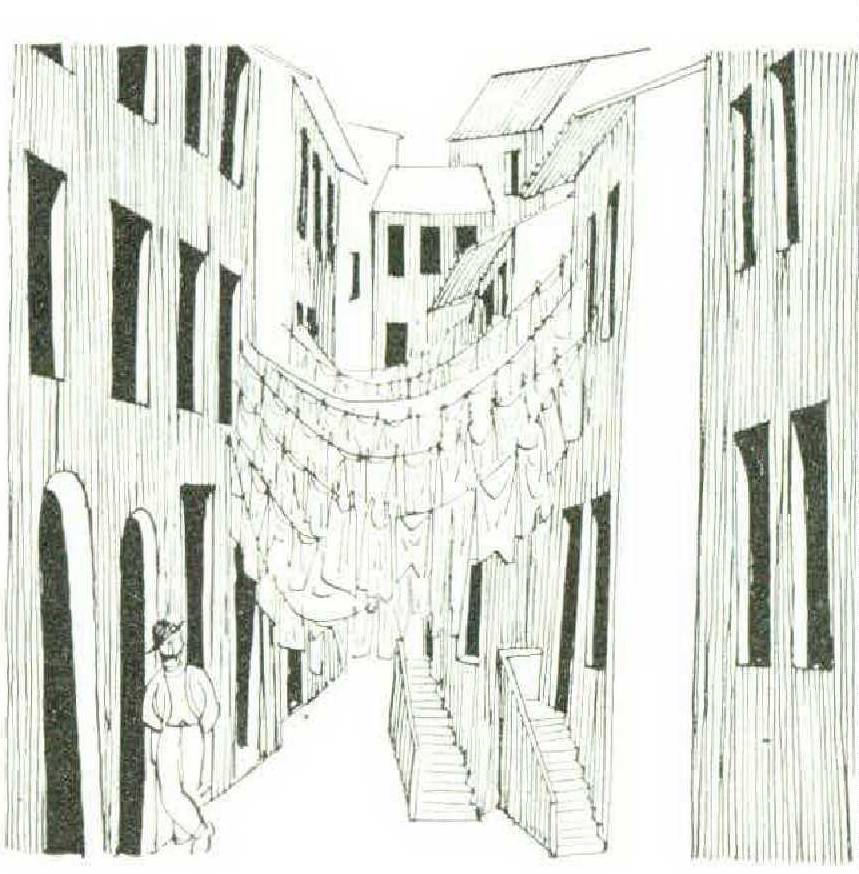 Other fascinating expeditions can be made from Bari to Alberobello, a village of little round houses like something out of a science-fiction tale; to Martina Franca, a peaceful town of whitewashed baroque mansions; or to Castellana, whose grottoes, one made of white crystal, are full of stalactites and stalagmites worn by a weird chance into arresting human and animal shapes.
Information
The Compagnia Italiana Turismo (CIT) has offices in Naples, while in each provincial capital there is an Ente Provinciale per il Turismo, but a guidebook is essential, as official handouts are scrappy and incomplete. Get one which devotes a separate volume to the South; or better still, try to pick up the Italian Touring Club guides in Naples. They are out of print and written in Italian, but there is no substitute for them (Baedeker missed a lot by seldom leaving the railway). Norman Douglas's Old Calabria and Siren Land are both scholarly and entertaining on the people and their customs and legends. Christ Stopped at Eboli by Carlo Levi is a black picture of life in bleakest Lucania. Newest and most complete is Sean O'Faolain's South to Sicily. For advance information, contact the Italian State Tourist Office, 21 East 51st St., New York 22.
Louis MCINTOSH