Buttons Are an Extra
MICHAEL JACKSON lives at Laguna Beach, California, where he is the editor of a weekly newspaper. He is the author of two noveln and has written for the films and radio.
by MICHAEL JACKSON
BUSINESS journals report that Detroit is overloaded with new automobiles. Sales are way down. The men's clothing business, on the other hand, is booming. A readjustment in industry is inevitable. The way I see it, auto dealers will simply move into the men's wear field. Soon the typical transaction will go like this: —
Man, viewing television commercial, calls excitedly to wife: "Cynthia! It's the opportunity of a lifetime! Friendly Frank, the Merry Men's Wear Dealer, is offering suits, complete with buttonholes, for a down payment, of only two dollars and twenty-eight cents."
Cynthia rushes into the room to throw her arms about her husband. "Oh, Winlhrop!" she exclaims. "That is a truly amazing offer, one that no budget-minded family can afford to miss!"
"Not in these days of soaring prices," Winthrop agrees. "Whal's more, Friendly Frank says to come on down right now, while he can still make this astounding offer. Friendly Frank is losing on every deal."
"Then won't Friendly Frank go bankrupt?"
"He must sell fifty suits by Sunday to reach his quota. Cynthia, let's be realistic about this. What is Friendly Frank's loss is our gain. He says to rush to his convenient location immediately, just as we are."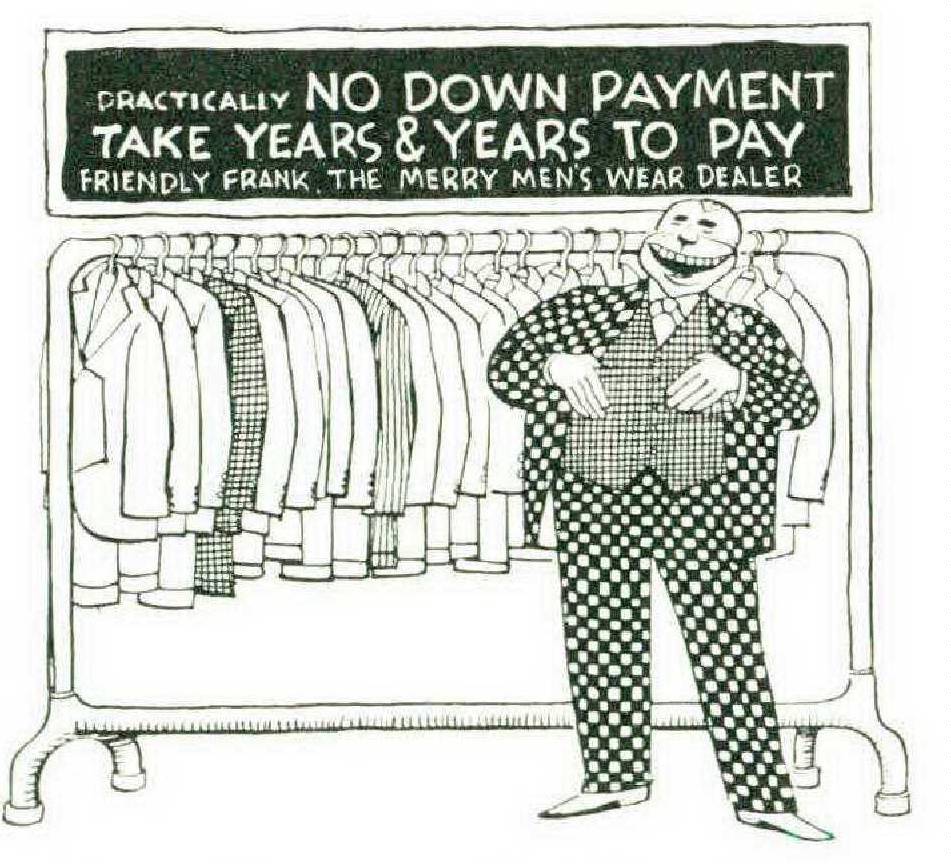 "In this old Dior?"
"Yes. At Friendly Frank's they are all Just Folks. You are always welcome to stop by and say howdy and introduce yourself."-
"Then let us hurry before this truly fabulous offer is withdrawn."
They run to their car and speed toward Friendly Frank's.
"Think of it, Cynthia," says Winthrop. "For the cost of no more than a pack of Sen Sen a day, I will be able to move up from a two-button suit to a three-button Super Style Ivy League Executive model, lapels optional."
"Oh, it's the prestige model of the year," Cynthia agrees. "Pricewise, it's economical, too. Tests prove that the charcoal gray high-style threebutton Ivy Leaguer can be worn to an average of fifteen teas, five cocktail parties, or two sales conventions without requiring cleaning or pressing."
Their laughter turns to solemn quiet. All the suits might be sold before their arrival. But Cynthia and Winthrop are in luck. Friendly Frank's is brightly lighted, and there are many new suits on the racks. Winthrop, a shrewd number, kicks one of the suits, then walks around it, an expression of disdain on his face. A salesman says, "Howdy, folks.
"Howdy, folk," replies Winthrop. "I am Winthrop Addington Astoria the Third, polo player, collector of first editions, member of the Stock Exchange, and popular in the International Set. This is my wife."
The salesman takes their trade-in suit. "Oh, I can see you are folks all right, and you got yourself a deal. Sign here. Payments start the thirtyfirst."
"How long do the payments last?"
"Now don't you fret your head about that none," the salesman assures them. " Before you know it, your children will be able to takeover live payments. After that, your grandchildren can make the payments. Why, those little rascals will be grown up before you know it. It's the American way."
"Well, how much am I allowed for my trad e-in suit ?"
"Nobody's wearing pin-stripes today," the salesman says. "I can't, give them away. But I'll allow you four dollars for it anyway, and take It out of my commission."
"But Friendly Frank said on television I could get up to ninety dollars."
"Oh, not when you buy the Super Style Ivy Leaguer. I can give you ninety dollars against one of our onelegged pants suits, but you don't want no one-legged suit. That's only for a one-legged man with a small family. Tell you what I'll do, though. I'll allow you four dollars and fifty cents, and give up eating lunches for a week."
The salesman takes the new suit from the rack. On the back, in silverchrome thread, are stitched the words: Ivy League Super Style. In the breast pocket is a handkerchief with Friendly Frank, The Merry Suit Dealer sewn in black.
"You get the handkerchief free," the salesman explains. "Yougot yourself a real good suit here, a nice threebuttonhole job. What you ought to get is some buttons. A coat looks better with buttons. Besides, they'll come in handy when you want to button your coat. Buttons are fifty cents apiece. We can let you have some small buttons for the cuffs at ten cents apiece, labor extra. Now, unless you want to take a chance of tripping in dangerous wet weather, my advice is that you get those pants shortened. I can give you an estimate on that right now. With flaps on the pockets and notches in the lapels, plus center vent, the whole suit won't come to much more than one hundred and thirty-eight, ninety-nine, plus interest."
Cynthia and Winthrop are perplexed. "This is more than I had expected," Winthrop says weakly, "Perhaps we'd better think this over."
"You signed the contract," the salesman says. "Soon as you take it off the rack it's a used suit. Tell you what I'll do, though. I'll take it back on a trade-in against a six-button, peak lapel, double-breasted C hairman of the Board Bin-stripe that will cost you no more than the price of a chicken dinner a day."
"No," says Winthrop. "I'll wear the Ivy Leaguer till the Fifty-Eights come out."
"Okay, then. And that will be five dollars extra for the synchromeshamatic zipper on the fly. If you don't put your pants on slow the first live hundred times, we do not guarantee the zipper." The salesman walks to the door with them. "Sure been nice dealing with you folks. Here at Friendly Frank's we are always glad to carry your suit out to your car. Carrying charges are only 6 per cent, so you might as well enjoy this friendly service. Hurry back, now."