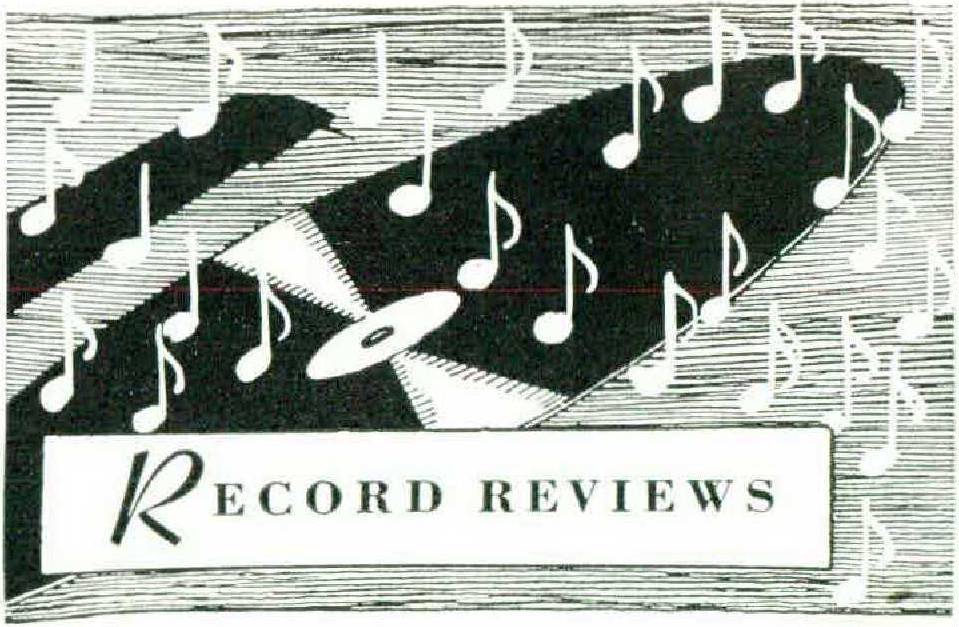 by JOHN M. CONLY
Beethoven: Overtures:Leonore,Nos. 1, 2. and 3;Fidelio; Coriolan (Charles Munch conducting Boston Symphony Orchestra; RCA Victor LM-2015: 12″). The matchless sound of the BSO may never have been better captured. The interpretation features vigor and an unexpected dryness; the lyrical plaints with which Beethoven set off his bursts of drama emerge neither lyrical nor plaintive.
Beethoven: Symphony No. 3, "Eroica" (Otto Klemperer conducting Philharmonia Orchestra; Angel 35328: 12″). Some critic once described Klemperer's pace — in the "Eroica," if memory serves — as klempering, which can be translated as going mighty slow. Throughout this record, except in the scherzo, he klempcrs. The funeral march gains by it, or at least doesn't suffer; the protraction of the beat allows certain subtle temporal modulations that heighten the dramatic effect, and we suddenly sec what Wagner owed to this movement. The first movement survives the treatment, emerging monumental but static; the finale loses its Promethean character and sounds like Weber. The reproduction is brilliant but, to my car, a little harsh. Acquaintances tell me the Philharmonia sounds that way, especially in the Royal Festival Hall. I do not know where the recording was made. Shoppers should hear also the Leinsdorf-Enlré, the Reiner-Rwiner-RCA, and (if it be now available as a single) the sonically renovated Toscanini-RCA.
Beethoven: Symphony No. 7;Fidelia Overture (Fritz Reiner conducting Chicago Symphony Orchestra; BOA Victor LM-1991: 12″). Now there are twenty Seventh Symphonies in the catalogues, and not one comes very close to perfection. This latest is much the richest and most lustrous sonically, and its inner movements are unexceptionable in performance: strong, temperate, vital. However, the mystical surge of the introduction and the quasi-Celtic fierceness of the finale both are weakened by an excess of speed, uncharacteristic of Reiner in past performances and rather puzzling. The Fidelio Overture, a bonus, is well played and recorded.
Brahms: Piano Concerto No. 2 (Rudolf Serkin, piano; Eugene Ormandy conducting Philadelphia Orchestra: Columbia ML-5117: 12″). From Mason Jones' lofting of the introductory horn phrase, one can almost tell that this is to be a noble and eloquent performance, and so it turns out. Unfortunately, Columbia has of late adopted an oddly intimate microphone technique, the product whereof is dubbed "360 Sound," which is peculiarly unsuited to the Philadelphia Orchestra playing Brahms. At least, this is so when the reproducing system is a good one; through a small table-top phonograph the effect may be very "hi-fi." Even on legitimate high-fidelity equipment, Serkin sounds first-rate when he can be disentangled aurally from the first violins. No such effort — it may fairly he pointed out — is required when one listens to the version by Rubinstein and Munch on RCA Victor.
Brahms: Violin Concerto (Zino Francescatti, violin; Eugene Ormandy conducting Philadelphia Orchestra; Columbia ML-5114: 12″). Francescatti plays fondly and knowingly, and the orchestra abets his efforts grandly, all of which is negated by the undue closeness of the microphoning. Otherwise this version might well outpoint those of Milstein and Steinberg for Capitol and Heifetz and Reiner for RCA Vidor. Even so. it is worth comparing with them or any other.
Cherubini: Requiem Mass in C Minor (Arturo Toscanini conducting Robert Shaw Chorale and NBC Symphony Orchestra; RCA Victor LM2000: 12″). For some reason, the Cherubini C Alinor Requiem always puts me in mind of Boito's Mefistofele, though I cannot isolate the similarity, if any. It seems an application of lateBeethovenian style to sixteenth-century liturgical aims, yielding an effect at once sober and intensely dramatic. I like it very much indeed, especially as conveyed by Toscanini in this recording, which I would not suspect of being a 1950 broadcast transcription unless someone told me.
Copland: Twelve Poems of Emily Dickinson with Weisgall:The Stronger (Martha Liplon, mezzosoprano, with Aaron Copland, piano, in the Copland; Adelaide Bishop, soprano; Alfredo Antonini conducting Columbia Chamber Orchestra, in the Weisgall; Columbia ML-5106: 12″). The Weisgall, a sort of monologue mini-opera, very cleverly sets to music a short story, triangular in plot, of a sort very familiar to veteran readers of the New Yorker. Enough said. The Copland setting of Dickinson poems is more important. It never becomes compelling, but it shouldn't. The poems would resist an infusion of color; Copland has intelligently confined his efforts to inflecting and framing them musically, which will not seem an effort at lily-gilding after you have listened a time or two.
Dvorak: Symphony No, 5, "From the New World" (three versions: Eugene Ormandy conducting Philadelphia Orchestra; Columbia ML-5115. Ferenc Fricsay conducting RIAS Philharmonic Orchestra; Decca DL-9845. Conductorless Symphony of the Air; Presentation Album No. 2. Each 12″). Fricsay lends his Berliners in a European reading of this Slavonic-American work. The key themes are de-emphasized; the pace is made to fit Middle European folk meters; the result is beautiful if a little unfamiliar to American ears; both orchestra and engineers were at their best. The Philadelphia sound is big, close, and sleek; the performance vigorous and conventional.
It is the third of the versions to crop up this month, however, that offers the real excitement and that seems to me to be — contrary to all expectations — among the best "New World" symphonies in the catalogues. The Symphony of the Air is the nucleus of the Toscanini-trained NBC Symphony, plus a few replacements and minus Toscanini. Here they play without any conductor at all and — it may be a fluke &emdash to fantastically good effect. Occasionally they sound a little metronomic; once in a while there is a hint of roughness. But the astounding overall result is a "New World" musically warmer in feeling and more dramatic in execution than the one they made in 1953 with their beloved Maestro on the conductor's stand. This may be revolutionary. They sound rather as if they were playing, and sensing each other's musical judgment, much as might, say, the Budapest Quartet or a top-notch jazz ensemble. No one, so far as I know, ever has bothered to conjecture how a full symphony orchestra might perform, playing in voluntary consensus. If this is a reliable sample, I heart fully hope we may have more, and suggest they try us with a Beethoven Fifth next year.
Vitally significant to the merit of this recording is one special member of the orchestra — David Sarser of the second violins, sometime audio consultant to the Toscanini household, now audio director of the NBCTV Opera Theater. He served as engineer for the recording, and he achieved a marvel, something I am hard put to believe in when I am not actually hearing it. It is one of the best orchestral recordings I ever have listened to, and I have listened to several thousand. If you want to hear it, it will cost you $12 — a failprice — which will be expended on the broad institutional aims of the Symphony Foundation of America, Room 1101, Carnegie Hall, New York 19, N.Y.
Handel: Organ Concertos Op. 4, No. 2 and No. 5; Op. 7, No. 1 and No. 5 (Lawrence Moe, organ; Klaus Liepmann conducting Unicorn Concert Orchestra; Unicorn LP-1032: 12″). This is one of several records somewhat pompously labeled "Music at M.I.T." It was recorded in the brand-new M.I.T. chapel, which was designed for optimal audibility according to all known applicable scientific principles and which seems to be rather well thought of as a listening spot, though it has its critics. Its appurtenances include a modern organ of Baroque inspiration, on which Mr. Moe has played these concertos. He does them very well, with the tasteful assistance of Mr. Licpmann's string players, and if you want a pleasant bouquet of Handel, you can hardly do better. Peter Bartók made the recording.
Massenet: Manon (Pierre Monteux conducting Victoria do los Angeles, Henri Legay, Michel Dens, other soloists; Chorus and Orchestra of the Opéra-Comique; RCA Victor LM-G402: four 12″ with libretto). The plot of the Abbé Prévost″s Story of the Chevalier des Grieux and Manon Lescaut — two people falling in love as they sink into iniquity — was so simple and foolproof that it was bound to be incorporated in operas, and was. Two of the operas, Puccini's and this, were real successes. The appeal, in Massenet's conception, is to the bourgeois thirst for escape from propriety. We are still bourgeois enough to empathize with this, though Alee Guinness now has persuaded us that the urge is not necessarily punishable by death, as it was deemed in Massenet's day. Monteux throws himself and his cast wonderfully into the spirit of the talky little tragedy, and it becomes irresistible; no other Manon can compare. The recorded sound, too, is irreproachable.
Nielsen: Symphony No. 3, "Espansiva" (John Frandsen conducting vocal soloists and Danish National Orchestra; Epic LC-3225: 12″). Nielsen's music is not very quickly assimilable, but it sticks with you; the themes recur in your mind. All of it. is positive; the techniques are bent to the service of the ideas. The main idea, easily sensed, of t he "Espansiva" is vitality — big, good-humored, unhurried, at once relaxing and fortifying, good to have around. The recorded sound is fittingly spacious, and the performance devoted and understanding.
Puccini: La Bohème (Sir Thomas Beecham conducting Victoria de los Angeles, Jussi Bjoerling, Robert Merrill, other singers; RCA Victor Symphony Orchestra and Chorus, Columbus Boychoir; RCA Victor LM6042: two 12″ with libretto). Here is a disappointment: Sir Thomas has outgrown his tolerance of melodrama. One must be a little naive thoroughly to enjoy La Bohème even as a listener. Sometimes it takes an effort, and presumably it takes an even greater effort for a conductor to commit himself to its pleasant absurdities. Sir Thomas eschewed the effort, apparently, and went hunting musical values. He found some — the orchestral performance is breathtaking — but they do not add up to an opera, and as a cantata La Bohème is a flop. Justice compels me to add that the recording is excellent.
Rachmaninoff: Concerto No. 2: Rhapsody on a Theme of Paganini with Grieg: Piano Concerto and Liszt: Concerto No. 1 (Artur Rubinstein, piano; Fritz Reiner conducting Chicago Symphony Orchestra; Alfred Wallenstein conducting RCA Victor Symphony Orchestra; RCA Victor LM-6039: two 12″). This was Rubinstein's fiftieth year of concert piano playing, and to mark it he put on an awesome display of concerto performances last winter in New York and Chicago. (In Now York he played seventeen in two weeks!) RCA Victor astutely exploited this artistic spree by recording the Great Man in three concertos and the rhapsody when he was fresh from presenting them in concert. He has never been in better form; his energy — let out or channeled into quiet intensity — sometimes is almost alarming, but it never bursts the composer's intent.
However, no one else plays these works exactly as he does, and one buys the package for Rubinstein (which is plenty of reason) rather than for perfect, selfless realization of the musical aim. The Chicago Symphony sounds fine in the two Rachmaninoff works, the RCA Victor ensemble rather wan, by contrast, in the Grieg and the Liszt.
Saint-Saëns: Symphony No. 3 (André Cluytens conducting Paris Conservatory Orchestra and Henrietta Roget, organ; Angel 35336: 12″ Saint-Saens and d'Indy tried to stem the tide of Debussy's Impressionism by demonstrating that the old approaches still could find fresh beauty. The Third Symphony was Saint-Saëns' major effort in this campaign, and so far as I am concerned he succeeded. The second movement here, as convoyed by the Parisian orchestra, Mlle. Roget, and Angel's inspired engineers, infuses the listener with what I can only describe as a feeling of pure, sensuous glory: it stirs nothing in the intellect, but it drowns all other wants and wishes in its own swirling gorgeousness. There will be, I am sure, versions of this work forthcoming soon from the Boston Symphony Orchestra (RCA Victor) and the Philadelphia Orchestra (Columbia), but I still think it is safe to buy now.
Schumann: Piano Concerto;Kinderscenen (Walter Gieseking, piano, with Herbert von Karajan conducting Philharmonia Orchestra in the concerto; Angel 35321: 12″). The major competition for this is the Novaes (Vox) record offering t the same fare, and it is sonically comparable, too. Between the pianists I could not choose, but Karajan and the Philharmonia have a distinct edge on Hans Swarowsky and the Pro Musica Orchestra of Vienna, so I am propelled toward the Angel disk. Just the same, I'd want to listen once more to both if I were buying.
Verdi: La Traviata (two versions: Pierre Monteux conducting Rosanna Carteri, Cesare Valletti, Leonard Warren, other singers, Rome Opera Chorus and Orchestra; RCA Victor LM-6040: three 12″ with libretto and the complete novel Camille by Alexandre Dumas. Tullio Serafin conducting Antonietla Stella, Giuseppe Di Stefano, Tito Gobbi, other singers, Chorus and Orchestra of Teatro alla Scala; Angel 3545 B/L: two 12″ with libretto). It is very hard to choose between these two sets. Even in price there is only a dollar's difference, which buys you Victor's extra record (used chiefly to permit wider groove-spacing and bigger dynamics) and the twelve-by-twelve soft-cover Camille. Antonietta Stella sings Violetta a little more easily than Rosanna Carteri and, it seems to me, acts the role a little better, especially in the big scenes. The same thing can be said for Angel's Alfredo and Germont, Giuseppe Di Stefano and Tito Gobbi, though Valleti and Warren are both very good, and the latter's voice excites through sheer power. So it may be Tullio Serafin's guiding hand that gives the dramatic edge to the Angel. To counterbalance this, there is no doubt that Monteux gets more out of his orchestra and much more out of his chorus (a better chorus, too) than Serafin. Further, Victor's fidelity is a good deal higher than Angel's, which is marred by occasional microphone hoots. The styles of presentation differ, too. Victor gets a quite credible opera house perspective. Angel's atmosphere is much more intime and phonographic; thee singers sing right into your living room. Neither is quite so impressive sonically as last year's London version, whose other chief asset is Renata Tebaldi's voice, but for overall operatic value, the choice is between the new ones.
The President's Favorite Music (various soloists, conductors, and orchestras; RCA Victor LM-2071: 12″). RCA Victor's George Marek and Alan kayes, it says here, worked carefully with the Committee of Arts and Sciences for Eisenhower in the preparation of this record, which was Mr. Marek's idea and ought to make a mint of money. It would be interesting to know which of the selections the President really chose himself and which the C.A.S.E. chose for him, but we never will. The selections include Stokowski playing BachStokowski; Munch-Boston playing the Coriolan Overture; Reiner-Chicago playing Fingal's Cave and the Fledermaus Overture; Ficdler-Boston Pops playing a Porgy and Bess synthesis; Leonard Warren singing Di Provenza il mar, Marian Anderson singing He's Got the Whole World in His Hands, and Al Goodman playing High Noon, all in beautiful recording. I predict that Columbia Records, Inc., will vote the Stevenson ticket to a man.
Soundproof (Arthur Ferrante, Louis Teicher, pianos; Westminster WP-6014: 12″). The subtitle — "The Sound of Tomorrow Today" — and the jacket adornment (flying saucers) and text generate a sort of horrified suspense. Ferrante and Teicher, sometimes billed as the Hi-Fivories, use two pianos gimmicked up somewhat in the John Cage manner, but more lightheartedly. Further, they use seventeen microphones, four six-channel mixers, three amplifiers, and two tape recorders to fructify their musical efforts. The result is not monstrous, because they also apply good taste and humor. The sound is unique and sometimes gently weird, but almost always musical and appealing. The material employed in the trickery here consists of popular themes, from Greensleeves to Mississippi Boogie.