Oh, I Just Write Verse
C. S. JEWISON has indeed written and published verse "in most of the magazines" under her maiden name of Kaye Starbird, She lives with her husband and three daughters in Shelburne, Vermont.
by C. S. JENNISON
ONE morning when I was eight years old, I woke up while the rest of the family were still sleeping. I went over to the dresser and picked up a sweet-grass Indian basket that I kept there and took it back to bed with me. The basket contained a lot of my more interesting treasures — like a purple silk handkerchief with my name printed in one corner, a souvenir replica of the Statue of Liberty, a miniature pencil on a chain, a crumbling four-leaf clover or two that I had pressed the preceding summer, and a scrawled love letter from my first articulate admirer. There was also an elaborate blue satin bedcap with crocheted inserts of lace that the maid had perpetrated with her own hands and given me for Christmas.
After thoughtfully examining and admiring the contents of the basket, I took out the pencil, the bedcap, and the love letter. I put on the bedcap, adjusted it in the mirror, and picked up the pencil. Then I began composing verse on the back of the envelope with the love letter in it. That was the beginning of what you might call my writing experience. I don't know why I considered the bedcap part of the necessary equipment, unless I felt that it lent romance. Anyway, by the time the rest of the family were stirring, I had penned these immortal lines: —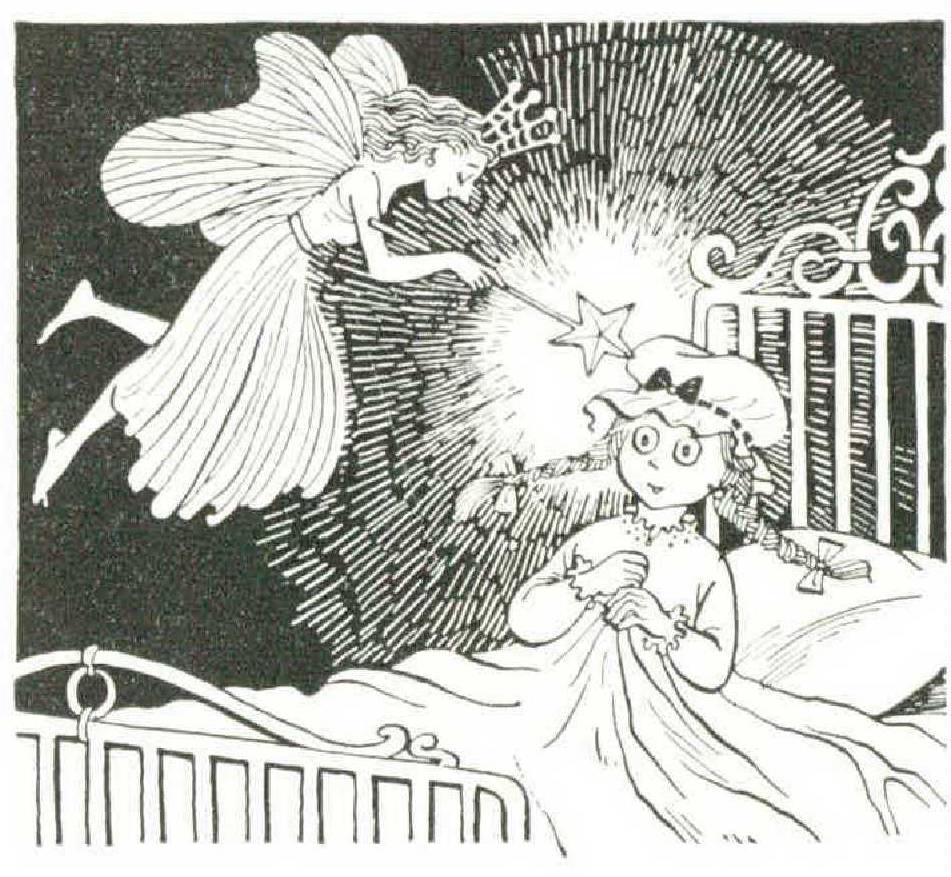 Here I sit on the river bank
Watching a fish that just now sank.
If I had only but had a line,
The great big fish would now be mine.
The third line didn't entirely please me, but on the whole I felt that I had done rather well. Clara, the maid, to whom I later read my effort, was delighted that it had all happened in her bedcap. She predicted a great future for me.
Everyone else in the household, though intrigued at first, by the novelty of the thing, eventually stopped looking up from whatever he or she was doing to hear me recite my continuing struggles with rhyme. My father would mumble "Fine, fine,"and keep on reading the newspaper. My sister and brother didn't exactly say, "Aw, who cares?" but they didn't sit and listen, either. My mother inevitably responded with "I'll hear it later, dear," in the absent-minded manner I deplored at the time and now use with my own children.
But spurred on by mild acclaim from friends and teachers, I kept using up notebooks, printing each page with great care and thoughtfully recording my age and the date for future biographers. Occasionally I enlivened the margins with hurried illustrations in crayon, to remind later generations that I was no oneshot personality.
All this work obtained its reward in my sophomore year in high school, when I received five dollars for a poem entitled "Sylvan Glade," which began: —
Follow the path along the stream
Happy and tree at dawn. . . .
I went through a lingering "dawn" era during my high-school years, which was a little hard to explain, in view of the fact that my father had to stand me on my feet and hide the bedclothes if he wanted to get me up in time for school at nine o'clock. The dawn influence continued through my senior year, when I wrote the class poem, "We Are Marching Away Through the Dawning." The poem went on to say that all of us seniors (to the great surprise of most of them, I'm sure) were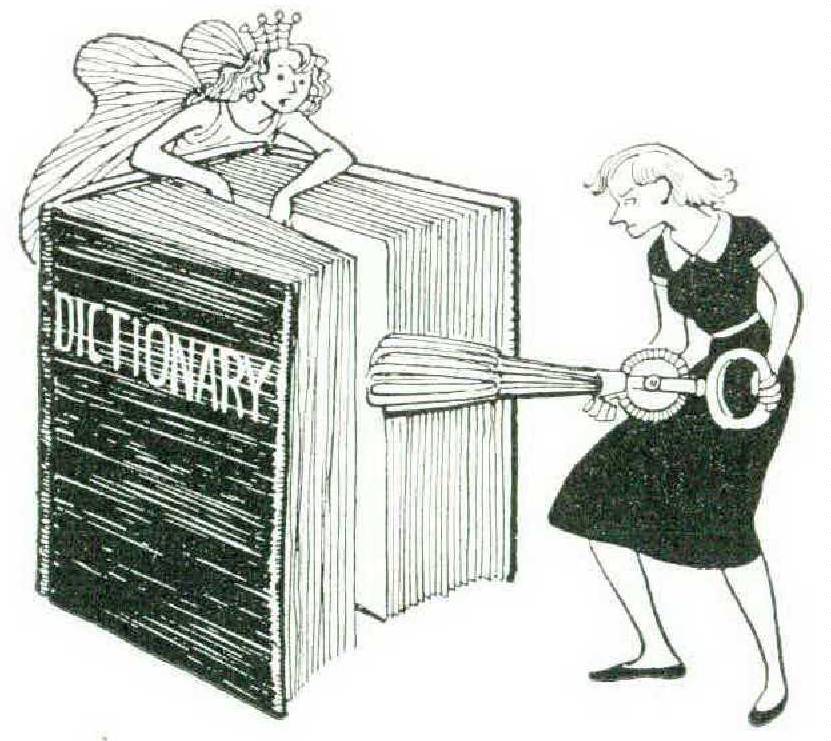 Searching the world as we travel
For a spot near a green river's bend,
Where the shades of the rainbow unravel
And the pot of gold lies at the end.
As I delivered these ringing words on Class Night, my younger sister, who felt it was bad enough to write such stuff without exposing it to the public, laughed in a noisy, embarrassed way in the back of the auditorium.
During my college days, my mother — being essentially kind — tried to show her interest by greeting my work in the college paper and any rare magazine acceptances with "I always did like that one, dear."This would have been a marked improvement in audience reaction except that she had usually never heard the verses hi question, in spite of having been chased around the house with them several times.
When I married, having given up no career whatsoever, I was still composing and publishing a number of insincere sonnets, dealing with my favorite subject — unrequited love. I had developed a pretty salable style of poetic heartbreak in college, and it was a difficult habit to lose.
Though this was a purely literary thing and had nothing to do with my contented real-life status, my husband pointed out that — much as he hated to become my Severest Critic — I was turning him into a cad in the eyes of his friends. I recognized this as a legitimate complaint and reluctantly abandoned my idea of new slipcovers and tried to direct my thoughts into higher, less remunerative channels.
Since the morning in the bedcap, I have discovered a few facts about verse-writing, which I record here For Whom It May Concern. Anyone who is not a successful song-lyric writer is unlikely to make a fortune at rhyming. Because I had a broken (I might even say fragmented) heart during my teens, I decided to try some popular songs myself. One lyric I particularly liked was entitled "I'm No Oracle About Your Ventricle, What's Going On in Your Heart?" In spite of the fresh approach, I was never able to sell it.
For years I wore a sensitive expression and struggled to be a Serious Poet. A careful and lengthy perusal of the intellectual magazines convinced me that in order to be successful at this, I should have to write unintelligibly. Since I have nobody to take notes when I talk in my sleep, I use the only other method I can think of to achieve good results. This is to open my Webster's at random and copy the first word I see, adding — like sugar on scrambled eggs — whatever unlikely adjectives I can throw in. Thus: —
The languorous menace of the kangaroo Purple
With tedious enchantment
Propels the hinge of autumn.
Hearing only the nervous breakdown of the preying mantis,
I crumble my biscuit into the swimming pool.
No, no butter, thank you. . . .
Pretty, isn't it? Deep, too. Unfortunately, the mood is spoiled by the part about the butter. Sooner or later, my natural instincts come to the surface and I put down something that makes sense. You can't get into the better magazines that way.
Occasionally I write light verse, but I find it a risky occupation. There is nothing like trying out a particularly hilarious effort on a discerning friend and waiting in vain for the ensuing laughter. I imagine a number of alcoholics have gotten off to a flying start after an experience of this sort. The juvenile market appealed to me briefly, but the feeling was not mutual. I was more interested in whimsy than engineering, and had neither the patience nor the interest to study up on diesels or jets. Besides, I thought I was a little old to enroll at M.I.T. Frankly, Murray the Mack Truck and Wesley the Washing Machine leave me cold. I am about to look into the greeting-card market.