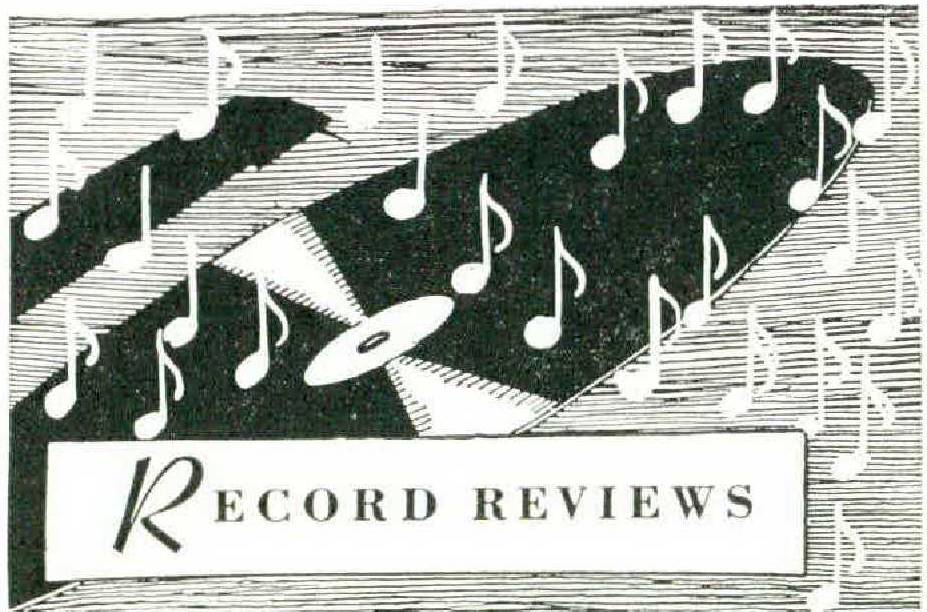 by JOHN M. CONLY
Bartók:Cantata Profana;Slovak Folk Songs; Songs from Twenty-Seven Choruses (in the Cantata, Waller Süsskind conducting soloists, New Symphony Orchestra and Chorus; in the Songs, Margaret Hillis conducting the Concert Choir; Bartók BR-312: 12"). Nice contrast: the cantata, based on a fairy tale of nine sons who ran away from their parents into the forest and were changed to deer, is savage, dramatic music; genuinely top-notch Bartók. The folk songs' great asset is lyrical charm, conveyed in crystal purity by Miss Hillis's New York singers, whom Peter Bartók recorded a little better than he did the London performers. Altogether, delightful.
Delius:Sea Drift; Paris (Sir Thomas Beecham conducting Bruce Boyce, baritone, BBC Chorus, Royal Philharmonic Orchestra; Columbia ML-5079: 12"). Whitman's Out of the Cradle Endlessly Rocking, the midportion of which forms the text of Sea Drift, always has been able to melt me; so if Delius's setting of it were not fitting it should affront me, and it doesn't. The febrile beat of Whitman's threnody is slowed, but the end effect is preserved, partly through the efforts of the invaluable Sir Thomas. The performance of the austere night-piece, Paris, is equally well wrought, and the sound given both is vivid and strong.
Mozart: Divertimento No. 15 in B-flat; Symphony No. 39 (Arturo Toscanini conducting NBC Symphony Orchestra; RCA Victor LM2001: 12"). The symphony, driven at a hectic pace and ill recorded, seems to me more a curiosity than a bargain, but the divertimento is one of the great Toscanini records. It lacks one movement and was initially recorded in 1947, but Toscanini is said to have made it to show other conductors how Mozart should be conducted. I (no conductor) enjoy the lesson enormously, especially since the sound has been handsomely renovated.
Mozart: Symphonies No. 33 and No. 40 (Karl Münchinger conducting Vienna Philharmonic Orchestra; London LL-1285: 12"). No. 40 is the important member of this pair, and Münchinger's version probably is the most nearly satisfactory now on disks — strong, tasteful interpretation; beautiful, clean sound. Still, a moment's listening to Columbia's old, muffled Beecham performance inspires caution — Sir Thomas is still in action. Cheerful No. 33 in Münchinger's playing and London's splendid sound is without real competition.
Schubert:Schwanengesang (Hans Hotter, baritone; Gerald Moore, piano; Angel 35219: 12"). As everyone points out, Swan Sony is not a true cycle, but fragments of two arbitrarily wed by a publisher. No matter, it contains some of Schubert's most marvelous songs (Der Doppelgänger and Aufenthalt, for instance), and I cannot imagine how they might belter be set forth than through the faultless joint artistry of Hotter and Moore. Angel's fidelity is properly angelic.
Schubert: Sonatas in B-flat Major (op. Posth.) and A Major (Paul Badura-Skoda, piano; Westminster WN-18154: 12"). It is possible that the posthumously published B-flat Sonata is the greatest piece of music Schubert ever wrote; certainly it stands high among his works. At least five good recorded performances have preceded Badura-Skoda's, but his strikes me as slightly the best, an impression abetted by Westminster's glowing sound. The early, lilting A Major receives treatment equally kind.
Sousa: Marches (Maj. F. H. Harris conducting Band of the Grenadier Guards; London LL-1229: 12"). The Grenadier Guards march in a cadence slightly slow to American ears, much to the benefit of Sousa's obligatos and other subtletics, which hero really are heard. Ten of the best-known marches are played, in big, ringing, spacious sound, exactly right. One of the two best band records I've ever heard.
The Art of Aksel Schiøtz (Aksel Schiøtz, tenor; orchestra conducted by Mogens Wöldike and Fgislo Tango; RCA Victor LM-1968: 12"). Certainly one of the most musicianly tenors of any age, Aksel Schiøtz still is singing, but with a voice impaired by a recent throat ailment. Here he is shown at his astonishing best, in nine arias reprinted from 78s. They are from operas and oratorios of Mozart, Haydn, Handel, and Bach, and one Buxtehude cantata. Old admirers of Schiøtz will take their cue from my telling them that among the treasures are Aperite mihi portas justitiae, Every Valley, Il mio tesoro, and Ich will bei meinem Jesu wachen. And there'll be some new admirers when the record gets around The sound varies from good to fair. Note to singer-listeners: Schiøtz really is singing full-voice here, despite the almost incredible effect of ease.
How to Pick a Wedlock (Kaye Ballard, Stanley Prager, John Haymer, actor-narrators; incidental music; Vanguard VRS-9005: 12"). This is adapted from the recent book by Ira Wallach, author of HopalongFreud and other humorous volumes. These failed to convulse me, but the record never does, though I've listened through it four times (guests, you know). It is a hilarious spoof of the "scientific" approach to the problems of love, marriage, and the family, complete with sound effects and formulae (in one formula, "P" equals philately, if that gives you any idea). In most part the humor is subtle and very urbane, and will seem funniest to people who are pretty well in touch with what is going on in their world.
T. S. Eliot (T. S. Eliot, reading selections from his own poetry; Caedmon TC-1045: 12"). Mr. Eliot's almost but not quite toneless voice is eminently appropriate to most of what he reads on this disk, which includes The Love Sony of J. Alfred. Prufrock, Portrait of a Lady, and excerpts from Coriolan, Murder in the Cathedral, and Family Reunion. Apparently he has tried to avoid sameness by choosing excerpts which span his creative life thus far, and there is adequate variety.
Kipling: ThreeJust-So Stories;Excerpts fromThe Jungle Book (Boris Karloff, reader: Caedmon TC1038: 12"). If you have children, use it as an excuse to buy this record, which you will enjoy immensely. Seldom does anyone do anything so well as Karloff reads " How the Whale Got His Throat," "How the Camel Got His Hump," "How the Rhinoceros Got His Skin," and portions of "Mowgli's Brothers." Kipling wrote on two levels, to entertain parents who were entertaining their children - and you may have forgotten how well he succeeded. I had.