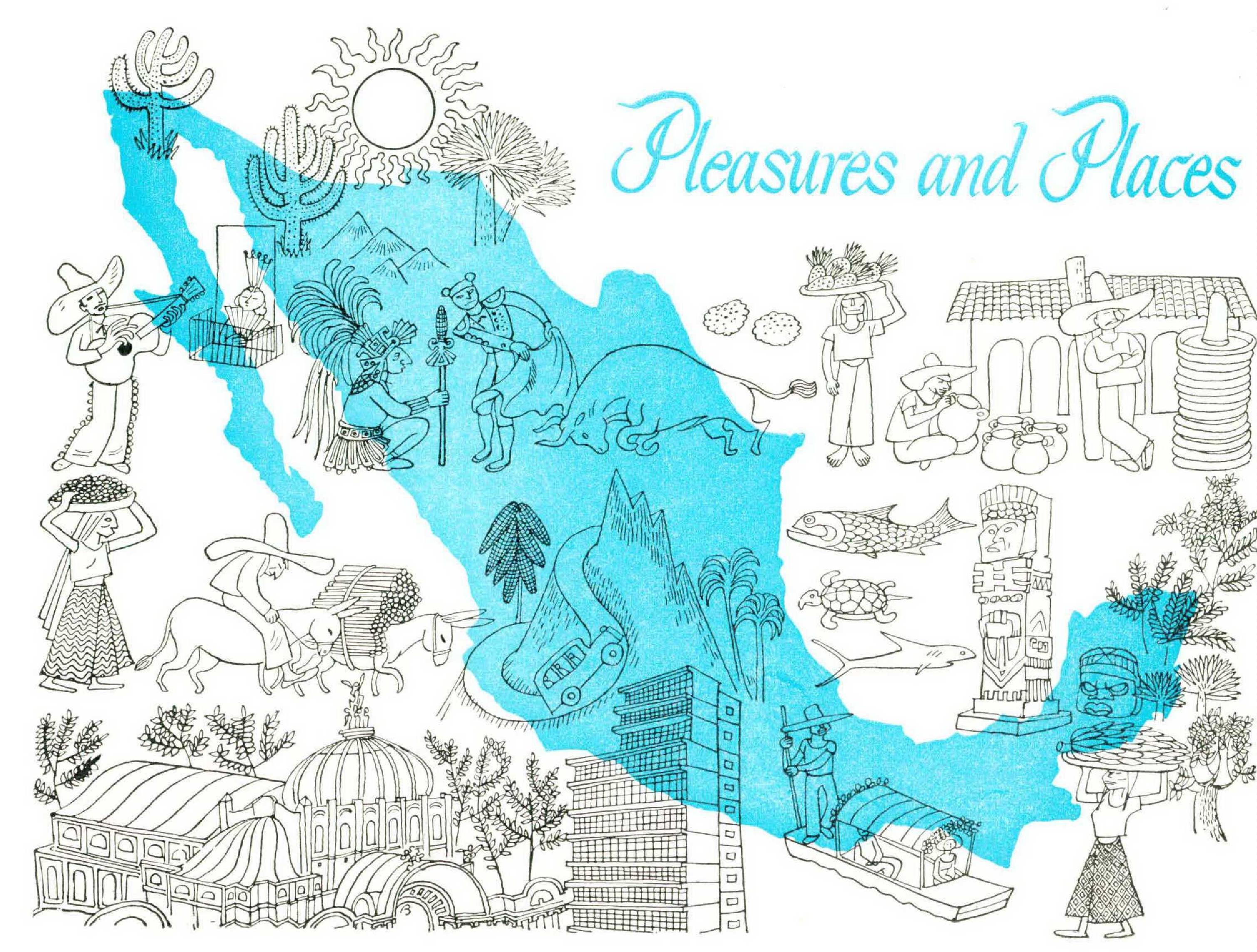 ONLY in the past ten years have Americans in any numbers come to see Mexico. And as tourists we have moved in ruts from Mexico City to Taxco, to Cuernavaca, to Acapulco. Movement, it is true, has heretofore not been easy: the roads were often inadequate or nonexistent; the railroads were obsolete or nonexistent. But now things have changed, almost overnight.
Over terrain that was sometimes impossible the roads have been driven through. The railroads have been improving — without losing that quality of leisureliness and a gay good time that has always been their forte. An efficient network of airports and airlines has grown up. The new Mexico is open, accessible everywhere.
This country is not a resort, a vacationland, though it has been so contrived in a few places. It is a subcontinent, a complex civilization, volcanic in its mixture of cultures. It is very old and very new. On the one hand are the ruins of a greal aboriginal civilization; and on the other, contemporary architecture of a quantity and boldness unequaled in our country. It contains almost limitless wilderness, a hunter's paradise. On its surface are clusters of stately, serene colonial towns, gems of the sixteenth and seventeenth centuries. In its depths are hundreds of Indian villages where witchcraft is practiced, where no Spanish is spoken, where men hunt with the bow and arrow and make with their hands six thousand kinds of craft work.
Monterrey — with its industry, its modern church, its Institute of Technology - reaches as far into the future as any American city. Veracruz leads the old, easy life of a seaport — good food, sidewalk cafés, marvelous fishing, music, beaches, an exuberant people — as gay and lively as any European equivalent. In friendly Oaxaca vigorous Zapotec and Mixtec Indians file in from the mountains to trade in this important market; outside the town are ruins to be compared with those of Egypt. Every year new excavations reveal more surprising riches of pre-Columbian Mexico: see Palenque, Tula, Kabah, Tulum, Uxmal, as well as the betterknown Maya ruins of Yucatán. At the center of Mexico, Mexico City thrusts itself skyward; down below are the remains of an Indian culture.
The seasons
From mountain plateau to tropical coastline, the traveler can change his climate in an hour or two: it is altitude, rather than latitude or season, that makes the great difference. In December and January at altitudes above 5000 feet it can be very chilly indoors, but outside the sun is warm. The high season for travel (December to March) is high mainly because a lot of Americans are on the run from snow and cold. It is also the dry season, and for most tastes it is too dry except along the coasts — dry almost to desiccation in many places. The rainy season, beginning in June, brings a parched land to life. The best of the year (and the least crowded) is late summer and fall. The heat is broken (its peak comes in May or June), the rains are more pleasure than nuisance.
It is a good time, too, for fiestas and, from October, for bullfights. For coastal places like San Bias, Puerto Vallarta, and La Paz one should wait until September or October; but even here the evenings are delightful through most of the year, and the incomparable deep-sea fishing of Old World La Paz is at its best from July through October. Off either coast the fisherman will at no time be disappointed: marlin and sailfish are everywhere. In the almost virgin waters of the Gulf of California — at La Paz and Guaymas — there are 865 species of fish.
Hotels
Only in the capital during the winter months is there any difficulty in obtaining accommodations, and even there only for the devotee of plush and glitter. The sad trend of new Mexican hotels is toward more "style," more concrete, and fewer flowers. The true sense of this country's calm and grace is to be had in her smaller colonial-type hotels and inns. Here are ease and simplicity and remarkable cleanliness. The cost, about $4 a night for a double room with bath, is far less than in the "stylish" hotels. An example is the old hotel, a stagecoach inn of colonial times, behind the Governor's Palace in Guadalajara.
In Mexican hotels there is no servility. There is service, in the old sense: with dignity, with no palm outstretched at every opening and closing of a door.
This is a country of the greatest diversity, whether of climate, culture, hotels, or landscape. Yucatán and Chiapas are a hundred years remote from Mexico City, more like separate countries than states. There are many Mexicos and many varieties of Mexicans, including millions of Indians who are not, in a real sense, Mexicans at all; and the people of Yucatán will tell you they are Yucatecans, not Mexicans.
Three valuable and diverting travel books about Mexico, all written fifty or more years ago, are Charles Flandrau's Viva Mexico!, Mme. Calderón de la Barca's Life in Mexico (both of these were recently reprinted in Mexico), and Terry's Guide, newly revised, hard to come by, and worth any amount of trouble to find. Flandrau, a young man out of Harvard who lived in Mexico and loved it, wrote a classic in 1906: a book of wit, perception, and feeling, which is more up-to-date and more useful than last month's guidebook. An excellent more recent guide, which is especially competent in architecture and the fine arts, is MacKinley Helm's Journeying Through Mexico.
Health
When tourist ailments are mentioned, official Mexico tends to look hurt and change the subject. But the doctors of this country have faced the problem and have found highly satisfactory answers. Diagnosis is quick and sure; specific antibiotics provide swift cures. Ciba of Mexico manufactures a specific called Entero Vioformo that is very effective against milder forms of intestinal trouble. But purified water is available almost everywhere, and with the simplest precautions one need suffer no affliction al all.
In larger towns even the smaller restaurants are as wholesome as those of London or Paris or New York, whatever the wits may say. In out-of-the-way places, check with the local farmacia about eating places and water supply.
Travelers off the beaten path can have peace of mind by taking typhoid shots as well as the required vaccination. Some Mexican doctors suggest that all milk, whether marked pasteurized or not, be boiled if children are to drink it.
The opening up
Not so long ago Mexico was very far away, especially for the man limited to two or three weeks of travel. Today the frequent and multi-linked services of American Airlines bring it within eight or ten hours of almost every major city of the United States. The fare from New York is $99 Tourist, $145 First Class. The latter, a far better organized and more leisurely service, is well worth the difference on this run. Those who enjoy a foreign aura will like the Air France nonstop flight from New York to Mexico City. This one-plane-a-day service from Paris carries the French ambiance and cuisine; but with only thirty-two seats a day open in New York, reservations are not easy to come by. Pan American flies from Houston, New Orleans, and Miami, connecting with Eastern Air Lines from New York. Of special interest are Pan American's direct flights from New Orleans (21/2 hours) and from Miami (4 hours) to Mérida, the charming old capital of Yucatán.
An interesting alternative to the sudden change of world by air might be to fly by American Airlines to San Antonio (to save time from, say, Boston or Detroit) and then to board the good daily pullman service of the Aztec Eagle, the Mexican National Railway's best train (using Swiss equipment), run in conjunction with the Missouri Pacific. The through pullman cars from New York direct to Mexico City are no longer running, so that a change must be made in this case whether one travels by air or by rail to San Antonio. Cost of this 30-hour run is about $50 with a lower berth. Also, competent and well-equipped Mexican bus companies like Transpprtes del Norte cover the distance from Laredo along the panoramic Gulf Route to Mexico City in about 28 hours, at a fare of about $8.
Once over the border, yhe road or rail traveler has this advantage: he is gradually absorbed into the mood and rhythms of this very different country, savoring it in all its incredible range, slowly taking hold of it before he is dazed by the immensity and brilliance of the capital. This strangely mixed, hurrying city has its fascinations, but it is a kind of whirlpool, a danger to the timepressed traveler who may find himself caught in its comfort and glitter and lose himself in the illusion that it is the center, the major theme, and that all else is incidental. From this point it is too easy to fall into the safe and sterilized rut of the Mexico City (and environs) and Acapulco itinerary. In fact, the capital and its excursion-satellites are only incidental; the more essential living elements of Mexico are well beyond reach of this area: Mazatlán, Tepic, Guadalajara, Colima, Morelia, Querétaro, San Luis Potosí, Puebla, Veracruz, Oaxaca, Tehuantepec, Las Casas, Campeche, Mérida - these are the key points on which a Mexican itinerary should be built.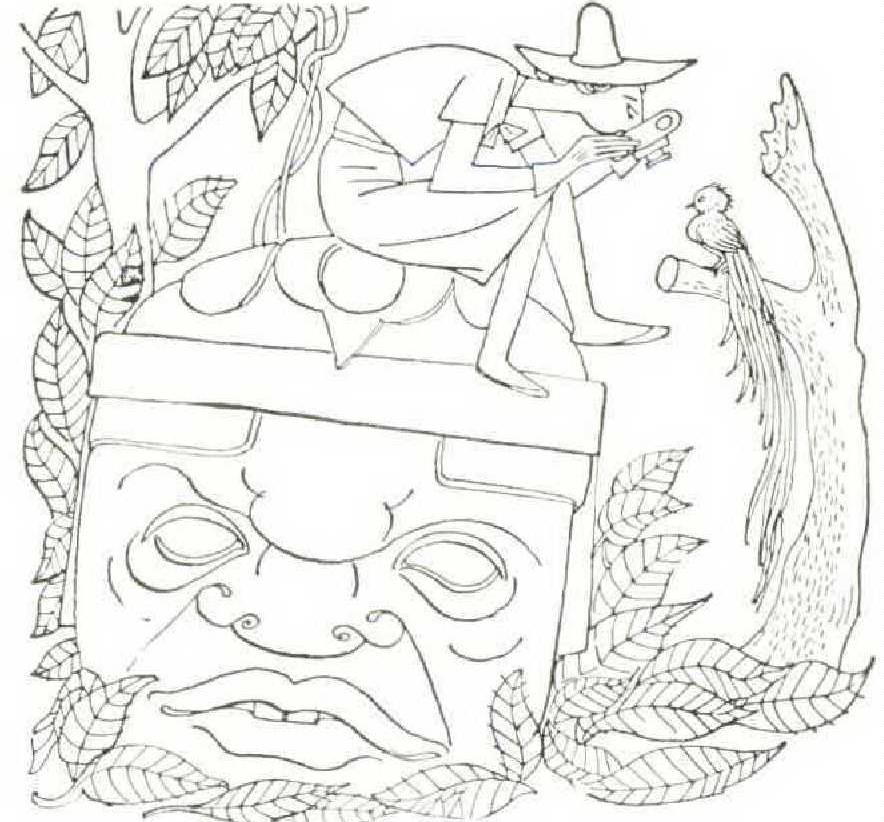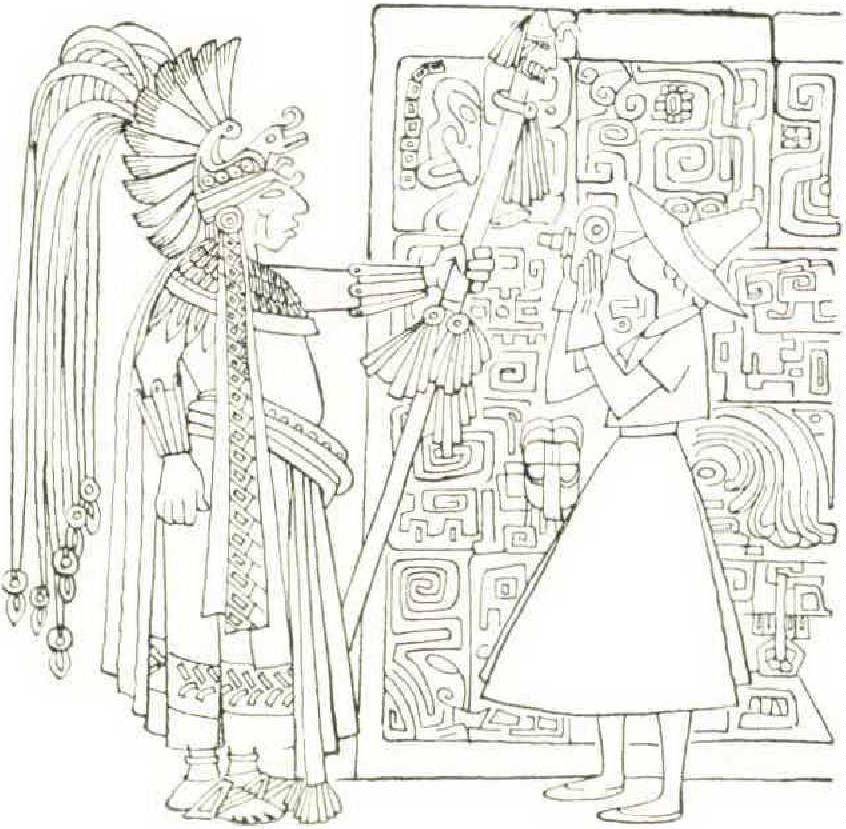 Another possible variation is the approach by water. The twelvepassenger cargo ships of the Ward Line sail weekly from New York to Veracruz, a nine-day voyage at $160. There are Ward Line cruises connecting the same ports via Havana; and one can go from New York to Acapulco via Havana, Cristobal, and Balboa by United States Lines. There are other connections between New Orleans and Veracruz, and between New Orleans and Progreso (Yucatán). A west coast line has sailings twice a month from San Diego to Acapulco via Mazatlán.
The highway revolution
As recently as three or four years ago, a large part of Mexico was inaccessible to the motorist unless he was a man with rope, shovel, stamina, and a jeep. Between 1925 and 1950, 15,000 miles of new road were built; but from 1950 to 1955 that figure was quadrupled. Where there was one trunk road from the border to the capital (and below Oaxaca almost nothing), there are now three. The Central Route is the easiest drive, the coast routes the most scenic. South of the MonterreyTorreón-Durango line the roads are being improved, linked, pushed out into new territory; and all this in a country crisscrossed with almost impenetrable mountains. The vigor and skill of this effort obliterate once and for all the legend of Mexican incompetence.
Some of these roads are altogether new, like the 200-mile push over the "impossible" Sierra Madre Occidental from Durango to Mazatlán on the west coast, the only such east-west crossing in the 1000 miles between Guadalajara and the border. The road is safe, but it is easier on the nerves to cross it in one of the stationwagon buses (turismo) of the Transportes del Norte. Others, - like the almost completed West Coast Route, are continuations and completions of older roads. Still others—the road across the little-known Isthmus of Tehuantepec, for example — are important improvements on what were difficult and undependable dirt roads. And then there is the completion of the Pan American Highway south of Oaxaca and deep into the green mountains of Chiapas to the Guatemalan border. Here, out of Tuxtla, are good roads to completely unexploited country, and then on to Las Casas in a green valley at 7400 feet, a lovely colonial town where the Indians in ancient dress come in large numbers to trade. Nearby are Indian villages, accessible by car: Chamula, Zinancantán, Tenejapa.
Another new road branches west from the Pan American Highway at Antiguo Morelos to open up, over a net work of side roads, the dense cluster of colonial towns from San Luis Potosí to Querétaro. There is also an uncompleted but passable road from Guadalajara over the mountains to the isolated coastal gem of Puerto Vallarta. The improved roads of Yucatán now make it possible (with advice and aid from the curators at the Mérida and Kabah museums) to penetrate beyond the well-known sites at Chicken Itza to the impressive ruins at Labná and Zayil. The improved circuit route from Mexico City through Puebla and Orizaba (side roads from these two towns should be well explored) to Veracruz, and back by way of Jalapa and Pachuca, makes accessible an area rich in landscape, hunting, and fishing, and there is between Veracruz and Tampico a little-known coast with fine beaches and small semitropical havens like Nautla and Tecolutla. Near Papantla, a good example of the tropical Indian town, are the ruins of El Tajín, among the best in Mexico. Chartered planes or boats out of Mérida also make possible excursions to the more remote and mysterious sites.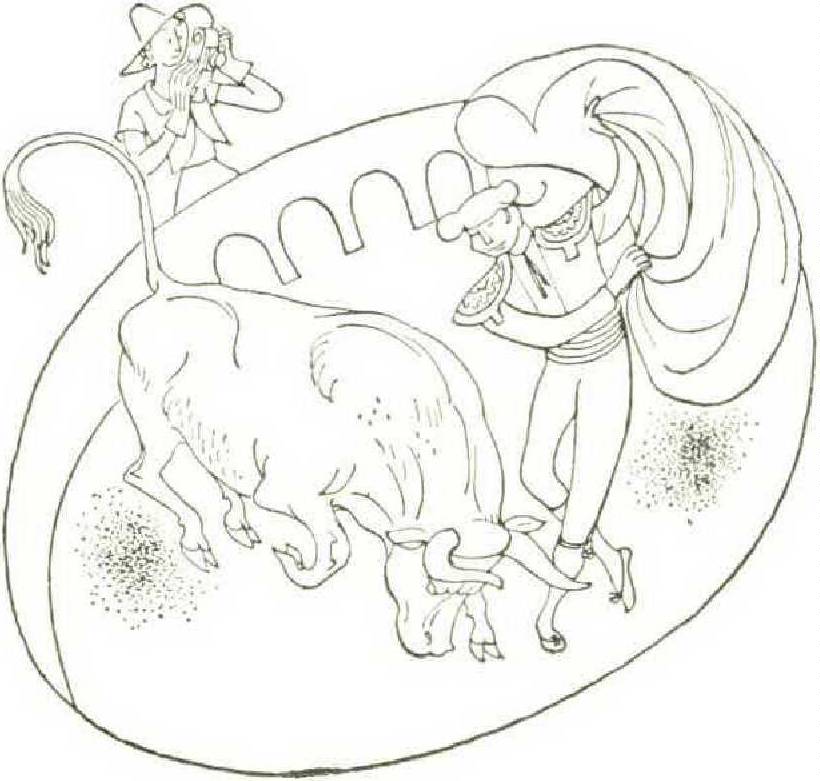 The highway down from the border into Baja California —until recently one of the least-known regions on earth — is making good progress; below San Felipe and Arroyo Seco the rough dirt road requires will, vent tiresomeness, and a four-wheel drive, high-clearance vehicle; but the lover of untouched nature might find it worth the trouble. Near the end of the road is La Paz, a town of good accommodations and superb fishing (there are boats to hire, at about $60 a day), still far outside the tourist world.
Thus, in three or four years a new travel area as large its France and Germany together has been opened to ordinary motor travel, and Mexican travel is at the beginning of the end of an era. The motorist who would see it in its still relatively pure state should see it now. An effective way to explore the vest coast today would be to hire a cruiser or some kind of sailing boat at Acapulco or Mazatlán.
Information
The plain facts - in detail - about travel conditions in Mexico are best obtained in Mexico, not in the United States. However, many Mexicans derive sonic mysterious pleasure from giving advice on subjects about which they know nothing; some overriding sense of courtesy and/or local pride will not allow them to say "I don't know." Reliable sources of information:-
Pemex Travel Service, a free, nonprofit service organization of the national oil industry which will aid the motorist with any problem relating to his car, documents, and other matters. The address of its main office is Juarez 89, Mexico City, and it has border representatives in El Paso, Texas, and Nogales, Arizona, to help the motorist off to a good start on the three main highways south.
The National Tourist Office (also at Juarez 89, with agents in many towns and at airports), whose employees know their country and are usually flexible enough to recognize that one American's tastes are not exactly like the next one's.
In quotidian matters this is not a smooth-running country — certainly not for the visitor who wants to make every day count; a travel agent, therefore, is worth his fee. They are generally reliable in the capital, but it is better to make use of those in each locality who know local conditions intimately. They are remarkably courteous and generous with their time (a very good example is Travel, S.A., in Guadalajara).
In Mexico the U.S. consulates have a reputation for usefulness; there are sixteen of them from the border to Yucatán. Organizations like the International Hunting and Fishing Club (at Calle Revillagigedo 24, Mexico City), certain specialized travel agencies (like Bura de Mexico), and local organizations of sportsmen will help with information on sporting equipment, guides, and the like. The Mexican Exploring Club makes frequent climbs of the higher mountains and welcomes guests. Local Chambers of Commerce are another good source of general information.
Good road maps are available from Pemex, Shell Oil, and AAA (whose guide includes a useful graphic translation of road signs). All main highways are well engineered, but without frills like white center lines or elaborate guardrails. Extensive motoring is a pleasure primarily for the experienced driver who can cope with fog at 10,000 feet, innumerable tight mountain curves, roads no wider than the ridge they follow, cattle that appear suddenly around curves even on the biggest highways, the thousands of old and impotent cars on every road, and the traffic of Mexico City that makes even Paris seem orderly by comparison.
Mexican aviation
North of the border, one rarely hears of the airlines of Mexico. But they are old, reliable companies (one of them is affiliated with Pan American) with very good safety records. They go everywhere. One has only to fly the regular routes of the two major companies, Aeronaves de Mexico and Mexicana de Aviacion (CMA), to be lifted effortlessly to the most remote corners of Mexico. There is no space problem: even in the high season (except on the shuttle run to Acapulco) seats are usually to be had on a day's notice. Costs are low: the excursion rate from Mexico City to Guadalajara (425 miles), for example, is $19 round trip.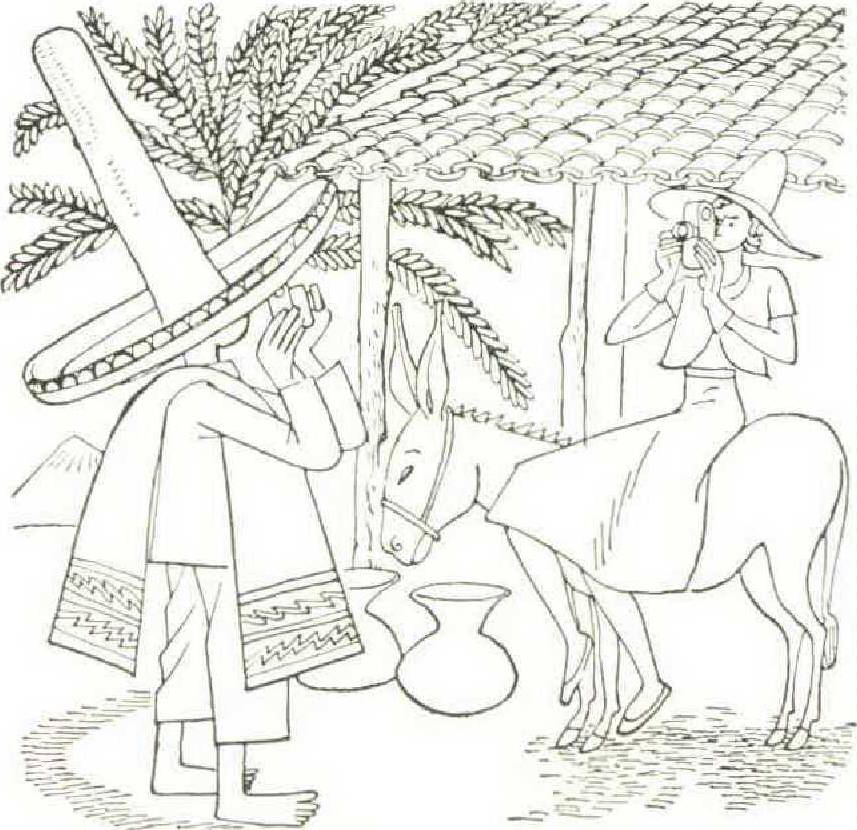 The service by English-speaking personnel is excellent, on the ground and in the air. The saving in time is great: Oaxaca is 10 hours by bus, 17 hours by train from Mexico City, and 11/2 hours by plane. Regular flights go to most of the vital travel centers. The airline offices will also help to make arrangements for offtrail chartered flights on nonscheduled lines, but these are often exorbitantly expensive.
Travel on horseback
The traveler who would move quickly from place to place must be ready to exploit all forms of locomotion, up to and including the horse. In the unchanged world south of Oaxaca, for example, there are fewgood roads (though the important new highway from Minatitlán through Campeche into Yucatán is well under way). Here one might go over the mountains on horseback from Oaxaca and down to the straw huts and friendly people of the Isthmus of Tehuantepec. Or, more simply, take a horse from Perote into the beautiful Sierra de Puebla, up to the old colonial town of Teziutlán and the many haciendas in that region. Or from Oaxaca to Yalalag, an authentic Zapotec village in the Sierra — two days by horse. Or from Tepic into the western Sierra. The angler might explore the country between Apasapam (reached by train from Jalapa) and Jacomulco.
In many places the horse can be replaced by a stranger animal: the second-class bus. These crude machines beat their way through the back country where no other vehicle would survive. Try the rough and unforgettably pictorial ride from Tepic to Puerto Vallarta.
In some parts the best alternative to the horse is the Mexican National Railway. Rarely concerned with schedules, always in holiday spirit, these trains ramble through village and town, stopping to allow local people to offer up their particular cuisine and handicrafts. The ride from Colima, a sixteenth-century town, to the old and crusty port of Manzanillo—a day-long journey — is among the most exciting experiences of Mexico. The Ferrocarril del Sureste penetrates the wildernesses of Chiapas, Campeche, and Yucatán — most of it untouched travel country — and a branch goes to Palenque, perhaps the most impressive of the great Mayan ruins. This is a difficult trip; it can also be made by a plane-car combination. Any opportunity to see the Lacandon Indians of Chiapas should be taken.
The first-class bus lines — with reserved seats — compare with the best in the U.S., and the cost is very low. Their limitations are that they do not sell tickets with stopovers (once off, it may be hard to find a seat on another bus between terminals); that rest stops are infrequent; and that inadequate facilities at stopover points make box lunches a necessity. The guide to airline and bus transport published monthly in the capital is very useful, listing the schedules and terminal addresses of all lines, second-class as well as first. Self-drive rented cars are available only in Mexico City, Tijuana, and Acapulco; but taxis can be hired for about 80 cents an hour.
MITCHELL GOODMAN
This is the first of two articles on Mexico by Mr. Goodman. The second will appear in the September Atlantic.