Air Travel With Stopovers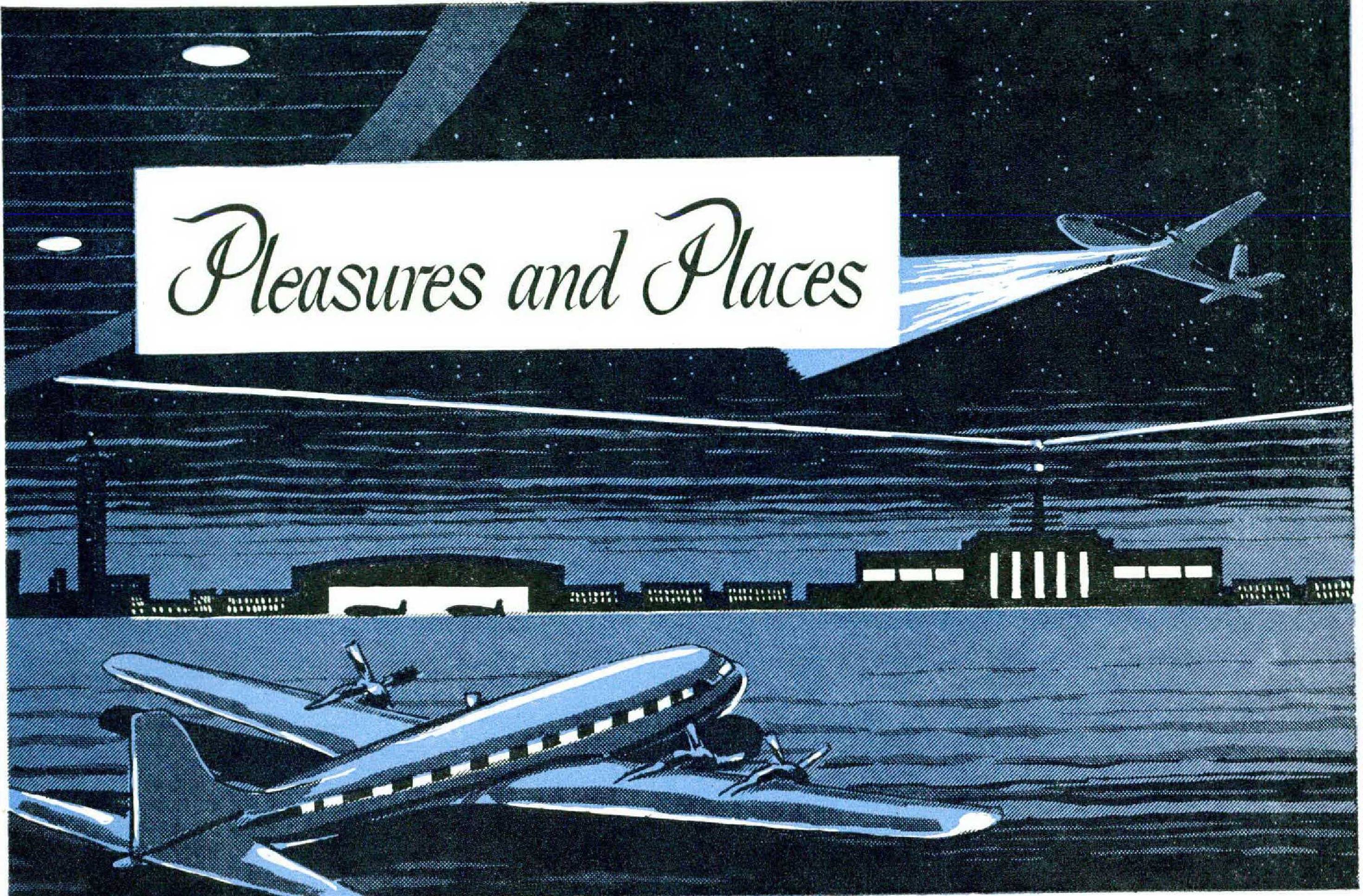 Travel is victory, as the Arabs say. The total victory, the complete liberation through absolute mobility — this is the air traveler's reward. The international airplane is not only fast; its services, going with the traveler to all his destinations, are many. Examples: the airlines' widespread offices and agencies serve also as information centers; they will arrange for rented self-drive cars to be waiting at almost any airport; some of them have wardrobe advisers to help the passenger make the most of his 66pound (first class) or 44-pound baggage allowance; TWA and Sabena have special aids for female travelers; aboard the plane everything from child care to champagne to cocktail lounges is provided; BOAC can be called from about seventy-five American cities and towns for the price of a local call. The operating services are arranged simply: even the most complex air tour, using four or five connecting airlines, can be bought on a single ticket in less than an hour.
The world is now heavily wrapped in a web of air routes, which, by means of interline agreements (almost any airline will sell the services of any other to fill the gaps in its own service), becomes in effect one unified system that goes everywhere. A journey of almost any size, shape, and combination of countries is made feasible even for the man with only two or three weeks (and $1000-$2000) at his disposal.
With dozens of large cities serving as air centers, the density, frequency, and flexibility of air service create new dimensions for the traveler. The resulting fluidity and mobility open up possibilities of range and variety that make the itineraries of ships and trains seem rigid and clumsy. Nothing less than a new point of view is necessitated: the airplane has made an easygoing world traveler of the man who used to settle for two or three weeks in Bermuda.
The air tourist (limited to 44 pounds in this case) is a man with two suitcases. That is his first advantage. The airplane itself is not merely a bus with wings. It is a projectile. From this derives the traveler's second advantage: he is enlivened and liberated: he breaks free from all inertia, claustrophobia, immobilisme. Anything — anywhere — is possible.
The low-cost season
Taken in the off season (NovemberMarch), which is the free-and-easy, unreserved and unencumbered season; traveling tourist class (the small added comforts of first class are not worth the considerable difference in price); and using the new Family Plan (available beginning in November on transatlantic flights), the plane ticket might accurately be called a bargain. The Family Plan alone opens up some rich possibilities. A man and his wife will be able to fly to London for a total round-trip fare of $650 - somewhat less than third-class steamer passage and considerably less than by cabin-class ship. On tourist-class flights all transatlantic fares are cut by $200, round trip, for a wife and any children between 12 and 26 years. (Note: At least one major airline — Pan American — is now using faster planes in tourist than in first-class service over the Atlantic.) For economy, there is nothing to equal the rates on Icelandic Airlines.
There is very little choice among the various airlines from the standpoint of equipment and operating efficiency. The British Viscount, the only turbo-prop airliner in regular service, is very well liked by experienced air travelers for its speed and its restfully quiet and almost vibrationless flight. British European Airways (one of the several subsidiaries of BOAC) uses these planes extensively, as do several other European lines.
Easy come and go
Hotels and Reservations. In the off months most planes fly with empty seats. Usually — almost anywhere in the world — a call to the airline in the morning will produce a reservation for the same afternoon or evening. Such an open-end situation means that he who cares to can improvise his itinerary casually, even impulsively. That is, he can do this if he will settle for the good, comfortable, next-to-best hotels, and thereby avoid the balland-chain of reservations and other stiffening formalities common to luxury hotels.
The "best" hotels in one city tend, anyway, to be offensively like those anywhere else. It is the smaller "local" hotels that more truly represent the life-style of each place, and lead the traveler into that life. It is in these places, and in these off months, that one is free to come and go according to whim, unencumbered by a list of reservations and the check-in, check-out protocol. There is nothing like it for leaving the eye and the mind free for pleasure.
By staying away from the overdone hotels, the free-flying traveler can be sure of comfort and service at a daily overall cost of from $10 to $20 a day anywhere in the world. Though there are low-cost exceptions like Spain, Austria, and parts of South America, the cost of living for the short-run traveler does not vary much. In a twoor three-week holiday, especially, saving money costs time; having made the initial capital outlay for air fare (to buy time), it pays a traveler to arrange, for example, to have a rented car waiting at those airports along the waywhere it will be most useful.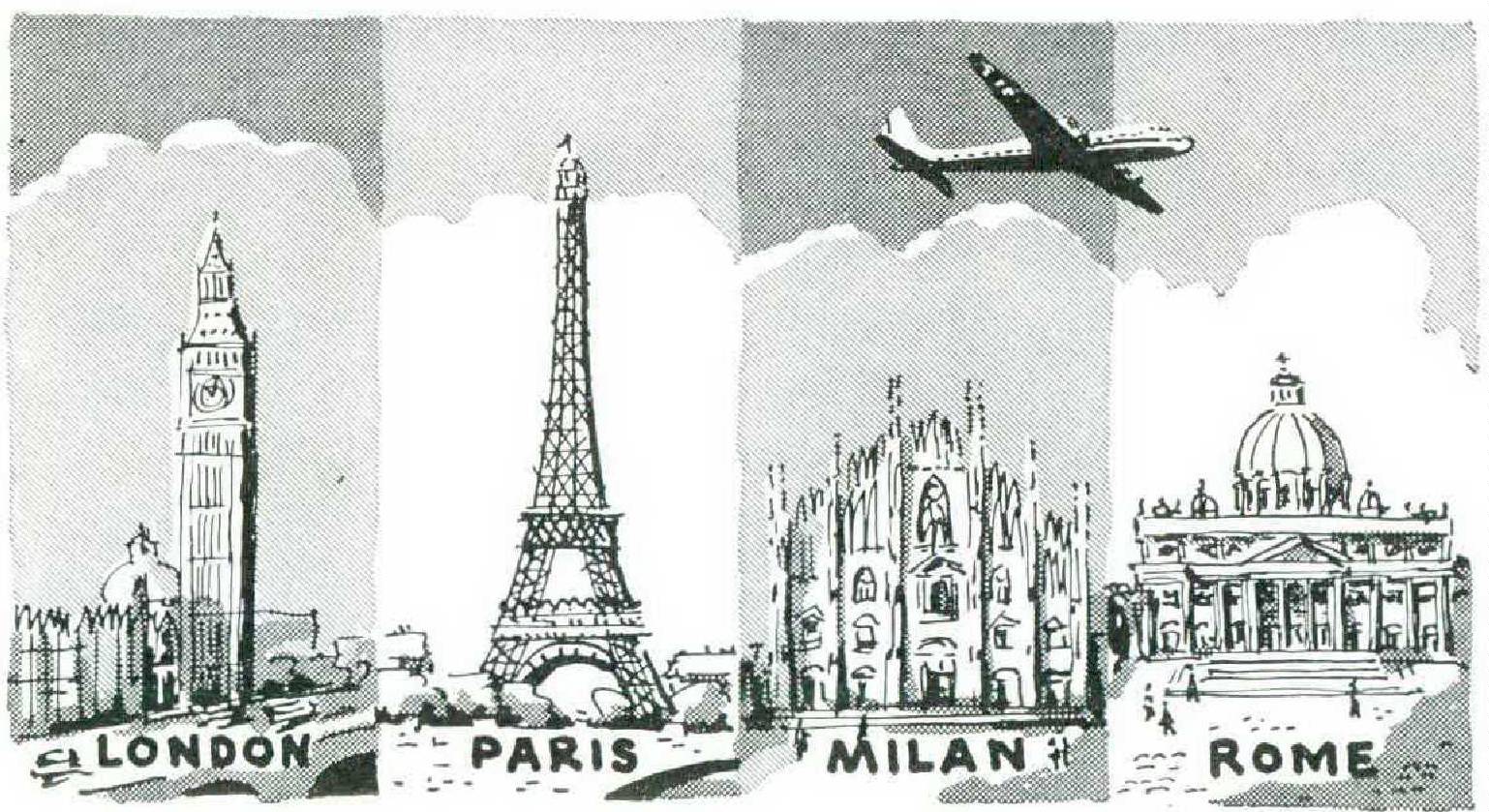 Circular round trips
The remarkable innovation that the airlines call stopover privileges shows most clearly the tendency of these companies to become less like common carriers and more and more like intercontinental service agencies.
Basically this plan allows a wide choice of stops (for unlimited periods) along any given route, after payment of the fare only to the furthest point of the trip. One airline might, for example, sell the traveler to Paris a ticket direct to that city. But another, if he knows enough to ask, will give him Dublin, London, Amsterdam, and Brussels en route, for the same fare. It all depends on the route of the particular airline. Even more interesting: it is usually possible to fly a circular round-trip stopover route — to Rome, say, by way of London, Paris, and Milan, and then home by way of Madrid, Lisbon, and the Azores, all for the same fare as for the direct New York-Rome flight.
What's more, by consulting the right travel agent the traveler can learn how to tie together various connecting legs from the varying routes of the different airlines, and thus to construct an itinerary precisely shaped to his taste. The travel agent - given the complexity of international air scbedules — can be an important factor in this calculation, especially since any given airline will be trying to shape pour itinerary to fit its particular, necessarily limited, routes. But here, as in other instances, it is important to find the simpatico agent who will give the traveler what he wants and not what the agent thinks he ought to want. There are some agents who think it a disgrace for any American to accept less than the Very Best. But there is nothing like a pursuit of the Best for taking the edge off a trip. And there are other agents who are sticklers for planned itineraries and hotel reservations even when these are unnecessary.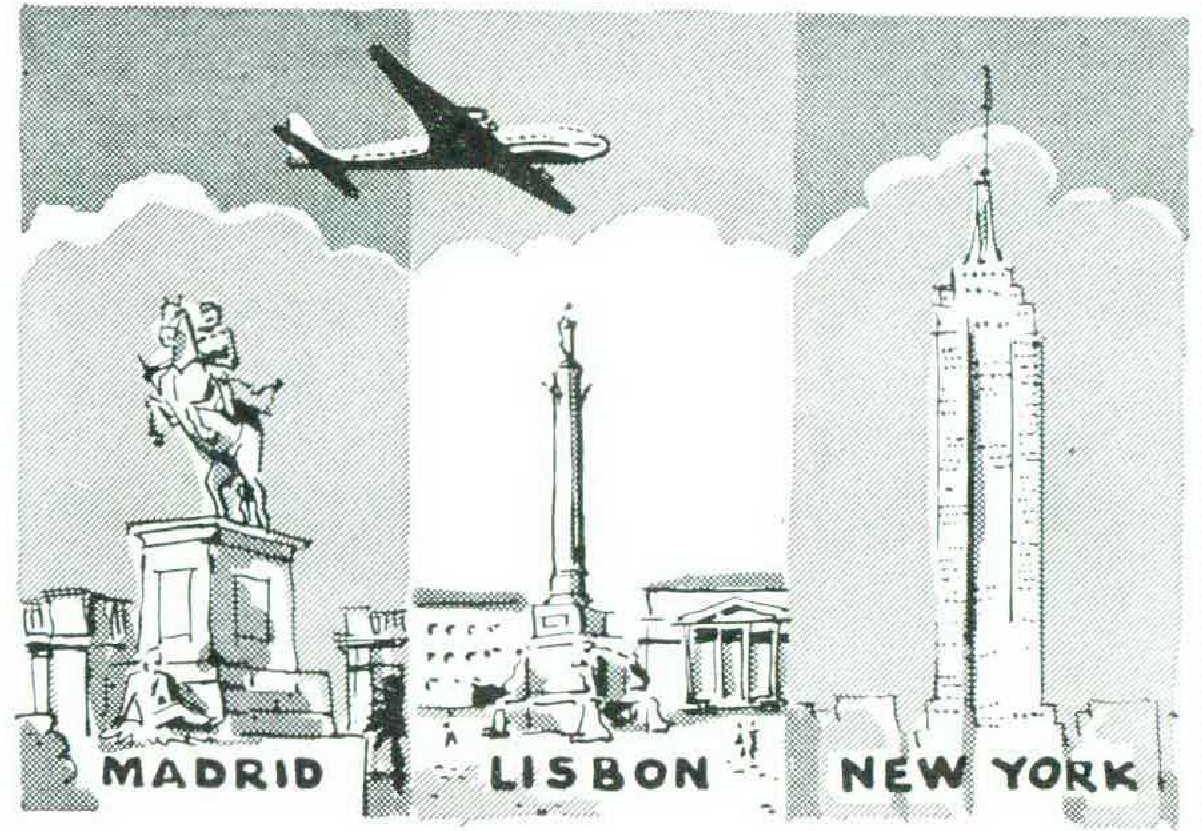 Where to go
The still-opening possibilities (new routes are always being created) are immense: it is feasible only to hint at them here. (For the full impact of air travel the assumption must be made that even one day, or two, in Paris, Rome, Athens, can be enough: that kaleidoscopic effects may combine to create a string of most memorable days, heightened days, each one illuminated. This holds especially for the man who uses stopovers to get, for example, the blend of, say, eight great cities in three weeks.) Here then are suggestions for the air age, to be elaborated with the help of the airlines and the travel agent.
The how-far decision
Caught in the flow of airstream, the temptation is for one to go on and on: to become, even for three weeks, the eternal wanderer who lives only as he moves on. He who would slop himself, to take one place intensively, or simply to rest, must be rigorous. Either way, the extensive or the intensive, the traveler should begin by deciding upon his furthest destination, thus establishing the basictime and money factors. Having bought a round-trip ticket to that point, and having chosen the routes to be followed (as well as the possible stopovers), he ought then to arrange a tentative schedule of plane reservations from city to city. This will serve to announce him at the various airline offices along the way, and will establish a kind of priority that will smooth the way to easy improvisation as he goes. This is a useful plan even for the one-stop traveler: faced with what amounts to a sixteen-course dinner, he is unlikely to pass up everything and go straight to the dessert.
Round the world
Round-the-world holidays are now sold by the major airlines as casually as a ticket to London. At the basic fare of $1348 the air traveler can choose from an assortment of routes offered by the six world-wide airlines (Pan American, KLM, Air France, BOAC, TWA, Sabena). About ninety hours in the air should be counted on, for most routes. Each of the lines offers certain specialties in routing: BOAC is especially good in Africa, for example, and KLM in Southeast Asia. At varying costs, depending on mileage, BOAC offers a thousand different encircling routes. These, like those of the other lines, can be taken impromptu or by way of packaged tours (conducted or independent) of varying elaborateness.
London, Amsterdam, Paris, Rome, Athens, Istanbul, Beirut, Cairo, Jerusalem, Bagdad, Karachi, Bombay, Delhi, Kashmir, Benares, Calcutta, Darjeeling, Rangoon, Bangkok, Singapore, Bali, Manila, Hong Kong, Tokyo, Honolulu, New York — these are some of the elements (taken in whatever quantity pleases, and with many or few stopovers of whatever length, for the same basic fare) of a world air tour. Time: BOAC offers 30 days around the world for an all-in price of $2184, a completely serviced tour. This is easily modified, in both time and money. Similar packages, of varying sizes, weights, and flexibility, are offered by the other big carriers. (The airlines are heavily involved in the tour business, as well as in simple transportation.) There are world tours that require not much more than two weeks and about $1570.
On most round-the-world trips there are only two long jumps: over the Atlantic and the Pacific; other laps range from three to seven hours of flying time. By making use of local airlines, the traveler might, in as little as three weeks, intensively explore three different areas around the world. He might, for example, see three or four European cities in a week, spend a week seeing India by means of a comprehensive and inexpensive air service, then move on to Japan or Hawaii, where good local airlines will eliminate waste time and space.
This continent, huge (and wasteful of space) even by air standards, is not to be swallowed whole. It is best suited to the hardy and enterprising tourist who can take comfort or leave it (even in the capital of Bolivia the water supply may fail). For grace and suavity there is always Rio, of course, or Buenos Aires, or Montevideo; but these are the cosmopolitan cities that do not give the short-term traveler the sharpest sense of those unique South American culture blends: Indian, Colonial Spanish, Modem European.
South America is still wild underneath, for all the sparkle of modern architecture and chic women, and it will give greatest pleasure to him who finds that civilizations still in the making or downright primitive are more vivid and stimulating than those that have settled down. It seems stranger, more alien than Europe: more like another planet than another continent.
Just outside the cosmopolitan (Dutch, Javanese, Hindu, Creole, Chinese, Indian) city of Paramaribo (Surinam) — a true slice of Holland in its look and style — there is dense tropical jungle where native Indians still hunt with poisoned arrows, and bush Negroes still engage in ceremonial African rites in their own villages. In Bogotá, the "Athens of America," Indians in their ponchos contrast with smart Paris-dressed women along the main thoroughfare. Asunción, another capital, is a port on a river, in which native women calmly wash their clothes and beat them on the stones; where the brilliant whiteness of a modern bank building is surrounded with streets full of natives on donkeys; where the shawl-wrapped native women ride their donkeys sidesaddle and carry black umbrellas, and the hatless ladies of the town wear white gloves and white shoes, carry white bags, and gather for tea each afternoon at one of the tearooms that are as endeared to South America as they are to England. A grabbag, wonderfully mixed.
A way in
Unlike Europe, South America is not laid out like a well-ordered rug. It is necessary to select, to move decisively, to seek it out of the wilderness of space. For a varied and compact sampling try Panagra down the western edge of the continent (down the east coast there is too much waste space over enormous distances). But for those who want to sample everything, Pan American offers a round trip, down one coast and up the other, all for the price of a ticket to Buenos Aires ($867). The route down through Cali (Colombia), Quito (Ecuador), and Lima or Antofagasta (Peru) to Santiago in Chile is the most rewarding — rich in the varying styles of life, in Indian culture, in ruins, in easy and cultured Spanish-Indian towns, in marvelous mountains and beaches. It is mostly off the heavily traveled track — important, since December to March, the best months in most places, are the heart of the tourist season.
Actual flying time is 22 hours to Santiago from New York, with stopovers permitted along the route. This itinerary includes most of the least expensive countries (and they are very inexpensive). Including the $766 round-trip fare to Santiago, three weeks here should cost about $1000— $1100, and that is living very well indeed.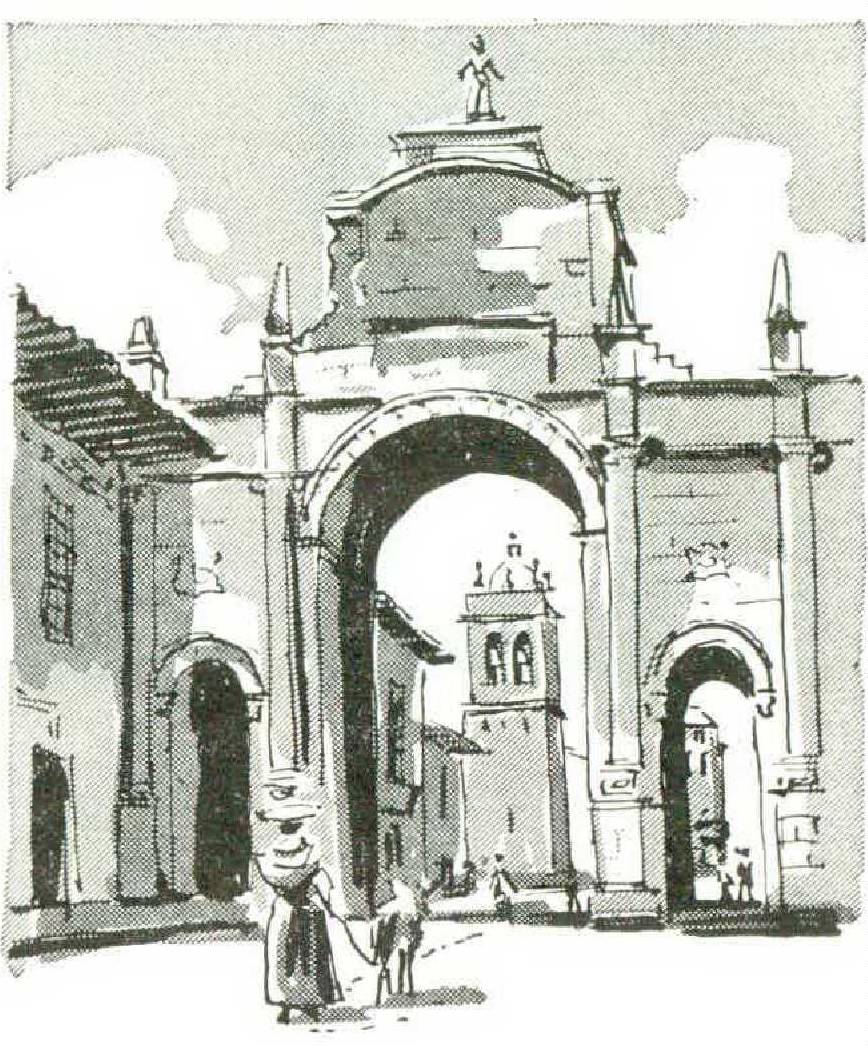 Climate in high-altitude towns like Quito and Bogotá is excellent in these months. At the far end, Chile has a climate much like Southern California. Language is no problem — a great deal of English is spoken and understood. The many offices of Pan American are in a real sense home-awayfrom-home; they will supply information, guidance, even introductions to local clubs. It is a good idea to consult one of New York's foreign currency exchange houses on the advisability of buying South American moneys in the United States — which can often be done at an advantageous rate.
Peru and Chile
If it comes to a choice, choose Peru (16 hours from New York, $561 round trip). Prices are rock-bottom. Lima is a superb city: stylish and gay and serious, gracious — a deep and brilliant mixture of Spanish Colonial and Indian; marvelous cathedrals, a university founded in 1551. There are Inca ruins (Machu Picchu) more awesome than the remnants of Rome or Egypt. High up under the great peaks of the Andes it is cool (as at Cuzco, the ancient capital of the Incas, 10,400 feet); at the fine beaches near Lima it is delightfully warm from December through April, the best months.
Silver, Indian textiles, and llamalined jackets are to be bought at the Indian markets. Bullfights, November to February. Carnival in February.
The best hotels (Bolivar, Crillon, Maury) provide double room and meals at $9 a day. The Crillon is modern, air-conditioned — the newest hotel on the west coast. Just outside the city the Lima Country Club — the most famous on the continent, with excellent golf and tennis — offers everything at $10 or less per day (early reservations are necessary). Or, for another kind of life: numerous pensions offer typically good Peruvian living from about $25 a week, all-in. These are not boardinghouses as we know them, but lovely villas with gardens and a plenitude of servants.
The Peruvians are stylish and take their ease: as at the restaurant of the old-world Maury, where the atmosphere is mannered, courteous, comfortable — the ambiance of old Lima, circa 1860. In the Peruvian summer (December-February) everything closes for three and one-half hours at noon and everyone goes to the beach. The international set makes much of high tea. The most interesting cuisine in South America, and local wines are very cheap and very good. Activity: some of the world's best trout fishing in the rivers that flow into Lake Titicaca (the highest in the world); equally good deep-sea fishing at Cabo Blanca (arrangements for both should be made through Pan American before leaving the United States).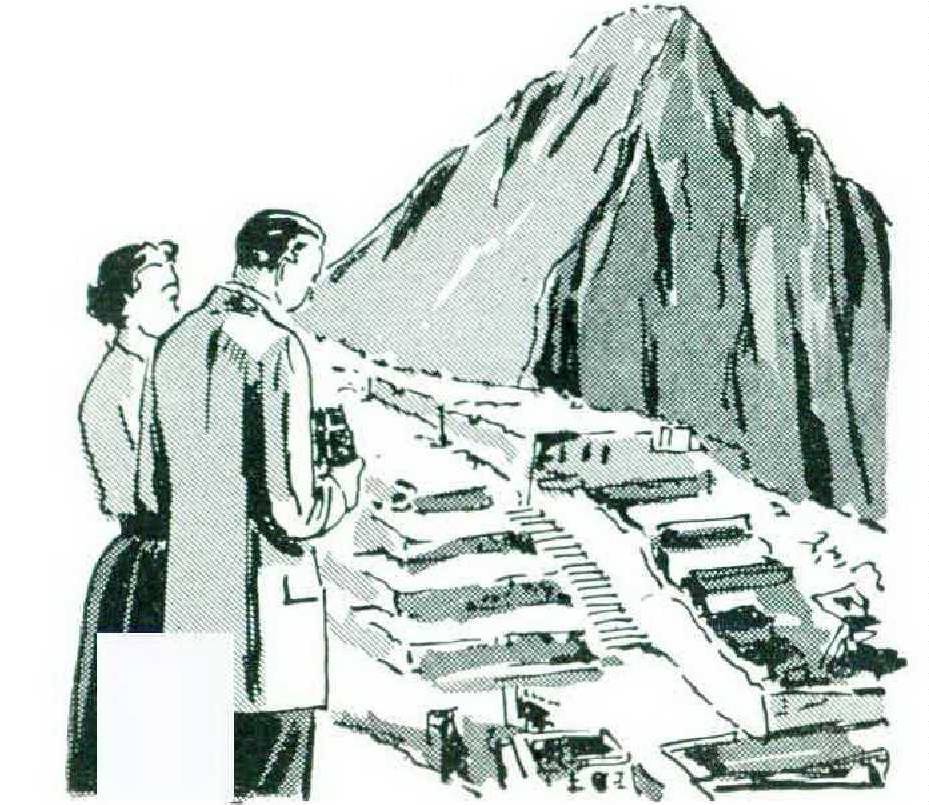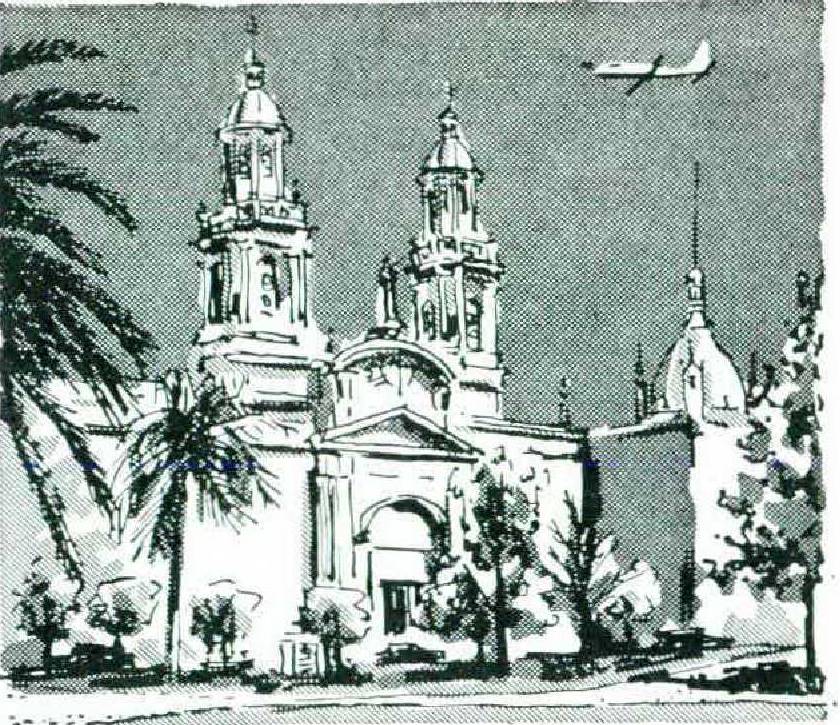 An excursion: the Central Railroad to the ancient Inca center of Huancayo goes through mountain passes 10,000-15,000 feet high (oxygen is carried for those who need it). At the goal is one of the most extraordinary Indian markets anywhere. Every Sunday the Indians crowd the main streets with their wares, in complete and startling silence.
Other sights which should not be missed: Pachacamac (pre-Inca ruins); Puno, across Lake Titicaca from Bolivia (for the life of the local Indians). From here, the trip on to La Paz is worth making: the capital, with its impressive Indian market, stands in a narrow gorge at 12,000 feet, and is completely surrounded by mountain peaks that are as high as 18,000 feet.
After Peru, try Chile. Wonderful juxtapositions of seashore and mountains and the rich urban life of Santiago. Two hours from Santiago, a beach resort area like the French Riviera — Vina del Mar. The Chilean lake country — twelve great lakes high in the mountains — is often called more beautiful than Switzerland. The seafood and the native wines are magnificent, and inexpensive. Santiago is only three hours by air from Buenos Aires.
Fly the good regular service from Santiago to Asunción (Paraguay). This is nothing like home, but colorful, vivid, and untouched by tourism. To buy: the very fine lace. Only two and one-half hours from Buenos Aires.
MITCHELL GOODMAN
Next month Mr. Goodman will describe Stopover Trips to the cities of Europe,the Mediterranean Islands,North Africa,the Far East,and the Caribbean.