by MARGARET FORD KIERAN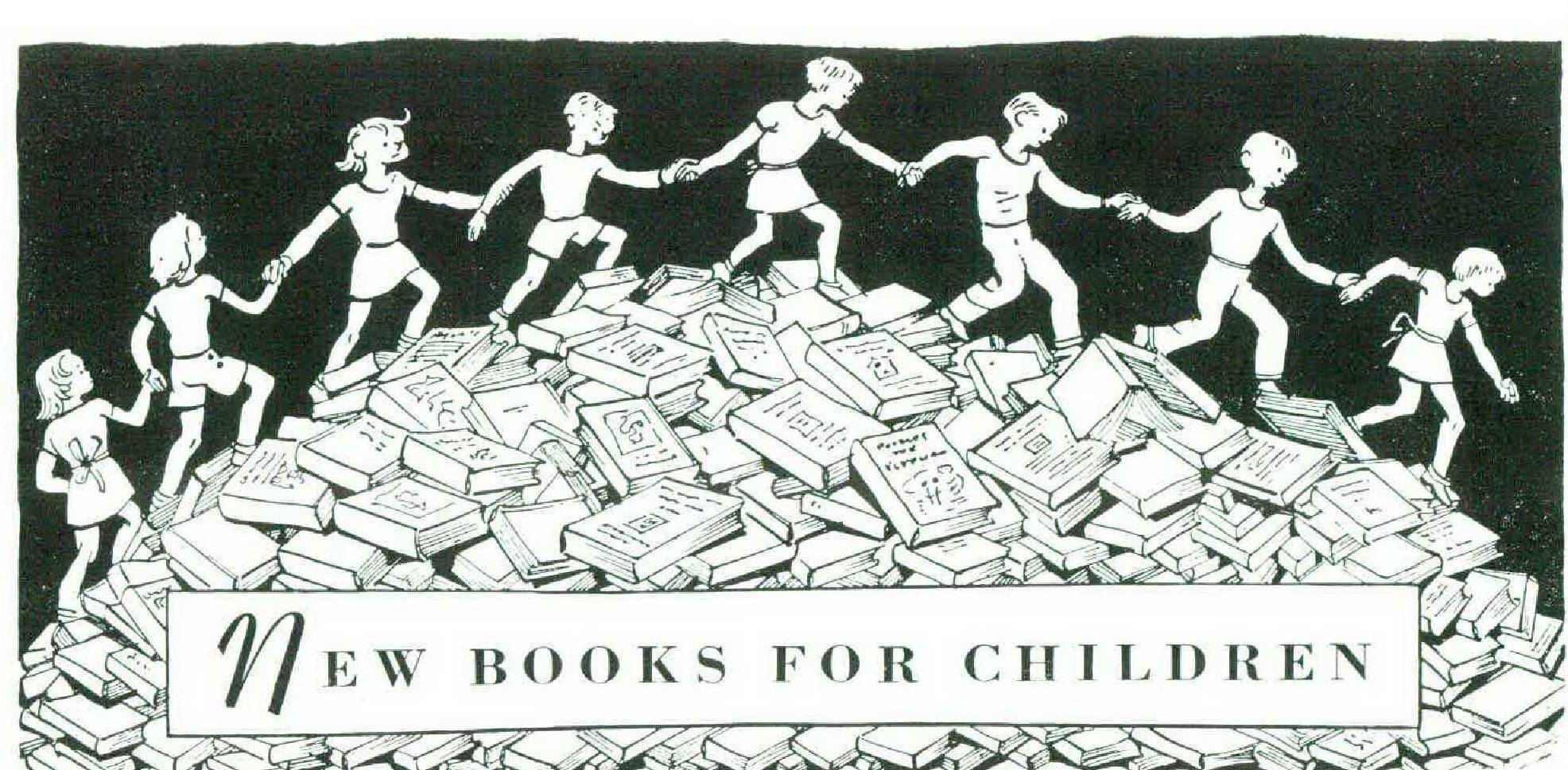 MARGARET FORD KIERAN was Children's Page Editor of the Boston Herald for tirentythree years. She is the author of a juvenile, David and the Magic Powder, and co-author with her husband, John Kieran, of John James Audubon.
THE output of stories for younger readers this spring is just as enticing as ever. Take The Swans of Willow Pond by Olive L. Earle (Morrow), for example, and The Poppy Seeds by Clyde Robert Bulla (Crowell). Both are beautifully done. The latter was illustrated by Jean Chariot, who must have at least four books to his credit this year, while The Swans, like every one in Miss Earle's fine nature series, is illustrated by the author.
Lullaby for Eggs by Betty Bridgman (Macmillan) is exquisitely developed from her poem that first appeared in the Christian Science Monitor. The artist — Elizabeth Orton Jones — has a vivid imagination but she adapts it to soft pastel shades in her field and shore sketches. This would be a lovely gift for some young friend. So would The Valentine Party by Pamela Bianeo (Lippincott). It just looks like a present — dainty and distinctive.
One of my extra-special choices this spring was A Little House of Your Own by Beatrice Schenk de Regniers (Harcourt, Brace). The theme is universal. "Every one has to have a little house of his own," it begins. Of course he does. Didn't you? Didn't you hide up in a tree or under the table or behind the lilac hush? Even one's father, the story goes on, should have a little house of his own. That might be behind his newspaper. The line drawings by Irene Haas are amusingly childlike —so much so that the whole book delighted me.
If you and your young companions like good splashy color and lots of active animals, you will be captivated by frog Went A-Conrtin retold by John Langstaff and pictured by Feodor Rojankovsky (Harcpurt, Brace). Perhaps you will say as I did, "That's not the way we heard the old rhyme" — but no matter. The fullpage illustrations are nothing short of stunning, and I predict that this will be a last ing favorite in the nursery.
Talking still of illustrations — which one must do when books for the youngest children are under scrutiny—I recommend Little Red Nose by Miriam Schlein (AbelardSchuman). Roger Duvoisin is the artist, which means that the black and white illustrations as well as those in color are as fine as any you are likely to see around. The drawing of the little boy looking from his black, black bedroom to the black, black night would be beautiful framed in silver.
The illustrations in Our Lady of Guadalupe could have been done only by Jean ('harlot (Viking). Modern and powerful, they make an unforgettable accompaniment to the familiarly cherished tale of Mexico as related by Helen Rand Parish. I'd gold-star this.
A story in rhyme has to be extra good these days to attract small chil- dren, I find; but The Duchess Bakes a Cake, written and illustrated by Virginia Kahl (Scribner), won the enthusiastic endorsement of the twolegged guinea pigs on whom I tried it out. They chortled with delight when they repeated rhythmically: "A lovely light luscious delectable cake."
ls a stimulus for summer reading, the Atlantic has compiled a list of fifty outstanding hooks for children which have been published since 1910. The books have been selected by Virginia Haviland of the Boston Public Library, Julia Sauer of the Rochester Public Library, and Elizabeth H. Gross of the Enoch Pratt Free Library in Baltimore. The list will be sent with our compliments to those who request it. Address the Editor of the Atlantic, 8 Arlington Street, Boston 16, Massachusetts.
Curious how an unfamiliar word like "delectable" enchants children even when they don't know exactly what it means. I noticed this again in Sneakers by Margaret Wise Brown. In this, one of the fine Milliam R. Scott Easy-to-Read Series by the way, my young friends immediately added "rapscallion" to their meager vocabulary. You see, Sneakers was a rapscallion liltle cat, as Jean Chariot s droll illustrations indicate. "We had a rapscallion lunch" was what I heard them say. I knew instantly that this meant nothing less than chicken àa la king with fudge cake and ice cream for dessert.
Going up the line to boys and girls a little older, there's We Went to the Doctor by Carl Memling, illustrated by Virginia Carten (AbelardSchuman). Though it is simply an account of a baby's check-up in relation to its effect on his older sister, the concern of that, sister plus the lovely gray and yellow pictures puts it in a class by itself.
A series that was just introduced to me comes from the Fisherman Press and is called True-to-Life Stories. I think they are excellent. Done by American wildlife experts, they have none of the nauseating baby-talk in which some such books wallow. You know you are reading authoritative stuff, but the presentation is simple enough and colorful enough to interest younger readers.
I'm moving on now to an older group. Not teen-agers. 'Tween-agers would come nearer to it, I guess, because these children have dropped dolls and marbles but they have not graduated to dress and dates. One of my choices for this group would be The Expandable Browns by Adele and Cateau DeLeeuw (Little, Brown). It's a warm, moving story of a family who were quite ordinary in every respect except that they just couldn't help helping people. In their house, "Always room for one more' was the motto. You can imagine the complications.
In Ponds and Streams by Margaret Waring Buck (Abingdon) is just as fine as her other two nature books — than which there is no higher praise. The index and the bibliography attest to its scope. A very appealing presentation for almost any young person.
My favorite animal story this year is Junket by Anne H. White, illustrated by Robert McCloskey (Viking). Not only is the hero of the tale an Airedale with a very attractive personality, but the original plot which revolves around him is completely believable. Just to give you an idea of the kind of dog Junket was, I shall point out that when asked to shake hands he was apt to extend both paws (not simultaneously of course) in case you were left-handed. A big T-bone for Junket, please.
As for the high school girl set, I was especially taken with My Love for One by Laura Cooper Kcndina (Little, Brown) and Beany Has a Secret Life by Lenora Mattingly Weber (Crowell). Both stories search way below the surface of their young heroines' hopes and disappointments. Dialogue is handled with a rare understanding of the teen-age idiom, and the plots are skillfully spun.
This age group, I found by chitchat over a coke or two, is not exclusively preoccupied with dating. It is able to become starry-eyed, too, over books in a much more serious vein. For them, On Wings of Fire by Marguerite Vance (Dutton) would prove inspirational in a most exciting way. This biography of the daughter of Nathaniel Hawthorne tells of her renouncing everything material to become a nun who dedicated her life exclusively to the care of the incurably ill. Lovely illustrations by Nedda Walker.
Adventure of anot her sort is served up in The King's Snare by Helen Lobdell (Houghton Mifflin). Though I have a deep-lying prejudice against half-fact, half-fiction tales, I found this story of Sir Walter Raleigh's time so finely done that I added it to my preferred list.
Then there's the mystery department. I liked Carolina House byElisabeth Kyle (Nelson). On the surface it is just a pleasant story of young love on a Glasgow newspaper, but the background tapestry of skulduggery between tobacco merchants in the eighteenth century is expertly woven. The characters are not just puppets: they are carefully drawn and well developed.
While Carolina House would be almost as interesting to boys as to girls, Arctic Hunter by Bud
Helmericks (Little, Brown) is definitely of a masculine flavor. I thought it was wonderful. The encounter with an infuriated polar bear, for instance, was about as exciting as anything I've ever read. There's no question but that the drawings and diagrams by Henry B. Kane are a great addition.
For sports enthusiasts there's a topnotch baseball story called Baron of the Bull Pen by Dick Friendlich (Westminster). To give it the acid test (since my knowledge of baseball is limited to a vague recollection of flaunting a Red Sox banner and a hot dog in 1912), I turned this book over to my husband. He stayed right with it until the end and then made a pronouncement. "First-rate" is what he said.
Kickoff by William MacKellar (Whittlesey House) and The Battery for Madison High by Al Hirshberg (Little, Brown) received a similar accolade.
I must pay tribute to one more book for the older group even though I realize that its appeal will be somewhat limited. It is the beautifully written Santiago by Ann Nolan Clark (Viking). This story of a young Indian boy is extremely moving because of its very simplicity. Little Santiago wants to be just one thing: "A good Indian in today's world." With sure and quiet actions he works toward this ambition and achieves it too when he decides that his future lies in helping his own people fulfill their destinies.
Of course I realize that this book could never compete in a popularity contest with The Dagger, The Fish and Casey McKee (McKay),a simply wonderful mystery by Electa Clark, but I think it would be unfair not to call it to the attention of a more mature age group.
Parents and teachers will want to take a look at The Workshop Book by Martha Lincoln and Katharine Torrey (Houghton Mifflin). It is not at all the usual "now this peg goes in this hole" kind of thing. No, the stints for children are really practical in it creative way, and I think you should insure yourself against rainy-day boredom by having a copy around the house.
Many spring books came too late for this report. Ill hold them until the fall roundup, when I hope to have my comments enlivened by supplementary remarks from two of our sixteen grandchildren.