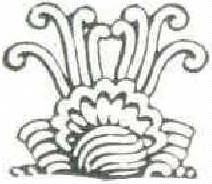 by MORLEY DOBSON
Illa cantat, nos tacemus.
In the night the wind rose up from the south, bringing
The moist reviving warmth and the sharp pain
Of the early season; and now there are willows springing
Green-gold by the brook behind me, and, after the rain,
Thorn-buds swollen and pink, and a low lark singing.
The pines stand ragged and black on the blown gray sky.
The wind rushes, rushes through their branches, racing
The express in the throat of the valley rushing by
Northward. A shower sweeps over Bedfordshire, chasing
The light that flickers on fields and church. And I
Remember Fauré's, timeless music in the brief
Hour of singers and strings and organ blending,
And the young schoolgirl with her dress green as a leaf
Who sang in her sweet, hard voice, uncomprehending,
The pitiful words of intercession and grief,
Sempiternam requiem. O tender bloom
Of the winter corn, O foam of pink and white
Cherry down the streets — youth laughing over the tomb!
But the years rush past like the train, like the wind, and I write
My love to you, my love, in the loved empty room.
Quando ver venit meum?