New Books for Children
DEAR MR. WEEKS: Twice a year I look at hundreds of new books for young people, and heretofore, following your instructions, I have always made a selection of eighteen or twenty which seemed to me to be top-notch. This year I am not able to do it. The books are getting better and better. I select twenty fine ones and the next mail brings in ten more that cannot be ignored. My book conscience will not permit me to eliminate as many this fall; so with your permission I will devote a little less space to individual selections in order that many more titles may be called to your readers' attention. And I'll begin with the best group of picture books (for age six and under) you've ever seen in your life. Cordially, M.F.K.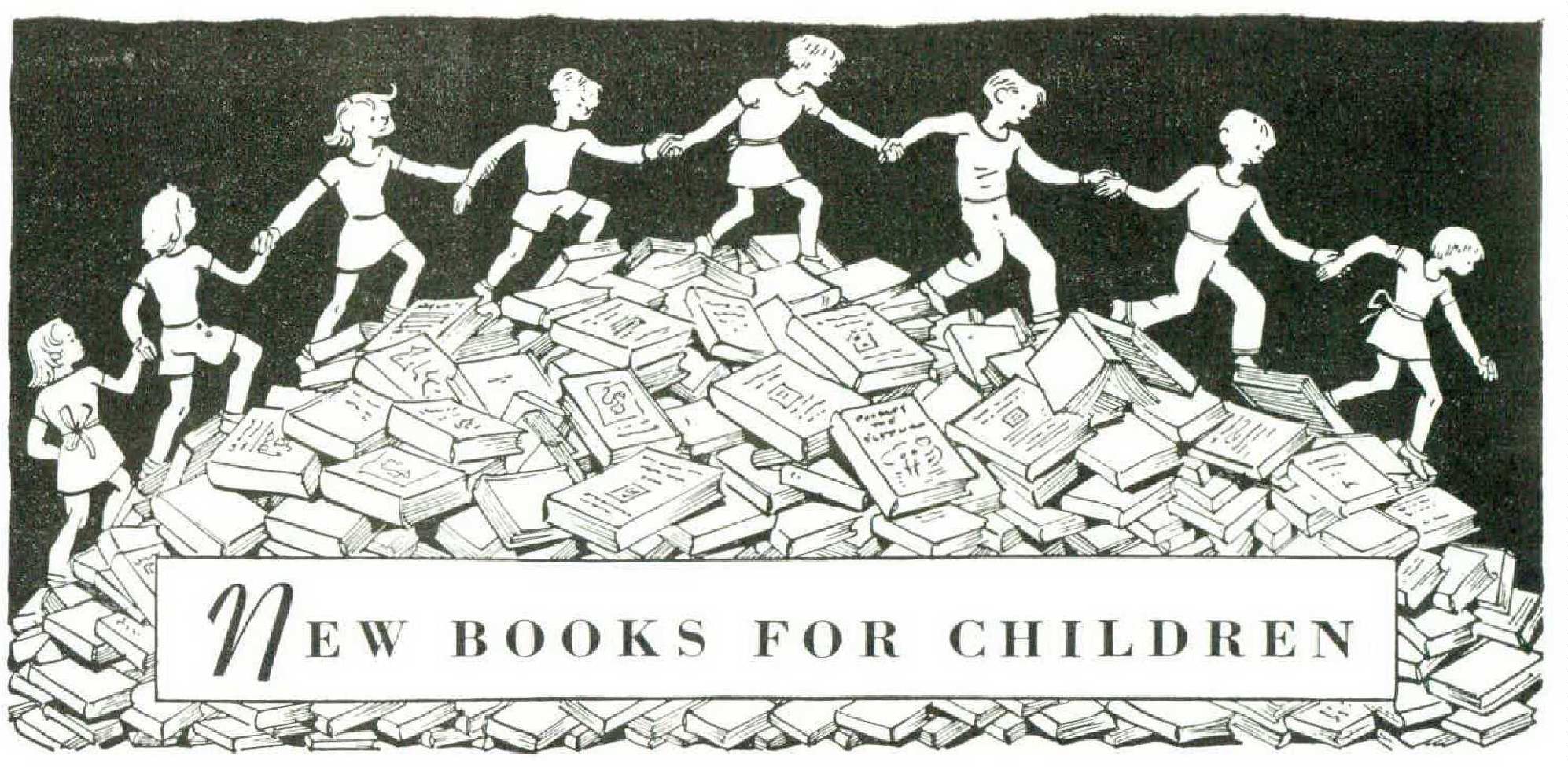 MARGARET FORD KIERAN
NO MATTER what volume of Mother Goose rhymes you may now own, even if it is the one you have treasured since your own childhood, you must not overlook the new edition so exquisitely illustrated by Marguerite de Angeli (Doubleday). There are full-page color pictures and tiny, whimsical line drawings. It's fun to turn the pages slowly with a child beside you, repeating together the familiar and discovering the less familiar rhymes. You might even enjoy quibbling over some of the versions.
A good companion volume is Complete Nursery Song Book, edited and arranged by Inez Bertail and illustrated by Walt Kelly (Lothrop, Lee & Shepard).
In a quick change of pace but still reading rhymes, look at Horton Hears a Who by Dr. Seuss (Random House). A most commendable philosophy of life determines the plot of this story of an elephant's remarkable adventures. He says: —
"I simply must help them
Because after all,
A person's a person
No matter how small,"
It was a person on a speck of dust that Horton helped. Could an elephant do more?
The Tall Book of Christmas, selected by Dorothy Hall Smith with pictures by Gertrude Elliott (Harper), might well solve many a problem of gift-giving. For this lanky volume covers a tremendous field of Christmas lore beginning with the traditional Bible story and going along to such modern ones as "The Puppy Who Wanted a Boy" by Catherine Woolley.
Speaking of tall books, the tallest. one I've ever seen, and one of ihe most delightful, is Three Little Horses by Piet Worm (Random House). You will surely endear yourself to any youngster if he finds this under the Christmas tree with your name on the card. It has a European flavor of fantasy that makes the story almost sing from page to page. Hilariously ridiculous, and that's just what children love. Imagine horses disguising themselves successfully as three princesses. Well really!
If your young friends don't chortle and squeal over Circus Ruckus by Will and Nicolas (Harcourt, Brace) I suspect there is something seriously wrong with their reflexes and would advise testing. It's a frisky, actionon-every-page picture book about a boy and his dog who sneak under a circus tent and finally get into the act. The illustrations by the authors are superb.
Another familiar author and artist team, Berta and Elmer Hader, has produced a beautiful book this fall. Their Wish on the Moon (Macmillan) takes the reader again to the setting they so often use — their own home on a hillside by the Hudson. They love little squirrels and songbirds and their affection shines right through the gentle illustrations. Especially winning (and this comes hard from a non-mouselover) is the group of deer mice in conference formation on page 11.
The Golden Books this year? Just as fine as ever. There are Numbers, School Days, and Words, all in good stiff covers so that you can keep adding them to the child's permanent library (Simon & Schuster).
On my desk marked Special Attention are a few more books for the youngest people you know. In all cases the illustrations are enough to make you want to choose them, but the texts sparkle too. They are Hide and Seek Day by Gene Zion, pictures by Margaret Bloy Graham (Harper); Miss Frances' All-DayLong Book (Rand McNally); A Is for Annabelle by Tasha Tudor (Oxford); A Kiss Is Round by Blossom Budney and illustrated by Vladimir Bobri (Lothrop, Lee & Shepard); The Thanksgiving Story by Alice Dalgliesh, illustrated by Helen Sewell (Scribner's); and The Angel in the Hayloft by Katherine Niles (Dutton). Piccolo by Bettina (Harper) should interest her loyal fans just as much as ever, and The Swans of Ballycastle by Walter Hackett (Ariel) will surely find a wide-eyed audience. It is an exquisitely illustrated version of a familiar folk tale.
My last salute in the elementary division goes to Wheel on the Chimney, which contains final words from Margaret Wise Brown, whose contribution to children's literature was such a rich one. Published by Lippincott and illustrated by Tibor Gergely, it will be cherished by the thousands who mourned the author's passing last year.
Moving along now to a little higher age-group, I'll begin with books that seem to be designed for seven-yearolds and go up to eleven or twelve. That's about the best I can do, because as usual it is impossible to pigeonhole a book for a particular age. You will have to be the final judge. You know the child. My grandson Michael, aged nine, proved conclusively to me that it is better to select a book that is too advanced rather than to err in the other direction. He snatched at a sixteen-year-old's treatise on atomic warfare last spring. Of course he was showing off in a slightly radioactive way, but it illustrates a tendency.
A sweet little story prettily produced is The Long Christmas Eve by Elizabeth Duryea (Houghton Mifflin). Telling the old familiar tale, it nevertheless introduces a new note when it points up the importance of a bridge between the European way of life and our own.
Every year I seem to gold-star a new Lois Lenski, and if this is rank favoritism I plead guilty. This season it is Corn-Farm Boy (Lippincott), another regional story. Miss Lenski has gathered her material firsthand and each page has the ring of authenticity. Without parades, without flag waving, it manages to distill an atmosphere that reflects the basic American way of life.
It is very difficult to tell in what category Commemorative Stamps of the U.S.A. (Crowell) belongs. So many small boys start collecting stamps that it might be a good idea to have the book around the house just to direct their interest toward this hobby. Written by Fred Reinfeld, it is excellent history of a sort, with reproductions of all the issues described.
Instead of just wailing about comic books, I'd rather take a positive stand and recommend something like F.B.I. by C. B. Colby (Coward-McCann). This book certainly does a lot toward proving that stories of crime detection are quite as fascinating as, unfortunately, crime itself often is. With actual photographs from J. Edgar Hoover's file it's a good, sharp presentation for boys of almost any age.
Several excellent zoo books came out this fall, each of them well illustrated, but the one that appealed most to me — because it was handled from a different angle — was Zoo Expeditions (Morrow). Written by William Bridges, curator of publications of the New York Zoological Society, it describes many trips that were made to capture the animals for that particular zoo.
In Martin de Porres, Hero (Houghton Mifflin), Claire Huchet Bishop has done a superb job of making a little boy sparkle with the stuff of which saints are fashioned. The Negro youth who has come to be known as "Blessed Martin" just couldn't help helping people. Everyday goodness achieves heroic proportions in this story, which has beautiful illustrations by Jean Charlot.
Another gold star in the middle agegroup goes to The High World by Ludwig Bemelmans (Harper). It is an extremely moving story of human relations in the Austrian Tyrol, with a quality that makes me think it may live longer than most juveniles. I can imagine adults enjoying it just as much as younger people.
A sort of Tom Thumb in reverse (except that this is pure fiction) is The Giant by William Pène du Bois (Viking). Bold black and white illustrations by the author will appeal to anyone who'd get a thrill out of seeing a boy play with elephants as if they were tiny white mice. Don't forget that this giant boy is seven stories high and very nice after you get close enough to know him. A book similarly conceived in fantasy, but one that girls would take to more than boys, is Beyond the Pawpaw Trees by Palmer Brown (Harper). It is a little Alice in Wonderland-ish.
Horses and Their Ancestors by William A. Burns (Whittlesey House) ought to attract a sizable following since there are always a certain number of horse-mad young people. With lively drawings by Paula Hutchison, it tells the story of the horse from prehistoric times to the presentday parimutuel window. And for a twelve-year-old who likes his history made interesting (as who doesn't?) I recommend Peter Stuyvesant of Old New York, a Landmark book by Anna and Russel Crouse (Random House). For children who like folk tales there is With a Wig, With a Wag, edited by Jean Cothran (David McKay).
In the books for older boys and girls a few are really outstanding; for example, Ladd of the Big Swamp by Cecile Matschat (John C. Winston). Here is a straightforward, wellwritten account of a Southern family who proudly survived their uprooting during the frantic Reconstruction period.
Another colorful period in history — this time Elizabethan England is background for a first-rate story for young teen-agers, The Wonderful Winter by Marchette Chute (Dutton). Sir Robin Wakefield is its appealing runaway hero, and his dog Ruff is my favorite animal character since Elizabeth Barrett's Flush.
Who cares if James Ramsey Ullman has used much of his White Tower material all over again in Banner in the Sky (Lippincott)? It is still a smoothly told tale of great suspense, with the Citadel waiting to be climbed by young Rudi, who felt he could justify his existence in no other way.
When you have a sea story that is also a good dog story, you really have something worth while. Thank Edmund Gilligan, then, for his Sea Dog (Knopf). It's a swift and salty yarn.
Eilis Dillon has done a first-rate sea story too in The San Sebastian (Funk & Wagnalls). The west coast of Ireland is the setting, and her plot is as wild as the background itself. Well-sustained suspense and more than superficial characterizations give this one a Treasure Island quality.
Now it wouldn't be fair to that isotopes-conscious young man in your family not to call his attention to Going into Space by Arthur C. Clarke (Harper). The author, chairman of the British Interplanetary Society, can really convince one that a trip is just around the corner when he describes in nontechnical language a journey to the moon.
You'll find Broken Arrow by Elliott Arnold (Duell, Sloan, and Pearce—Little, Brown) about as keen an interpretation of the American Indian problem as has come out for young people. With slowly mounting dramatic force it shows what a powerful instrument for peace mutual trust can be. The book is taken from Blood Brother.
Some publishers this year, realizing that they have been shooting wide of the mark when they tagged certain books for "teen-agers," have been beaming their adult books toward this group. Or they have been calling their "teen-ager" books "young adult" fiction.
One of these is Maggie by Vivian Breck (Doubleday). San Francisco in the nineties is the setting for this character study of a wealthy young girl who kicks over the conventional traces to marry a poor mining engineer. Their struggle to save their marriage in the face of incredible hardships in Mexico makes an exciting tale. Best of all, the sophisticated style will prevent impressionable young ladies from realizing that it is wholesome.
Another girl's story, Love Is Forever (Morrow), has the same sort of theme, though the locale is Alaska. The author is Margaret E. Bell, who can always be counted on to turn in a readable piece of writing.
Cheers too for Gentlemen and Rebels by George H. Faulkner (Little, Brown). Making heroes of the past seem like contemporary figures is a task for which the author's work on radio's "Cavalcade of America" has trained him well. A star for this one.
Other more advanced books that attracted me were Star Performance, the story of the world's great ballerinas, by Walter Terry (Doubleday); Gene Rhodes, Cowboy by B. F. Day (Messner); Elizabeth Tudor by Marguerite Vance (Dutton); and Like a Sister by Gorinne Gerson (Funk & Wagnalls).
The last-named, though a little skimpy as to plot, is a good example of how delicately, but how sharply too, the problem of understanding people of other races can be handled. Girls who have ever had "pen pals" all over the world will be enthusiastic about Like a Sister.
Almost every year there seems to be at least one book that refuses to fit into the strict confines of any set age-group. Once it was Charlotte's Web, remember? This year it is Youth's Companion (Houghton Mifflin) edited by Lovell Thompson.
Then, for a perfectly made fantasy, you mustn't overlook The Wonderful Flight to the Mushroom Planet by Eleanor Cameron (Atlantic-Little, Brown). I glanced at it rather skeptically at first, because I thought it might be a tale of elves and sprites and I was looking for something a boy around nine years of age would enjoy.
This is it. This has everything a solar-happy youngster could ask for. It has great suspense and a most realistic description of a trip that two boys make in their own space ship. I felt as if I were right there with them, checking my oxygen supply and everything. It's certainly packed with action.
Galley proofs came in for three other books, to which I had time to give only a brief nod, but that was enough to make me look forward to reading them. They are: Many Worlds Seen and Unseen by Edith Raskin (David McKay), Rebellion at Quaker Hill by Carl Carmer (John C. Winston), and Leonardo Da Vinci by Elma Ehrlich Levitiger (Messner).
That leaves only one more, a Landmark book that I find myself under a strange compulsion to mention. It is John James Audubon, which my husband, John Kieran, and I wrote and which the Book-of-the-Month Young Readers Club made its October selection (Random House).
But if there were space here I would call your attention to many more books that I think your youthful acquaintances from four to sixteen would enjoy. Perhaps the best thing you can do is take a leisurely stroll through the juvenile department of a bookstore and find out for yourself.