Sunday Morning King's Cambridge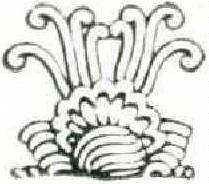 FILE into yellow candle light, fair choristers of King's
Lost in the shadowy silence of canopied Renaissance stalls
In blazing glass above the dark glow skies and thrones and wings
Blue, ruby, gold and green between the whiteness of its walls
And with what rich precision the stonework soars and springs
To fountain out a spreading vault —a shower that never falls.
The white of windy Cambridge courts, the cobbles brown and dry,
The gold of plaster Gothic with ivy overgrown,
The apple-red, the silver fronts, the wide green flats and high.
The yellowing elm trees circled out on islands of their own—
Oh, here behold all colors change that catch the flying sky
To waves of pearly light that heave along the shafted stone.
In far East Anglian churches, the clasped hands lying long
Recumbent on sepulchral slabs or effigied in brass
Buttress with prayer this vaulted roof so white and light and strong
And countless congregations as the generations pass
Join choir and great crowned organ case, in centuries of song
To praise Eternity contained in Time and colored glass.