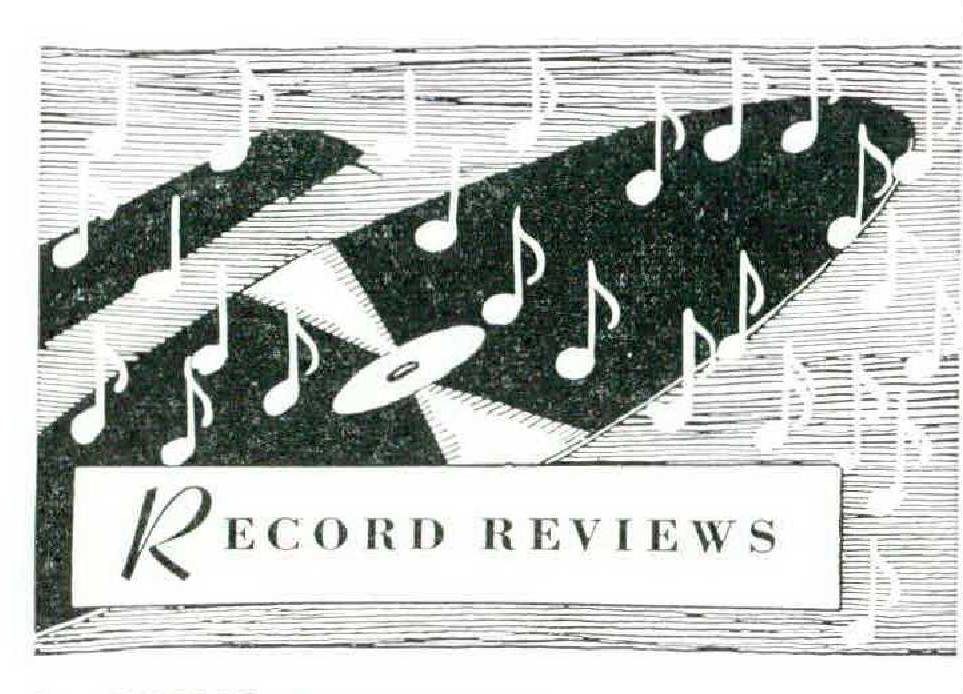 by JOHN M. CONLY
Bartók: Piano Concerto No. 3 with Prokofieff: Piano Concerto No. 3 (two versions: Julius Katchcn, piano; Ernest Ansermet conducting Orchestre de la Suisse Romande; London: 12" TP; and Leonard Pennario, piano; Vladimir Golschmann conducting St. Louis Symphony Orchestra; Capitol: 12" LP). The Prokolieff work dates front his early classic-international period; it is vivacious and tuneful. I he Bartók was the composer's last work — quiet, contemplative, almost pastoral in spots, very beautiful. Katchen and Ansermet play both a little more eloquently than their rivals, and are far better recorded.
Beethoven: Symphony No. 4 in B Flat Major (Josef Trips conducting Amsterdam Coneerlgebouw Orchestra; London: 12" LP). Giving two record sides (more groove room) to this performance is justified by the dynamic range it permits. Only the Toscanini and Solti (earlier London) versions can match Krips's m performance, and neither comes anywhere near his in recorded sound. Big, broad, and beautiful.
Brahms: Piano Concerto No. 1 in D Minor (Wilhelm Backhaus, piano; Karl Böhm conducting Vienna Philharmonic Orchestra: London: 12" LP). What seems at first slow-measured becomes wonderfully right in a few minutes. Treat intelligence and feeling; superb pianism; faultlessly balanced and integrated sound. Memorable.
Benevolo Orazio: Festival Mass for 53 Voices (Joseph Messner conducting soloists, Salzburger Domclior, and Vienna Symphony Orchestra; Epic: 12" LP). Here'"voices" means parts. There are many more than 53 voices, plus much brass and organ, in this rare 1628 example of the giant baroque style of composing. It has moments of great drama and ecstatic songful ness. Unfortunately, the recording seems to represent an actual performance; there are slips in the singing and a lot of echo. Nevertheless, it's exciting.
Kodaly: Sonata for Cello Unaccompanied with Prokofieff: Sonata for Cello and Piano, Op. 119
(Edmund Kurtz, cello; Artur Balsam, piano; Columbia: 12" LP). The Kodály is the attraction here, a sort of Hungarian symphonic tone-poem written for one instrument, astonishing in it s atmospheric effect.. Janos Shirker's recording of it for Period was a 1950 hi-fi marvel; this is a newer one. with the uncomplicated Prnkofielf thrown in as a bonus.
Mendelssohn: Songs Without Words, Vol. 2 and Vol. 3 (Ginette Doyen, piano; Westminster: two separate 12" LPs). Nothing need be said about the sweet, delightful "songs," except in everlasting surprise at their everlasting variety. The demure gaiety and high competence of Miss Doyen seem exactly right for them, and Westminster has furnished rich, uni roubled sound.
Mozart: Adagio and Rondo for Glass Harmonica, flute. Oboe, Viola and Cello; Andante for Flute and Orchestra; Concerto for Flute and Harp, K. 299 (Carl Swoboda, eelest a; Camillo Wanausk, flute; Hubort Jellinek, harp; other soloists and Vienna Pro Musica Chamber Orchestra; Vox: 12" LP). I'he celesta substituting for the almost extinct glass harmonica may be an improvement. At any rale, the effect is pure enchantment. The other goodies in this tasteful grab bag are equally magical, equally unphilosophical. It must be an illusion; nothing can really be as pret ty as this — or can it ?
Mozart: Serenade No.10, for 13 Wind Instruments (Wind Ensemble of the RIAS Orchestra, Berlin; Telefunken: 12" LP).The choice seems to be between the brainy, disciplined Steinberg performance for Capitol, and this spontaneous version, a little rough here and there both in playing and recording, but very, very nice.
IMozarl: Symphony No. 40 in G Minor with Schubert: Symphony No. 8, "Unfinished"(Felix Prohaska conducting Vienna State Opera Orchestra: Vanguard: 12" LP). Almost weirdly, these two exquisite performances, in splendid reproduction, arc matched only in another record offering the same combination. It is that by Leinsdorf on Columbia-Entré, astonishingly similar in concept, abetted by a lugger, better-trained orchestra — and by a price advantage of nearly $3.00. You had better hear both records before buying.
Tchaikovsky: Capriccio Italien; Andante Can labile from Op. 11 with Rimsky-Korsakoff: Capriccio Espagnol; Flight of the Bumblebee; Dance of the Tumblers (Eugene Ormandy conducting Philadelphia Orchestra; Columbia: 12"LP). Another pops-style hi-fi bouquet from the incomparable Phillies —and what more, in July, do you want?
Tchaikovsky: The Nutcracker (Antal Dorati conducting Minneapolis Symphony Orchestra; Mercury: two 12" Id's in album with illustrated bind-in booklet). One of the handsomest packages ever seen contains the first complete Nutcracker. And the Olympian fidelity pulls the instrumentalists right into your living room, like a telescope; it's absolutely astounding. Sole criticism: they took the project a little too seriously; this music should have fun in it. Just the same, the portions of the ballet usually omitted turn out to be well worth retrieving, and the gunshot on Side 2 by itself should suffice to sell the set.
Vivaldi: la Straraganza— 12 Concerli for Violin, String Orchestra and Continue (Rheinhold Bardlet, violin; Helma eLSNER, harpsichord; Rolf Reinhardt conducting Stuttgart Pro Musiea String Orchestra; Vox: three 12" LPs boxed in album with historical brochure). Throe great musicians lived at one time — Bach, Handel, and Vivaldi-and the liveliest of these was the redheaded Venetian priest. His enjoyment of life comes through to us in the swift, warm colors of his music. Any impression of "sameness" in t hese dozen concerli is an illusion soon dispelled by better acquaintance; indeed, no one of them sounds quite the same twice. The performances are felicitous and the recording faithful to the cordial purposes of the music. Here is something very much worth owning.
The Magic Word — Poems That Tell Stories (Agnes Moorehead, Fredric March, Alexander Seourby, readers; Deeca: 10" LP). Not all the poems "tell stories," but all are highly effective. Miss Moorehead reads Rosemary Benet's "Nancy Hanks," Mr. March reads "Paul Revere's Ride." All the rest—Noyes's "The Highwayman," Masefield's "Sea Fever,"Kipling's "If" and "Gunga Din," and James Weldon Johnson's "'Fhe Creation" — are read by an actor named Alexander Seourby, who is obviously richly gifted at this sort of thing. Nothing in the collection is exotic, and nothing sounds trite.