Shopping À La Cart
WEAKB HOLBROOK has written many light articles for news syndicates and magazines, A former Iowan, he note lives in Hartsdale, New York.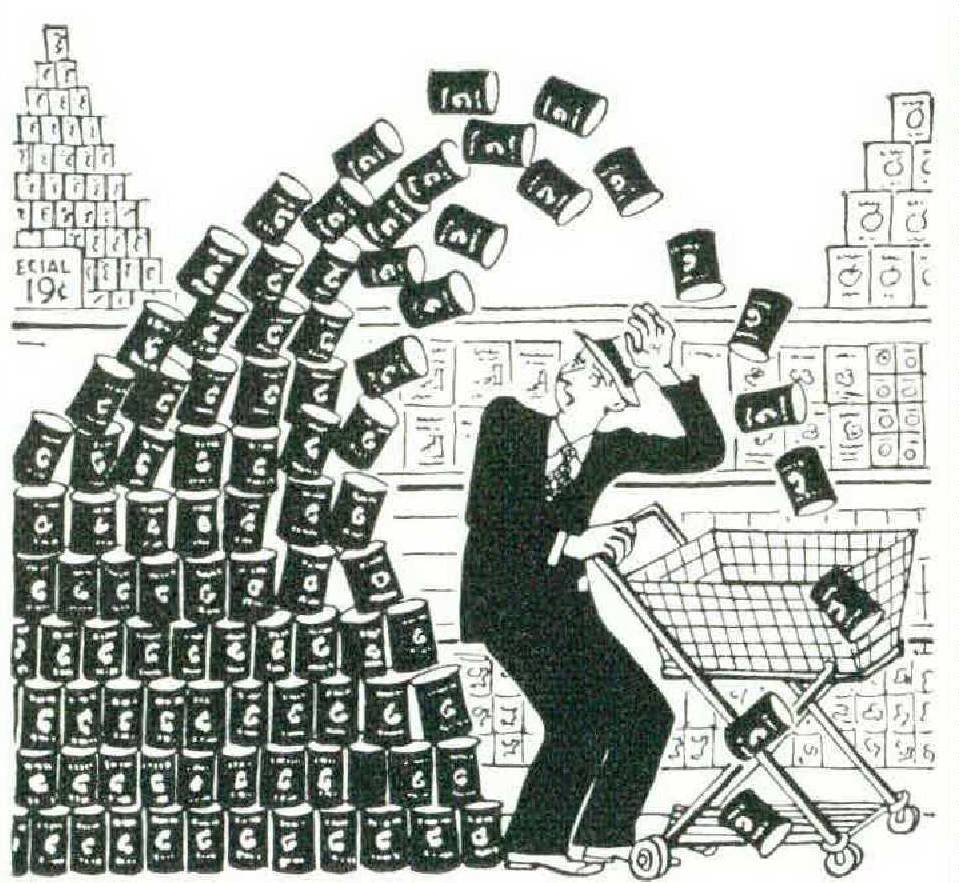 by WEARE HOLBROOK
IT WAS my first time in the Helpy Selfy, and though it was crowded I seemed to be the only man in the place except for a few callow cashiers.
Just inside the entrance stood a waiting row of carts snugly telescoped together—so snugly that when I pulled out the nearest one, two more came with it. I found myself propelling a coffin-shaped caravan which looked as if it should be filled in triplicate like a government form. Rumbling impressively on its twelve wheels, it attracted considerable attention and made me feel vaguely polygamous. But it was too long to negotiate the first turn (into Meat and Poultry), so I abandoned it with relief and seized upon a single cart standing idle near Deposit Bottles.
The cart had been standing idle for a reason which became apparent as soon as we started down the aisle together. It was a maverick with an insurgent front wheel, and it persistently veered to the left of center. Even a firm grip on the handle bar, plus body-english, failed to check this subversive tendency. Again and again I had to stop, back up, and start in a new direction.
All this warping and woofing resulted in frequent collisions and, eventually, in a discovery. I had always assumed that the gleaming pyramids of canned goods in stores were empty dummies artfully fastened together for display purposes. But they are not. They are genuine cans built up one by one to a precarious pinnacle and held in place only by their own weight.
The pyramid I backed into had been erected to the glory of sauerkraut juice. Over my shoulder I saw it sway, topple, and then collapse with a thundering crash. Before you could say "Edwin Arlington Robinson," I was knee-deep in cans. Some of them rolled all the way from Fruits and Vegetables to Jellies and Jams.
To reassemble them in their monumental pattern would have required the patience of a pinhead prayer engraver; so I tried hastily filling my wagon with them, as if I were a sauerkraut juice addict, who would go to any lengths to get the stuff. There had been a great demand for sauerkraut juice about twenty years ago, I recalled, just after the yeast fad and before the gelatine fad. It was supposed to prevent something, possibly the drinking of more sauerkraut juice. Whatever it was, I was ready for it.
By the time I had cleared enough floor space to trundle my cart through, there was barely room in it for the remaining items on my shopping list, which included Kinky Winx cereal, Whipsy Doodle salad dressing, Dreamboat soap, O-So-Lushus cake mix, Lover Boy lard, and Icky Poo pre-whipped cream.
But the point is, I got them — and without embarrassment. Though the shopping expedition took two hours, portal to portal, and the cash saving didn't cover my taxi fare home, I will concede that the supermarket has one advantage over its smaller competitors: it is impersonal.
The average adult male cannot easily bring himself to ask his grocer for something called O-So-Lushus or Icky Poo, or even Lover Boy. But at the Helpy Selfy he doesn't have to ask. He simply takes his Icky Poo off the shelfy and hands the cashier his hard-earned pelfy. And all with no loss of self-respecky-weckums.