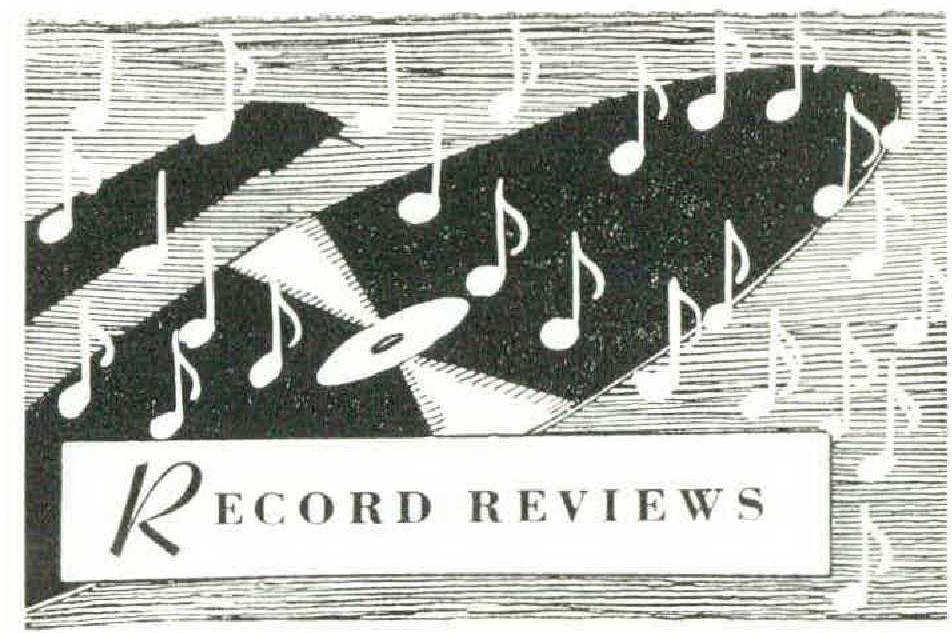 by JOHN M. CONLY
Bach: Cantata No. 70, Wachet.Betet (Felix Prohaska conducting soloists, Bach Guild Choir, Vierina State Opera Orchestra; Vanguard: 12″ LP). Bach himself amplified this church cantata ("Watch, Pray, Be Ever Ready") to make the most of its Judgment Day dramatic flavor. It has plenty, fully exploited here. Try Norman Foster's bass aria, "Ring out, O final trumpet!" on side two. The recorded sound is good, too.
Berlioz:L'Enfance du Christ (Thomas Seherman conducting soloists, Liitle Orchestra Society, Choral Arts Society; Columbia: two 12″ LPs). This year is being observed as Berlioz's sesquieentennial (actually he was born in December, 1803), and Columbia has released this recording in honor of the newly formed Berlioz Society. It is sonically but not otherwise superior to an aging Vox version with Andre Cluytens. It has, quite unpardonably, the same fault as the elder release no text. But the oratorio retains its charm and gentle drama.
Blow, John:Venus and Adonis (Margaret Kitchie, other soloists; Anthony Lewis conducting chamber ensemble; Oiseau-Lyre: 12″ LP). London now is distributing OiseauLyre records here; this is from the first, batch. The recording is only adequate, perhaps a reprint from 78s, but Blow's waggishly wicked Kesloration fun-making doesn't suffer unduly. Miss Kitchie sounds delight ful.
Britten: A Ceremony of Carols (Benjamin Britten conduct ing Copenhagen Boys Choir; Enid Simon, harpist; London: 10″ LP). Heretofore the London 78 r.p.m. album of Britten's delightful Yuletide suite has outpointed all LP comers. It is now dethroned by this beguiling, beautifully recorded rendition, which comes in cut-rate guise ($2.95) from the same company.
Delius: A Mass of Life (Sir Thomas Beecham conducting soloists, London Philharmonic Orchestra and Choir; Columbia: two 12″ LPs in album with text). Little known, this is a movingly sincere setting of Nietzsehe's Also Sprach Zarathustra — majestic, mystical, melodious in a massive Mahlerian way. Recording adequate.
Falla:Nights in the Gardens of Spain with Grieg: Concerto in A Minor (Guiomar Novaes, piano; Hans Swarowsky conducting Pro Musica Symphony of Vienna; Vox: 12" IP). Neither of these works has been exactly neglected on records, but Falla's warm and glistening score has rarely been so well treated as here, and the Grieg, too, glows anew in sane, metrical playing and devoted engineering.
Geminiani: Six Concert! Grossi (Rolf Reinhardt conducting Helma Elsner, harpsichord, Barchet String Quartet, Pro Musica String Orchestra of Stuttgart; Vox: 12" LP). PostCorelli, pre-Handel, gayer and lighter than either, and worth investigation. The engineers have well conveyed chamber orchestra sound, big yet intimate.
Handel:The Messiah (Hermann Scherchen conducting Margaret Ritchie, Constance Shacklock, William Herbert, Richard Standen; London Symphony Orchestra and Philharmonic Choir; Westminster: three 12" LPs in album with text). Much has been made of the fact that Dr. Scherchen here presents the "original Dublin version" of Handel's tremendous oratorio — a small orchestra and chorus; a vital, insistent harpsichord beat; solo violin accompaniments for certain arias. All of this cleanses and clarifies, heightens drama and adds intimacy. But there is something more, and more important: this is an inspired performance. In every moment, there is a blazing rightness and fervency, an exultant devotion and understanding. The singers and the instrumentalists are wonderful (notably trumpeter George Eskdale), and so are the engineers. But especially wonderful is Dr. Hermann Scherchen, in his finest offering on records and — to these ears — the outstanding recording of 1954 thus far.
Humperdinck:Hansel and Gretel (Elisabeth Schwarzkopf, Elisabeth Grümmer, Josef Metternich, Anny Felbermayer, other singers; Herbert von Karajan conducting Philharmonia Orchestra and English children's chorus; Angel: two 12" LPs in album with libretto or in thrift pack). Another out-of-season gala Christmas package. Surely some of Oboron's kindlier minions must have had a hand in the making of this fairy-tale opera set, for the whole thing savors marvelously of benign magic. Don Giovanni and Die Meistersinger, woe is them, never have had it so good. Even the recorded sound is slightly supernatural.
McDonald, Harl:Suite from Childhood with Caplet, Andre: The Mask of the Red Death (Felix Slatkin conducting Concert Arts Orchestra; Ann Mason Stockton, harp; Capitol: 12″ LP). The French Poepiece is pleasantly shivery. The McDonald suite's first appearance on LP has been awaited for five long years by veteran record fanciers, and it is a real pleasure to be able to report to them that this version has everything they hoped for — the glinting nostalgic melody, the rollicking sonority: a happily integrated performance in exemplary fidelity. Buy it.
Mozart:Bastion and Bastienne (Ilse Hollweg, Waldemar Kmentt, Walter Berry; John Pritchard conducting Vienna Symphony Orchestra; Columbia: 12″ LP with translated libretto.) A work to wonder at and delight in, from a 12-year-old composer, a child unmistakably a child and just as unmistakably a fullfledged, highly competent composer. It is sung and played with complete conviction here, and recorded with fine fidelity.
Mozart: Sonatas for Violin and Piano, K. 301, K. 304, K. 378, K. 379 (Nap de Klijn, violin: Alice Heksch, piano; Epic: 12″ LP). The instruments used in this are authentically Mozartian. The piano is a replica of the 1777 Stein piano, the violinist's bow is the small, light implement common in Mozart's day. The effect could be "quaint " and bloodless, but it isn't. Indeed, it is rather dramatic, quite possible what Mozart had in mind. Try it.
Mozart: Symphonies 18, 19, 20, 21; Symphonies 22, 23, 24, 25 (Otto Ackermann conducting Netherlands Philharmonic Orchestra; concert Hall: two separate 12″ LPs). A suspicion is confirmed: Mozart did not suddenly become a first-order genius with the publication of K. 385 (the "Haffner" Symphony). Me was just as good before. Here are eight genuine masterpieces, excellently played and very well recorded, issued almost as a secret. Two of the safest buys since recording began.
Stravinsky:Le Sucre do Printemps (two versions: Antal Dorati conducting Minneapolis Symphony Orchestra; Mercury: 12″ LP; William Steinberg conducting Pittsburgh Symphony Orchestra; Capitol: 12″ LP). It is hard to believe these are recordings of the same work. The Mercury version makes an astounding hi-fi display of the voices of various individual instruments. The Capitol sets forth, in very impressive Row k fidelity, what seems to this reviewer the most compelling Sarre on records, very much like Stravinsky's own recording brought sonicaily up to date. Take your choice.
Josten, Werner: Songs (Sara Mae Endich, soprano; William McGralh, tenor; Werner Josten, piano; SPA: 12″ LP). A quarter-century's crop of Smith College graduates will stand up to testify to Mr. Josten's charm, and so will these songs, written in what may be called twentiethcentury Romantic style, more reminiscent of Richard Strauss than anyone else; very good. The two fine, intelligent young singers have a wonderful time with them, and so will you.
Wagner:Lohengrin (Wolfgang Windgassen, Eleanor Steber, Astrid Varnay, Josef Greindl, other singers; Joseph Keilberth conducting Orchestra and Chorus of the 1953 Bayreuth Festival; London: five 12″ LPs in album with libretto). This was recorded at an actual performance; it has excitement, also some unplanned sonic effects. The orchestra, playing from Wagner's acoustic dungeon, sounds less subterranean than in the same company's Bayreuth Parsifal. The singers, while they settle no untrodden heights, show a fine, noteperfect competence and histrionic intelligence; the performance hangs together gratifyingly, and the engineers have eontribated a very fitting sense of presence. Anyone who attended Bayreuth last year will want this, and other Wagnerians may have to wait a long time for a belter Lohengrin.
Walton:Belshazzar's Feast (Sir Adrian Boult conducting London Philharmonic Choir and Philharmonic Promenade Orchestra, Denis Noble, baritone soloist; Westminster: 12″ LP). Such aural intimacy with such big, vital sound may not be exactly natural, but it is exciting and sounds proper to Walton's brillianthuted setting of the Biblical lines on Babylon's fall, arranged by Sir Osbert Sitwell. Very lively listening.