New Books for Children
MARGARET FORD KIEKAN was Children's Page Editor of the Boston Herald for twentythree years. She and her husband, John Kieran, have just completed John James Audubon, which Random House will publish as a Landmark Book this fall.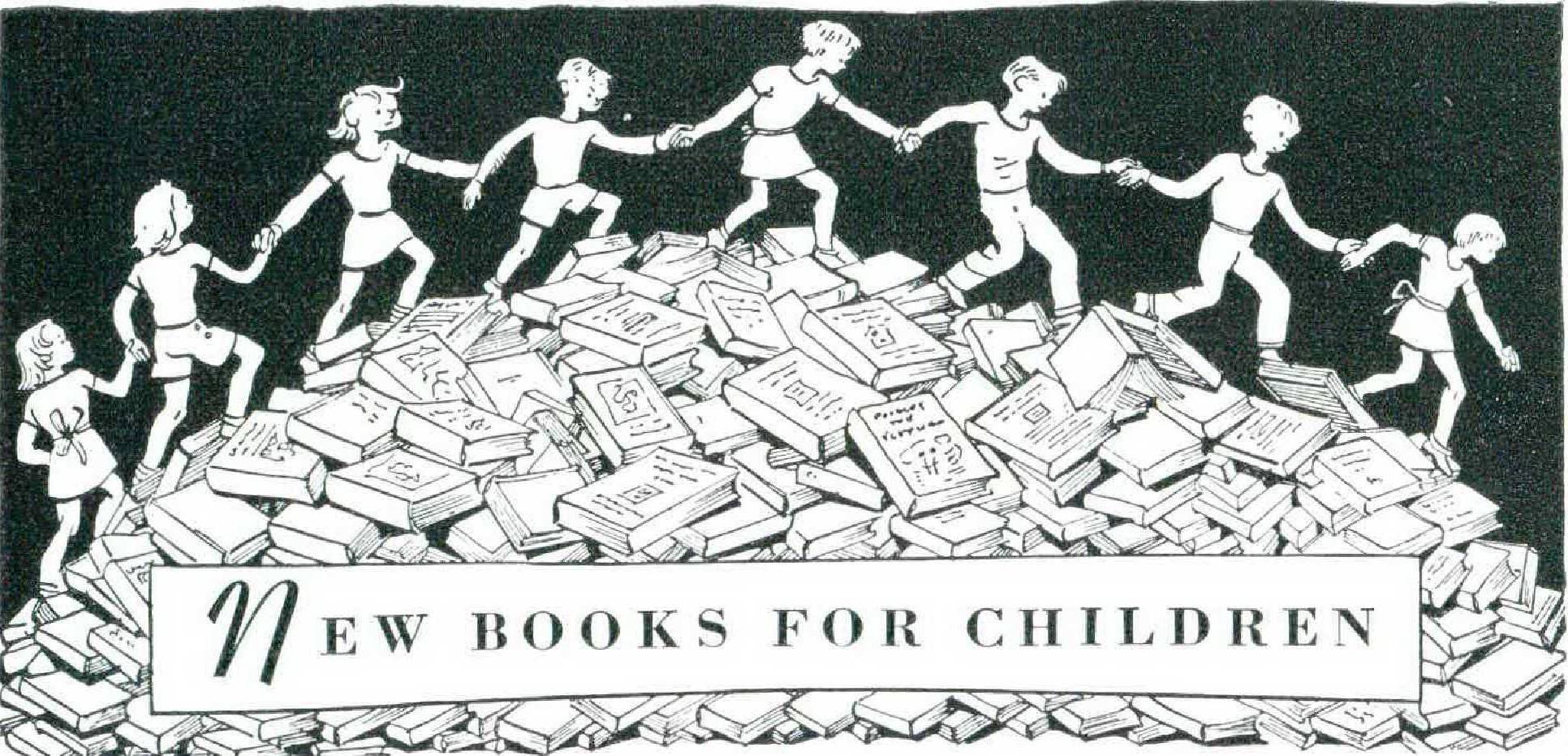 MARGARET FORD KIERAN
GATHER around while the spring and summer crop of new juveniles is on display. As usual, I'll begin with what I liked best in the picture age group. And, as usual, I should like to point out that this age grouping has to be flexible. Your child, for example, is probably above the average mentally, but the publishers have to have some yardstick, so they separate the books into small, medium, and large — the last classification taking in twelve years and upwards; the middle, seven to ten or thereabouts; and the first, seven downward.
Don't be alarmed if your children roam from one group to another in their choices. And if they seem rigid about sticking to one level, it should not disturb you, either. Just remember the cartoon that pictured a frantic mother with a family counselor. The caption went something like this: — "Don't worry, Mrs. Reynolds. It's perfectly normal for your seven-yearold to act like a seven-year-old."
In other words, almost anything goes.
I learned this from two of our grandchildren who Hew in from the West Coast just after the postman had left scores of books at our Bronxville apartment. The living room was festooned with banners saying "Welcome to Anne and Michael." The children acknowledged this sentiment, asked if there was any candy around, and then, with almost jet-propelled speed, fell flat on their stomachs to appraise the new books.
Eight-year-old Michael flipped through a few in a cursory way before he got down to the really serious reading of Starship Through Space by Lee Correy (Holt). Of course it was much too old for him, but he didn't give up until he ran into a description of "tiny metallic thallium thyatrons and indestructible transistors."
His nine-year-old sister Anne selected The Piebald Princess by Joan Balfour Payne (Ariel) as her immediate gold-star choice, and I agreed with her.
"It's a make-up story but it's not silly," she said. "And the pictures are the prettiest Eve ever seen, about."
So much for two reactions, one by a young man reaching recklessly beyond his age group and the other by a girl who seemed to gravitate to her own level.
Now comes the business of mentioning a few choices for younger readers.
Considering text, illustrations, and presentation, I liked What Is One? by Nancy Dingman Watson (Knopf) as well as any this spring. It's a charming method of teaching smallest children how to count. When they are old enough to use crayons very carefully, they might be allowed to fill in some of the exquisite line drawings done by Aldren Watson. They could try to copy the delicacy of the artist's tints.
Another picture book I selected was Boku and the Sound by Lloyd Coe (Crowell). In a very unfrightening way this story brings a child right into the heart of a jungle. The strange boom-boom the little "chimp" hears is a sound the youngster will like to imitate himself as he pretends that he too is stalking through the tangle of trees. Droll, clean-cut illustrations by the author.
Sound again is, obviously, the theme of The Loudest Noise in the World by Benjamin Elkin (Viking). The broad, sweeping illustrations by James Daugherty are striking. The plot, a familiar one, concerns a little prince who wants more than anything else to have everyone yell as loud as he can at the same moment. When this moment arrives, something unexpectedly pleasant happens, but I won't take the edge off your own enjoyment by telling you just how this author has worked it out.
Spring or summer, I can never leave the youngest group without mentioning a Golden Book or two, which Simon & Schuster publishes. Look at Animal ABC by Garth Williams this year. It's delightful. And going on to the seven to ten group, I want to recommend the latest Golden Play Stamp Books: American History, Indian, Wonders of the World, and Insect stamps. I feel sure you will agree that a subtitle for this series could well be "Education Is Fun."
I do not know Herbert S. Zim, the author of Dinosaurs (Morrow), but judging from the number of good books he turns out on a variety of subjects, there must be a touch of perpetual motion in his make-up. Every season another science-foryoung-people appears. He has done forty in all. This latest is just as simple, as clear, and as exciting as James Gordon Irving's black and white illustrations for it.
Mary Eidelis Todd has told the tale of The Juggler of Notre Dame (Whittlesey House) and illustrated it very beautifully in soft sepia tones with an occasional accent of cobalt blue. The story, as perhaps most children know by this time, teaches the lesson of doing one's best no nuttier how insignificant that best may seem.
How the song "Yankee Doodle" originated is uncertain, but no one has presented a setting half as vigorous as Erick Berry'sHay-foot. Straw-foot (Viking). It's a vivid picture of army life around 1773, but shouldn't the second line of the song begin on B-flat instead of D as shown on the end paper?
If I have a favorite in the middle age group, it is Down the Mississippi, authored by Clyde Robert Bulla and illustrated by Peter Burchard (Crowell). Not a word is wasted in this story of young Eric who wants to leave his Minnesota farm to work on a Mississippi steamboat. The fine illustrations point up a tale that will certainly make young people think a little, a novel experience for many TV viewers.
Peterli and the Mountain by Georgia Engelhard (Lippincott) is rather unusual in that it is based on the true experience of a cat who climbed the Matterhorn and now, retired, is presumably telling younger eats that they should have felt his muscle in the old days.
There'll be many a chuckle when your child under twelve reads Alphonse, That Bearded One by Natalie Savage Carlson (Harcourt, Brace). It has a French Canadian folklore flavor with some extra ridiculous flourishes.
Two other books in this group that granddaughter Anne liked are Susie and the Dancing Cat by Lee Wyndham (Dodd, Mead) and Your Prayers and Mine compiled by Elizabeth Yates (Houghton Mifflin). The latter would make a fine gift as a starter for a child's own permanent library. Decorations by Nora S. Unwin have an exquisitely spirituul quality.
For the slightly older boys and girls I'd give a gold star to Trouble on the Trace byTom Person (Ariel). It's a drama-packed tale of America in the early nineteenth century when bandits and Indians were a constant threat to anyone who headed toward New Orleans. Exceptionally fine illustrations by Joshua Tolford give the book a stunning impact. There's strong family feeling set down here, and a good sense of old-fashioned values.
Then from England (published in this country by Little, Brown) comes a fine semifactual yarn of the seventeenth century when skulduggery surrounded t he establishment of the first lighthouse there. The House in the Sea it is called, by W. H. Wood.
Redcap Runs Away by Rhoda Power (Houghton Mifflin) provides one more look into the past. The author describes fourteenth-century wandering minstrels with such a good ear that I put the book down having the distinct impression that I could hear the sound of a harp in the background.
Don't think for an instant that all the books for older boys and girls went delving into history. It just happened that these hist were grouped together before me as being among my favorites. On my desk too — and take a deep breath for a radioactive landing is Starship Through Space by Eee Correy, which was the infatuated choice of grandson Michael. Ii will be greatly enjoyed by young men of your acquaintance over twelve who may be, shall I say, space happy.
Curious Calamity in Ward 8 In Dorothy Denting (Dodd, Mead) will interest all those loyal readers of the Penny Marsh books. They know it will be fast and that the background will ring true. Jean Reade in Public Relations by Pauline E. Mandigo (Dodd, Mead) is another such book, except that in this case, instead of hospital talk, there is a mound of almost textbook-type information on the publicity field as a career for girls.
Now here is one that mothers and fathers will enjoy as much as their children, I feel sure. It is General Tom Thumb by Alice Curtis Desmond (Macmillan). Almost everyone has heard of the little fellow, hut it takes Mrs. Desmond's sure hand to do a thorough, readable, and altogether satisfying biography, rich with anecdotes.
Last in the older group is Stand by for Danger by E. D. Mygatt (Longmans, Green), which stresses the important pari "ham" radio operators rail play in crime detection. The story itself is written in such a staceato style, and the dialogue is so surely in the "toon" idiom, that I'm positive your twelve-year-olds and up will stay with it until its exciting finish.
Under MISCELLANY I should like to mention a new edition of The Wind in the Willows (Scribner's); Jack Schaefer'sShane (Houghton Mifflm), beautifully illustrated by John McCormack: The Cowboy's Own Brand Book by Duncan Emrich (Crowell); The Animal Frolic by Toba Sojo (Putnam), and Catharine Sellew'sAdventures with the Heroes (Little. Brown).
There you are, with a selection that ought to take care of long rainy summer days. I'm sure they will interest most children, and I'm just as sure that when you ask why the books were enjoyed you will not he numbed as was the parent of one TV viewer I heard about recently. His mother, trying to probe the boy's almost inordinate devotion to a certain bloodcurdling program, asked him exactly why he liked it.
His answer was stunning in its simplicity. "Because it gives me nightmares," he said.
No such guarantee accompanies the book choices I have just made, but I have a strong hunch that your children will be richer in many ways for having read them.