Literature on LPS
JOHN M. CONLY is a former New York and Washington newspaperman, now on the staff of High Fidelity Magazine. "They Shall Have Music" is a quarterly feature in the Atlantic.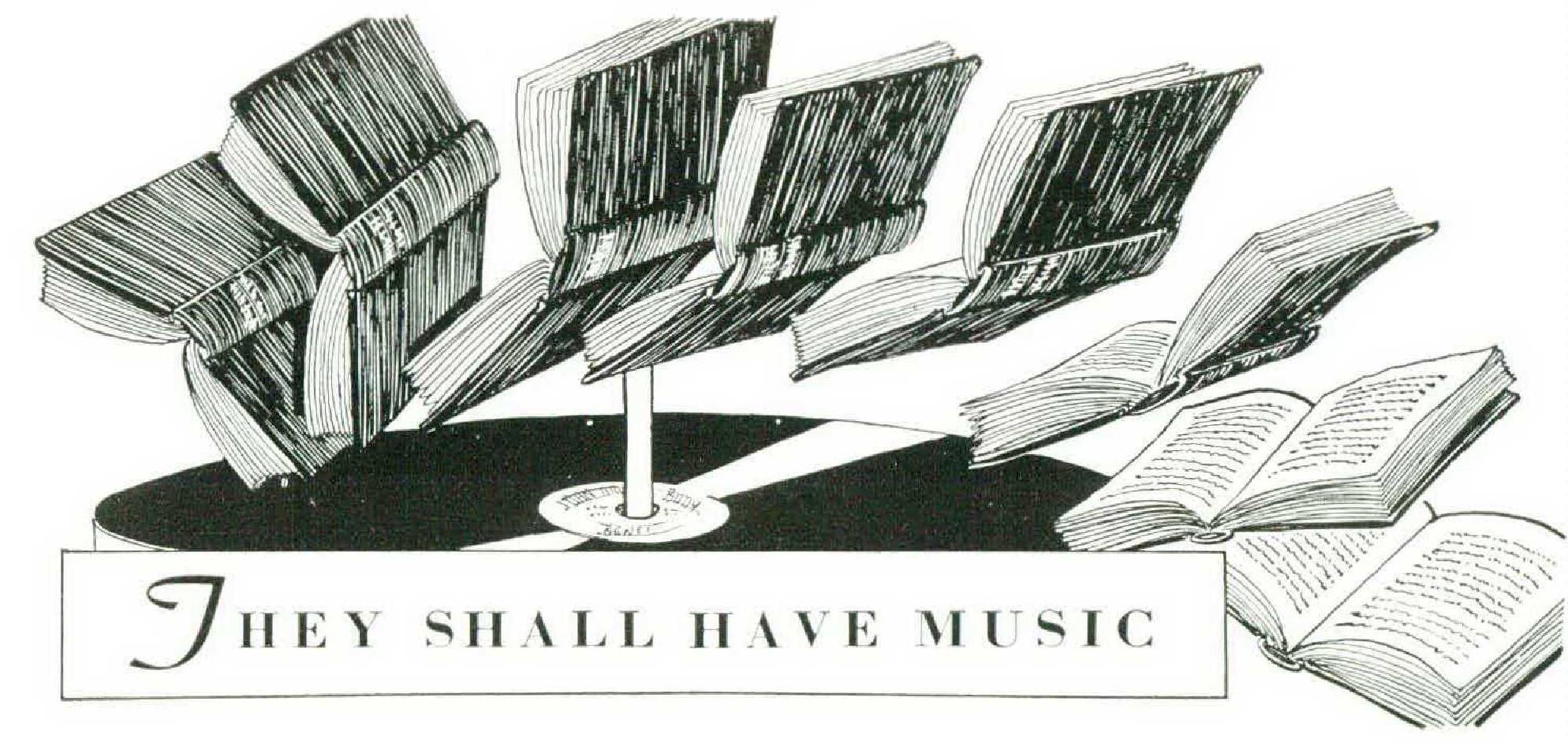 by JOHN M. CONLY
THE first phonographic playback in all history took place in 1877. A foil-covered cylinder rotated grudgingly; a metal stylus traced a delicate, erratic groove. Forth came the voice of the inventor, Thomas A. Edison, introducing to the world its latest wonder, in these words: —
Mary had a little Iamb
Its fleece was white as snow. . . .
Despite Edison's loyalty to it, the cylindrical record was to prove unviable. The phonographic future was to belong to the disk, brought into being eleven years later, in Washington, D.C, by Emile Berliner. Mr. Berliner, who had a massive Teutonic accent, acquainted the public with his invention through a disk of his own voice, bearing this epochal message:
Tvinkle, tvinkle, liddle shtar,
How I vender vot you are. . . .
As can readily be seen, great inventive minds sometimes run in the same channels. Anyone who craves further details about the genesis of the phonograph is advised to wait until early next year, when Lippincott will publish a definitive history of the instrument by Roland Gelatt. The point to be made here is simply that the phonograph, though now thought of usually as a musical instrument, began as a talking machine.
To a degree, of course, it remained so, particularly during its early, lowest-fidelity years. In the decades around the turn of t he century, hardly anyone who was anyone escaped the opportunity to shout a few well (or ill) chosen words down the acoustical horn. Many such brief waxed remarks survive, but most now have only curio value. To convey any real aesthetic content was beyond the tinny powers of the early phonograph.
In time, the phonograph improved, but music became its main aesthetic staple. The human speaking voice was largely relegated to recording such fare as comic monologues and children's stories. No doubt there are many reasons why the Spoken Word competed so feebly with the Sounded Note, but one should suffice. It is a rarely trained mind and inner ear that can derive a thrill from scanning the score of the Brahms Third Symphony. The music must be heard. This does not apply, however, to the sonnets of Shakespeare or the sermons of John Donne. If the spoken version of a piece of literature, recorded on cosily disks, is to sell at all, it must overcome at once an almost unfairly competitive item — itself, in print, on paper, at a much lower price. To make matters worse, the printed version has as allies the jealous inner ear and interpretive imagination of the prospective buyer, who often bristles at the idea that he needs to be read to or recited at.
Despite these odds, literature on records now is being produced, and is selling, too. "Dylan Thomas?" exclaimed a clerk in one of New York's largest record stores. "We can't get enough of him. Why, he mov es damn near as fast as Toscanini."
Credit for the sales success of the much-mourned young Welsh poet, and of other writers and readers of recorded literature, belongs mainly to two record companies, one huge and one tiny. A third record company has rendered a valiant assist; so have two illustrious libraries.
To reveal identities in reverse order, the libraries are the Widener Library of Harvard University and the Library of Congress of the United Slates. The third record company is Decca.
The first two record companies are Columbia and Caedmon, a grotesquely disparate pair. Columbia is the world's second-1argest disk-producer. Caedmon might well qualify as the world's second-smallest, since it consists of two 23-year-old girls. However, in the field of spoken word recordings, the two organizations are peers, and not unevenly matched competitors. In common they have evolved a concept which should make spoken literature a success on records if anything can.
The Columbia-Caedmon concept is simple. A spoken record must be able to hold its own in beauty, charm, depth, and lasting-power against the competition of music. It cannot rely on curiosity appeal related either to fictional plot or to historical fame — as its main attraction. Curiosity isn t durable, and people rarely will spend $6 on a record they will enjoy only once. Beyond this, the spoken literary record must offer something that its printed counterpart cannot, yet that is authentically a part of the literary content. To this last, puzzling requirement, one simple solution has served both Caedmon and Columbia admirably as a starting point: to have an author read his own work.
This technique cannot, of course, be applied to Shakespeare or Donne, but there are plenty of very interesting writers around, still alive, to whom it can be applied, and it has been. Even the most arrogant salcs-prospect can hardly contend that his inner ear is a more authoritative interpreter of Dr. Edith Sitwell's poems, for instance, than Dr. Edith is. And, presumably, after Dr. Edith has conditioned him to listening instead of reading, it becomes easier to persuade him that sermons were made to be declaimed, not perused, and that thus John Donne. . . .
Within the common concept, Columbia and Caedmon have found separate paths and sound precedents. Caedmon's girls have reached back to the day of the bards, when the saga and the romaunt were recited, not read; hence they rely heavily on poetry. Columbia, which means the company's multi-faceted executive vice president, Goddard Lieberson, has drawn on a day less remote, when reading aloud was a well-loved and almost universal art in literate families. Lieberson leans to the short slorv, the reminiscent essay, the reflective comment on the times. Either kind of repertoire, given exactly the right writer-reader, can be almost uncomfortably gripping. Doubters of this statement are invited to listen to either Dylan 'Thomas reading "If I Were Tickled by the Rub of Love" (Caedmon) or Truman Capote reading his strange short story, "Children on Their Birthdays" (Columbia). There is an electrifying intimacy here, much aided by modern, high-fidelity recording. Lieberson conceived the Columbia literary record project before the Caedmon girls planned theirs, though they hit their pace first. Neither originated the idea, but putting it into action makes its story theirs. Plays had come out on records earlier, and both Harvard and the Congressional library had begun systematically to record readings by major living writers.
In fact, Columbia's first poetry record initiated in the Library of Congress, where anthologist Lloyd Frankenberg had been doing research for a book. Me found that the Li bran was willing to license commercial repressmgs of its writer-readings, and he approached Lieberson in 1949 with the proposal that they compile an LP.
Lieberson, an elegant, deceptively languid man with an extraordinary business head and an artist's heart (a combination that sometimes causes him spiritual anguish), agreed to do so. The LP, called "Pleasure Dome" and subtitled "an audible anthology of modern poetry," contained works of T. S. Eliot, Marianne Moore, e e cummings, W. M. Auden, Dylan 'Thomas, and others, read by the authors and reproduced in varying fidelity. It did not sell like the conventional hot cake, but this didn't bother Lieberson, who thought he knew why it didn't and what could— and when.
Forthwith he began the four-year job of preparing what has come forth recently as the Columbia Literary Series (Set 1), a 12-LP collection of sure-fire modern prose writers (and one poet : Edith Sitwell) reading their own writings. The writers are Somerset Maugham, Aldous Huxley, John Collier, John Steinbeck, the three Sitwells— Dr. Edith, Sir Osbert, and Sacheverell — Katherine Anne Porter, Christopher Isherwood, Truman Capote, Edna Ferber, and William Saroyan.
As can be seen, this aggregation has a somethmg-for-everyone flavor, not at all by accident. It took time, for writers are captious people — espesuccessful writers — to woo them, bring them one by one to New York, and record them. But Lieberson saw a trend developing, and time was on his side. New York playgoers, whose are prophetic, had begun to crowd plays which were essentially nothing but high-grade talk — the subtler and more involved, the better: Eliot's The Cocktail Party, Shaw's St. Joan, Fry's The Lady's Not for Burning.
'To be sure, Decca recorded The Cocktail Party and The Lady's Not for Burning, as well as the grimmer Death of a Salesman, and didn't make a fortune. But plays on records sell slowly, since they are expensive items which cannot be played frequently — and, anyway, the time wasn't quite ripe. When the Broadway trend reached its logical climax, with the First Drama Quartette (Agnes Moorehead, Charles Boyer, Charles Laughton, Sir Cedric Hardwicke) simply reading, not acting, Shaw's Don Juan in Hell, Lieberson promptly bought the recording rights. He did the same for its successor production. Charles Laughton's adaptation of Benét's John Brown's Body, read by Judith Anderson, Tyrone Power, and Raymond Massey. Apparently the time now was ripe, for the two recordings outsold all other Columbia twoand three-disk albums in successive years.
The Literary Series, when it appeared last winter, was quite a production itself. The first thousand sets, 12 records each, were packed and sold in shiny square blackleather attaché cases, complete with a tastefully bound introductory booklet by Lieberson and Irwin Edman. The price was $100. This meant that any buyer would be [laying $28 for the carrying case — hardly a bargain. But it also meant that there would be a lot of talk and curiosity, which was the real object. About 700 of the sets had been sold by mid-March.
Any such collection, of course, has handicaps. Not everyone who wants to hear Sir Osbcrl Sitwell's drily humorous account of his family's sitting, children and all, for a portrait by John Singer Sargent will equally crave Edna Ferber's lusty reading of "The Gay Old Dog." Time will solve this problem. Not too long hence — perhaps by the time this Is published — the Literary Series records will certainly begin to come on sale singly.
No doubt they will sell, too — in part because of the impact of the $100 black-leather promotion-package, but in part, also, because of something that happened in 1952 to render much of Lieberson's elaborate four-year planning needless. In that year, two 21-year-old girl graduates of Hunter College reeled an office on Fourth Avenue, in New York City, and hired a man to letter the door with the legend "Caedmon Publishers." At once thereafter, the two girls began to introduce the public to the Spoken Word on rerords, with extraordinary ingenuity and vigor, and by a shoestring technique quite impossible to the worlds second-largest record company.
Caedmon, incidentally, lived in the seventh century and was the first post-Roman English poet to achieve a durable by-line. He is hardly wellknown, and mere familiarity with his name, let alone his works, might seem to categorize Barbara Cohen and Marianne Roney as voting lady eggheads of a most dreadful sort. Consequently, people are always somewhat surprised to find them very lively, attractive, and impressively shrewd businesswomen.
The two girls could easily have become lady professors, but fortunately they were frightened off by the too prevalent academic view of literature as something dead and ready to be dissected. ("There seemed to be," says Marianne, with a slight shiver, "more interest in my footnotes than in my ideas.") At any rate, after a year apart at various ill-paid editorial jobs, they rejoined forces, borrowed money to buy a Magnecorder tape machine and a microphone, rented an office, and laid siege to Dylan Thomas, who was currently treating breathless Eastern cities to readings of his own poems.
They found Thomas oddly inert, for a writer of such kinetic verse as his, but he consented to record, and his somber indifference vanished before the microphone, as the bardic impulse asserted itself. He left Barbara and Marianne with the unmistakable makings of a successful record the tingling nostalgia of "Fern Hill," the irresistible fond humor of "A Child's Christmas in Wales," set forth in belling eloquence of a kind almost forgotten by today's abusers of the king's tired English. Later, just before his untimely death, he was to make for them a second record, now perhaps the most wept-over disk of any since Caruso died. Indeed, Thomas already is being called the Caruso of the spoken word, probably with justification.
With Thomas on tape, the two girls were in business. Next they made an eerie, pre-dawn trip to the New England farm of Archibald MacLeish, poet and former Librarian of Congress, who charmed them with his warm consideration and enriched them with a fine recording of his allegory of modern civilization in crisis, Acffive. Unabashed thereafter, they recorded in quick succession readings by Tennessee Williams, Thomas Mann (auf Deutsch), Katherine Anne Porter, Eudora Welty, e e cummings, Ogden Nash, W. H. Auden, Sean O'Casey, and Sir Osbert Sitwell. Their most ambitious ventures were the issuance of Mrs. Porter's twodisk short novel. Pale Horse. Pale Rider, and the publication of Sir Osbert Sitwell's Wrack at Tidesend in both book (complete) and disk (selections) form. Nearly all their records have paid their way, and some have done far better. By the time this is printed, the two Dylan Thomas records will have grossed over $60,000.
Of great help to Caedmon's progress was the girls' acquaintance with a gifted young man named Peter Bartók, the son of the late Bela Bartók and one of the best recording engineers in business anywhere. He has supervised much of their recording. His aesthetic sensibilit ies are as highly developed as theirs, his feeling for atmosphere as keen. It shows up in the records, sometimes strikingly. It was Bartók who insisted on taping Sean O'Casey by his own fireside in Devon. The popping of the fire can be heard, as well as the lonely wail of a distant rural railroad train. It adds something.
Having conditioned the public through the author-reading-his-ownworks formula, Caedmon's girls have begun to break away from it. They have done so cautiously, though. One of their newest offerings is a pair of disks titled Hearing Poetry (Chaucer to Milton; Dryden to Browning). The poems are read by actors: Hurd Hatfield, Jo Van Elect, Frank Silvern. But the annotator-commentator is Mark Van Doren (poet) and the whole production was directed by Howard O. Sackler (poet), who conducted the speakers almost as if he were an orchestra leader. (A revelation in the recording, incidentally, even to seasoned readers, is the impact of William Blake when read aloud.) Now they are venturing a little further afield, with readings from the Rubáiyát by, of all people, the musical comedy actor Alfred Drake, currently starring in Kismet. The girl entrepreneurs also have in mind a production of Milton's Comus, accompanied by the music originally written for it. lo help defray the cost, they think they might put the performing group on the road, to give "live" performances. And they are compiling an antiquarian authorreader record, containing rare recordings by Oscar Wilde, Walt Whitman, Edward Lear, William Cullen Bryant, Oliver Wendell Holmes, and other greats of the last century.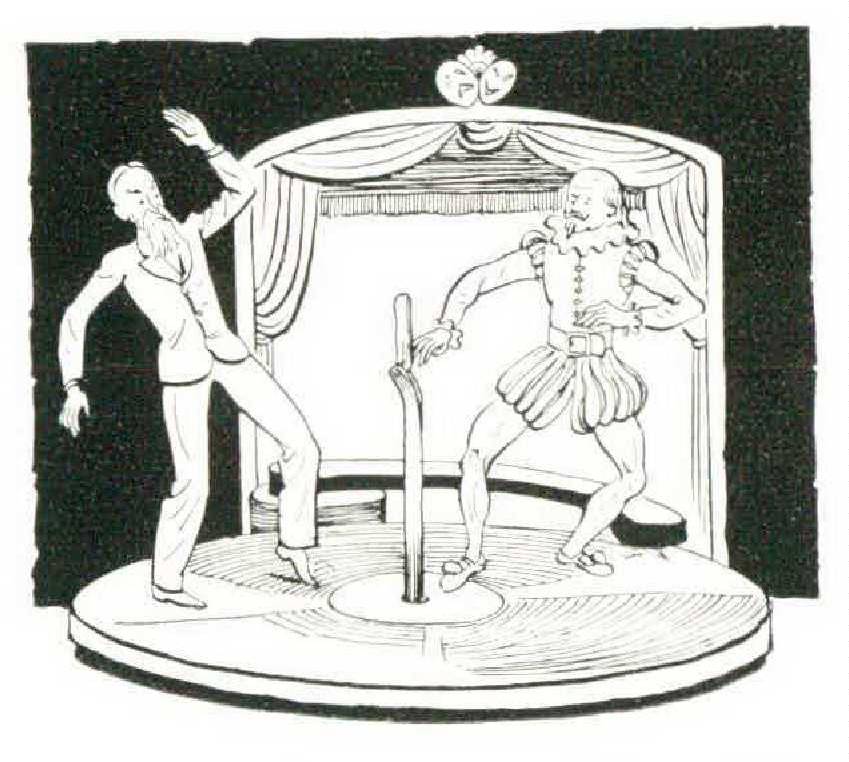 Obviously, Marianne Honey and Barbara Cohen of Caedmon think the dike is breached for good, so far as concerns public acceptance of spoken words on disks, and others in the field bear out their faith. At Decca, two 10-inch disks of Carl Sandburg readingCarl Sandburg are reported selling steadily, without any special promotion. Decca's editor, the poetry anthologist Louis Untermeyer, is grooming a very promising young readeractor named Alexander Scourby for future poetry disks. (Decca also has produced an extensive children's literature scries, featuring noted actors, in conjunction with the American Book Company, a school text publisher.)
Plays, too, are picking up momentum. Decca's The Lady's Not forBurning and The Cocktail Party sell better now than when they were new. Columbia has reprinted under its lowprice label, Entré, its early recording of I he Orson Welles-Mercury Theater version of Shakespeare's Julias Caesar, an astonishing bargain at $()! Angel Records' two-disk recording of Eliot's Murder in the Cathedral, with Robert Donat as Thomas aà Becket, supported by an Old Vic cast, sold 3000 copies in its first two months out. The same company's The Importance of Being Earnest, with Sir John Gielgud and Pamela Brown reading the wonderful Wilde lines, has done almost as well.
Living writers, of course, continue to be sought and signed up, though some have proved to be impossible as record-readers. There is one whose caveman physique and equally deepchested writing are at weird variance with his thin, high, precise voice. Others are opposed to being recorded. Some simply are unruly. William Saroyan gleefully refused to make a trip to New York to record for Columbia. Finally Goddard Lieberson assented to his doing Ins own recording, at his cottage at Malibu Beach.
The resulting tape was a document for the ages, but not possibly for the public. Apart from strange breaks and the authors unrestrained amusement at his own long-unread writings (some of which is retained in the edited record), the original contained aural evidence of what seemed to be a horrible local epidemic of bronchial disorders, telephone bells, surf-thunder, and a heated, very irrelevant argument between a couple of unwary visitors. Happily, these could he edited out.
There are people who claim that spoken literature is a fad, unnecessary and even unwelcome to anyone truly literate. Mark Van Doron, midway in the preparation of his script for Caedmon's Hearing Poetry, was suddenly afflicted with doubts in this direction. The eye and the brain's inner car, he protested, ought to be adequate interpretive instruments for anyone.
"How do you enjoy," Marianne Roney asked him, "reading Mozart?" He withdrew his argument and went on with the script.