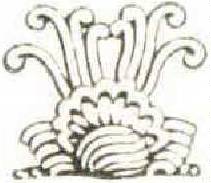 by ANNE MORROW LINDBERGH
HERE on the mainland I am rooted down,
Tethered to earth's four corners like a barn,
Balanced to bear the seasons as they ride,
Haycarts and cattle, grain and crops, in stride.
Square to the world, I watch the sun's slow pace,
Morning and evening, from my steadfast place.
But when I leave the mainland and I go
Back to the islands where the waters flow
In un predie ted paths, and landmarks shift
With rudder angle or a full sail's lift,
My firm Newtonian universe dissolves,
And in my heart the compass rose revolves.
As Bach once played upon a folk-worn song,
Tide, wind, and water counterpoint among
Familiar granite slabs until they seem
No longer static, borne upon a stream,
As sea gulls on a shaft of air in flight;
Or boats — white sides, pine-masted — pulling tight
Against their anchors, waiting for the right
Touch to raise sails, go scudding out of sight.
And I — I feel my pattern too might change,
Living among the islands; all is strange —
A bay, a cove, a sudden turn of tide,
An unexpected channel never tried
Before. Time and the mainland stand aside
Once more —Once more, life shatters open wide!