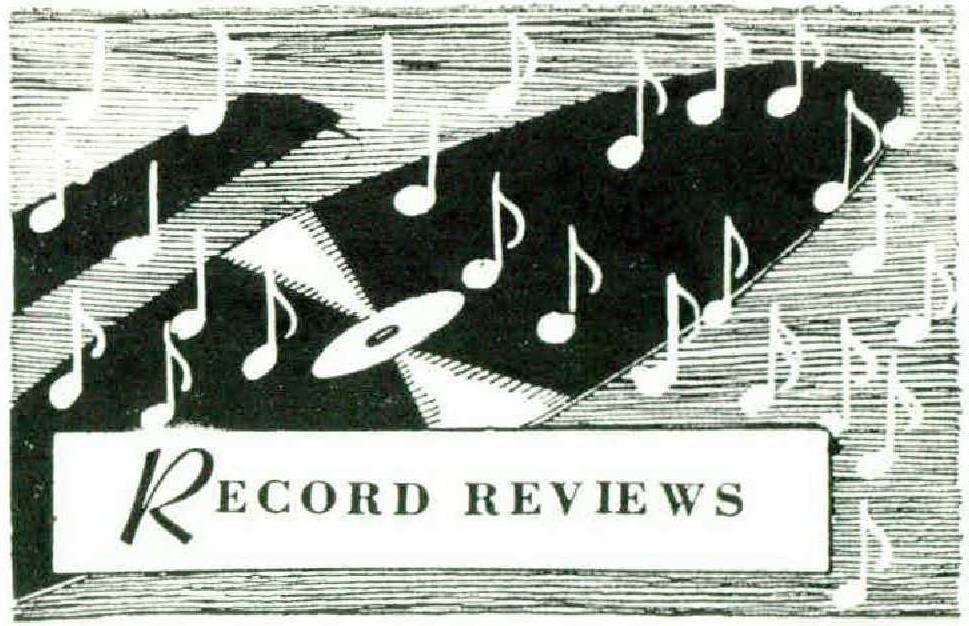 by JOHN M. CONLY
Albeniz: Iberia Suite with Turina: Procession del Rocio; Granados: Intermezzo; Falla: Interlude and Danza (Gaston Poulet conducting London Symphony Orchestra; M-G-M: 12″ LP). One way or another, M-G-M seems to latch onto the best ballet music, best played and reproduced with the most astonishing sonic realism — like this!
Bach: Saint Matthew Passion (Hermann Scherchen conducting Magda Laszlo, Hilde Roessel-Majdan, Petre Munteanu, Richard Standen, Hugues Cuenod, other soloists, chorus and chamber orchestra; Westminster: four 12" LPs with text). Two competitive versions have appeared, but this is it — nearly four hours of almost terrifying participation in one of the greatest music dramas ever written. Caution to Bach specialists: the arias are fast-paced; listen before buying.
Benét: John Brown's Body (Judith Anderson, Tyrone Power, Raymond Massey; Richard White conducting chorus. Edited and directed by Charles Laughton. Columbia : two 12″ LPs in album). A tribute to the actors in this time-trip to 1860: never once does the listener visualize their well-known faces. Always he sees instead the war-tossed characters of the story, from Lincoln and Lee to Old Cudjo the slave. A magnificent and enthralling production.
Beethoven: String Trios Op. 8, "Serenade,"and Op. 9, No. 3 (Jean Pougnet, violin; Frederick Riddle, viola; Anthony Pini, cello; Westminster: 12″ LP). Beethoven in his mid-twenties: a rare, virile charm, particularly in the "Serenade." Nothing dull or trifling, and a superbly realistic recorded sound.
Beethoven: Symphony No. 3, "Eroica" (Hermann Scherchen conducting Vienna State Opera Orchestra; Westminster: 12″ LP). An excellent, vigorous "Eroica" in very tough competition: Toscanini's has more fire but dimmer sound; Leinsdorf's (Columbia "Entré") terser accents and better sonic perspective, plus a $2.85 price-advantage. Scherehen's has closer-to recording and some Scherchen idiosyncrasies in tempo, notably in the finale.
Brahms: String Quintet No. 2; String Sextet No. 1; Piano Quartet No. 3; with Schumann: Piano Quintet in E Flat (Casals, Stern, Schneider, Szigeti, Katims, Hess, other chamber players; Columbia: three 12″ LPs). You can feel these artists' devotional delight in each other's answering skill; perhaps never again will any of this utterly lovely music he so beautifully played as here. Furthermore, the engineering is the best given any of the Casals Prades or Perpignan Festival disks, A lasting treasure.
Falla:El Retablo de Maese Pedro (Waldemar Kmennt, tenor; Ilona Steingruber, soprano; Otto Wiener, bass; Charles Adler conducting Vienna Philharmonia Orchestra; SPA: 12″ LP). All Cervantes lovers take note: this is the episode in Quixote's adventures wherein he is swept away by the drama of a puppet show and intervenes to save the heroine. It has been set to music by de Falla in faultless taste and delicious humor, and SPA has contributed crisp, exciting sound.
Falla: Piano Music, Complete (José Echaniz, piano; Westminster: 12″ LP). It's a pity he didn't write two LPs' worth, for this is warm, rhythmic, melodically charming stuff, from the youthfully winsome Valse Capriccio to the vibrantly mature El Amor Brujo. Echaniz plays the works to the hilt, and the recording is firstrate.
Isaac, Heinrich:Missa Carminum (Ferdinand Grossman conducting Wiener Akademie Kammerchor; Westminster: 12″ LP). Isaac, born in 1450, was more than the father of German counterpoint. He was composer of some of the tenderest, most genuinely peaceful devotional music ever written. The Viennese singers and Westminster's recordists do him fond justice here.
Liszt: Six Hungarian Rhapsodies (9-15) (Edith Farnadi, piano; Westminster: 12″ LP). Seemingly there is to be a Farnadi-Liszt series — a fine thing, for Farnadi really can make this music ring, and the engineers abet her handily.
Ogden Nash Reads Ogden Nash (Caedmon: 12″ LP). Twenty-eight works, to be exact; and no further comment is needed. You want it or you don't. The same goes for two other new Caedmon releases — Eudora Welty reading Eudora Welty in a demoniac Dixie prattle; Sean O'Casey reading S. O'C. in a massive Abbey Theatre brogue. Both authors chose for themselves what they would read.
Rachmaninoff: Piano Concerto No. 2 (Edith Farnadi, piano; Hermann Scherchen conducting Vienna State Opera Orchestra; Westminster: 12″ LP). The performance is good without being very moving, but the sound is so naturally and comfortably ultra-rich as to make this hard to resist.
Schubert: Four Impromptus, Op. 142 (Clifford Curzon, piano; London: 12″ LP). Mr. Curzon is famous for his way with Schubert's brightly wistful piano music. These are welcome, particularly in such extreme fidelity.
Schubert: Symphony No. 8, "Unfinished" with Mozart: Symphony No. 40 in G Minor (Erich Leinsdorf conducting Rochester Philharmonic; Columbia "Entré": 12″ LP). Tremendously new and stirring renditions of these glorious old warhorses in really splendid sound. At $3, this is probably the best buy in the history of the record industry. Has Columbia gone crazy?
Schumann: Concerto in A Minor (Wilhelm Kempff, piano; Josef Krips conducting London Symphony Orchestra; London: 12″ LP). Talents perfectly matched and suited to their task here turn out a fluid, lyrical marvel. The recorded sound is suitably airy.
Verdi: Otello (Arturo Toscanini conducting Ramon Vinay, Herva Nelli, Nan Merriman, Giuseppe Valdengo; chorus and NBC Symphony Orchestra; RCA Victor: three 12″ LPs in album with libretto). This is the famous 1947 broadcast performance of Verdi's masterwork, in surprising fidelity but for rumble on sides 1 and 6. It has all the fiery compulsion that memory hinted; the great drama marches in implacable fury. A "must."
Benny Goodman and His Orchestra (Columbia: 12″ LP). This is the sixth Columbia collection of Goodman performances taken down as air-checks between 1938 and 1945; naturally it displays less swing virtuosity than some others. Just the same, it is vital, vivid dance music of a kind seldom heard these days, and the fidelity is estimable.