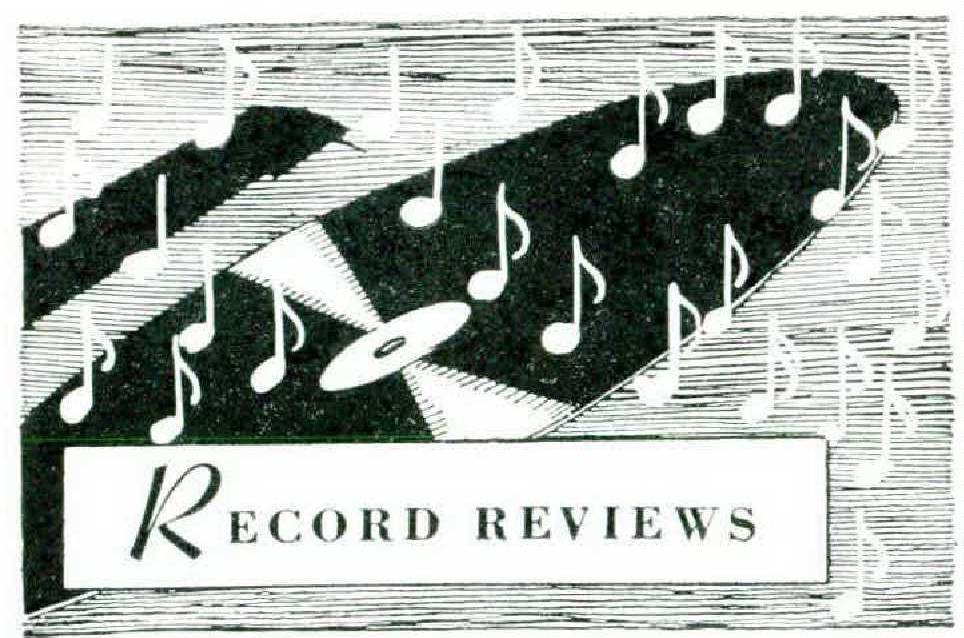 by JOHN M. CONLY
Beethoven: Concerto No. 3 in C Minor (Benno Moïséiwitsch, piano; Malcolm Sargent conducting Philharmonia Orchestra; RCA Victor-Bluebird: 12" LP). At $3.10, this reprint from the HMV files is by all odds the best buy among Beethoven Thirds, where no truly good recording exists. Firm tempi; spacious British sound.
Beethoven: Sonatas Op. 78, Op. 90, Op. III (Artur Schnabel, piano; RCA Victor: 12" LP). This is Vol. I of the Beethoven Society sets, recorded nearly twenty years ago, oversubscribed at the outset, later priced in collectors' circles (in its 78 rpm version) at up to $135. The reprint is a little rough but an unquestionable necessity for earnest Beethovenians.
Brahms: Symphony No. 1 in C Minor (Arturo Toscanini conducting NBC Symphony; RCA Victor: 12" LP). As in its kindred piece, the Beethoven Ninth, the Maestro finds in the Brahms First fiery heights and depths unexplored by anyone else. Magnificent and irresistibly moving.
Chopin: Ballades Op. 23, Op. 38, Op. 47, Op. 52 (Ginette Doyen, piano; Westminster: 12 " LP). Delicate, precise, almost flirtatiously demure Chopin in a recording of exquisite sound.
Gesualdo and Monteverdi: Italian Madrigals (The Randolph Singers; Westminster: 12" LP, with song script). For the seeker of the unconventional, this is a most arresting record. With the superbly skilled aid of the Randolph Singers, Gesualdo projects the living spirit of the Renaissance, in disturbingly modern idiom, into our century. Recording: perfect.
Liszt: Concertos No. 1 and No. 2 (Edith Farnadi, piano; Hermann Scherchen conducting Vienna State Opera Orchestra; Westminster: 12" LP). The fi is as hi ns a war horse's eye. The triangle in No. 1 has never been so enticingly audible, and Miss Farnadi's pianism is perfection itself.
Mahler:Das Lied von der Erde (Kathleen Furrier, contralto; Julius Patzak, tenor: Bruno Walter conducting Vienna Philharmonic Orchestra; London: two 12" LPs in album with libretto). Cheers for Columbia, which released Walter to record this magnificent performance. It easily supplants all others, on 78 rpm or LP. The work's great singing sadness has never been better conveyed or so well recorded.
Mahler: Symphony No. 5; Light Songs (Bruno Walter conducting New York Philharmonic-Symphony; Desi Halban, soprano, with Bruno Walter, piano; Columbia: two 12" LPs). Another version of Symphony No. 5 appeared coincidentally with this. It was at least as well recorded, but Walter knew and knows Mahler as no other living conductor does; the comprehension is trenchantly evident throughout this huge and eloquent song-symphony. The eight songs taper things off nicely. A very rich, deep dish indeed.
Massenet:Thaïs (Geori Boué, Roger Bourdin, Jean Giraudau, other soloists; George Sebastian conducting chorus and orchestra of Paris Opéra; Urania: three 12" LPs with libretto). Here is opera for the music-lover embarrassed by opera: the plot fits the form; the score fits the plot; there is suspense, without pretense of great depth; and the best music is incidental. All the cast are completely convincing, albeit Thaïs is somewhat shrill. Beautifully recorded.
Mendelssohn:Walpurgisnacht;Five Songs (Otto Ackermann eonducting Netherlands Philharmonic Orchestra, choir and soloists; Uta Graf, soprano, with Leon Pommers, piano; Concert Hall: 12" LP). Most neglected masterpieces aren't masterpieces, but Walpurgisnacht is. The Druids revel, the good Christians shudder, the recording is resplendent.
Moussorgsky:Boris Godounov (Boris Christov, other soloists; Issay Dobrowen conducting French National Radio Orchestra and chorus; HMV: four 12" LPs with libretto.) Christov is terrific. In fact, everyone concerned is, including the HMV engineers. Gorgeous Russian gloom; fine, sonorous bell-ringing.
Mozart: Concerto No. 5 ("Turkish") for Violin (Jascha Heifetz, violin; Sir Malcolm Sargent conducting London Symphony) with Beethoven: Romances in G and F (William Steinberg conducting RCA Victor Symphony; RCA Victor: 12" LP). Although not perfectly recorded, the concerto is so flawless in performance, and so lacking in present or prospective competition, that all Mozart lovers should acquire it without indecent delay.
Porter, Katherine Anne:The Downward Path to Wisdom (Short story, read by the author; Caedmon: 12" LP). Another fine talking disk; a grim but touching story of childhood. Concurrently released: Archibald MacLeish reading poems of his own, including Actfive.
Rachmaninoff: Concerto No. 1; Rhapsody on a Theme of Paganini (Sergei Rachmaninoff, piano; Eugene Ormandy and Leopold Stokowski conducting Philadelphia Orchestra; RCA Victor: 12" LP). Anyone who hasn't been awaiting this reprint — especially the Variations — has an enviable surprise in store for him.
Schubert: A Song Recital (Gérard Souzay, baritone; Jacqueline Bonneau, piano; London: 10" LP). The tender, virile, flowing Souzay voice in some unfamiliar—but welcome — Schubert, leavened by Die Forelle and Ihr Bild. Faultless.
Tchaikovsky:The Sleeping Beauty (Anatole Fistoulari conducting Conservatory Concerts Orchestra of Paris; London: two 12" LPs). Here is the Beauty, at full, lovely length, with all the ffrr the law allows.
Thomson, Virgil: Concerto for Cello; Suite fromThe Mother of Us All (Luigi Silva, cello; Werner Janssen conducting Janssen Symphony Orchestra; Columbia: 12" LP). Of all the records reviewed in this issue, with the possible exception of the Schnabel-Beethoven, this would be this reviewer's first choice. Its wonderful cordial wit recalls Mark Twain; it presents American folkmelody used as Beethoven and Smetana used their native tunes. Buy it.
Verdi:Aïda (Renata Tebaldi, Ebe Stignani, Mario del Monaco; other soloists; Alberto Erede conducting Saint Cecelia Academy chorus and orchestra, Rome; London: three 12" LPs). This ought to be final. Mr. Erede keeps a steady, sturdy pace, and the unbeatable soloists do all the rest. Engineering: top-notch.
Verdi:Il Trovatore (Milanov, Bjoerling, Barbieri, Warren; Robert Shaw Chorale; Renato Cellini conducting RCA Victor Orchestra; RCA Victor; two 12" LPs). If this is not as good as Cellini's Rigoletto (perhaps the best operatic album yet made) it is still extremely good. It has the easy expertness of a Met performance, only a few vocal monkeyshines, superb microphoning.