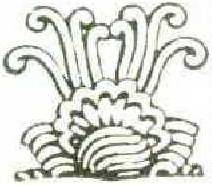 by DONALD C. BABCOCK
1
THE moon, congealed against the sky,
Picked out the tree while passing by.
The shrinking shadow clutched the snow
And found no otherwhere to go.
It scrabbled on the glistening ground
A tree that cried but made no sound,
A calculus without design
Of unarticulated line,
Which, though terrestrial, had no less
A lunar grace, a tenderness.
2
BESIDE the sinuous border of the grove
The steep drifts showed not even a pheasant's tracks.
The hillside meadow stayed, and formed a cove,
Tabula rasa, made of snow for wax.
What stylus could, on such entablature,
Grave any word to make a mind more sure?
Like Druid house of worship rose the wood,
With crystal amphitheater and chancel.
One moment, like a priest, the skier stood,
Then suddenly became a living pencil,
And wrote a lilting line as he went by,
That froze in space and girded up the sky.