Foreign Sports Cars
This is the fourth in a series of motoring subjects in these pages from DENNIS MAY, well-known authority on British automobiles.
by DENNIS MAY
BY any criterion except sheer horsepower — which is seldom decisive in long and dour road races — Germany's 3-liter Mercedes-Benz is today Europe's champion sports car. During 1952, when the Stuttgart factory made its first sports car racing bid since pre-Hitler days, teams of the new Type 300SL fixed-top coupés were fielded four times. In the shortest and least important of these events, the Prix de Bern, three out of the four competing Mercedes filled the leading three places, against admittedly faint opposition. In Italy's Mille Miglia (once around a 1000mile intercity circuit) three 300SLs ran, and the two that lasted the distance ranked second and fourth in a field of over 500 cars. At Le Mans, in the incomparable 24-hour Grand Prix d'Enduranec, Mercedes pulled off a one-two triumph and set a record average of 96.67 m.p.h.; their third car dropped out. Finally, they achieved another one-two in the Mexican road race in November — perhaps their most impressive success of the year.
Thus, in one season, Germany in the most clear-cut way dispossessed Britain of the sports car racing supremacy she established in June of '51, when the then new XK120C Jaguar romped to record-breaking victory at Le Mans — the first British win there in sixteen years.
On the eve of Le Mans, 1952, Jaguar injudiciously adopted recontoured front ends in efforts to improve the XK120C's air penetration and thus reduce a known speed shortage as compared with the Mercedes. This empirical stop — England is miserably deficient in high-speed proving grounds — resulted in overheated engines in the race, and all the factory-entered Jaguars cracked up as a result. The debacle is still providing fuel for arguments, but sober students, including British ones, concede that even if the aerodynamically superior and therefore faster 1952 Jaguars had sustained their predecessors' standard of stamina, they wouldn't have kept up with the 300SLs for twenty-four hours.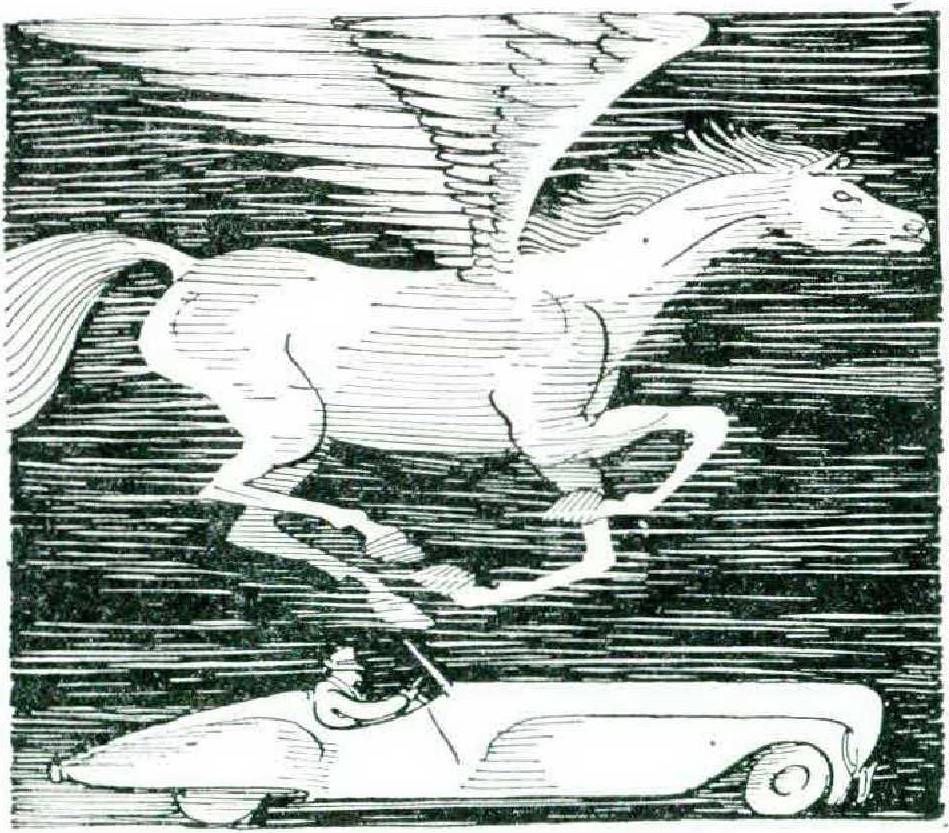 On paper, therefore, the stage looks set for another Mercedes sweep in the European sports car program of 1953. On the other hand, this is a notoriously tough and competitive field, with new and often unforeseeable developments constantly coming up. The Stuttgart artificers have a way of getting their designs right in the first place, and then, in an astonishingly short time, eliminating such few and minor flaws as may remain by a systematic and assiduous program of testing and rectification. It will therefore be surprising if they overreach themselves as Jaguar did.
A comeback by Jaguar is by no means out of the question. Then there is the new Disco Volante Alfa Romeo, as yet unraced, to reckon with. This Italian car, with almost identical underbelly and topside streamlines, looks like something out of science fiction and, with only 3 liters of piston displacement, is said to be turning 160 m.p.h.
The 300SL Mercedes-Benz is a derivative of the capacious and luxuriously equipped touring sedan known as Type 300, but differs from it entirely ia appearance and in having a multi-tube frame in which every member forms the side of a triangle. In elevation this chassis is abnormally deep, while the roof line of the body is only 50 inches from the road. The combined effect of these two extremes sets an ingress-egress problem which could only be solved by cutting out normal doors and substituting lift-up panels hinged close to the center line of the roof. By this device, the 300SL, despite its remarkable compactness and resulting low frontal area, is actually rendered easier to enter than the average closed sportsracing car; and at Le Mans in part icular, where the race is started with the drivers on one side of the road and their cars on the other, quick access counts.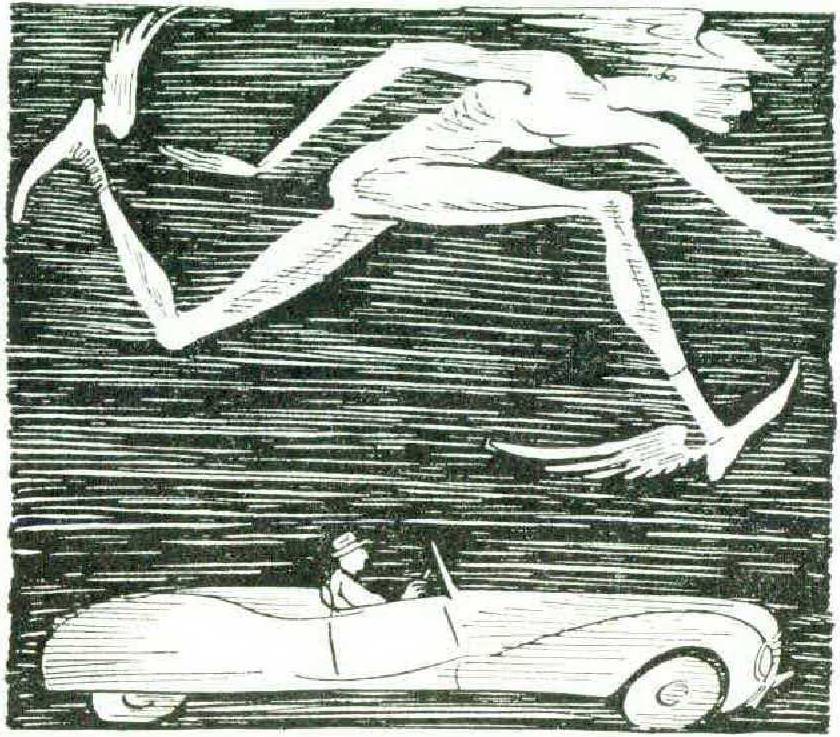 The 300SL, with 95 inches of wheel base, is 25 inches shorter than the parent model, which has a chassis comprising only two tubes, oval in section, of large diameter and pinched in at the waist. A halfway version of this oval-tube frame—116 inches wheel base — serves also for the Type 300S, which is intended for fast road driving but not competition work. All models in the 300 series, including a fourth variant carrying the symbol 300SLK, share common suspension arrangements: at the back, articulated half-axles giving independent wheel motion, controlled primarily by coil springs and secondarily by torsion bars lying fore and aft; at the front, wishbone links of unequal length and coil springs.
The six-cylinder in-line engine, with slightly more stroke than bore (88 by 85 millimeters), has a cast-iron main block, but the detachable cylinder head is in light alloy. Unusually enough, for these days, only one camshaft is used, driven by chain and placed in the head.
Three downdraft carburetors are used. In the SL edition, with an 8 to I compression ratio, this remarkable engine gives off 175 h.p. at 5200 revolutions per minute. To reduce hood height, it is bodily tilted at 30 degrees from the perpendicular. The SLK is an open-body model; it has not yet been raced but is understood to produce some 250 h.p.
Incidentally, in case it may be wondered how 175 h.p. European cars contrive to out race American and Anglo-U.S. rivals with almost 100 per cent more output, the answer is that the former tend to be lighter, smaller in cross-section, easier to stop, more maneuverable in tight turns, and less prone to wheelspin during violent take-off.
Italy's largest-engined sports car, and also her fastest, pending detailed tidings of the Disco Volante's performance, is the 4.1-liter Mexico model, a development of the now obsolete Type America. This Mexico production adheres to Ferrari's traditional V-12 engine layout, with one overhead camshaft per bank, and so does the same maker's new Type 250 Sport, of 3 liters capacity and using three quadruple-choke carburetors to ensure balanced rationing of the charge.
Shortly to celebrate its first birthday is the little 2-liter V-8 Fiat, which, with an entirely unornamented fixedtop coupé body evolved in the wind tunnel, looks and is as functional as a pickle fork. This car, even slighter in stature than the 300SL Mercedes and with its body shell fully stressed, aircraft fashion, exemplifies the principle of seeking a desired performance by making light work for the engine, rather than goading quarts of power from pints of piston displacement. This particular motor gives the modest yield of 110 h.p.
In the same engine size category, though far less rakish, is Alfa Romeo's 100 m.p.h. sedan with 2-liter six-cylinder movement. This one, although 20 m.p.h. slower than the Fiat, again shows what a long way a little power will go, suitably encouraged. Here there are twin overhead camshafts operating inclined valves in the classic type of hemispherical cylinder head, and 93 h.p. is delivered.
Finish and workmanship worthy of jewelers distinguishes the only automobile produced in Spain, the V-8 Pegaso, which has been disappointingly slow in making a long-promised but still unfulfilled debut in sports car races. It has what I believe is the only four-camshaft V-type engine in actual production anywhere, and a supercharged version makes 2.4 liters produce 240 h.p. A famous Italian designer of racing cars, Wilfredo Ricart, is Pegaso's technical head, and Italian engineering practice is evident throughout the chassis. Like the faster Mercedes types, the Pegaso has a limited-slip differential to aid traction during tear-away acceleration. New York delivered price of the supercharger model is $9000.
Outstanding among the few entirely new British sports cars for 1953 is a dapper little Healey with open two-seat body of envelope type and 2.6-liter four-cylinder engine borrowed from the A.90 Austin. Americans didn't want the A.90 at any price, even if it was designed specially for the U.S. market, but I believe they are going to gather the smaller, lighter, prettier, faster (110 m.p.h.) Healey Hundred to their bosoms. U.S. price may be expected to fall about midway between the M.G. Midget's $2115 and the XK120 Jaguar's $4075.
Then Allard has something fresh in its Monte Carlo sedan — the designation commemorates this factory's victory last January in the Monte Carlo Rally, the toughest nonracing car competition in all Europe — in which American buyers have a choice between Mercury, Chrysler, and Cadillac V-8 engines. Features here are a tubular chassis, improved steering geometry, and better body lines than on any other Allard so far seen. Now York price of the Mercury-powered job is $3402.
On the upper rungs of the price ladder in Britain, the Bentley export lines, in common with those of RollsRoyce, are now offered with Hydramatic transmission, by arrangement with General Motors Corporation. And for home consumers of indecent wealth there is gladness in the announcement that Bentley's Continental Sports sedan, hitherto an export-only car, is henceforth to be available in Britain. So now nothing need stop them motoring at two miles a minute in practically stratospheric silence, apart from writing a check for £7608 (including U.K. purchase tax) — say $21,302 in American money.