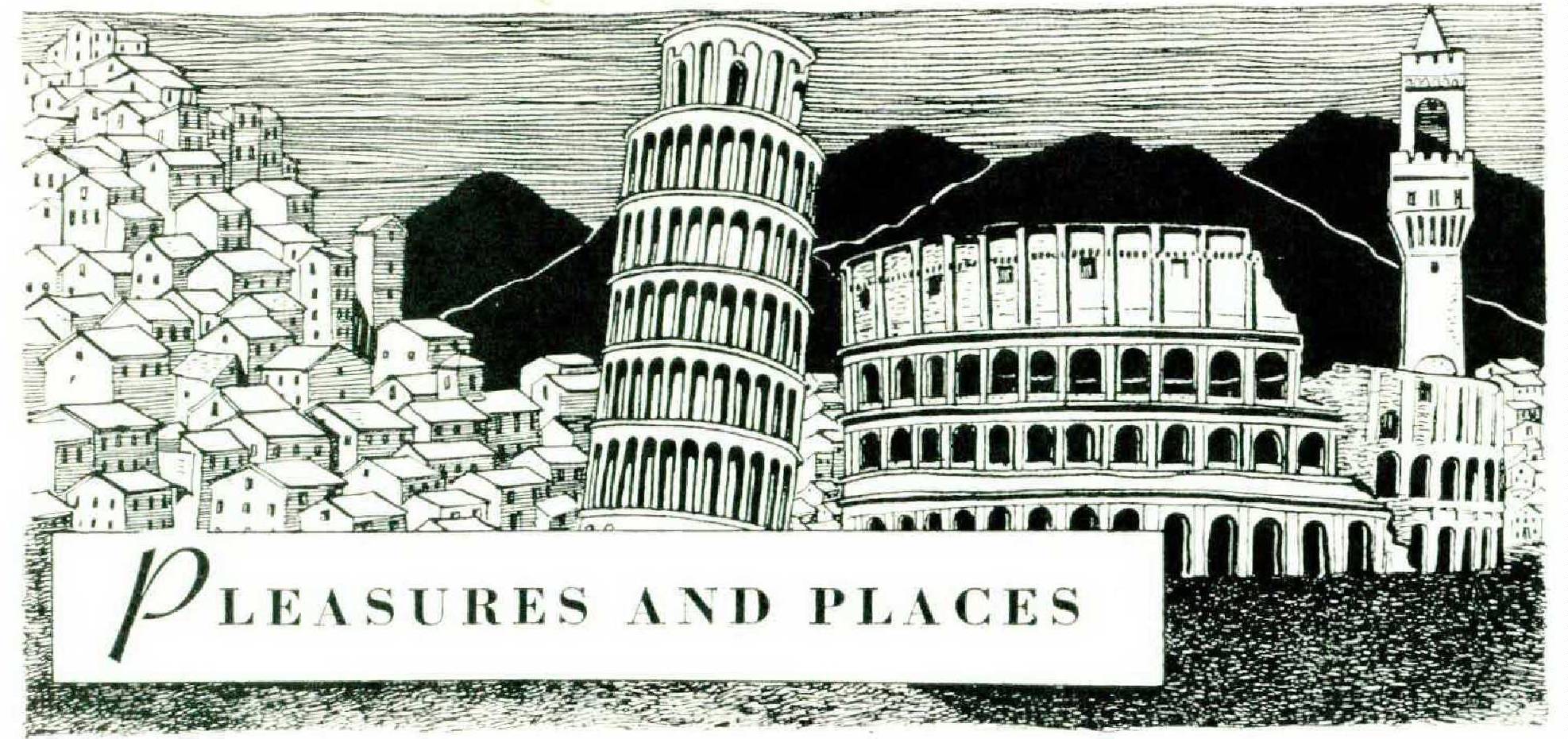 PLEASURES AND PLACES
by JOSEPH irpcusiu nc
JOSEPH WECHSBERGis at home almost anywhere on the cpntinent of Europe, and Atlantic readers will recall his earlier articles, " I other Prohop's Dilemma" and "Provence Without, Garlic" But in winter hr settles down in Italy to enjoy the off season.
I THINK it was Metternich wlvo once said that Italy is not a country but a geographical expression. Metternich may have been resentful of the Italians, who caused him a lot of trouble, or perhaps he was merely trying to be witty; at any rate, he was wrong. Italy is a country. It mav be a polychrome of regional contradictions, of divergent local customs, of variegated traditions and dialects, but the unifying spiritual, historic, and artistic elements arc all there. In Italy, contrasts are fused into the harmony of true beauty. More than in any other Kuropean country, there is a perfect blond of landscape, climate, people, and of the works of art they have produced.
True, Italians have never made a fetish of ultranationalism, having learned a lesson or two from their history; and they have never been enthusiastie about waging war except, when their nation's freedom has been at stake. Their sense of values is universal rather than national. Hut Italians can gel wildly nationalistic after the stretta in Verdi's Trorafore, or over a dish of ravioli. For everv inscript ion on the walls saying AMERICANS Go NOME, there are throe inscriptions saying EVVIVA (Long live) COPPI! Coppi is not a politician. He is his country's most beloved bicyclist.
Italy offers much to the two main groups of travelers: the ones who go abroad to become convinced of the superiority of their domestic institutions, and others traveling mainly to tell the less fortunate folks hack home how much they've missed. There is plenty wrong in Italy in terms of window screens, plumbing, ice water, cellophane-u rapped brent h, telephone operators, dry cleaning, and dry Martinis. lint there is much more to make the people back homo wish that they had gone with you.
There are no seasons in Italy. The worst months to see it are July and August, when most people go there. Autumn and spring are delightful all over the country. In winter and early spring two regions offer a special pleasure: in the north, the Alps and Dolomites, with the lovely Italian lakes and ihe Ligurian Hiviera: in t he soul h, for sun worshipers, t he blue skies and color riots of Amalfi. Sorrento. Capri, and Sicily.
The ideal approach to Italy is by helicopter, on a moonlit summer nighl, landing in the middle of Venice's St. A lark's Square — or, for that matter, in the middle of (he Grand Canal. The colorful curses of the gondoliers will immediately create a thoroughly Italian atmosphere the Italy of Mazzini and Garibaldi rather than that of Titian and Tintoretto.
The second best, approach is from the norlh. Northern Man. forced to spend part of his life amidst snow, sleet, and slush, never ceases to marvel when he crosses an Alpine pass on a dreary winler dnv and finds himself, abruptly and magically, transposed into the brilliant color scheme and the sweet scents of the southern landscape. The contrast is overwhelming in certain spois: at the Brenner Pass between Austria and Italy, or the Mont Cenis, the St. Got (hard. Frequent southbound trips through the Gotthard have never dulled my sensation at entering the 0]-mile tunnel under the bleak skies of Gdsehenen and emerging, a few minutes later, into the sun-drenched air of Aholo, which may he Swiss geographically but is Italian in spirit.
The approach by sea is best made via Naples and Genoa.. 've never adhered to the See-Naples-and-Die school; the ugly, crowded back streets of old Naples hold no beauty for me. But coming from the sea into the blue bay with ihe silhouette of Vesuvius and the silver-gray rocks of Capri is exactly what you expected in vour dreams. So is the arrival, on a clear day, in Genoa, known among the Italians as La Superha. a magnificent city of ancient grandeur and modern vitality.
The worst approach to Italy is by air. Two friends of mine, who had waited for years to see the Eternal City, recently arrived at Rome's Campino Airport. They had to wait for an hour to go through the forma lities; then they were taken by bus t hrough seedy suburban (list rids, past silly billboards and dirty back yards. They have nol yet recovered from their initial disappointment.
Time w as when prices were low and customers wore rare in winter and spring, but now there is a growing number of wise explorers who travel in the after-summer months when rooms are cleaner and waiters are friendlier. To offset this pleasant state of affairs, many resorts have introduced higher winter "peak season" rates.
There are no bargains in Italy, which is one of Europe's more expensive countries. (Everything depends on the traveler's choice of accommodation; oven in France, Belgium, Switzerland, Germain —the Continent's expensive countries — t here are inexpensive hotels and cheap meals; and in Spain and Austria, supposedly "cheap" countries, it is easy to spend a lot of money.) Hotels and restaurants in Italy cost about one third less than in France, reflecting the countries' currency relation to the dollar. A meal that might cost 1500 francs ($4) in Baris would be 15000 lire ($3..50) in Home.
All hotels in Italy are officially divided into five categories, ranging from lusso—luxury hotels where, as always, the sky is the limit —to fourth-category hotels, which are cheaper (but also much less comfortable) than small motels in America. Brices are always published and generally adhered to, but they are fictitious. They do not include central heating; a fixed service charge which is supposed to (but doesn't) lake the place of all lips, and amounts to 18 per cent in Rome, 20 per cent in Palermo, and 1.5 per cent elsewhere; a sojourn tav; and a general income tax. There is a special tax of 8 per cent in luxury hotels and 6 per cent in first-category hotels on all food and drink ordered in a bar. (If you order drinks from a bar to your room, there may be a bar-plus-room special extra surtax.) By the time all taxes and extra items have been added to the bill, the officially quoted figure may have been doubled.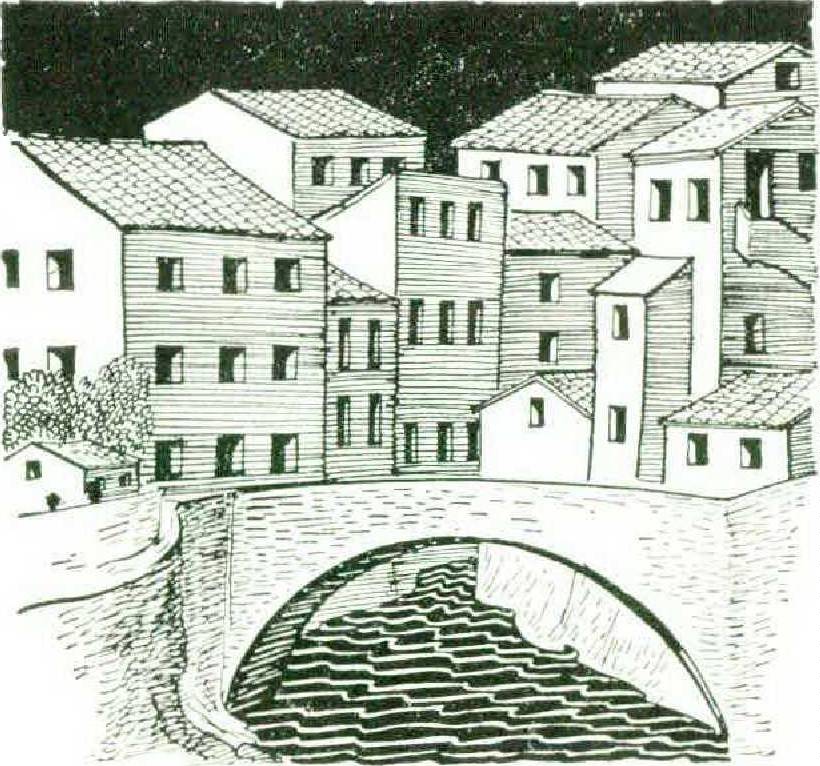 This winter, if you go to the Dolomites, between the Adige and Piave rivers, you will find the most picturesque mountains in Europe, an unending variation of bizarre gray, green, and red rock formations, nature-built Gothic cathedrals and Byzantine domes, which create unique lighting effects at various hours of the day. Early in spring the highlying meadows are covered with a color symphony of Alpine flowers. Italy's mountain-climbing veterans of the Monte Bianco and Cervino — better known on their French and Swiss sides as Mont Blanc and the Matterhorn — consider the Dolomites the toughest Alpinist problems of all. The groat charm of the Dolomites is the blending of northern skylines and cool lakes with southern skies and Italian vegetation. There are resorts for skiers and bridge players, for people w ho hike and people whose exercise is to sit. briskly in a comfortable chair, from fashionable Cortina d'Ampezzo, Madonna di Campiglio, San Martino di Castrozza, Lago di Carezza (aren't the names alone sheer Italian music?) to quiet, quaint Pieve di Cadore, birthplace of Titian.
Less known but worthy of discovery is the Valley of Aosta with ils castles, mountain guides, and Frenchspeaking villagers. In the great Adige Valley, the immemorial highway from Teutonic to Latin culture, ;iro Trento, Bolzano, and Merano, points of departure for magnificent mountain tours. The most beautiful of all is Merano, an oasis of vineyards, palm trees, and sunshine at the end of a large valley, which is surrounded on throe sides by snow-covered peaks and opens only toward the south, where scents of blossom and fruit hover over the plain of Bolzano. In the days of the Hapsburg Empire, Moran, as it was called then, was fashionable among members of the Court; present-day Italians know it as the scene of Lofteria Ippica, the Italian sweepstakes. It is also the home of the Merano Grape Cure, the most pleasant, least significant medical discovery of the century. Briefly, it says that a long walk and a kilo of grapes a day keep the doctor away.
Variety of scenery, as on a revolving si age, is a blessing of the Italian landscape. From South Tyrol it's only a few hours by train or bus to the Italian lakes. (Greyhound-like buses, hereabouts called "Pullman," still run on schedule, though the Fascist schedule-makers are gone.) It is not wise to participate in local, ofl.cn acrimonious debates as to which one of the Italian lakes is the most beautiful. Lake Como has a special, out-of-this-world charm, particularly at Cadenabbia, Tremezzo, Cernobbio, while Villa 'Este is popular with Those Smart People that only last week were on t he Lido, at the Eden Roc in Antibes, or the "21."Lake Garda is large, Mediterranean, very Italian. Catullus had a retreat at Sermione; Gasparo Bartolotti created the first violin in Said; Gabriele 'Annunzio lived in Gardone.
Personally, I prefer Lugo Maggiore, which has the most beautiful bay, the deepest colors, the finest views, and the charming Borromean Islands in the middle of the lake. But when the arguments start, I stay out by comparing the lakes to French wines. Como is like the bouquet of a delicate Bordeaux; Garda ts a rich, heady Cotes du Rhone wine; Maggiore aromatic and deep-colored like Burgundy. And who could claim that any one is t he best ?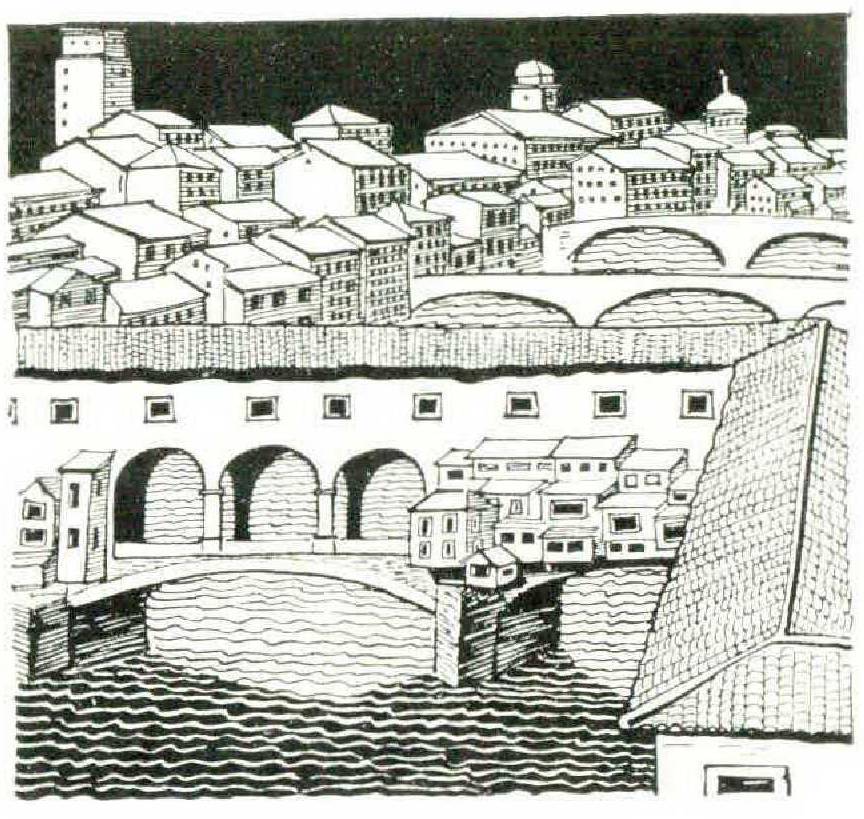 The Italian lakes, contrary to the travel agency legends, are not always sunny, but a day's ride lakes you to the Ligurian Riviera, which is almost always sunny. Along this blessed si retell of coastline, less known than the French Riviera, is something for everybody: Bordighera. for the retiring ones, San Remo and Alassio for people in search of gambling and fun, Portofino for the discriminating,Santa Margherita for the calm-seekers.
The cities of northern Italy, no two of them faintly alike, are within easy reach; Bergamo, built on two levels; Verona, picturesque and artloving: Cremona, home of fine violins and fine cheeses; Pavia, an elegant fusion of Lombardy and Venice; and all the others. Music in the air. friendly people, and sunny squares with cafe terraces under large umbrellas where the espresso is strong and you will find out what goes on in town if you sit there for a while.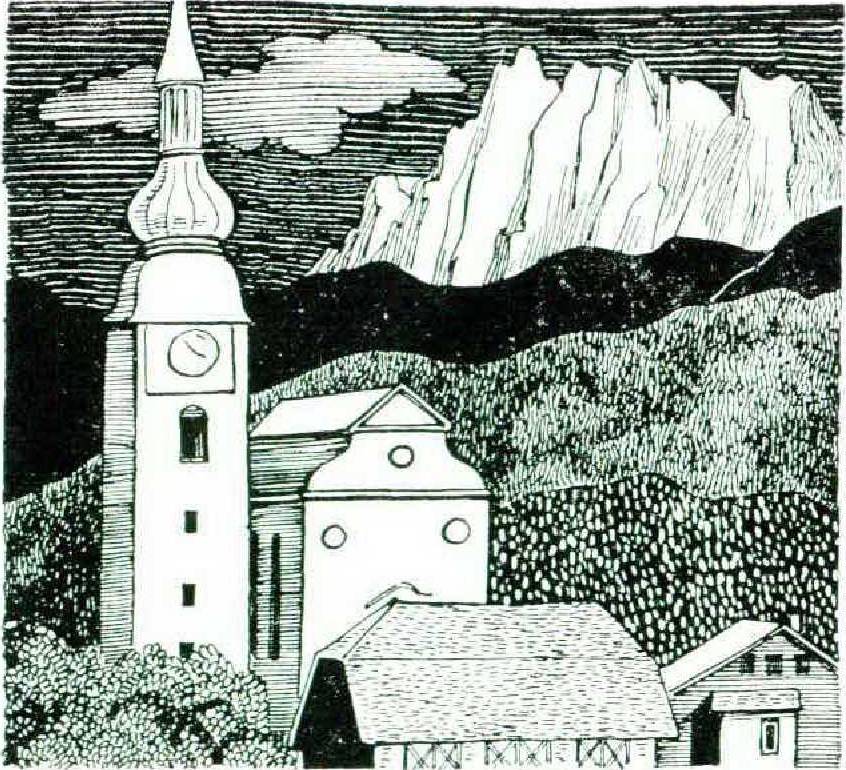 And if, God forbid, it should rain even there, take the rapido, fastest of the fast Italian trains—slower trains are deceivingly called direttissimo and diretto — and go down to the cliff villages and the craggy coast of Amalfi, Ravello, Sorrento; to Capri, land of Bikini bathing suits and blase heiresses; to the island of Ischia with its extinct volcano and hot springs; the wild east coast of Calabria; or the floral wealth of Taormina where an ancient monastery has been turned into a beautiful hotel.
Italian cooking will be enjoyed by those who are devotees of pasta, twice a day. Italy's poor people are very poor; making a virlue of necessity, they turned their imagination toward pasta, the only Italian dish that reflects regionalism. Pasta comes in wiry spaghetti and stringlike maccheroni (Naples), in rectangular, flat fettacini (Rome), in ribbonlike tagliatelli and lasagne (Bologna), in large trenette (Genoa), ball-formed gnocchi, rolled cannelloni, thin vermicelli (literally, "little worms"), large pappardelle and recehietta, dark-colored bigoli, baked sirascinafi, hath ke cappelletti; and, above all, ravioli, invented in Genoa, tiny, meat-filled dough-envelopes that are so good that they ought to be marked "Registered." These dishes will take care of your first course.
The rest, is less interesting. The different minestrone and fish soups (brodefto, burida, cacciucco, cessola) arc mere variat ions on the same theme. There are good things in Italy: uncooked ham, fine fruit, and scampi, the best seafood this side of Maine lobster; cheeses — Gorgonzola, Parmigiano, Bel Paese, Provoloni, Stracchino, to name only a few — that are among the best anywhere. But there is no genuine regional cooking and the joy of discovering" a fine country inn or a small village restaurant is nonexistent. Meats are served in worried, thin slices, and sauces are long on condiments and short on ideas. Too many Italian sauces, like too many Italian citizens, play various shades of red.
Italy never placed its wine industry under the government's protective custody the way the French did, doing away with dishonest wines. In Italy a fancy label is no guarantee of quality, but rather a ticket for a lottery in which few people win. I can think of nothing more pleasant than to drink a bottle of ordinary Chianti on a dower-bordered Italian terrace on a sunny day, while a junior-Caruso cassafa vender sings "Santa Lucia," and the neighboring tables are occupied by dark-haired, dark-eyed distant relatives of Lucrezia Borgia; but try the same Chianti on a cool day in an unheated Italian hotel room!
The three most popular kinds of wine are the Chianti of Tuscany, the Orvieto of Umbria, and the Barolo, Barbera, Barbarcsco, Bardolino of Piedmont. But there is a large selection of everything from dry reds (Carema, Cnrmignano, Corvo, Dolcetto, Friulano, Gattinara, Grumello, Oliena, Rabosa, Sangiovese, Valpolicella) to white sweet (Albana, Cinque Terre, which contains 18 per cent alcohol, Greco, Nasco, Ogliastra, Passolato, Sorriso 'Ischia), from the lightest Moscato to the heaviest Primitivo.
I am fond of Barolo, a light red wine, pleasant to drink, pleasant to spill. I know. One night last summer I dined in a small trattoria in the oldest part of Rome which is frequented mostly by enthusiastic Romans. My waiter was the tenor type and threw his arms around like Radames in the Nile scene of 'ida. The inevitable happened: he spilled a whole liter bottle of Barolo over my brand-new, light gray suit.
it would have been a major catastrophe in any country; but this was Italy. Radames led me to the small kitchen, where two sturdy ladies helped me to get out of my wine-drenched suit. The proprietor draped a large tablecloth around me and guided me back to my table. A new bottle of Barolo was opened. The other diners in the room, descendants of generations of toga-clad Romans, took no notice of my anachronistic costume. I went on wit h my meal while the sturdy ladies threw buckets of water on my suit, rubbed it vigorously with discarded napkins, and hung it up near the stove. By the time I had finished my Gorgonzola and the wine, the suit was dry. There was no charge for the spilled wine. No stains remained on my suit.