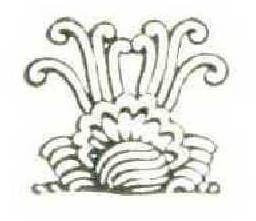 by WALTER DE LA MARE
THREE devils sat there, gloating on my sins,
In the dense music of thought's violins,
The whining, twining, pining violins.
Lean shone the tapers on them, chin and eye.
They diced and chaffered while the dark flowed by;
Hour after hour the dark and stars flowed by.
They saw me not. From that cold mask no sign,
No signal shook from this lone soul of mine;
Blind were their presences to hint of mine.
Bejoiced I was to leave them fingering there
The short swift record of my earthly care;
Life's hapless evil its insistent care.
And like a child, who plucks a flower that blows —
Moon-cupped convolvulus or the clear brier rose —
And happy, in beauty, for a moment goes;
So I, in mercy, freed from all my sins,
Heard lapse the whining of the violins;
Heard silence lighten round the violins.